Camping in New Mexico is the perfect opportunity to discover the wide range of fascinating New Mexico wildlife. 
---
The high-pitched bugle of an elk right before dawn will bring a thrill to anyone's soul. Your skin prickles with excitement while you lay frozen. The tune of their ancient love song drifts through the trees, connecting you to nature in a way few other things ever will.
Couple that feeling with the daily sight of wild turkey, antelope, mule deer, and even the occasional black bear, and it can make for a wilderness trip that quickly becomes a treasured memory.
Often called the "Yellowstone of the Southwest," the variety and abundance of wildlife in the state of New Mexico is a surprise to many. There are lots of wildlife viewing opportunities for campers and hikers as you explore New Mexico's stunning wild places — just don't get too close, as these are wild animals.
5 Campgrounds Where You'll Discover New Mexico Wildlife
We've selected some of the best campgrounds for spotting the creatures that call this state home. At all these locations, dawn and dusk provide the best chance to see large game.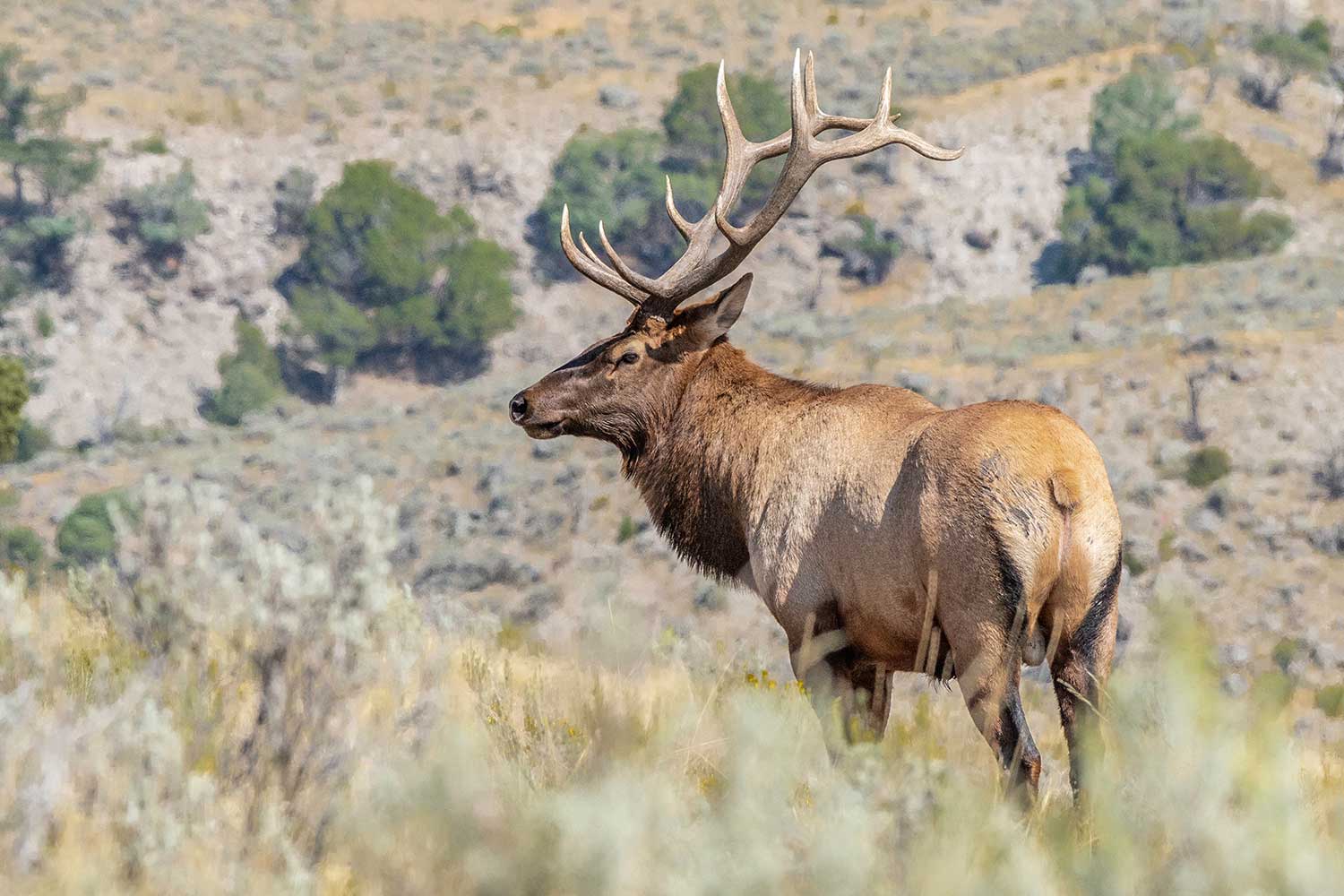 Positioned within the Valle Vidal unit of Carson National Forrest in far northern New Mexico, the Cimarron Campground sits at 9300 feet. Campers will find an inspiring combination of beautiful mountains, forest, and meadow as they hike, with the option to cover over 28 miles of trail. A wide variety of New Mexico wildlife–including big game like elk, deer, and bear–can be seen frequently from the campground, trails, and various roads. Campsites are nestled among tall pine, aspen and spruce.
The Valle Vidal is a large basin within the Sangre de Cristo mountain range. It's pristine 100,000 acres is not heavily visited and a mecca for those who crave the healing solitude of nature. The Cimarron Campground has a front row seat to nature's grandeur and other than the prime month of July, is often only partially full.
"Miles of hiking and an abundance of wildlife, we watched several herds of Elk down in the valley on one of our hikes. We had deer roam through our campsite, they could care less that we were even there." — The Dyrt Camper Terry R. 
Camp Here
Right outside of Raton, NM lies Sugarite (Shug – a – REET)  State Park. The park actually crosses the state line into Colorado and is a well-known haunt for black bears, elk, deer, turkeys and other smaller wildlife such as coyotes, raccoons and birds.
Soda Pocket Campground is located at 7900 feet and has stunning views of the mesas and volcanos of the valley. Black Bears are frequently seen and often roam the campgrounds at night. Elk appear in the early morning above Lake Maloya, the centerpiece of the park and drinking water for Raton and the surrounding area. Antelope and deer are spotted daily along the main road as are turkeys, coyotes, raccoons and other small game.
While Sugarite State Park has several quality campgrounds, Soda Pocket is the favorite of many RVers and car campers specifically because of the amount of native New Mexico wildlife that frequent the area.
Birding is a popular activity as many species from large raptors all the way to tiny hummingbirds inhabit the park seasonally. Several nature trails originate from Soda Pocket Campground including Vista Grande Nature Trail which offers broad views of the entire area and is a great vantage point to scan the area with binoculars for wildlife.
Soda Pocket Campground has 25 well-spaced sites; some with concrete pads and covered picnic tables.  Due to the elevation, Soda Pocket Campground is only open seasonally from April 1 thru October 1 (weather permitting). During the peak summer months of June and July, campsites are reserved up to a year in advance, so don't wait to claim your spot.
Camp Here
Part of the Santa Fe National Forest, this campground offers unspoiled nature at every turn. The beauty of pristine mountains supports a diverse range of New Mexico wildlife. This includes the unusual Abert's squirrel. This squirrel is quite large and sports a unique sliver/blue coat that is sure to catch a camper's eye. Plentiful and active, they are a joy to watch.
In addition, the tall pine forests are home to Merriam's turkeys, hairy woodpeckers, and raptors such as the northern goshawk. Beside streams teaming with trout, you can frequently spot the Jemez Mountain salamander going about its daily routine. These streams can be busy during the summer months with both anglers and visitors wading in to cool off.
The campground can accommodate tents, RVs, and trailers within its 20 standard sites.
"The sites are generally shaded and well-spaced. And best of all, San Antonio Creek runs alongside the length of the campground. You're close by the Valles Caldera, and awesome fly-fishing spots! Bonus tip- the Longmire TV series was filmed in the Valles Caldera. Visit Walt's cabin!" — The Dyrt camper  Curtis B.
Camp Here
Caballo Lake State Park is less well-known compared to other state parks, but those who skip this one are missing out on some stellar Bald Eagle watching! These birds migrate through the area each year and some 40 eagles spend winters at the reservoir.
From October through February, migrating eagles gather and rest on dead branches and roosts, allowing visitors to easily observe them. They can often be seen soaring on the air currents and fishing across the broad expanse of the lake.
During this same time frame, there are many other species of bird that can be observed in and around the lake. These include sand hill cranes, double-crested cormorants, mallards, gadwall, and even migrating white pelicans.
Up on shore, other bird species take center stage such as Gambel's quail, Stellar's jay, mourning dove, northern flicker, Brewer's sparrow and many others. Small mammals are common as well, such as racoon, beaver, coyote, badger and kit fox.
There are four campgrounds including Riverside Campground near the Rio Grande River. This campground provides access to some of the best fly fishing in the state!
"Paradise in the desert. Nice area, near Truth or Consequences. We camped with water and electric for a few days then parked down on the lake and primitive camped for a few more." — The Dyrt Camper Chuck T. 
Camp Here
Carlsbad Caverns are well-known for their large underground caves. While you may not see much wildlife while touring the caves, they're present. Come sunset each night, visitors gather to witness the mass exodus of thousands of bats from the caverns.
This nightly flight is an incredible sight offering the kind of experience few would expect when they think of New Mexico wildlife. Though the caverns are largely a day use area, those in the know can backcountry camp right in the park. While there are no developed campgrounds or lodging inside the park, if you don't mind a little hike, you can be one of the few to sleep under starry skies in this desert environment.
It is important to note that permits are required for camping along the Rattlesnake Canyon Trail. However, they are easily acquired at the park's visitor's center.  There is a good chance you will find solitude with nature as few people take advantage of this option.
"This campsite was beautiful, with great views of the desert, and also offered a much different above-ground perspective than the usual visitor receives here at Carlsbad Caverns." — The Dyrt Camper SwitchbackKids
Camp Here
New Mexico Game and Fish offer several resources including an online wildlife viewing guide for the various parks and wildlife areas within the state of New Mexico. This guide will help direct you to 76 areas with the best New Mexico wildlife viewing opportunities, including information on specific species, best times, seasons, and locations.
Popular Articles: