If you're not planning a road trip and don't live in Utah, getting to Zion National Park can be tricky. Your easiest option will most likely be flying into Las Vegas and making your way to the park's towering red-rock walls and orange sandstone canyons with some form of ground transportation. Zion is relatively remote, so no matter where you're coming from, it'll take some work to get there and you'll want to have a good plan.
While you'll still have a few hours of driving from the airport to Zion, fear not: There are plenty of interesting stops along the way to stretch your legs and experience the desert scenery while you travel. We've got you covered on the logistics and exciting pit stops for your trip to Zion National Park.  Make sure to download camping maps for spontaneous camping or plan in advance by booking sites ahead of time!
Traveling from Las Vegas to Zion National Park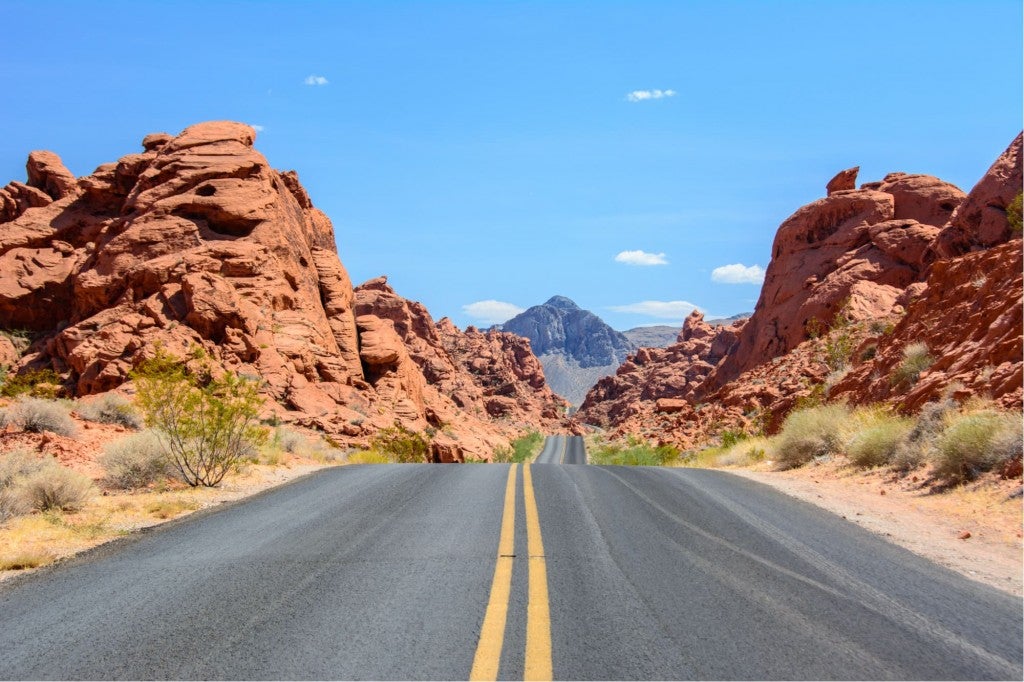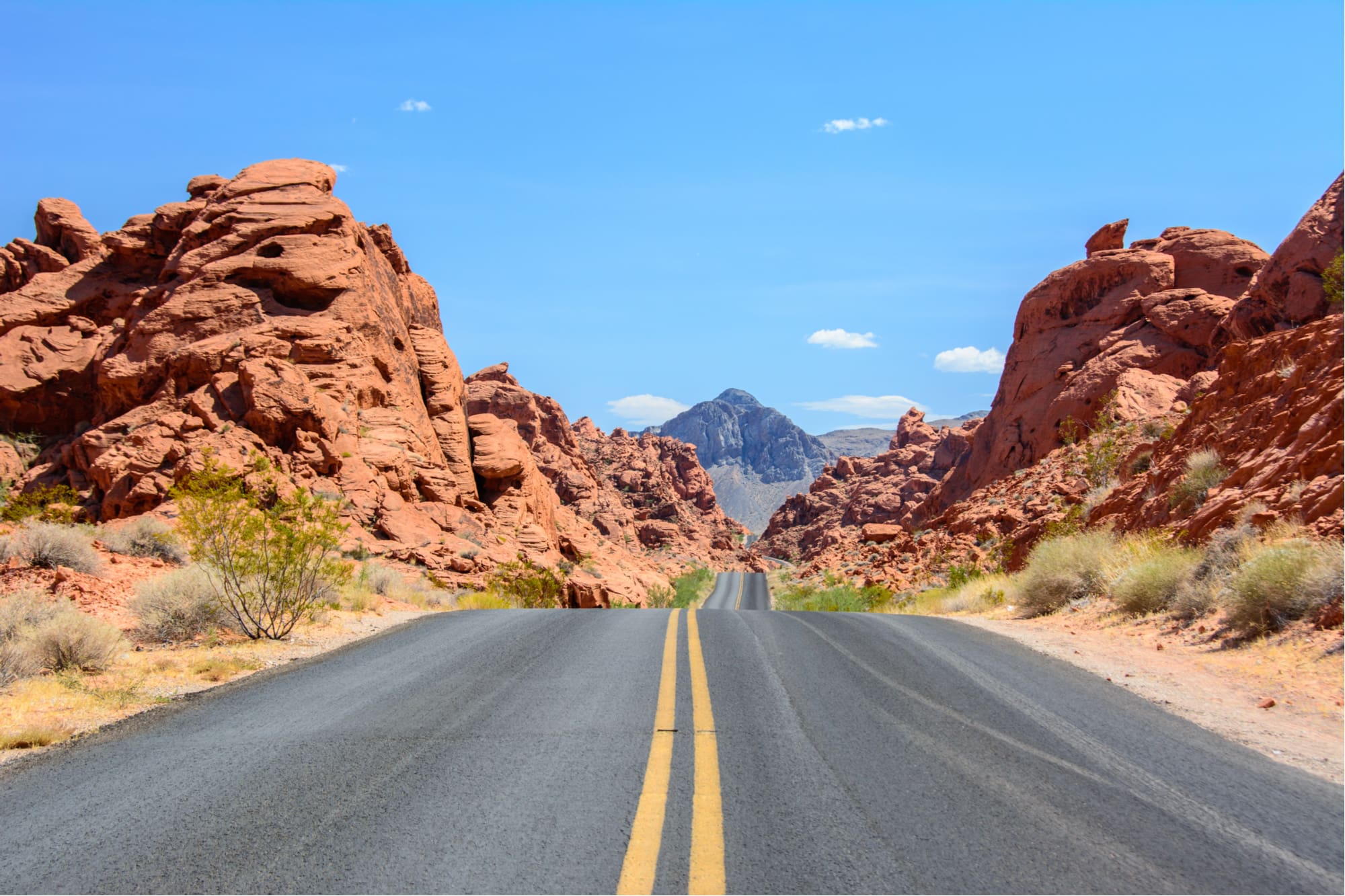 Stepping off a plane and directly into a rental car for a few more hours of travel probably doesn't sound that exciting. For most people traveling to Zion National Park from outside of the immediate area, driving from the Las Vegas airport into Zion is a necessary inconvenience. But it doesn't have to be an inconvenience; make it an exciting adventure instead with these pit stops and travel tips.
---
Prepare for your next adventure by downloading maps. The Dyrt PRO lets you download maps and campgrounds without cell service. "My alternative to using pro would be to drive back out to cell service".
---
Las Vegas to Zion National Park Trip Logistics
The drive time from Las Vegas to Zion National Park won't beat any road trip records, but it's enough to make you antsy after already dealing with airport travel. The trip time from McCarran International Airport in Las Vegas to the south entrance of Zion National Park is typically about 3 hours, covering 170 miles.
There are a handful of shuttle bus that will take you from the Las Vegas airport to the Zion Visitors Center, but renting a car is likely more economical and convenient for exploring southern Utah, especially if you're traveling with a group.
There are several rental car companies to choose from at or near the airport, all with similarly good reputations and reviews. It's best to book your car rental ahead of time to ensure you get the vehicle that's right for your group and your trip. Plus, renting a car means you have more opportunities to venture off the beaten path and make some worthwhile stops while traveling from Las Vegas to Zion.
What to See Along the Way From Las Vegas to Zion
Valley of Fire State State Park displays just the scenery you'd expect it to—fiery red-rock landscapes with otherworldly features like pinnacles and arches of sandstone.
This place will also surprise you with its plethora of cultural history, with petroglyphs carved into canyon walls and ancient Aztec structures burrowed below the cliffs. The detour will tack on about a half an hour to your total drive time, and it'll be worth it. Make a stop at the Visitors Center or take a short hike to get a better taste of the scenery.
Bonus: If you're arriving to Las Vegas later in the day, Valley of Fire has a campground and is the perfect place to post up about an hour from the city before making the final trek to Zion.
Adventure Sports in St. George—Utah
If you're arriving in Las Vegas early, then you'll have plenty of time to stop through St. George for an adventure to get the adrenaline pumping. Paragon Adventures is based in St. George and offers a variety of guiding services, from zipline rides to multi-day canyoneering trips.
On your way from Las Vegas to Zion, stop for a few hours and stretch your legs in the air or on some pedals by taking a zipline trip or morning guided mountain bike ride with Paragon Adventures. Each one lasts a few hours, and both take you over or through some classic southern Utah red rock scenery. Remember that since this is a guiding service, you'll want to reach out ahead of time to ensure a booking.
The Red Cliffs area is another stunner for red-rock scenery along your drive from Las Vegas to Zion. Take the Red Hills Parkway from St. George into the southern tip of the National Scenic Area to find easy-access hiking trails.
The best part is that it'll only add a few minutes to your drive time since this area is right on the edge of St. George. If you're an In-N-Out fanatic, St. George does have one, so get your post-hike fix before heading into Zion.
Tips for Your Trip
Beat the Heat
It gets hot in this area and warms up quickly in the morning. If you're planning to make some hiking or other outdoor adventure stops along your drive from Las Vegas to Zion, try to plan it so you hit these stops in the morning or evening, and spend your time driving in an air-conditioned car during the hottest hours of the day.
Watch for Winter Warnings
Visiting the desert in winter? Despite what you think of the climate, Zion National Park still gets snow, so keep an eye out for icy roads and road closures in winter. It's also important to remember that roads and trails in the national park are often shut down due to weather conditions in the winter months (and often in spring, too), so keep an eye out for alerts from the national park website and plan accordingly.
Gas Up
It's a relatively short drive from Las Vegas to Zion, so gas shouldn't be too much of a concern, but there are still some helpful tips to remember.
If you leave Las Vegas with a full tank, that should be near enough to get you to the south entrance of Zion National Park. There are gas stations in Springdale, the town on the border of the south entrance, but it'll be pricier there. Your best option is to top off your tank of gas in St. George so you're ready for all the desert adventures that lie ahead.
---
Related Articles:
Related Campgrounds:
Popular Articles: