Lake Oroville is a fishing, boating, and camping paradise located in Northern California along the west side of the Sierra Nevada Mountain Range. Visitors to this nationally renowned reservoir and lake have the opportunity to stay in the charming Lake Oroville RV parks situated along the lake or in the nearby Tahoe National Forest. Here are our suggestions for where to camp.
These Lake Oroville RV Parks offer Charming California Lake Camping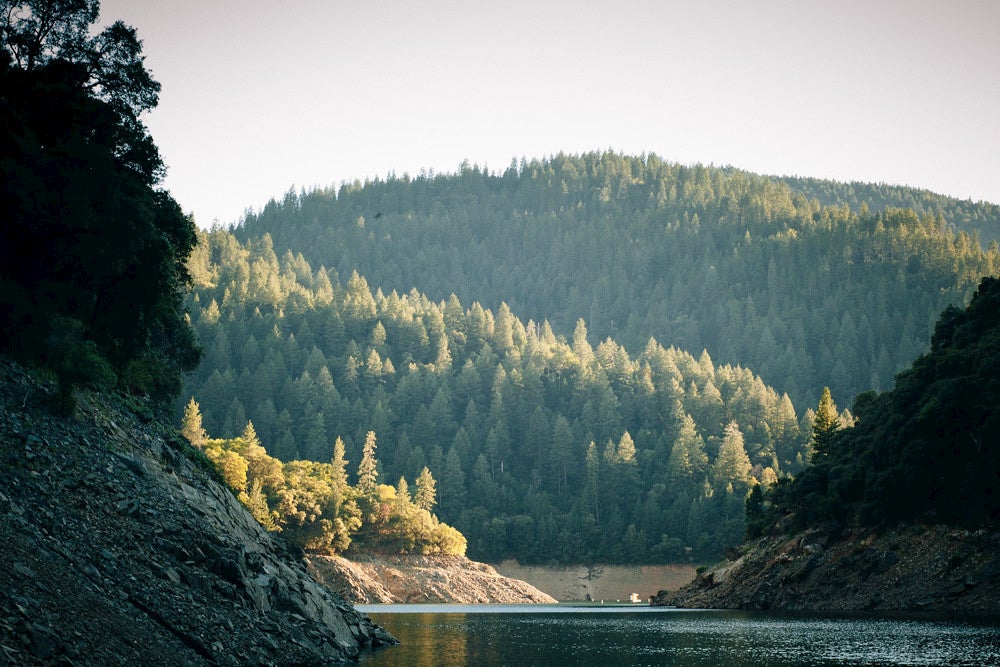 Bidwell is the premier choice for RV-goers keen on camping right along Lake Oroville. This is one of the most scenic Lake Oroville RV parks because of its location. Boat ramps are very close by, making Bidwell an ideal option for boating and fishing. The campground hosts 75 campsites that accommodate RVs/trailers and provide full hookups. Sites can also be used for tent camping. Other amenities include drinking water, picnic tables, showers, fire pits, and bathrooms. Some of the campsites are "floating sites" that are situated on docks on the lake.
A visitor center near the campground hosts a small museum and fascinating exhibits for campers and visitors to Lake Oroville.
"Really enjoyed this campground which is part of the Lake Oroville State Recreation Area. The staff where we checked in were helpful with all of our questions about the area. We stayed here for a trip to Feather Falls, then Table Mountain on the way home. There are local hiking trails, and of course all kinds of water recreation at the lake." —The Dyrt camper Patricia O.
This is a very popular 950-acre RV park in California. This rv park is located at Lake Mildred. Lake of the Springs campground is a popular option for campers keen on getting some boating, fishing, and swimming into their outdoor experience. And for those who accidentally left their boats at home, there are rentable patio boats that can be taken out for the day. The RV resort is located around 30 miles away from Lake Oroville—not a bad distance for experiencing both Lake Mildred and Oroville in the same weekend.
The resort, although renowned for its RV sites and full hookups, also contains tent sites, cabins, tent cabins, and yurts. Lake of the Springs offers a total of 556 sites, is open year-round, and contains an RV check-in time of 12 pm. Prices of each site depend on RV size, headcount, and equipment type (RV/trailer/etc.). Popular amenities of the RV resort include picnic tables/BBQ area, fire rings, a swimming pool, a clubhouse, a playground, tennis courts, a library, mini-golf, a dog park, and even a local market. This is definitely one of the more luxurious Lake Oroville RV parks that enables campers to bring the comforts of home along into nature. Dogs are allowed.

"Great views on the first loop and wildlife throughout! Lake is beautiful too." — The Dyrt camper Nicole R.
Collins Lake is a 1,009-acre man-made lake located just south of Lake Oroville in the Sierra Nevada Mountains between Grass Valley and Yuba City. The lake is frequented for swimming, trout fishing, kayaking, and to feel immersed in the surrounding natural environment. Trout-stocking usually begins in January, and a total of 50,000+ pounds of trout are stocked in the lake.
The Collins Lake Recreation Area provides camping to accommodate RV campers and tent campers as well (group sites are available). There are over 500 sites in total. The campground also hosts cabins and tent cabins for visitors looking for more of a glamping experience. This camping is an excellent choice for campers interested in camping near Oroville but who also want to experience the glory of Collins Lake as well. The facilities in the campground include RV hookups, cabins, hot showers, laundry, marina, rental boats, sandy beaches, playgrounds, a market, picnic tables, fire rings, and even WiFi. The campground is open year-round and reservations are suggested during peak season (March through October).
"We love Collins! Very nice for paddle boarding and kayaking. Clean sites and pet-friendly. We took the boat on our last trip here and had a great time. Great fishing spots!" —The Dyrt camper Michaelle P.
Live Oak Riverfront Park is located right along the Feather River near the town of Live Oak. This spot provides both RV and tent sites and is located only 45 minutes south of Lake Oroville. Amenities provided include drinking water, picnic tables, fire pits, water hookups, and toilets. Phone service is also available in the park.
"Beautiful riverside park. I tent camped and loved it. Very quiet and beautiful scenery. A water faucet and picnic table at every campsite." —The Dyrt camper Les S.
Popular Articles: