This roundup of hot springs in eastern Oregon is brought to you by Banner & Oak, the makers of camo snapback hats for stylish exploration of the deserts of the American west.
---
If you envision a trip to any of Oregon's hot springs, you might think of a large group of friends or family indulging in a relaxing soak, surrounded by lush emerald forests and listening to the sound of a rushing river nearby. At many of western Oregon's renowned and popular hot springs, this holds true; places like Bagby and Cougar Hot Springs are undoubtedly special, but are typically crowded. The less-famed hot springs of eastern Oregon gift visitors with solitude and an unworldly beauty that reminds us how diverse Oregon's landscape can be, and how refreshing it is to get off the beaten path.
At its best, a trip to the high desert of eastern Oregon includes views of crimson-hued rock formations, seemingly impossible sunsets, prancing pronghorns in golden plains, and (of course) a hot soak to, well, soak it all in. There are 47 soakable hot springs in Oregon, 18 of which tucked away in the eastern portion of the state.. We've listed 7 of the best hot springs in eastern Oregon to help inform and ignite your exploration on an ambitious weekend or a desert road trip.
7 Hot Springs In Eastern Oregon for Scenic Soaking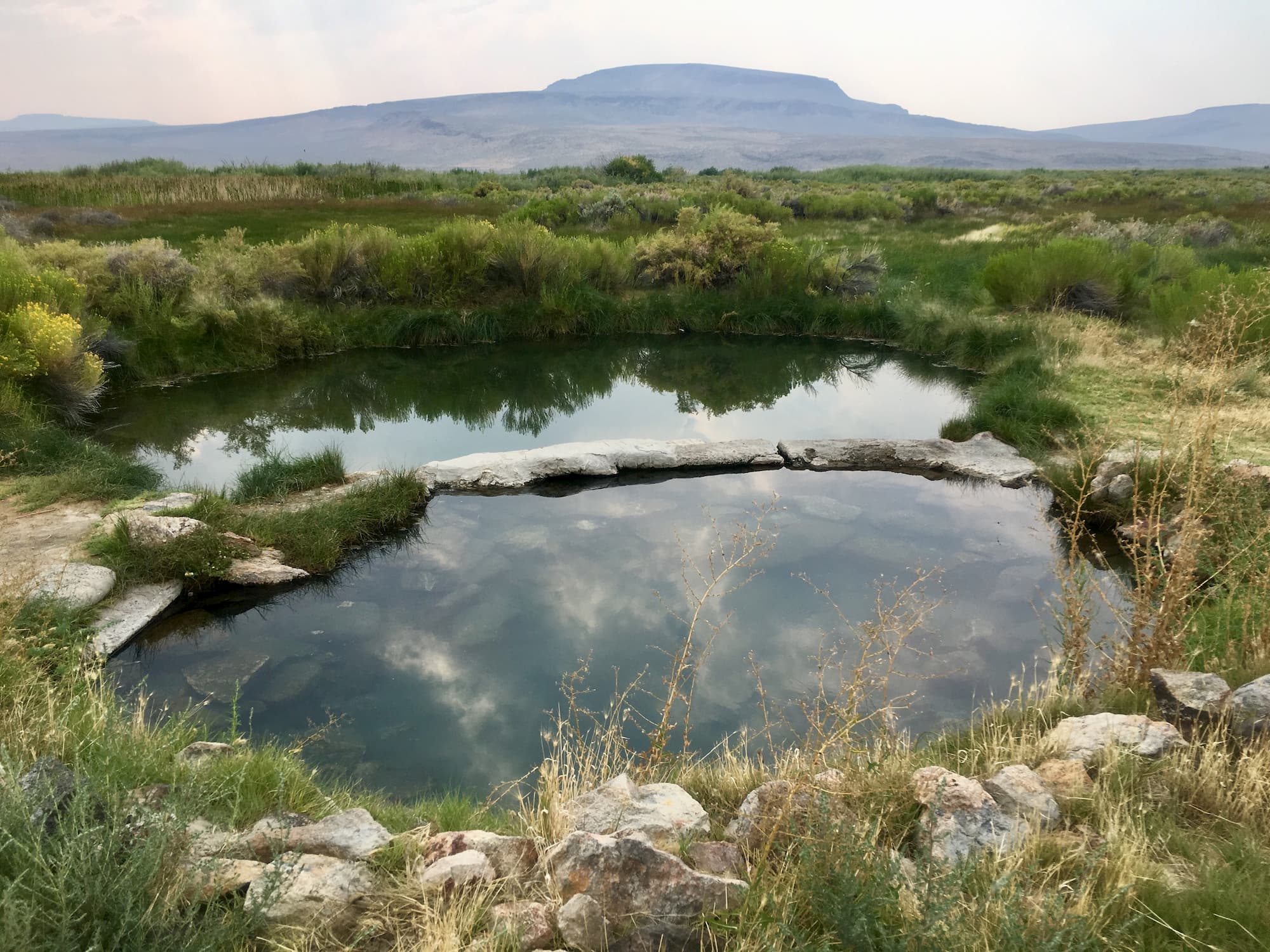 Before you dive in and decide which eastern Oregon hot spring is best for you, here is a fun, geological fact about how hot springs in eastern Oregon work.
Hot springs in eastern Oregon are associated with fault zones. Where the earth's crust is thin and highly fractured, groundwater can circulate deeply along the fault, heat up, and then the faults bring the water to the surface. This differs from western Oregon, where shallow bodies of magma beneath active volcanoes heat the groundwater and cause it to rise to the surface.
1. Snively Hot Springs
Snively Hot Springs rests along the banks of Owyhee River, which flows through the technicolored walls of the Owyhee River Canyon in eastern Oregon near the Idaho border. The views from the pools are stunning, and have gained a following in recent years because of the surrounding canyons that are perfect for many forms of recreation and the rolling hills offering easy hiking. The drive to the springs takes visitors through the striking canyon, luring them into the wondrous high desert of eastern Oregon that differs so greatly from the lushness of the western regions of the state.
The pools are primitive, so don't expect amenities. Spring runoff can cause the hot pools to disappear next to the swelling Owyhee, so late summer and fall are the best times to visit. The hot springs are on BLM land, so dispersed camping around the springs is permitted.
2. Echo Rock Hot Springs
End a day of hiking with a soak at Echo Rock Hot Springs, also located along the Owyhee River, just 3 miles west of Snively hot springs, making it easy to access both springs in a day. This spring differs from Snively however, because you'll have to make a 3.5 mile hike to the spring (it's totally worth it). To get there, head to Leslie Gulch, Oregon, about 2 hours from Boise and 9 hours from Portland, then make the 3.5 mile hike up the Owyhee River.
This hot spring is more established than a typical primitive hot spring–it is made of concrete with a fill valve and a drain valve. The temperature of the springs in fall hits around 103 degrees, offering a warm escape from cold weather come October and November. Fall is usually the best time to visit, as spring and summer often have spring run off that can drown out the soaking pool. Campers can find dispersed camping in the area surrounding the springs, similar to the Snively Springs area.
3. Hart Mountain Hot Springs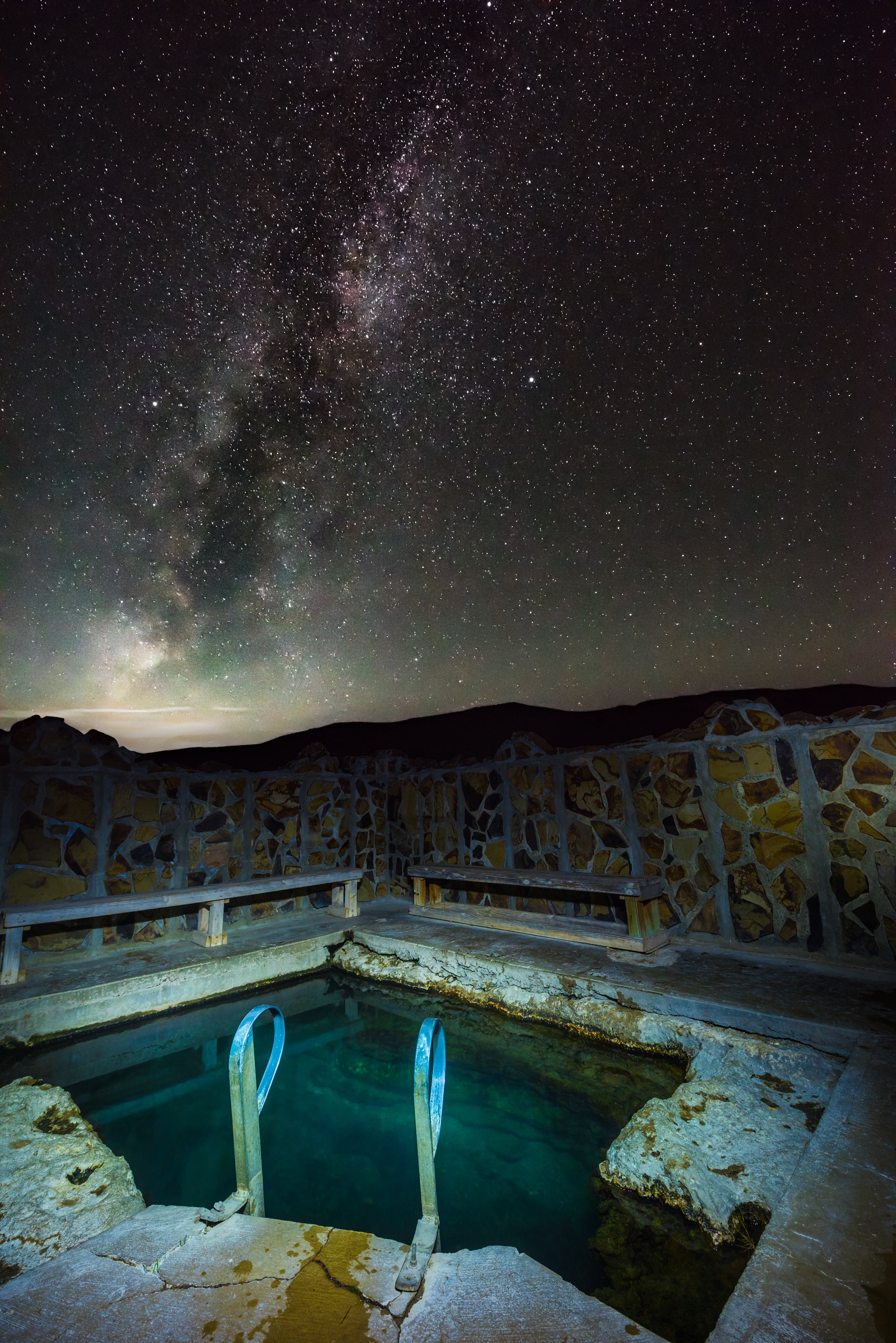 The Antelope Hot Springs system rests in the Hart Mountain National Antelope Refuge in southeastern Oregon. The area features high desert staples like sagebrush and grassy buttes. This is a fantastic choice among hot springs in eastern Oregon if you are looking for something a little more built up, but still want to avoid the hustle and bustle of private hot spring resorts.
The main hot spring in the archipelago of pools is an 8ft by 11ft rectangular pool surrounded by a small rock wall and a ladder leading to the bottom. The Antelope Refuge provides fantastic opportunity for camping. Check out Hot Springs Campground, located next to the pools.
4. Barnes Warm Springs
The Barnes Warm Springs, located in south eastern Oregon, is easily accessible from the road and offers a panoramic view of rugged mountains and grassy plains, with local deer likely to pay you visit during your soak. This eastern Oregon hot spring made the list for its proximity to the Steens Mountains and the shattered ceramic-looking earth of the Alvord Desert. The springs are close to the town of Frenchglen as well, for access to a variety of amenities, but the springs themselves are primitive and offer solitude.
You'll make a .8 mile walk along a grated, gravel road before reaching the pools. Once you've reached your destination, take a soak in one of two pools with gravel bottoms for comfort and surrounding grass for privacy. Camp at Page Springs Campground post-soak.
5. Willow Creek Hot Springs
Located at the southeastern edge of the Alvord Desert, this hot spring is basically in the middle of nowhere, but relatively easy to find compared to other hot springs in the area. Head to Whitehorse Ranch and take Whitehorse Ranch Road for 2.5 miles. Be wary that the final stretch of the dirt road is impassable in wet weather, so plan to go in summer or fall. Two pools with crystal-clear blue water will help you relax among blue, snow-capped mountains towering above golden plains. Willow Creek Campground is located next to the springs.
6. Crystal Crane Hot Springs
If you envision a more luxurious hot spring experience, Crane Hot Springs is the place for you. There are plenty of soaking options at Crystal Crane. Crystal Crane offers enclosed, private cedar bathhouse as well as an open-air public pond to connect with fellow guests. The springs are located 25 miles east of Burns, Oregon in central-eastern Oregon. The outdoor springs cost $10 for adults, and $5 for kids. The private soaking tubs are $15 for adults and $5 for kids.
Guests can also camp at Crystal Crane. Tent sites are $30/night. Trailers under 30 feet are $50. RV sites cost $100-$120 and are only available on the weekends.
7. Alvord Hot Springs
Enjoy the unique, privately owned Alvord Hot Springs on your adventure to eastern Oregon hot springs. The twin springs date back to the 1940s, and have maintained a rustic aesthetic, but have modernized piping. The springs have on-site caretakers, a small store and reception area, and restrooms. The pools sit at the bottom of the summit of Steens Mountain, making for a fantastic view and access to hiking trails to continue your journey. The water comes out of the ground at 170 degrees, butis cooled when mixed with soaking pool mineral waters.
If you'd like to stay on site, there are 6 bunkhouses at $60 for two people. On-site camping is also available for $30 for 2 people. There are 11 campsites available. The pools cost $8/person. Your pooches are welcome.
We hope that by exploring eastern Oregon's hot springs, you'll find a blissful and unique solitude among high desert landscapes of sagebrush and snow-capped peaks.
---
This article was brought to you by Banner and Oak.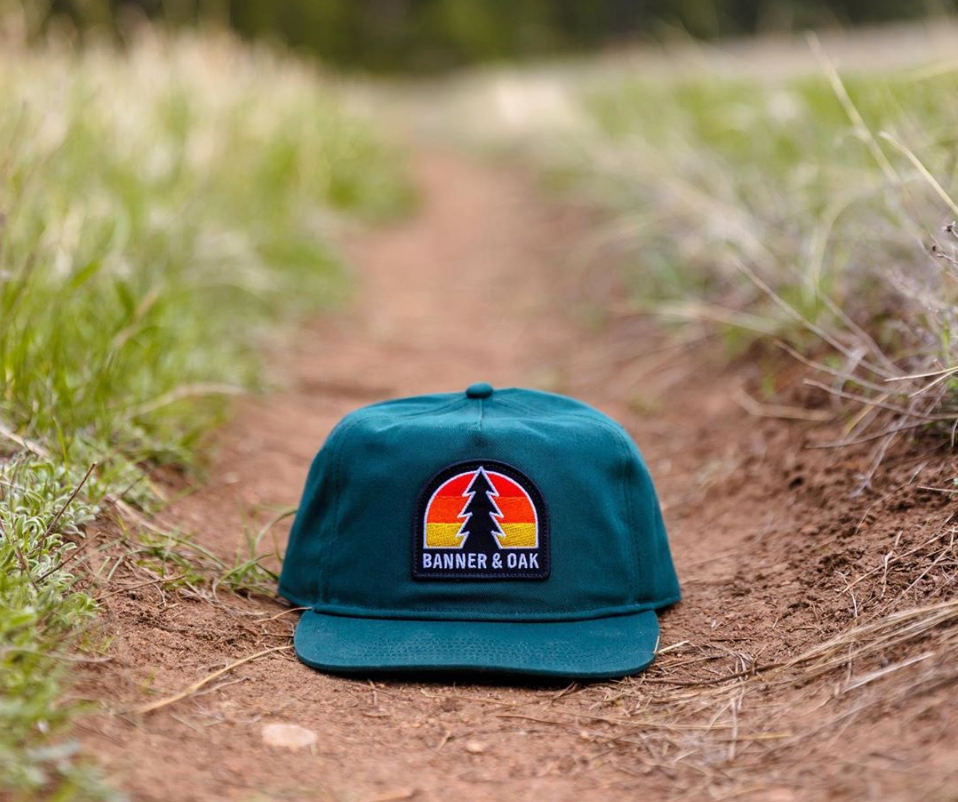 Their trucker hats are perfect for shading that Oregon desert sun and to last through years of adventure.
---
Related Campgrounds:
Popular Articles: