This article about hiking the narrows in winter was brought to you by Liquid IV, the makers of an electrolyte powder that keeps you hydrated during visits to Utah's Big 5, or any other beautiful places you find yourself this winter.
---
Hiking Zion National Park's "The Narrows" in winter is truly intimidating on the surface. In a place where temperatures can fluctuate rapidly and landscapes can change. But it's actually one of the best times of year to grab a walking stick and meander through a river in this epic, rust-colored slot canyon with soaring walls that reach over thousands of feet high. It's substantially less crowded in winter (heck yeah!) it's not as cold as you'd think (with the right gear), and the chances of a flash flood drop substantially in winter months.
What to Know About Hiking Zion's "The Narrows" in Winter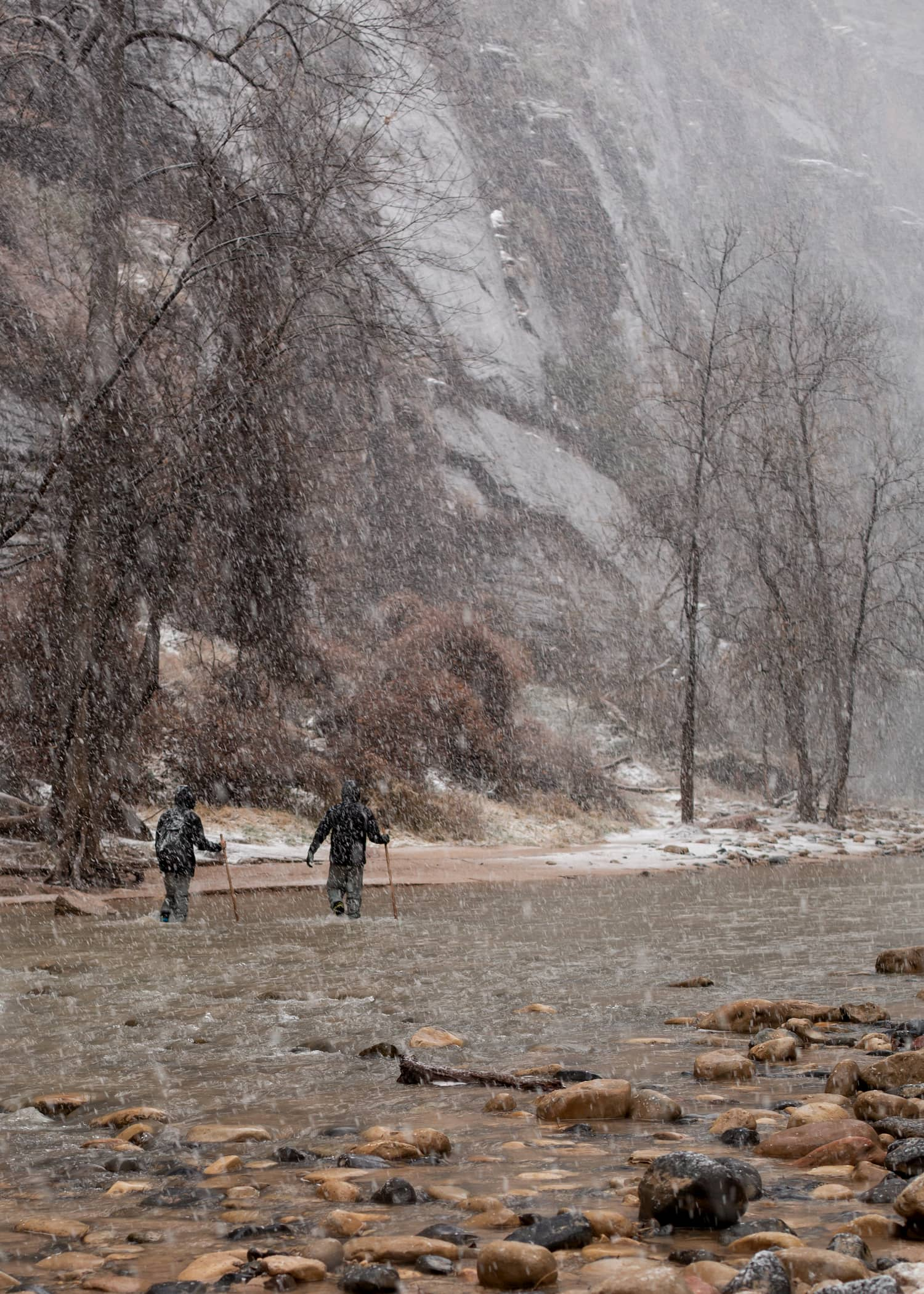 We interviewed The Dyrt staff member Anthony Easton, who made the trek to the southern reaches of Utah to embark on a winter escapade in this stunning landscape. Here's what he had to say.
The Dyrt: What prompted you to hike the narrows in winter?
Easton: The previous job I worked, we would get three weeks in December off for the holidays. I'd always plan backpacking trips. Especially in the winter, I would head south to desert areas. So, I flew into Vegas to make a stop at Bryce Canyon, Zion National Park, the Grand Canyon and to drive through Grand Escalante. A big part of that [trip] was hiking and backpacking in Zion. The Narrows were always a bucket list hike of mine. So that was the number one stop on my Zion trip.
What gear did you have for the narrows in winter? Did you rent it?
So, when you hike the narrows in winter, its very, very cold in Zion. I think the temps at night got down to about 30-below. It's just all snow and ice there. You really have to go through an outfitter there. They're pretty knowledgeable. They supply you with all the gear, so…a full dry suit and hiking boots that are specially made for frigid cold water. It's important to wear a pretty nice baselayer under [the drysuit]. I stayed really, really warm.
They also supply you with a giant walking stick, which is incredibly helpful. Probably better than trekking poles because they can get stuck in rocks. But that was also the trip that I learned about neoprene socks. I'd never worn them before and I have been fascinated by them ever since because they are these magical little socks that keep your feet warm all the time, even with water in there.
So, it's interesting because you're hiking in a complete dry suit so your body doesn't get wet at all, but your boots are not waterproof and there's water constantly getting in your feet, but it's never cold because the neoprene socks keep them warm. So that was really cool.
Which month did you choose to plan this hike, and why?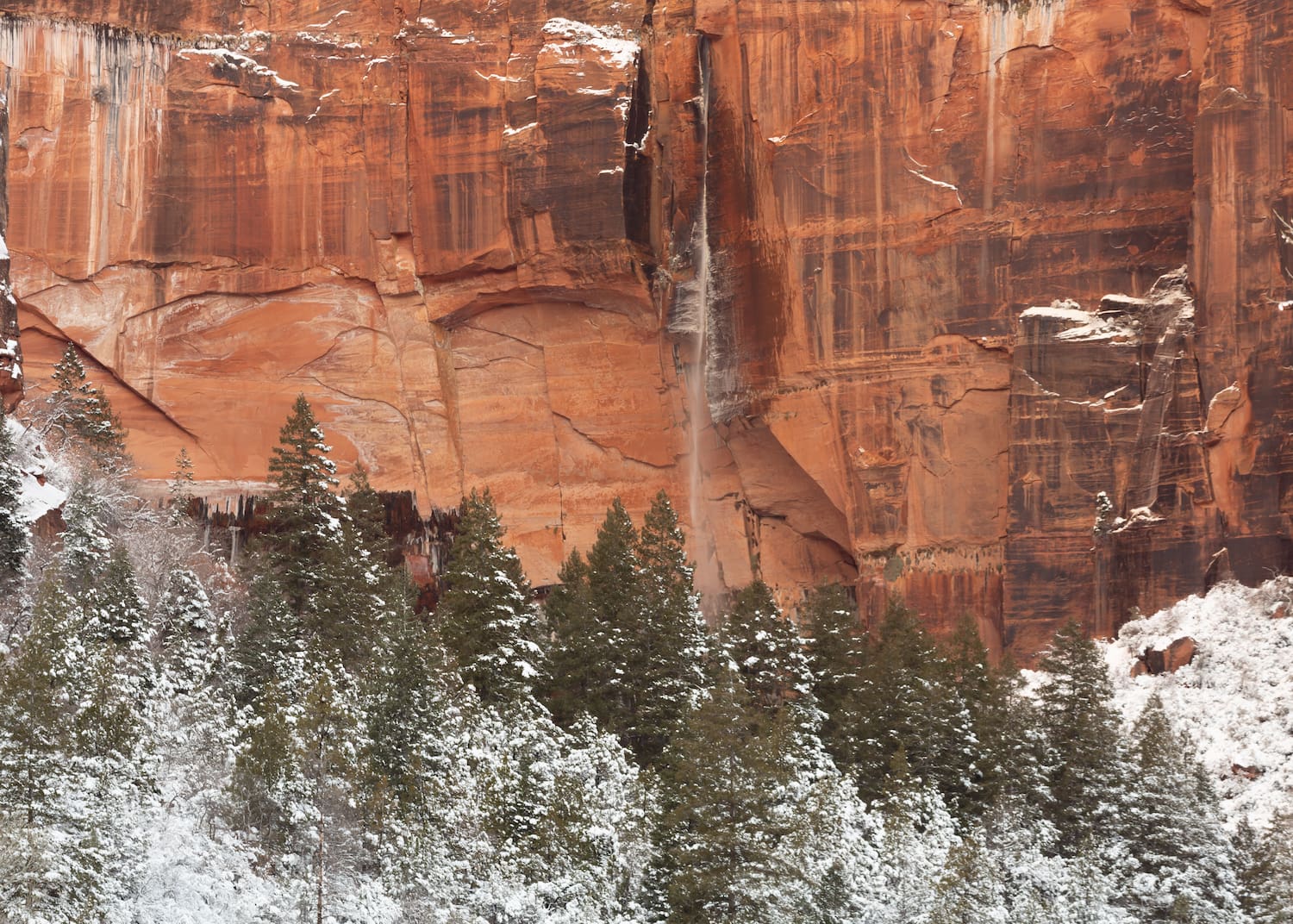 I was hiking the narrows on Christmas day. Mostly because that was my time off in the year. It's really fun to travel to national parks like that at that time because there's usually not many people there.
What time did you start, since the sun sets earlier in winter?
We went first thing in the morning. Like 9am probably. We were already camping and winter camping is really hard (laughs). So, as soon as we woke up in the morning, we packed up and headed for the outfitter, because it was really cold.
So you camped. Where did you camp?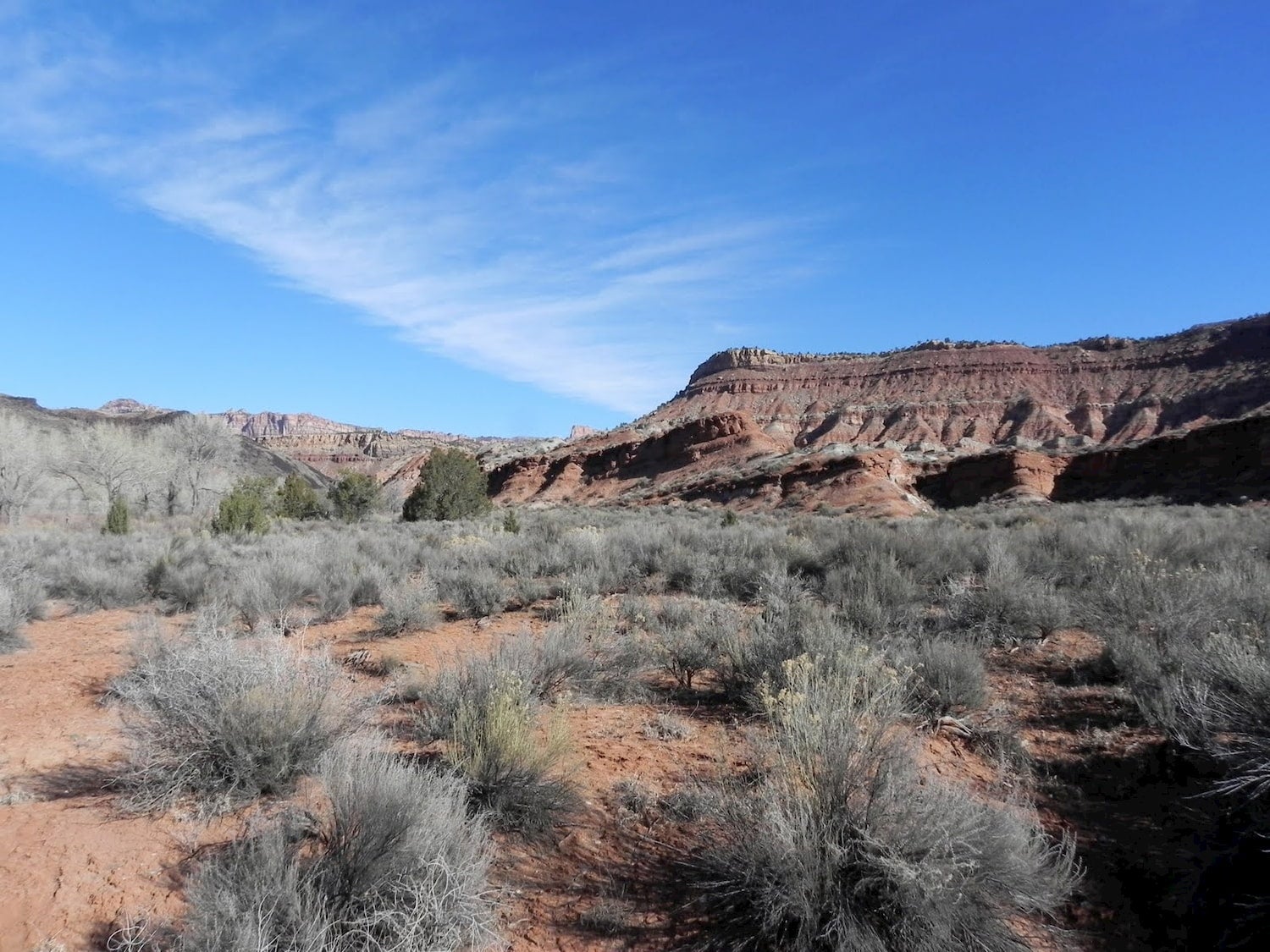 When you get into Zion, there are some zone camping areas. That's where we camped. It was a little wash, pretty far down below. It's called Coalpits Wash. We didn't want to drive into Zion too far. The west side of the park is a big wash, and then it gets into the canyon.
Can you tell me more about what it was it like to camp in winter?
It was snowing pretty hard when we were pitching our tent. But there was no snow the morning of [hiking the narrows]. But the next morning, there was a lot of snow. It got really cold that night. I had double sleeping bags. My beard was pretty iced over by the morning. It was serious winter camping.
Since you were in and out of water during the hike, how were you able to take photos?
The nice thing about the drysuits is that they have little pouches in them. We were mostly able to keep our phones in our pouches and we had neoprene gloves. It was actually pretty easy.
What was your route? How many miles and how long did it take you?
We went in about 3-4 miles. It's hard to tell because once you get in there, it's less a hike and more this really awesome experience. You find little caves or outlets that you explore a bit. And you're looking up…it's weird, it's not really a destination as much as just doing it is really cool.
And we started at Temple of Sinawava.
What made hiking The Narrows in winter so special?
We were the only people there. At least from my understanding of the narrows in summer, it's super crowded and the narrows are super jam-packed. There was nobody else hiking it. The water level was pretty low, which was nice. It was easier to walk through. And the snow was just magical. It was sunny and there was snow on all of the little canyon ledges and sides. My neck hurt from looking up after a long time. But, you'd still get little run-offs.
I still think it's the most unique hike I have ever done by far. Experiencing it with absolutely nobody around. And being surprisingly warm, made it really special too. It was really cold outside, but we were really well prepared and I was not cold once during that hike and that made it even better.
Did you do any other activities while in Zion?
We were going to backpack. But it started dumping snow. So we didn't do that. We started doing Angel's Landing, but then I got scared because i'm a little afraid of heights and it was dumping snow (laughs). But yeah, we did a lot of hiking. We ended up camping in the frontcountry more just because of safety. We didn't go too far into the backcountry (are we in trouble?!). But when we went, a lot of stuff was closed off. I wish I would have just done the narrows twice, to be honest with you.
What additional info or advice would you like our readers to know?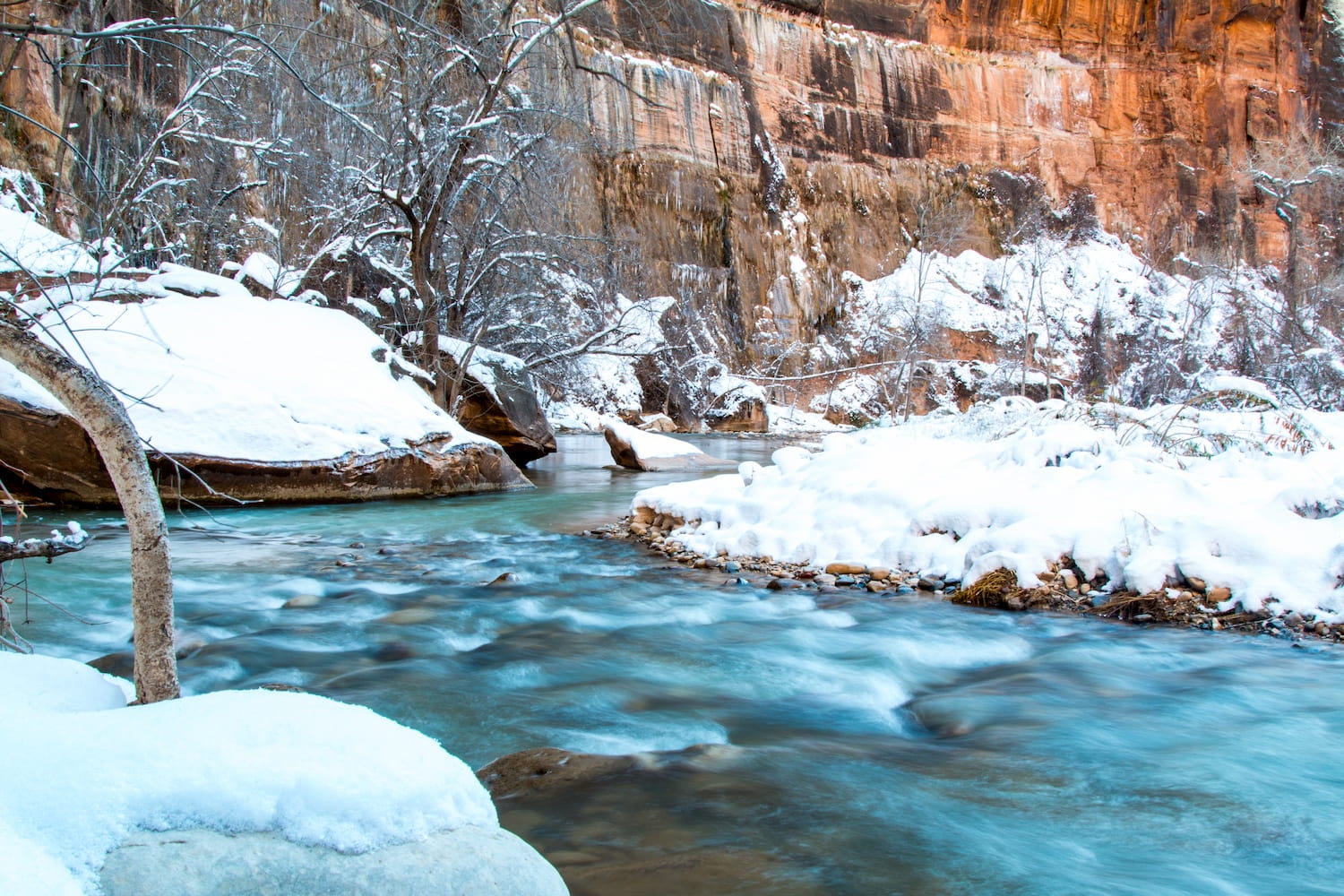 If you have a chance to do the narrows, do it. I would say, go slower than I did. I think when we started I was thinking miles as opposed to experience. Once you start hiking it, you pretty much realize that it's not a hike…it's just a super interesting experience.
I would guess that if you go in the winter you won't find many people, but also, you know, we did a lot of our original safety checks. Like, the narrows is very prone to flash flooding. Even though it was winter, we still made sure we were checking upstream. Checking water levels. Asking the rangers. Getting a lot of advice and asking a lot of questions from the outfitter. If something feels like it doesn't fit, especially in the winter, ask about it. You do not want to get wet. At all. Because it's very cold. (laughs)
And if you're planning on camping beforehand, stay as close as you can to the narrows, if that's where you want to hike because the conditions can change there pretty quickly and you can get snowbound.
And yeah, when they offer you the free walking stick, take it. It's also just a fun thing to have along. It takes you to a fun place in your mind to be walking with a giant walking stick and when you get there (the outfitter) you'll see a big pile of everybody's walking sticks that they'd used before. And take more pictures than I did. Go with a friend. It's always more fun to do stuff with a friend.
Anything else you want to add?
I would say, if you're going to do a southwest trip in the winter, go super warm. The coldest night we experienced that entire trip was 40 below. And that was very, very hard, especially as a backpacker. I usually go lightweight, but that time I cared more about staying warm and alive than being light. So, you know, dress really warm and just enjoy it. Bring a good book too if you're going to camp because it gets dark early and it gets cold and you can't sit outside of your tent.
Want to Make It Happen? Here's Some Additional Info on The Narrows in Winter: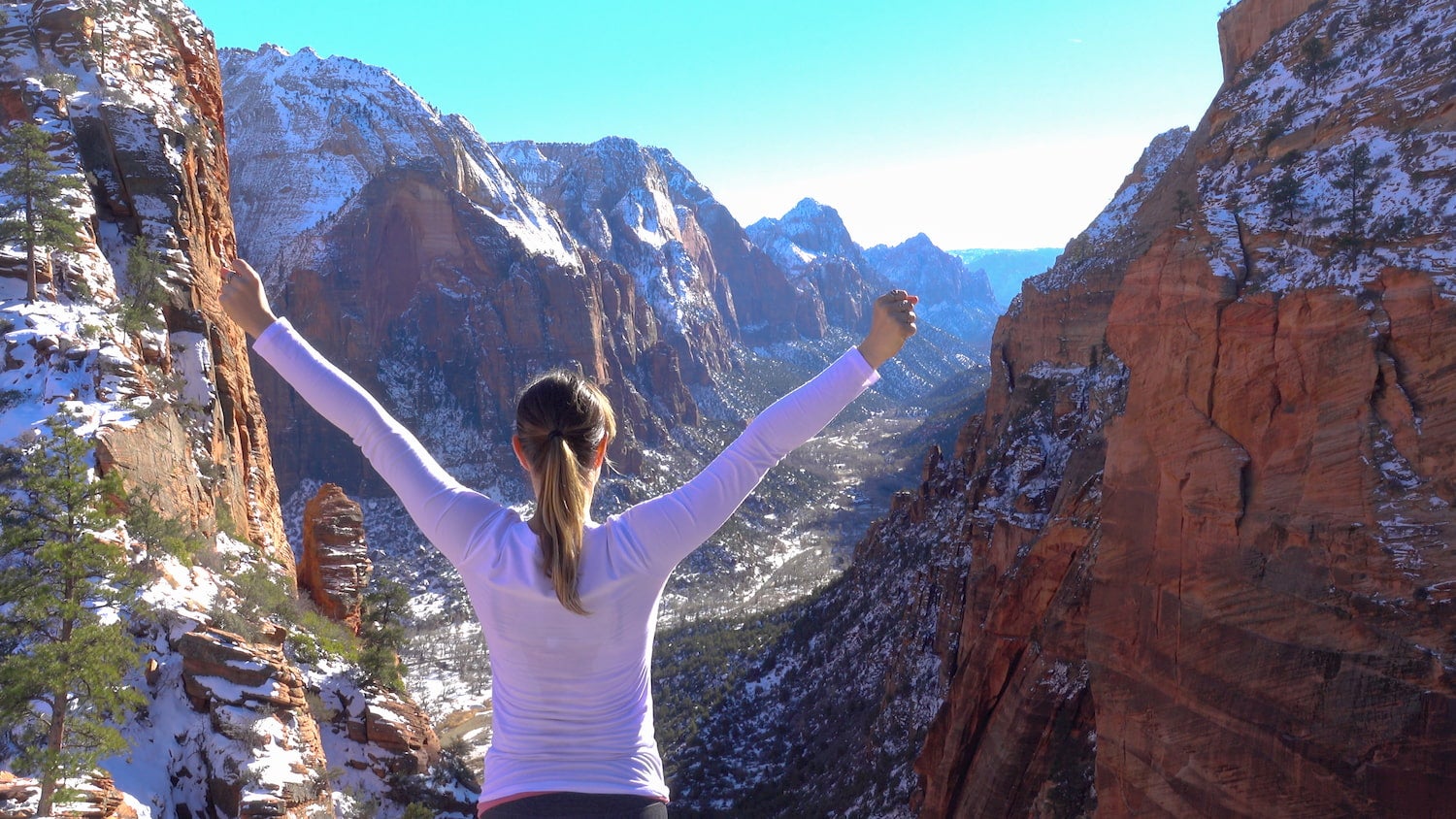 Getting to Zion and The Narrows
Zion National Park is located on State Route 9 in Springdale, Utah.
Once in the park, take the shuttle to the Temple of Sinawava and walk one mile to the end of the paved sidewalk known as Riverside Walk. From there, begin your journey wading in the water. This direction along The Narrows is known as 'bottom-up'. You do not need a permit for this direction. If you want to go 'Top-Down,' you'll need a permit. But for the sake of this guide, we focus on bottom-up.
There is no destination, so hikers can walk in as far as they'd like, and return the way they came. A popular place to reach is Orderville Canyon, approximately two hours upstream.
Where to Rent Gear to Hike The Narrows in Winter
Zion Outfitter is your best bet for renting gear. They provide specialized gear that allows hikers to complete their journey comfortable and safely. This includes canyoneering boots designed for slippery conditions, neoprene socks (Anthony's favorite piece of gear), a drysuit and of course, a hiking stick.
Where to Camp When Hiking the Narrows in Winter
If you're seeking budget friendly camping with some peace and quiet, we recommend spending and evening at either Dalton Washed dispersed camping or Coalpits Wash, where you'll see fewer crowds, especially if you plan to visit the narrows in winter. These sites are dispersed, so camp where you would like. There's no limit on the number of campers. Watchman Campground, located within the park, sees more people throughout the year, but will likely be less crowded in winter and greets visitors with spectacular views of the park. There are 189 sites at the campground, and can be reserved 6-months in advance.
---
This article about hiking the narrows in winter was brought to you by Liquid IV

Liquid IV's Oral Rehydration Solution helps athletes and outdoor adventurers stay hydrated during their epic excursions.
---
Related Campgrounds:
Popular Articles: