This article on the "Caribbean of the Rockies" is brought to you by our friends at MountainBased — a third generation travel adventure company, providing tours of Utah's 5 national parks. Their guides are Utah experts who know their way around the desert and beyond. 
---
The red rock hoodoos and orange sandstone towers that cover southern Utah get a lot of attention. As do the white blankets of ski resorts that stretch across the Wasatch Range to the east. But did you know that Utah is home to a strikingly blue landmark, as well?
Bear Lake spans 109 square miles across the Utah/Idaho border. It's been named the "Caribbean of the Rockies" for the turquoise blue water.
Campers rent cabins, pitch tents, and hunt for raspberries next to the lake's clear blue water when summer comes to Utah and Idaho. If you're planning your trip to Bear Lake, UT/ID, here's what you need to know to make the most of the "Caribbean-esque" destination.
Visit in August
Unless you're crowd-wary, August is the time to visit Bear Lake. During the first week of August, the Bear Lake Valley Convention and Visitors Bureau hosts Bear Lake Raspberry Days. With fireworks, a parade, raspberry recipe contests, a fun run, and more, you'll be entertained and full the entire week. Temperatures are pretty toasty in August; the average high is 89 degrees. But you'll be cool in the lake!
Get a Raspberry Milkshake from LaBeau's
It wouldn't be a summer vacation without ice cream. And these raspberry milkshakes from LaBeau's are a local favorite. Raspberries thrive along the southern shores of Bear Lke where local vendors turn the berries into jams, jellies, and milkshakes. Your fingers might already be stained from snacking near your campsite, but you still gotta try this shake — especially on a hot day.
Spend Time on the Water

Bear Lake's unique color comes from suspended limestone deposits under the lake's surface. Due to its size, a day on the water can feel like a day to yourself, and depending on when you visit, you might not see another boater on the water. Jet ski, kayak, and even Fly Dive Hydro Flight (yes, please!), rentals are available in Garden City.
Bear Lake Camping
The best way to enjoy all that "The Caribbean of the Rockies" has to offer is to sleep beneath the stars, just a short walk from all the water-related activities. The following campgrounds are accessible to all there is to explore:
1. Main Bear Lake State Park, UT

Main Bear Lake State Park is the closest campground to the town of Garden City (and LaBeau's…) and offers a lot of space for caravan style camping. If you're meeting up with a group of family or friends, this is the place to go!
The Dyrt reviewer Kevonna B. says, "The overall drive to the campsite is just gorgeous. The campgrounds were flat and perfect for tenting."
Camp Here
2. Rendezvous Campground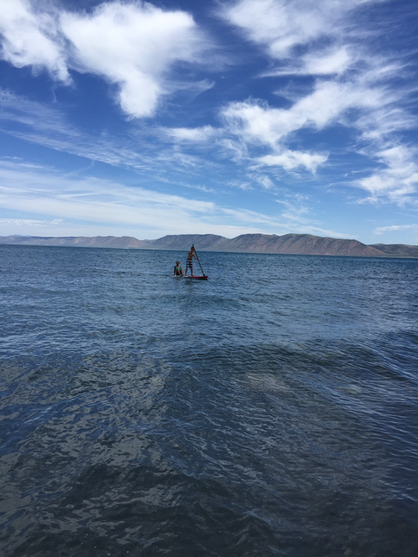 Rendezvous Campground is on the southern end of Bear Lake and close to kayak, boat, and SUP rentals. The campground has full hookups for trailers and level pads for tenting. One reviewer, Carrie C. says, "This is where all the cool kids go." Find out for yourself.
Camp Here
3. Bear Lake State Park, ID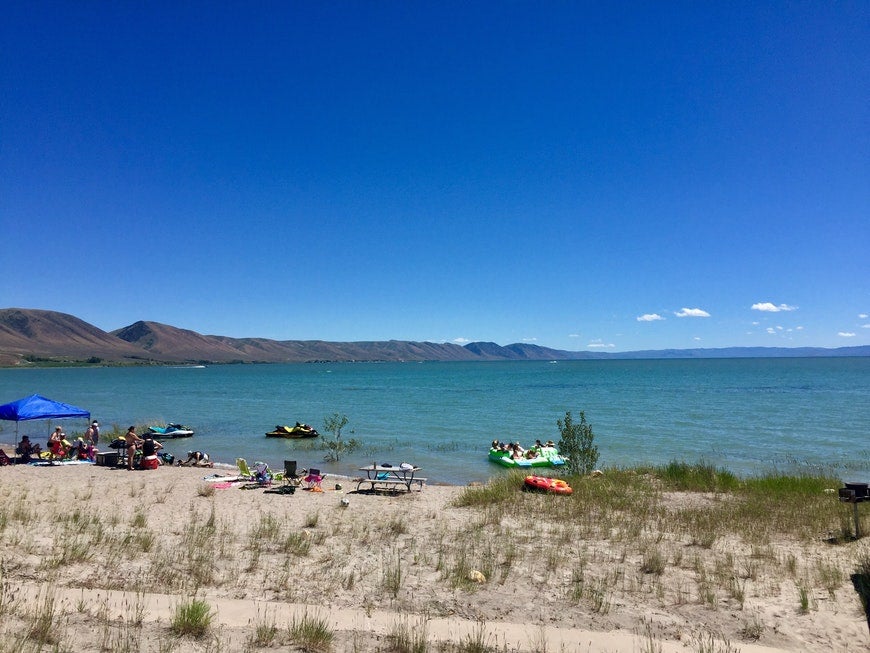 Bear Lake State Park is 20 miles across the way from Rendezvous Campground on the Idaho side of Bear Lake. There's a large swimming area here that gradually descends, so swimmers can wade farther into the water.
Camp Here
---
Once the summer fades into fall, it becomes desert season in Utah. Book a trip with MountainBased to tour Utah's five National Parks!
Popular Articles: