In 2017, Grand Canyon National Park saw more than six million recreational visits, and that crowd is only getting bigger. The numbers make sense: In order to fully grasp the grandeur of the Grand's 277 river miles and 6,000-foot depths, you have to see it for yourself.
One of the best (and least crowded) ways to see the canyon is from deep within the park's backcountry.
Because of the large number of visitors to the park and the inherent risk of traveling and camping in the wild corners of it, a Grand Canyon backcountry permit is typically required for many adventures and overnight trips into the canyon. The permitting system helps the park service protect and preserve areas of the park while giving hikers, backpackers and backcountry campers a more secluded and enjoyable experience.
Securing and Using Your Grand Canyon Backcountry Permit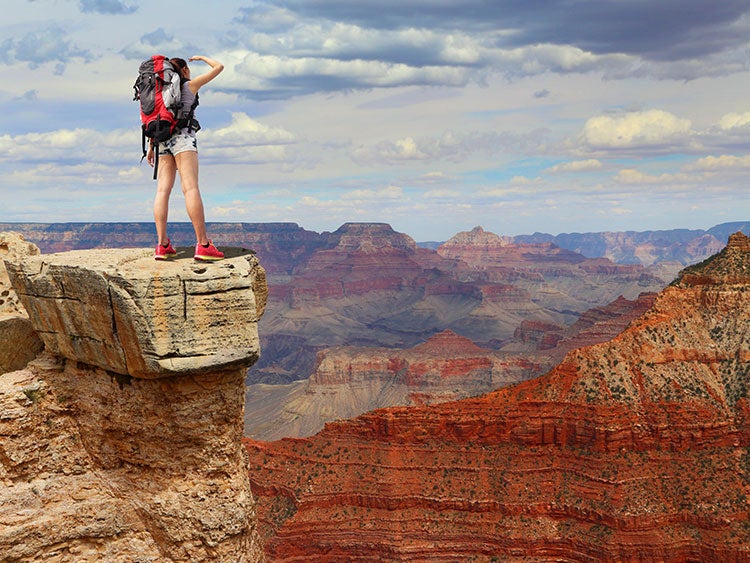 You'll need to have your activity, itinerary and group size nailed down when you register for permits, as they are typically reserved for a certain number of people on a specific day in a specific area of the park. Some trails or backcountry campsites can be harder to obtain permits for than others, so if you're vying for a spot in a high-demand area, it's best to be ahead of the game for applications and reservations.
For overnights and long weekend trips, here's everything you need to know about getting a Grand Canyon backcountry permit.
Where Does the Grand Canyon Backcountry Permit Grant Access?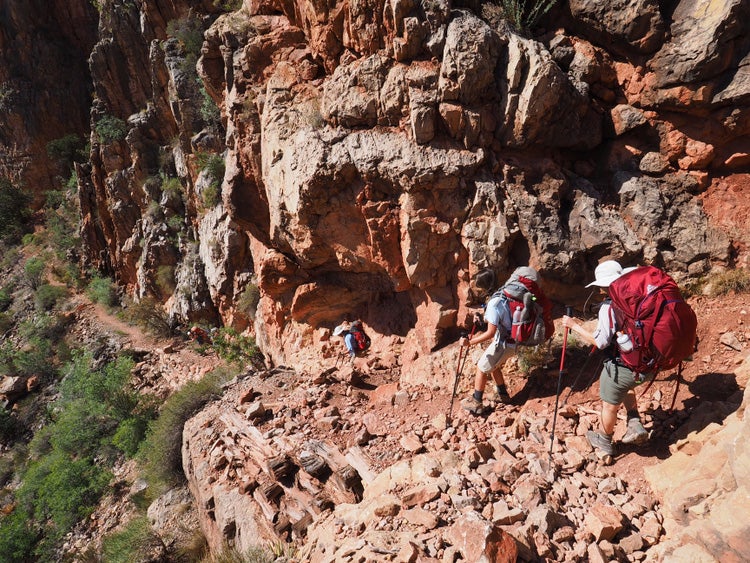 Backcountry permits are available for most areas of the park, and for activities from backpacking and backcountry camping to packrafting, horseback riding and cross-country skiing.
For camping in the summer months, there are three campgrounds for which you do not need a permit, but may need a reservation: Mather Campground, Desert View Campground and North Rim Campground. All of these campgrounds are closed during the winter. If you plan to camp in the national park anywhere other than these designated campgrounds or during the winter months, you'll need to acquire a permit.
Overnight trips will require a Grand Canyon backcountry permit for camping, either at designated campgrounds or for dispersed camping, depending on where you plan to hike. The park considers anything below the canyon rim to be the backcountry, and therefore, camping anywhere other than the developed campgrounds along the rim will require a permit. The park is divided into backcountry zones, and when applying for a permit you will need to specify which zone, and possibly which campground, you need the permit for.
Park rangers suggest hikers new to the Grand Canyon start in the Corridor Zone, which includes popular trails like the Bright Angel Trail, South Kaibab Trail and North Kaibab Trail. Some of the best (and most popular) backcountry sites for camping include Bright Angel Campground, Cottonwood Campground, and the Indian Garden Campground, which are all below the rim in the Corridor Zone. Bright Angel Campground is located below the canyon walls and accessed via the 9.6-mile Bright Angel Trail or 7-mile South Kaibab Trail from the South Rim, or the longer, 14-mile North Kaibab Trail from the North Rim. Follow the North Kaibab Trail for 6.8 miles to reach Cottonwood Campground, another small backcountry camp below the canyon rim. You'll find Indian Garden Campground 4.8 miles from the Bright Angel Trailhead.
Each of these backcountry campgrounds have a maximum 2-night stay for each trek into the Grand Canyon backcountry, so keep that in mind when planning your itinerary. Once permits are attained, you'll have access to camp on the night and at the location your permit states. Once granted, backcountry permits do require a fee of $8 per person per night plus a $10 permit processing fee (for campgrounds below the canyon rim, like the ones listed above).
Dispersed camping is permitted in the park outside of designated areas, like Bright Angel, Cottonwood, and Indian Garden in the Corridor area. If you plan to camp at-large in a zone other than the Corridor, the permit application process is the same, you'll just select a different location for your destination. At-large camping in the more remote zones is best for experienced backpackers who've dialed in their desert travel skills. All at-large camping in the park is still subject to rules of Leave No Trace: Pack out all trash and human waste and pitch your tent in acceptable locations at least 200 feet from water sources.
How and When to Apply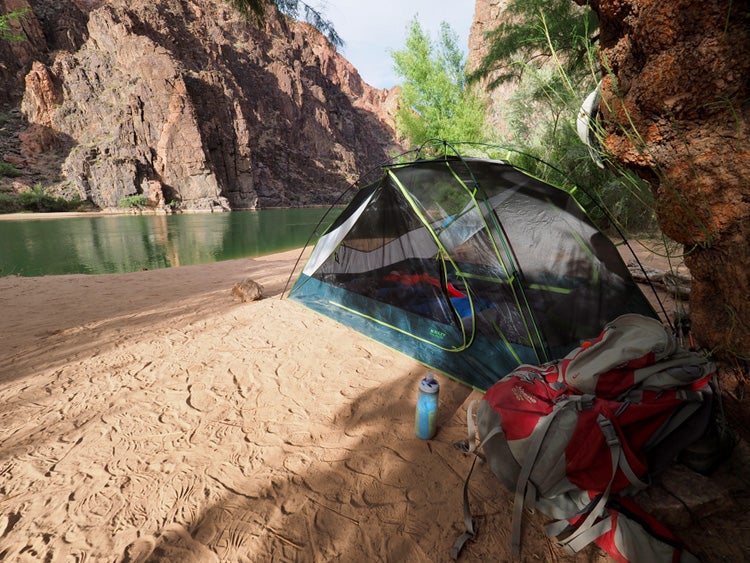 For backcountry hiking and camping permits, your best bet for obtaining one is to submit your application request at the earliest possible time. These vary depending on when you are planning your trip. Generally, you will want to apply 4 months in advance of your trip. More info on theGrand Canyon backcountry permit application process can be found here, and a map of the backcountry zones can be seen here.
In order to apply for these permits, you'll need to fill out an application and fax it to the Grand Canyon's Backcountry Information Center at 928-638-2125. You can also mail your application to Grand Canyon National Park, Permits Office, 1824 S. Thompson St., Suite 201, Flagstaff, AZ, 86001.
Before applying for an application, you'll need to have your itinerary set so that you can list the appropriate zones and/or campgrounds that you plan to stay at on your permit application. Designate a trip leader, who will be listed as such on the application, then will be responsible for carrying the permit once you hit the trail. Know your group size ahead of time: Large group permits are available for up to 11 people, but can be tougher to get, while small group permits that allow for up to 6 people are often easier to snag. The smaller your group, the better your chance of getting a permit.
Like many desert destinations, the Grand Canyon is most popular in the spring and fall, and for good reason: The months during shoulder seasons offer the best weather with the mildest temperatures. While it's not always possible, avoiding holidays or planning a trip mid-week instead of over a weekend will often give you a better chance to secure your permit.
Response and Trip Preparations
If you've been granted a Grand Canyon backcountry permit, you'll be notified by the park service via mail or email. Once your permit is granted, you'll need to pay permit fees. Then you can celebrate and begin your trip preparations.
While planning your trip, it's important to remember to practice LNT and review the park's policies for backcountry camping.
As you prepare, keep in mind that your group size and itinerary must match the number of people, dates and location on your permit. Your designated trip leader must carry the permit on them at all times once your trip has begun, and the permit must be displayed on one of the group's tents while at camp.
Don't forget: When you head into the backcountry of the Grand Canyon, you're heading into rough desert wilderness. The heat scorches in the summer months and water can be scarce at best, while temps can dip below freezing in winter. Take note of the specifics of your planned route and carry plenty of water and food along with you to avoid both dehydration and hyponatremia. Wearing lightweight long-sleeved shirts, pants, and hats that block the sun (like a long-sleeved sun hoody) may seem counter-intuitive, but will help keep sunburns and overheating at bay. But most importantly, being well prepared will allow you to fully soak up your experience of exploring one of the world's most impressive canyons.
Chancing a Same-Day, Walk-Up Permit
Still want to hit the backcountry, but didn't apply for a Grand Canyon backcountry permit ahead of time? There's a chance, albeit a slim one, to obtain a walk-in permit from the Backcountry Information Centers on either the North or South Rim. These grant access to Corridor Campgrounds and popular areas like Bright Angel. Stop in the day before you plan to hike to see if any remaining permits are available for the following days.
---
Related Campgrounds:
Popular Articles: