Fall Creek Falls State Park is Tennessee's largest and most popular state park, situated in a stunning corner of Tennessee strewn with waterfalls. The falls and surrounding forests were thankfully protected from the brunt of the logging and coal mining that were the primary industries here, in part because these lands were once so remote and poorly connected to the surrounding county.
That's hard to believe now, considering that Fall Creek Falls is convenient to Chattanooga, Nashville, and Knoxville, Tennessee. You can access the park via Highway 111 or Highway 30, and once inside, you will find over 26,000 acres of land, creeks, and waterfalls sprawling across the Cumberland Plateau.
The park features activities such as hiking, biking, birding, fishing, rock climbing and even a golf course. If you are looking for something a little different or have an adventurous soul, you can also tackle the 70+ aerial obstacles at the Canopy Challenge Ropes Course. That was added as part of a broader renovation of Fall Creek Falls' facilities between 2013 and 2014, which saw nice upgrades to the swimming pool and snack bar, golf course, restrooms, playground, and more.
Where to Camp Near Fall Creek Falls State Park, TN
Not did Fall Creek Falls State Park add a zip-line course and touch up its amenities, as of April 2018 the old Fall Creek Falls lodge was temporarily closed so that the existing structure could be torn down and replaced. The brand new inn and restaurant will feature three floors of lodging, gathering areas, meeting rooms, and a restaurant overlooking the lake. That's great news for the almost 1.5 million visitors who come to this park every year.
As you can tell already, Fall Creek Falls State Park has a lot to offer—including fishing, hiking, paddling on the lake, golfing, and horseback riding— and we want you to know about it all before you visit. We've got the scoop on where to camp, as well as tips and advice on how to make the most of your stay from the Dyrt campers who have been there themselves.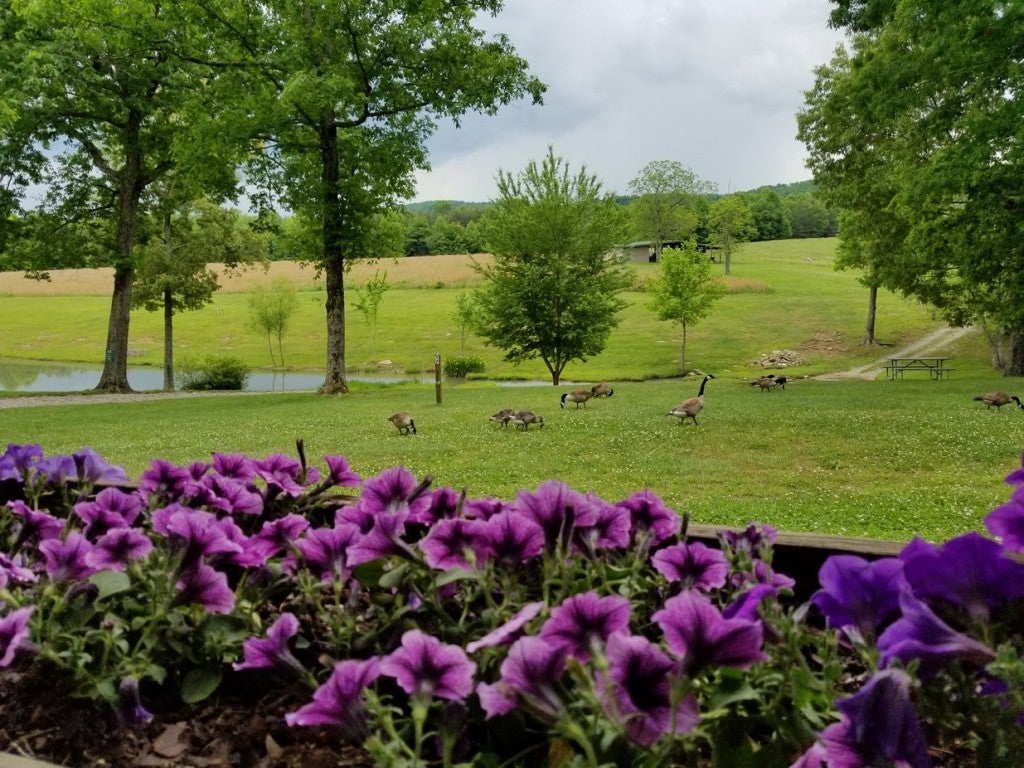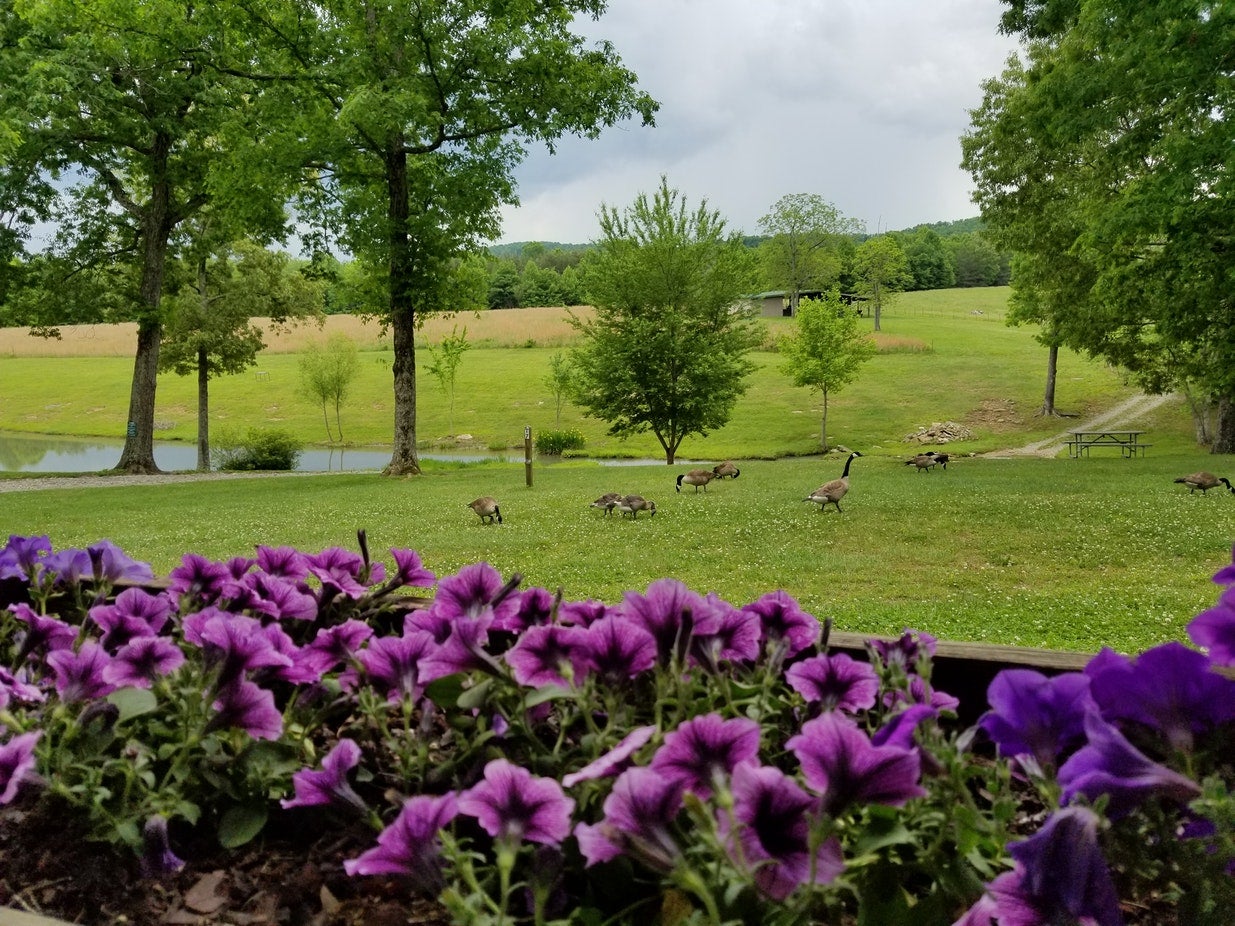 Just outside Fall Creek Falls State Park is Mountain Glen RV Park, a private campground with 40 pull-through sites that can accommodate even the biggest rigs, with full hookups, fishing pond views, and extras like high-speed WiFi. Mountain Glen is a nice alternative when Fall Creek Falls fills up in the busy months— especially without the lodge being open, but it's also a spot that knows exactly what RVers want and how to take care of them.
Dyrt campers who've stayed here rave about the water pressure, pet areas, after-hours checkin, and general store where you can stock up on the essentials. All the sites have basics like picnic tables and fire rings, but you'll also get a community feel from the game room and playground. The climate controlled bathrooms let you know you're not roughing it, even if you are enjoying the one-of-a-kind east Tennessee scenery. And with rates ranging from $18-$33, you won't break the bank.
"Mountain Glen is a hidden gem! If you are traveling through eastern TN or just looking for a place to park your RV for a few weeks or longer of peaceful quiet then you have to stay here. I've stayed in RV parks across 38 states and never found cleaner bathrooms, friendlier customer service, or faster WiFi." –The Dyrt camper Dan K. Book Now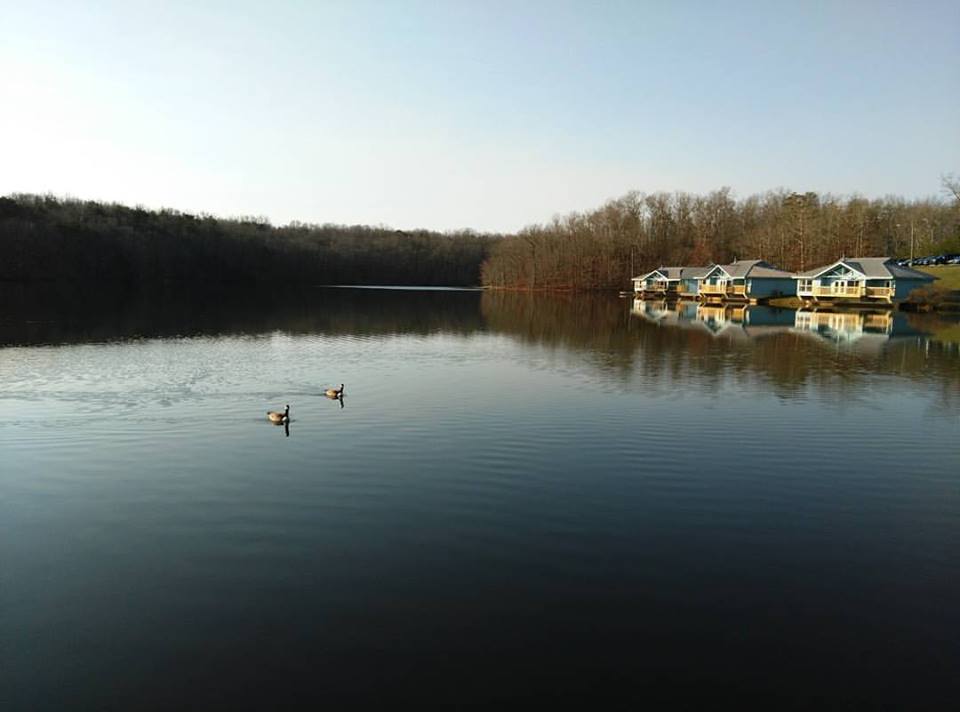 In addition to all the other renovations that have happened within the last decade at Fall Creek Falls State Park, its cabins got some TLC, too. Both the landside cabins and the fisherman cabins that jut out over the lake were nicely updated. Those cabins serve in addition to sites for tent and RV campers, as well as the Fall Creek Falls lodge, which in both its old and new incarnations will feature hotel-style rooms, many overlooking the lake. All the campsites (except the 9 primitive sites) have grills, water, tables, fire rings, and access to bath houses, playgrounds, and the 56 miles of trails that lace through the park.
"We visit Fall Creek Falls at least two times per year. Every time we visit we experience something new and exciting! We prefer to stay in loop B. This campsite is very wooded and has sites that are spaced out that don't make you feel like you are on top of each other. The falls are always breathtaking and trails are short for those who don't like long hikes or are novice to hiking. This campground is a must for those who like to experience the great outdoors!" –The Dyrt camper Bryan R.
Plenty of Room
Fall Creek Falls State Park itself includes over 200 reservable sites, including backcountry options, so there's room to spread out. Just keep in mind that the nine back country sites tucked away by Virgin Falls do require a permit— this still isn't quite the same thing as backcountry primitive camping on BLM land that's really far from civilization.
You can also reserve one of the 33 cabins at Fall Creek Falls State Park, which are nicely equipped with basic kitchen and serving ware, linens, and everything else you need for a comfortable stay. At most camp sites you will also find the essential conveniences, such as drinking water and electric hookups. There are even some shower facilities, making a long term camping trip a little more comfortable.
"Campground is spacious and green with a lot of different camping areas to choose from, including cabins and backcountry (less than 5 miles from the car). If you can't do the hikes you can still see a lot of beauty here (some vistas are wheelchair accessible)." -The Dyrt camper Lynn G. 
Waterfall Hiking
This area is home to several waterfalls, including the 256-foot Fall Creek Falls, which is the highest waterfall in the eastern United States. Along with waterfalls, there are creeks and miles of hardwood forest to discover. You can download a park trail map here. The Best Dunn Nature Center is open within the park as well, offering informational tours and information about the local wildlife at Fall Creek Falls State Park.
"…the hiking was amazing. The trail down to the lake with the wire is so cool! The water is freezing but totally worth it! Great falls everywhere." –The Dyrt camper Kirstina K.
Not a lot of Privacy
Many go camping for the solitude and private enjoyment of nature. Fall Creek Falls State Park, while beautiful and full of an array of outdoor recreational opportunity, is not the most quiet place. The park gets a lot of traffic each year. So, if you are seeking peace and quiet, this might not be the right park. The backcountry camp sites are a bit quieter, but most of the other camp sites and cabins are close together. The park is a lot of fun, but privacy is limited. That's the trade off in bigger state parks centered around a popular natural wonder, and it's well worth making at Fall Creek Falls.
"The campgrounds are well kept and clean but it was crowded when we visited. This is the type of campground if every site is booked you can see a lot of your neighbor." –The Dyrt camper Shelly S.
Family Friendly
When you have kids in tow, access to a variety of activities that can keep everyone entertained is helpful. Learning and staying active are both accessible at Fall Creek Falls State Park. You can get outside with plenty of hiking and mountain biking trails nearby, or you can relax with a book and a picnic near one of the creeks that flow through the area. If you are seeking something mentally stimulating, you can stop by the nature center, where along with tours, you can also browse displays, watch a movie, or do some crafts.
"There are plenty of restrooms around to accommodate all the campers. We have never had any issues with having to wait for the showers or restrooms. And with kids, esp. smaller ones, that is a big deal for families. What I did like at a couple of the camping areas was the wide open grass area for the kids to run & play if they get bored sitting around the campsite. They can play a game of kickball or just go pass some ball. It is a good place for the kids to hang out while we were getting dinner ready in the evenings." –The Dyrt camper Susan S.
Modern Amenities
Because Fall Creek Falls State Park gets so many visitors, the onsite modern amenities make the experience comfortable for everyone. Sometimes, even when camping, it can be nice to have everything you need right at your fingertips. Along with camping and outdoor recreation, you will also find a swimming pool, a general store, and even a laundromat. And if you need something you can't find onsite, Pikeville and Spencer, Tennessee are just a twenty minute drive away in either direction.
"The campsites are nice with a bath house and fire pits and there is a whole complex and general store not too far from the campsites. There's even a mini laundry mat and a snack bar!" – The Dyrt camper Jessica L.
Popular Articles: