Shari and Hutch live on the road in their vintage "canned ham" trailer. They're sharing advice on full-time camping every Thursday, like how to choose the best adventure rig for you!
---
Meet Hamlet: a 1957, canned-ham, 72-square-foot adventure rig which we pull with our 2000 Nissan Frontier 6-cylinder truck. We carry 3 kayaks, 2 mountain bikes, a 100-watt solar panel, and enough outdoor gear to go backpacking, bikepacking, or sea kayak camping.
We get comments, questions, and thumbs up everywhere we go – which allows us to meet some really fun people and have conversations about what it means to live compact and comfortably. These interactions encouraged us to begin offering open houses and lifestyle presentations.
We are often asked if we plan to upgrade to a larger, more modern RV and our answer is always….Nope! Hamlet fits our values of upcycling, living simply, and being outside as much as possible. Something larger might allow a few more modern conveniences, but if we haven't needed them in over 5 years, why upsize?
Once you've found the rig of your dreams, make sure to download The Dyrt Pro. With our upgraded app, you can download maps, campgrounds and photos for offline use. No service? No problem.
How to Pick the Right Adventure Rig for You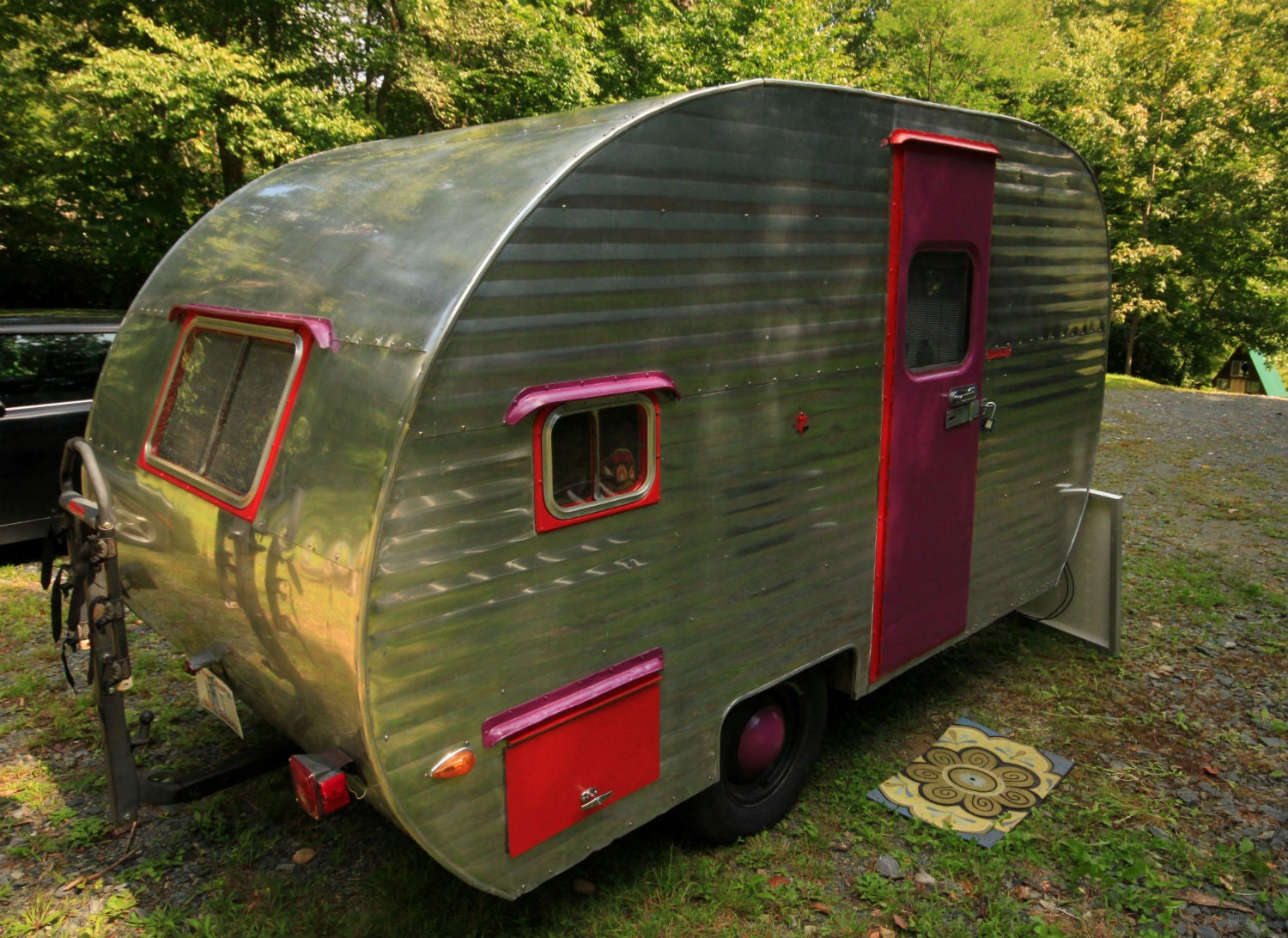 Ask yourself, does it PASSS (Price, Age, Size, Style, Storage) your test?

Price
The goal for camping is to get OUTside! While you can spend tens of thousands of dollars on a state of the art rig, how much do you really need to fork out just to go into the woods? Don't go into debt buying your rig as there are so many other affordable options. We bought Hamlet for $900 on e-Bay and put about $1500 (and 6-months of work) into the renovation, including installing the solar-powered system.
If you're curious about vintage campers, here's our advice:
Under $1500, buyer beware! You might find yourself dealing with a complete rebuild. Ask lots of questions.
From $1500-$3000, someone might have given up mid-remodel or spent just enough making it livable. Upwards of $3000 and you'll probably find a camper that is (nearly) road ready.
If it's much more than $5000, you might be paying for the brand name, custom renovation work, or someone who really doesn't want to let it go.
Age
New purchases often come with warranties, but those do not guarantee a problem-free experience. There is a robust used market ranging from gently used to truly vintage.
If you're savvy and patient, you will find the right deal. Just make sure the "bones" are good and you don't see or smell active signs of mold. If you are handy (or know some willing soul who is), almost anything can be fixed. Here are some fantastic online DIY resources for campers.
Style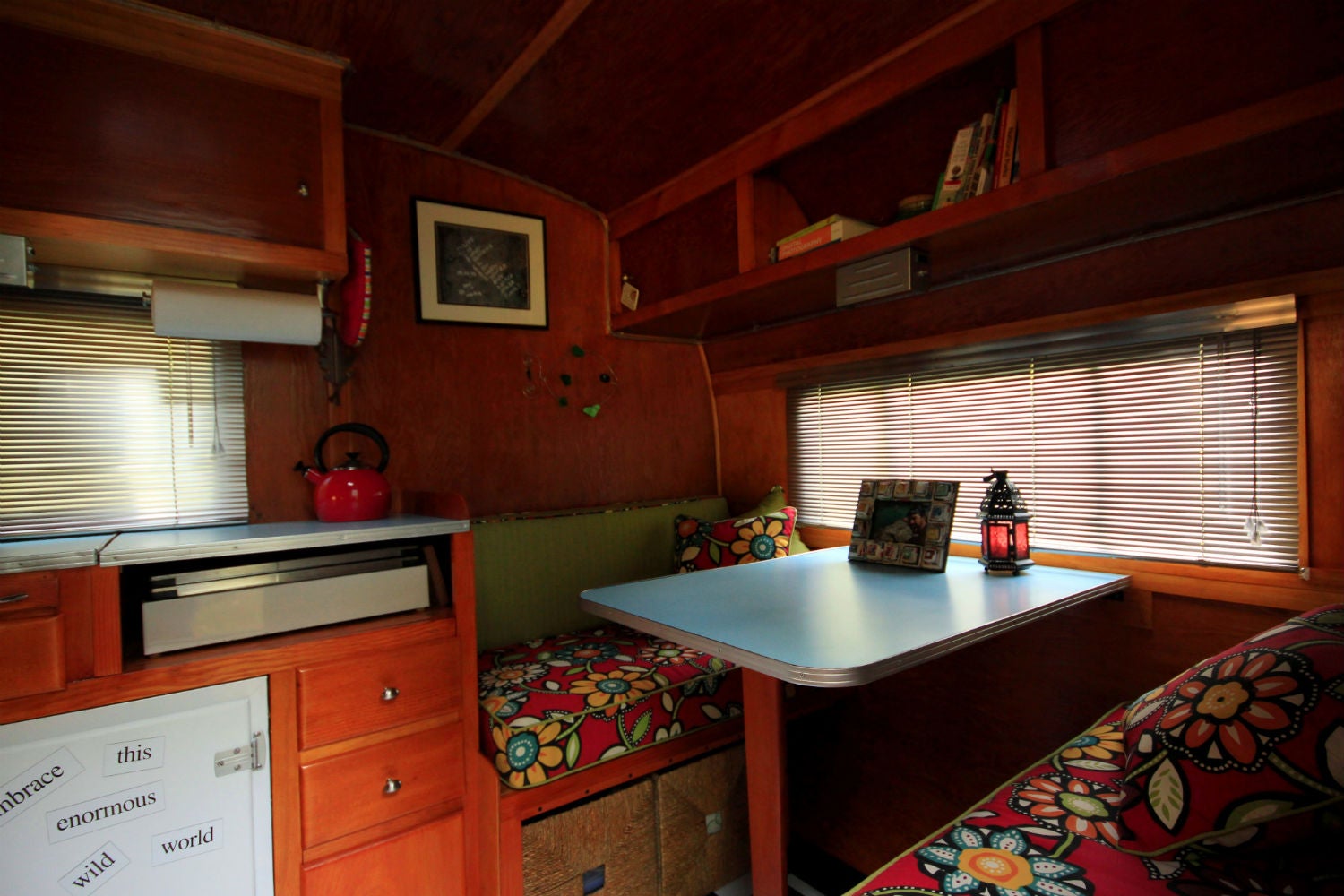 Assess whether you want a motorhome, van, slide-in, converted bus, 5th wheel, or travel trailer. Each adventure rig style offers its own advantages, depending on your needs and desires. We chose a small travel trailer because we wanted to pull into any campground, drop the trailer quickly, and be off enjoying the area. We also didn't want our home in the shop if the engine needed some mechanical work. And, we often use our truck for other purposes (work, hauling) so having it detach from our home was essential.
---
Related Reading:
---
Size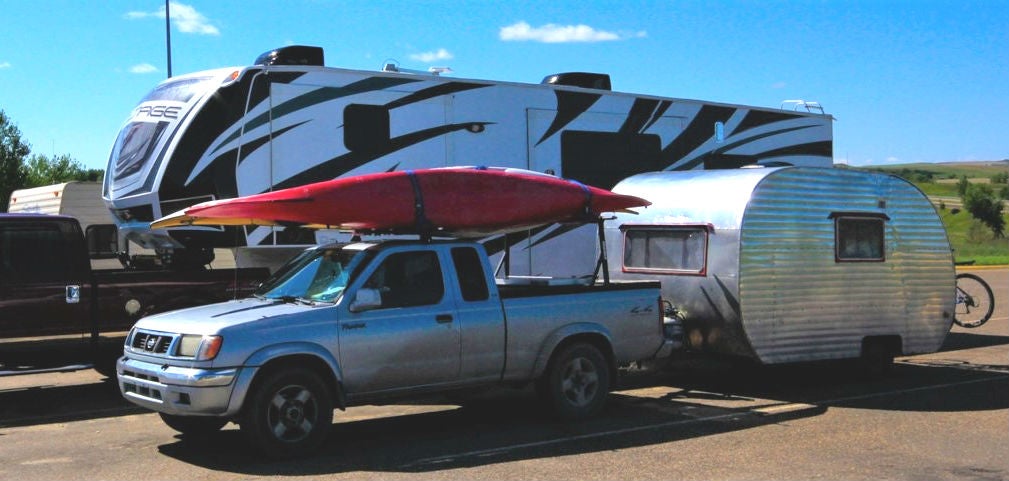 How much space you need is extremely personal. So really examine your needs, not just your wants, and then downsize from there. Many RV owners admit that they bought way too big and are envious of something smaller.
Every extra square foot costs money in gas, campsite size, storage fees, and driving/parking stress. If you go big, you'll need a bigger tow vehicle, bigger camping area, etc. When you think big, think dollar signs!
---
Prepare for your next adventure in your off-road trailer by downloading maps. The Dyrt Pro lets you download maps and campgrounds without cell service. "My alternative to using pro would be to drive back out to cell service".
---
Our goal was to travel light and cheap, get in and out of campgrounds easily, boondock when possible, and live mostly outside. We wanted a space big enough for us to stand in with enough room to hang out during foul weather. We didn't want to have to convert anything just to use it, couch to a bed, table to a cooking space, etc. Hamlet has a full-time bed, kitchen, and sitting/dining area (which converts to a guest bed) and that's about it.
We're okay with not having a bathroom because it would occupy too much of the usable space – and we would ALWAYS smell the bathroom! There are other ways to deal with the bathroom situation. (Stay tuned for more on that in the future.)
Storage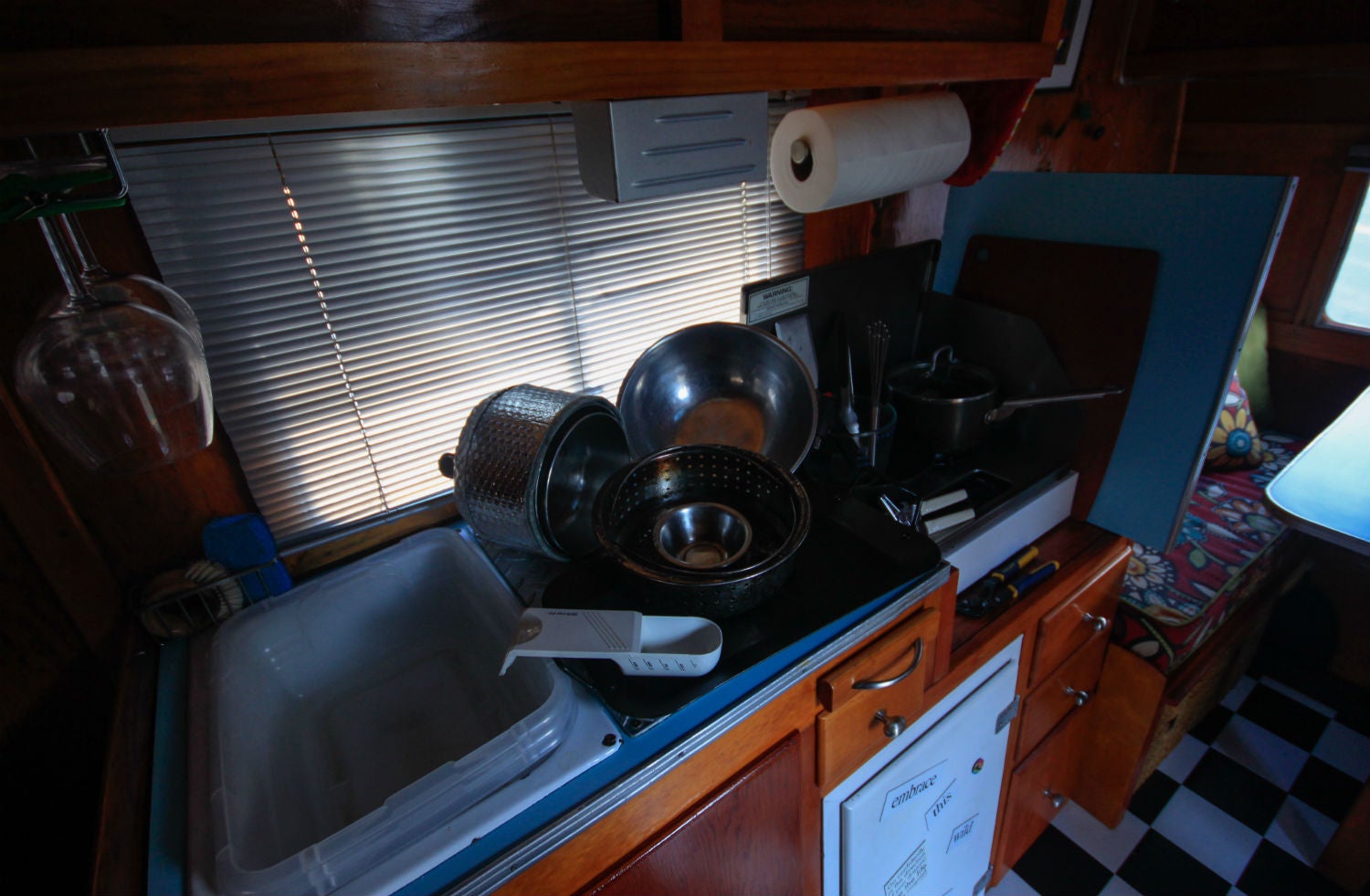 Think about both the storage inside your rig as well as where you can store the rig itself. During our remodel, we strategically added extra storage under the bench seats, under the bed, in the closet, and the kitchen area. We also added storage bins to the bed of our truck. Having plenty of storage has been key to full-time living. On the other hand, too much storage might inspire you to pack your high school yearbook. (Don't try to bring everything, just to fill your space!)
We were able to park Hamlet in our driveway during our renovation, but many folks in the suburbs or cities aren't so lucky. Check your local ordinances about long-term RV parking. Remote parking reduces the ease of working on it, or using it more frequently, and of course, costs more money.
Join the conversation about adventure rigs on our facebook page, we'd love to hear from you!
---
The Dyrt is the fastest-growing camping app on web and mobile, with new features being rolled out regularly. If you love the outdoors, discovering ideal spots to park your adventure rig, and being part of a rich and active community, then join us.
Popular Articles: