This article is brought to you by our friends at Inno Racks. Their 30 years of design innovation mean you can trust their bike and roof racks to get you and your wheels on the road. 
---
One can expect to find a bike shop or two in cycle-friendly spots like the Bay Area (where mountain bikes were invented) or Sedona (where mountain biking is the sport of choice). And we know we can find a good cup of coffee in cities famous for their java culture like Seattle, Portland, and New York.
If you're jonesing for java and your wheels need a tune-up, you might be looking for both a bike shop AND a coffee house. What if you could find both in the same place?
Combination cycle shops and cafes are actually a thing, and they're perfect for those looking for a social hub of fellow bike enthusiasts. Whether you're planning ahead for a bikepacking trip or just want to get some extra energy for your next road ride, a bike shop is the perfect place to pop in before you head out.
A good bike shop will have the tools you need to keep your rig in peak condition, serious beans (or maybe some craft beers on tap), delicious snacks, and of course, an inclusive community you can learn from and swap adventure stories with. Even in small and mid-size cities, it's now easy to get your fix while you fix your bicycle.These hybrid businesses are popping up across the country, and they aren't relegated to Western mountain biking meccas or coastal java enclaves.
So get your mountain bike roof rack ready and head to these up-and-coming bike and brew shops in the Eastern U.S.
Veloce in Scranton, Pennsylvania
Scranton, Pennsylvania is best known as the home of Dunder Mifflin, the fictional paper company from The Office. There's a lot more to this historic northeastern berg, however, than the antics of Michael Scott and his team. Scranton is the site of some of the most significant labor battles of the 19th and 20th centuries, and has a long history of industrial labor, unions, and Rust Belt decline. These days, Scranton is having a bit of a renaissance as millennials flock there to take advantage of a relatively low cost of living, vintage charm, and access to some beautiful natural spaces.

Nearby outdoor destinations like Pinchot State Forest are lush with creeks, second and third growth trees, and trails that provide year-round entertainment. There are over a dozen mountain bike trail systems within fifty miles of Scranton, too, which convert to fat bike single track in the winter as well as cross-country and snowmobile trails. The Lackawanna Heritage Valley Trail is part of a broader 70-mile multi-use network—runs right through town, and is popular with area cyclists. Just two blocks from the trail is Veloce Scranton, a community-oriented bike shop that also offers coffee and pastries. You can purchase a brand new bike, service, your existing rig, and swap beta with fellow cycling enthusiasts over trendy treats like stroopwaffles.
If you want to test out your newly refurbished wheels, head to Ricketts Glenn State Park, named for a Civil War private who fought for the Union and later opened a hotel here after he was impressed by the incredible waterfalls and scenery. There are plenty of multi-use trails open to cyclists, as well as popular fishing areas and a preserve for numerous bird species. This is a nesting sight for such rare birds as the northern goshawk and northern harrier, Swainson's thrush, and the rare green-winged teal duck.
Nearby Loyalsock State Forest is also a popular mountain biking destination. Camp central to both Ricketts Glenn and Loyalsock, as well as several State Game Lands set aside for hunters, trappers, and anglers, at Wanna Ruff It campground. This family-run campground has been open since the late 1980s, and welcomes tents and RVs on a nightly, weekly, or seasonal basis. You'll have more room to spread out than at the state parks, not to mention full 30 amp hookups, and because it's a private campground alcohol is allowed. Bring a growler from Susquehanna Brewing Co. or Breaker Brewing to get a little local flavor while you unwind from a hard ride. At just $30 a night for a site at Wanna Ruff It, you'll definitely have a little something left over for some cold ones.
Book Now
Velocity Bike & Bean in Florence, KY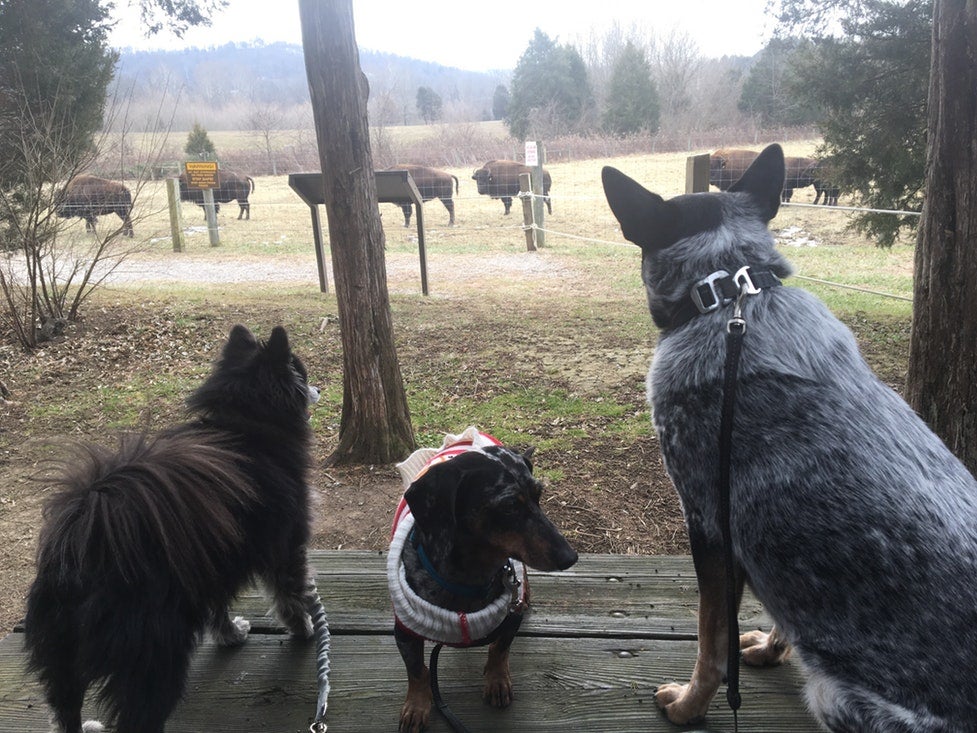 Velocity Bike & Bean is a full-service bike shop that will help you fix the bike you already have, or pick out a new or used rig. They are an official Jamis Bicycles dealer, and are also authorized to sell American Classic, Crankbrothers, Bell, Easton, and more. VBB's on-staff master bicycle technician, Mark Ball, also restores pre-loved bicycles and can help you turn that rusty old Schwinn in your garage into a gleaming ode to two-wheeled nostalgia.
The only thing VBB takes as seriously as its bikes are its beans. Some of their roasts are by Carabello Coffee, a local company that once operated out of VBB before outgrowing the space and starting their own shop. Other cuppas come from One-Line Coffee, a Columbus, Ohio roaster that sends its stuff down I-71 from the Velocity founders' hometown. For pour-over and French Press fans, they have a really nice line up from other roasters in the region, including some from Louisville, Nashville, Dayton, and even Detroit. Come to buy a bike, stay for the caffeine, crafting workshops, and live music. Then give your new wheels a spin in nearby Big Bone Lick State Park. There's so much to do there we had to write a whole article on it!
The Hub & Pisgah Tavern in Brevard, North Carolina

There's no doubt the Smokies offer some of the finest cycling opportunities in the country — Pisgah National Forest in particular. Of course, that's not all there is to do in that neck of the woods. That's why the The Hub & Pisgah Tavern is part bike shop, part pub, and part general store and outdoor outfitter. They've got all your bike gear, of course, but also books and maps to help you find your way around this incredibly rich part of the world.
You're more likely to find a dark coffee porter than a regular cup of joe. The Pisgah Tavern always has a half-dozen craft brews on tap and plenty of can styles to take with you on your ride.
If you're an out of towner who's ready to peddle, never fear. The Hub offers bike rentals, too. The ladies and gents behind the counter will be more than happy to offer advice on routes, campgrounds, and upcoming rides and races. Considering this place has been around since the 1940s, you know they have the deets on all the best corners of Pisgah.
South Mountain Cycle & Café in Emmaus, Pennsylvania
Named for the South Mountain range coming off the Blue Ridge in Pennsylvania and Maryland, South Mountain Cycle has all its bases covered. This bike shop has road, mountain, hybrid and BMX bikes, gear, and repair capabilities to support riders no matter their style of cycling. They offer different service packages from your basic tune-up to a complete overhaul, which they recommend every 3-5 years, depending on how hard you ride.
As if that didn't keep the folks at South Mountain Cycle busy enough, they also have their own coffee blends in stock at their on-site cafe: the South Mountain Cycle and the Cafe Harvest Blend. In addition, they serve Guatemalan, Nicaraguan & Decaf grinds, too, and some good Philadelphia pastries. Not bad fuel at all before you hit the nearby Orange Trail loop on your fresh wheels.
Handlebar Cafe in Baltimore, MD

Baltimore is well-known for its bike culture—well, dirt bikes, that is. Amidst all the hype around the Twelve O'Clock Boyz and others, it's easy to forget that Baltimore is big on non-motorized cycling, too. There's a long history in the Monumental City of early bicycle inventors, bike races, cycling parades, and the modern-day Baltimore Bike Party. So of course Baltimore has a great bean-and-bike shop, in the form of the Handlebar Cafe.
Well, make that a great bar-and-bike shop, because Handlebar doesn't limit themselves to caffeinated beverages. They also stock wood-fired pizzas, burritos, craft beer, wine, and "industrial cocktails." You can expect a lot more entertainment than geeking out over gears, too. Here they're spinning cassettes of a different sort, with regular live music and DJ acts. You can bike in for a show and get all your bolts tightened for a trip to Lake Roland Park and Loch Raven Reservoir the next day.
Cursed Bikes and Coffee in St. Louis, MO
Named for the previous owners' bad luck in keeping various businesses afloat, you don't have to worry about your bike becoming haunted after a visit to Cursed Bikes and Coffee. Instead, you can rest assured that it's getting the attention and tune-up it deserves. Cursed Bikes even provides a home to a custom frame company called FeCycles which will build you your own bike from American steel or help you powder coat a ride in need of a facelift.
All that hard work is amped by their menu of coffee, tea, Italian sodas, and smoothies. They make their own baked goods fresh in-house and serve up local beans by St. Louis's own Dubuque coffee beans.
---
You can win free gear from Inno Racks and 20 other outdoor brands by reviewing campgrounds on The Dyrt. Share past camping experiences, photos, and videos to earn points towards monthly prizes in The 2018 Great Camping Giveaway!
Popular Articles: