"The route is a bit icy, you'll need to watch where you put your feet!" Collin, our guide, shouted over the wind. We were about to climb the most difficult pitch of the Pawnall-Gilkey Route on the Grand Teton (13,776′), a multi-pitch climb hidden from the morning sun.
I shuttered as the cold wind forced me to retreat into the comfort of my puffy jacket. Then I slowly fed out slack to the guide as I belayed him up the ice-covered pitch.
Before I knew it, it was my turn to commence climbing the Grand Teton. At first, the route was simple. Easy steps and obvious holds led me up to a dihedral (where the rock turns in on itself like a half-open book). That's when the trouble started. The entire route had frozen over with a thin layer of ice. It wasn't enough to necessitate ice tools or crampons, but it was enough to make it impossible to get any traction. My feet slipped from the wall and my hands began to freeze, even with gloves on.
I clung desperately to some nylon slings hanging out of the rock, now knowing why climbers had installed them. As I tried to pull myself up, I lost all feeling in my hands past my wrists. Each move upwards came with a guttural scream as I pushed, pulled and fought my way up the pitch.
For a split second, I thought that I wouldn't be able to make it. Then I thought about my first time climbing in Joshua Tree National Park. I was 13-years-old and terrified of heights. There was a kid on our trip who only had one arm and he climbed harder than any of us. Watching him climb inspired me to push through my fears and keep climbing.
Back on The Grand, I realized, the only way out is up.
I placed my numb hand on what looked like a good hold. Trusting that my body had the strength to hold on, I gripped without feeling and moved my feet. Slowly, I made my way to the belay station. Once I had completed the pitch, I tore off my gloves, shoved my hands in my armpits, and waited for the feeling to return.
How Big City Mountaineers Helps Kids Find Strength
Three weeks prior, I'd received a phone call from the folks at Big City Mountaineers. They extended an invitation to go on their Summit for Someone trip, climbing the Grand Teton in partnership with Jackson Hole Mountain Guides. Jackson Hole Mountain Guides are one of the nation's oldest guiding services and The Grand Teton is their signature trip. I couldn't pass up the opportunity to climb the Grand with talented guides and raise money for a good cause. I was all-in.
The Big City Mountaineers' mission is to get under-privileged youth into the outdoors. They run several different trips for the next wild generation, including a week-long backpacking trip that summits a peak. Their vision is to empower the next generation through access to the outdoors.
The wilderness has a profound impact on my inner strength. When I'm out there, miles from my comfort zone and faced with a tough challenge, I've learned to rely on myself and the strength of my team.
The outdoors teaches us that we are capable of incredible things and the world is filled with beauty around every bend. I want to give that discovery back to a kid who doesn't have access to things I've had. I want to share my passion with them.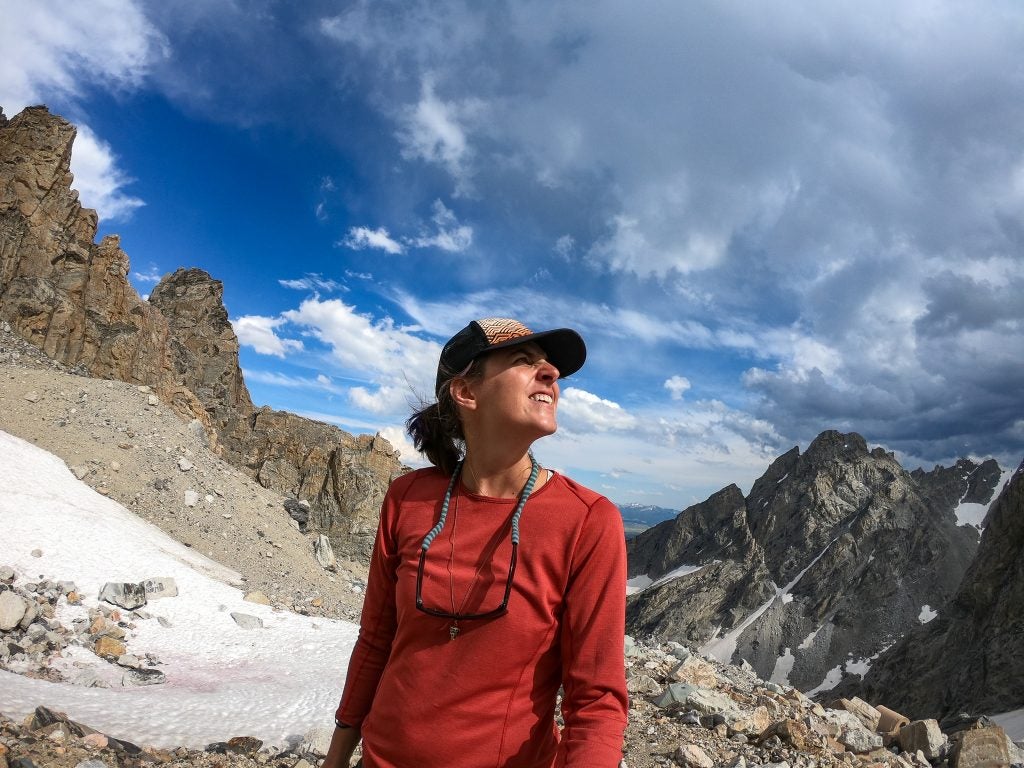 Facing Doubts in the Grand Tetons
A few weeks after that phone call I arrived in Jackson, nervous and wary of the journey ahead of me. It was my first time combining my love for climbing with my love of mountaineering and I wasn't too sure how it would go. To make matters worse, I was battling a stress injury in my knee that had bothered me up until the day we left for Corbet High Camp.
My first objective was to haul my 38-pound pack 4,000 feet, over 6.9 miles to Corbet High Camp. We would rest at the rocky camp, participate in a skills day and then attempt to summit the Grand Teton.
With swirling nerves around my knee and anxiety for the coming days, we set out.
To my surprise, I experienced zero pain. Since I live at altitude and regularly train, the hike up was a lung-buster, but nothing I haven't done before. I reveled in the feeling of being back in the mountains.
As we spilled into camp I chuckled to myself, remembering my first backpacking trip when I was 15 years old. We spent a week hiking the Presidential Mountains in New Hampshire. On the big summit day, my lumbering 50-pound external framed pack and I struggled over slick rock up Mount Washington. It was sleeting and I was crying. My friends urged me forward, sometimes pushing me as I tried to scramble up the rocky summit.
After that experience, I vowed never to backpack again, but I kept coming back to the sport. I was pulled by the satisfaction of relying on nothing but myself in the wilderness. My life drifted away from backpacking for nearly a decade, simply because I believed I wasn't good enough. But when my new boyfriend wanted to give it a try, I took him out for a weekend trip. Afterward,  my passion exploded — as if waiting to be released, all those years.
That rediscovered passion altered the course of my life, and I started a new career as an outdoor writer. The experience of getting back out there with my boyfriend ultimately lead me to the side of the Grand Teton, suspended in the air by a rope, pulling myself up a rock face with numb hands.
Reaching the Top
Our summit day consisted of nine grueling hours of climbing the Grand Teton. We awoke well before dawn, loaded up our packs and set out on the three-mile round-trip journey, gaining 3,000 feet of elevation.
After several long minutes, I regained feeling in my hands and I was ready to tackle the rest of the climb. As my team and I picked our way through the exposed, airy rock, I reflected on what brings me to these high places. Was it the thrill of facing my fear of rock climbing? Did I come here to prove that I could still carry a heavy pack across vast distances?
I resolved that I climb because I see my own strength staring right back at me — a strength I saw in myself back when I was younger, having my first wilderness experience in Joshua Tree.
As a small business owner trying to make my way in a modern world, I'm faced with challenging decisions and filled with self-doubt every day. It's the times I spent struggling out in the wild that get me through those difficult situations in my everyday life. By summiting the Grand Teton for Big City Mountaineers, I not only sought to inspire others to see their own strength, but I gave back that opportunity to the next generation of explorers.
Big City Mountaineers not only enabled me to reconnect to my childhood experiences with nature, but it also allowed me to give back so that more kids can have similar empowering moments in the outdoors. Together, our team raised over $11,000, enabling 11 under-serviced kids to discover the joys and wonders of the outdoors. Through that experience, students find their own strength, just like I found mine.
---
You can register for your own Summit for Someone excursion and support Big City Mountaineers mission to transform kids' lives through outdoor experiences. Registration for the 2019 season opens October 5, 2018. 
---
Related articles:
---
Related Campgrounds:
Popular Articles: