This article of apple dessert recipes is brought to you by our friends at Gregory Packs — they've been an industry leader for over 40 years, helping us adventure during every season. 
---
Apple season is here!
If your enthusiasm for the sweet and crunchy gifts of fall regularly leaves you with full bags from the local orchard, you're going to need some tasty apple dessert recipes. And since fall also happens to be a glorious time for camping, we think apple dessert recipes you can make at the campground sound extra appealing.
We've scoured the web to find the best apple dessert recipes you can enjoy over a campfire or camp stove. Load up your hiking pack with apples, cinnamon, and foil, (and a few more ingredients) and get ready to dig into some gooey treats!
Get Cozy by the Campfire with These Apple Dessert Recipes
You can make your fall camping trip a little more festive by visiting a local u-pick farm. Any apples can work for these recipes, but Granny Smith, Honey Crisp, Braeburn, and Jonagold apples are the most popular for baking. These apple varieties are generally easy to find, add a lovely balance of sweet and tart, and they hold up nicely under heat without getting mushy.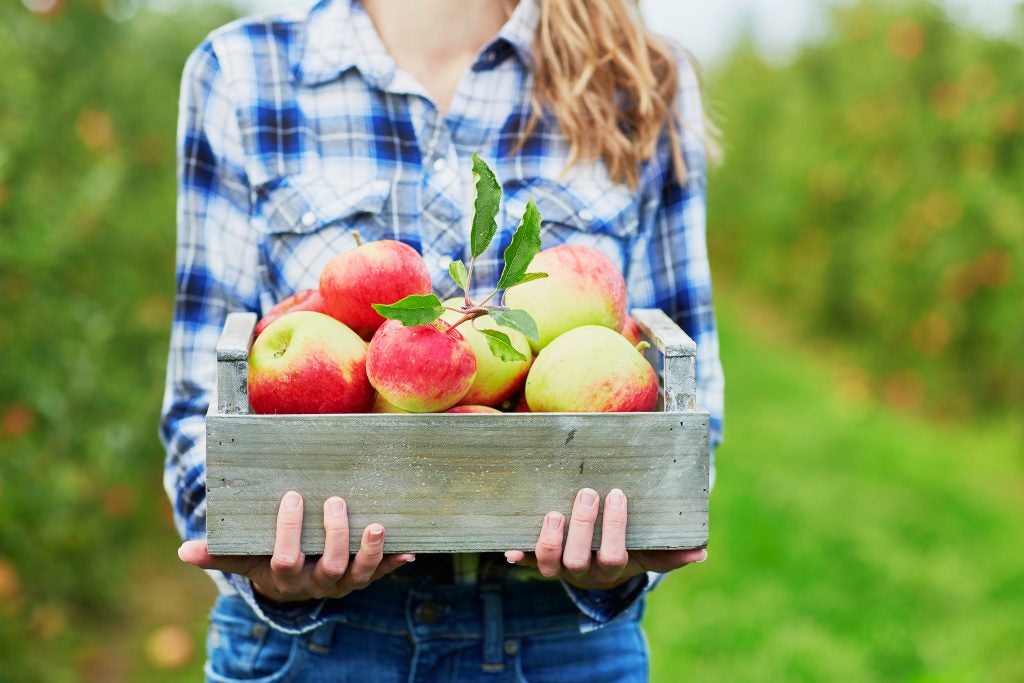 1. Grilled Apple S'more Nachos
Let's start this journey with one of the ultimate apple dessert recipes – grilled apple s'more nachos. This recipe is fast, making a great treat for when you return to the campsite after a long day on the trail.
Ingredients
3 Apples
Lemon juice
Cinnamon
Mini marshmallows
Chocolate chips
Graham cracker crumbs
Instructions
Core and slice apples into circular slices, then layer in a foil-grilling pan or foil packet. Sprinkle the slices with lemon juice and cinnamon and cover with marshmallows and chocolate chips. Grill your apple dessert nachos on low heat for 10 minutes or until marshmallows are toasty golden brown and the chocolate begins to melt. Remove from heat and cool for a few minutes. Last, top the whole thing with graham cracker crumbs, and dig in!
Recipe adapted from Stacey Martin of This Lil Piglet.
2. Campfire Baked Apples
These campfire baked apples are all the sweet and none of the hassle. If you've ever tried to bake your own pie from scratch, then you know that getting the dough just right is the hardest part. Good news, there's no need to fuss with pie dough when everything stays right inside of the apple.
Ingredients
4 large apples, pick your favorite
2 Tbsp. lemon juice, divided
1/3 cup dried fruit of choice, chopped
2 Tbsp. walnuts, chopped or your favorite nuts
1/4 tsp. cinnamon, ground
1/8 tsp. nutmeg, ground
1 Tbsp. butter, unsalted, softened, divided
Instructions
Use a knife to carefully core the apples without breaking them open – the idea is to make a bowl out of the apple. Take half of the lemon juice and brush the inside of the apples. Mix the remaining lemon juice along with the dried fruit, nuts, cinnamon, nutmeg, and half of the butter in a small bowl. Press the fruit and nut mixtures in the center of each cored apple. Take the remaining butter and divide it into four equal parts. Next, place one piece of butter on top of each filled apple. Wrap each apple tightly with its own piece of foil. Place your foil-wrapped apples in hot coals or on a fire grate over the coals (do not place it on the open flame). Last, cook the apples for 30 minutes to 1 hour. Your dessert campfire apple is done when it feels tender when squeezed.
Recipe adapted from Grace Derocha of A Healthier Michigan.
3. Dutch Oven Crescent Roll Apple Dumplings
Grab some napkins, this next recipe is super gooey, and incredibly delicious.
Ingredients
2 large apples
2 cans crescent roll dough
2 sticks of butter
1 ½ cups brown sugar
1 tsp. vanilla extract
1 tsp. cinnamon (or to taste)
1 can (12 oz.) 7 Up or Mountain Dew
Instructions
Peel, core, and slice your apples into eight pieces. Separate your crescent roll dough into triangles. Place 1 slice of apple at the wider end of your dough triangle and roll into a croissant. Line your Dutch oven with foil or Dutch oven liner,  then lightly butter the bottom and add your wrapped apples. Add your butter, cinnamon, and sugar to a bowl and mix until no longer lumpy. Pour the mixture over your wrapped apples inside of the Dutch oven. Carefully pour your lemon-lime soda between the rolls (but not on top). Bake for 25 to 45 minutes, or until your rolls are golden brown. Serve and enjoy immediately.
Recipe adapted from Sarah Kozowski of Sugar Apron.
4. Campfire Apple Pie French Toast Rolls
If you decide to make some apple pies at home, then be sure to set aside some extra pie filling for this recipe. These french toast rolls may take a little more effort than the some of the other apple dessert recipes, but we think the toughest part will be deciding whether to have this for breakfast or as an evening treat.
Ingredients
12 slices white sandwich bread – square shaped is best
Apple pie filling – either from the can or make your own ahead of time
2 eggs
3 tbsp .milk cup
Dash of vanilla
1/2 cup granulated sugar
2 tsp. ground cinnamon
Butter for the frying pan
Instructions
Cut the crust off of the bread and flatten out each slice. Spread about 2 Tablespoons of pie filling onto each slice and roll the bread up tightly. Set them aside seam side down. Whisk together the milk, eggs, and vanilla. Combine the sugar and cinnamon on a small plate. Heat your skillet and melt about 2 Tbsp. of butter. Dip each roll in the egg mixture coating completely and place in your pan, again, seam side down. While cooking, turn each roll to make sure it browns on all sides. Once your rolls are golden brown all the way around, remove them and place them immediately into the cinnamon and sugar mixture to cover completely. Serve plain or with syrup.
Recipe adapted from Karlynn Johnston of The Kitchen Magpie.
5. Dutch Oven Caramel Apple Monkey Bread
We didn't think monkey bread could get any better. And then this happened:
Ingredients
For the monkey bread: 
12 cinnamon rolls, thawed but still cold
1 large apple peeled and diced
¼ cup brown sugar
1 tsp. cinnamon
½ cup graham cracker crumbs
3 Tbsp. of your favorite nuts
For the caramel icing: 
2 packets of cream cheese frosting (included with rolls)

⅓

cup caramel ice cream topping
Instructions
Spray your Dutch oven with cooking spray or line with foil. Cut each roll into 4 pieces and arrange in the bottom of your Dutch oven. Cover with the lid and allow to rise for 1 to 2 hours. While your cinnamon rolls are rising, use a separate bowl to combine the apples, brown sugar, cinnamon, graham cracker crumbs, and nuts. Remove the lid from your Dutch oven and sprinkle the mixture evenly over the rolls. Replace the lid and bake for 30 to 35 minutes, checking regularly for dough to be golden brown. Prepare the icing by combing the cream cheese frosting and the caramel. Drizzle the frosting mixture on top of the cooked monkey bread, and enjoy!
Recipe adapted Rhodes Bake N Serve.
6. Campfire Apple Crisp
Our list of apple dessert recipes wouldn't be complete without a classic like campfire apple crisp! You can serve this recipe in bowls or just pass out the spoons and eat it straight from the skillet – we won't judge.
Ingredients
2-3 apples sliced thin
1 Tbsp. butter
1 tsp. cinnamon
1/2 tsp. nutmeg
1/2 tsp. ground cloves
2 Tbsp. bourbon
1/4 cup brown sugar
1 cup granola
Instructions
In a cast iron skillet over medium heat, saute the apple slices with some butter for about 5 minutes or until your apple slices begin to soften. Add the spices, bourbon, and sugar – stirring in the skillet to combine. Continue cooking for about another 5 to 10 minutes, or until the sauce thickens and the apples are tender (but not mushy). Remove from the heat and sprinkle with granola. Feel free to top with a scoop of ice cream if you really trust your cooler — in fact, we highly recommend it.
Recipe adapted from Fresh Off the Grid.
Popular Articles: