With fossilized logs scattered over a vast area of semidesert grassland, camping in the Petrified Forrest National Park is strikingly beautiful. And although there are no developed campgrounds inside the park, you can still camp within a stone's throw of this natural wonder. Look no further for some of the best camping in Petrified Forest National Park, plus tips to enjoy your stay from The Dyrt Rangers.
Petrified Forest National Park Camping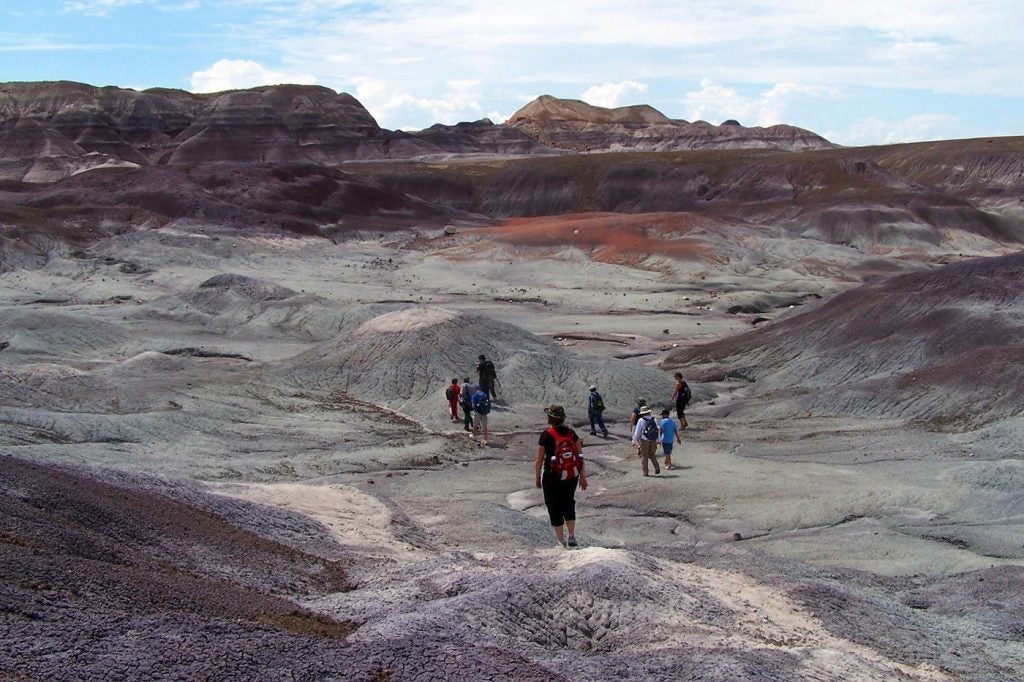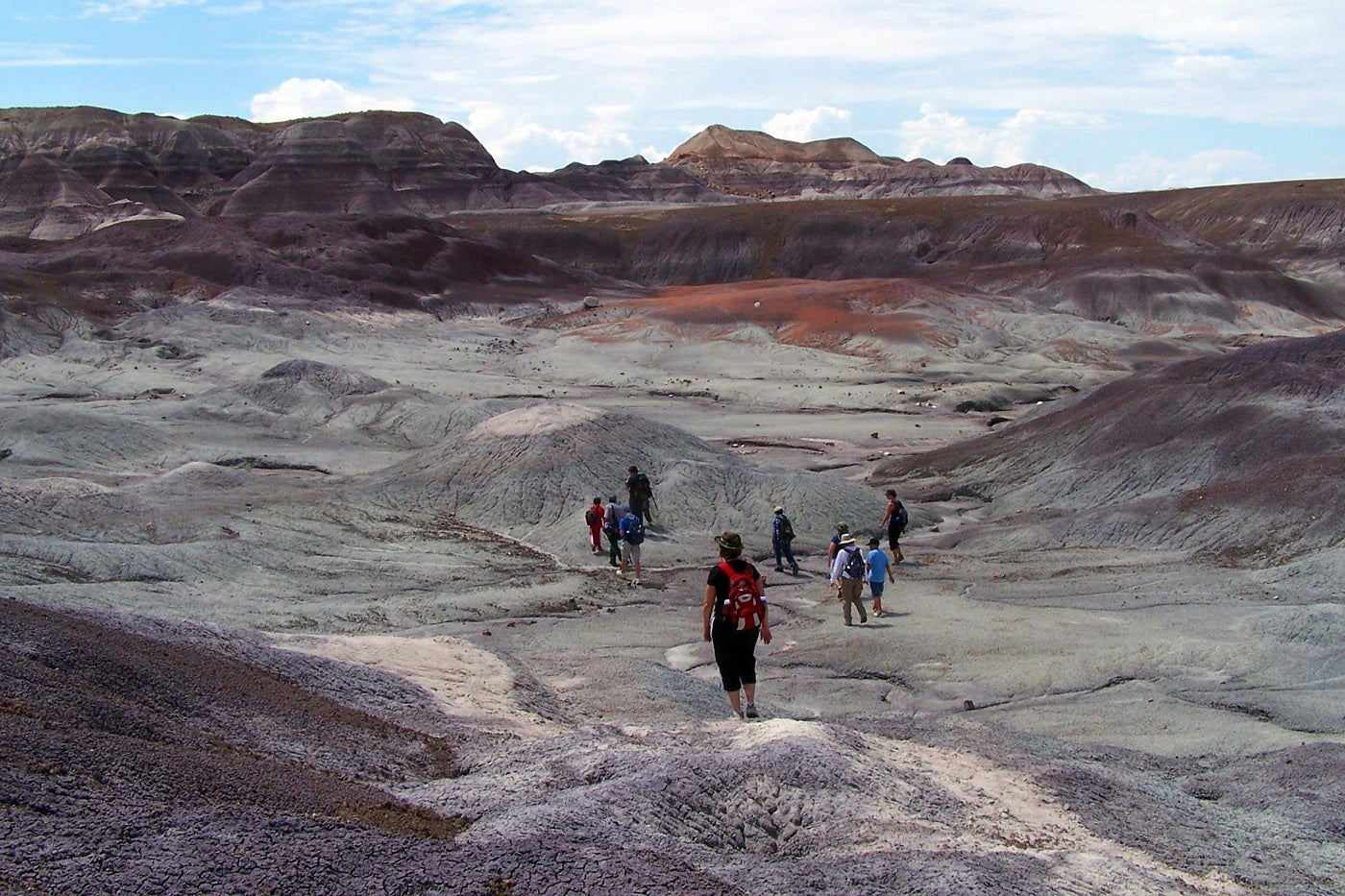 Home of over 13,000 years of human and geological history, the Petrified Forest National Park is perfect for those looking to learn more about our roots. Petrified Forest camping can be tricky, as there are no campgrounds within the bounds of the park. If the back-country is your thing, you can camping can be done via backpacking (with permits.) If you'd rather have regular camp amenities, these three sites are the closest to this National Park, and the most-frequented. However, each one brings an entirely new camping adventure that is going to be yours and yours alone.
Directions to Petrified Forest National Park
From the North
1. From Bluff, UT, Follow US 191 S. for 170 miles toward Chambers. Take a right at I-40W.
2. Follow I-40 W for 22 Miles and take exit 311 towards Petrified Forest National Park.
From the South
1. From Tuscon, follow AZ 87-N for 73.5 miles to AZ-260 E.
2. Take a right onto AZ-260 E. and follow for 52.9 miles. Turn left onto AZ-277 N.
3. Follow AZ-277 N to AZ-377, and continue for 33.9 miles.
4. Take I-40 E for 27.9 Miles to Park Rd in Petrified Forest National Park. 
From the East
1. From Gallup NM, follow I-40 W for 68.9 miles towards Petrified Forest National Park. 
2. Take exit 311 towards Petrified Forest National Park.
From the West
1. From Flagstaff, follow 1-40 E for 113 Miles.
2. Take Exit 311 from I-40 E. Follow Park Rd. to Petrified Forest National Park
Campgrounds in the Petrified Forest National Park
There are three separate campgrounds surrounding the Petrified Forest National Park. All three are close enough to get in solid hiking and recreation during your trip. With each offering something different, you're sure to find the right Petrified Forest campground for your needs.
1. Holbrook/Petrified Forest KOA
What Holbrook/Petrified Forest KOA lacks in inspiring scenic views, it makes up for with convenience. Located a quick 10-minute drive to the SW entrance of Petrified Forest National Park, this campground allows for easy visiting. With full hookups, a swimming pool, and an all-you-can-eat pancake breakfast, you'll be able to experience the national park in comfort.
Holbrook KOA is great in that it offers a range of camping experiences. Even if you don't want to bring in your tent, you'll still have shelter and a place to stay. In addition, the KOA is perfect for families and people seeking recreation during their down time. There's a-lot more to do than traditional campgrounds, which means you'll spend less time entertaining your family!
2. Homolovi Ruins State Park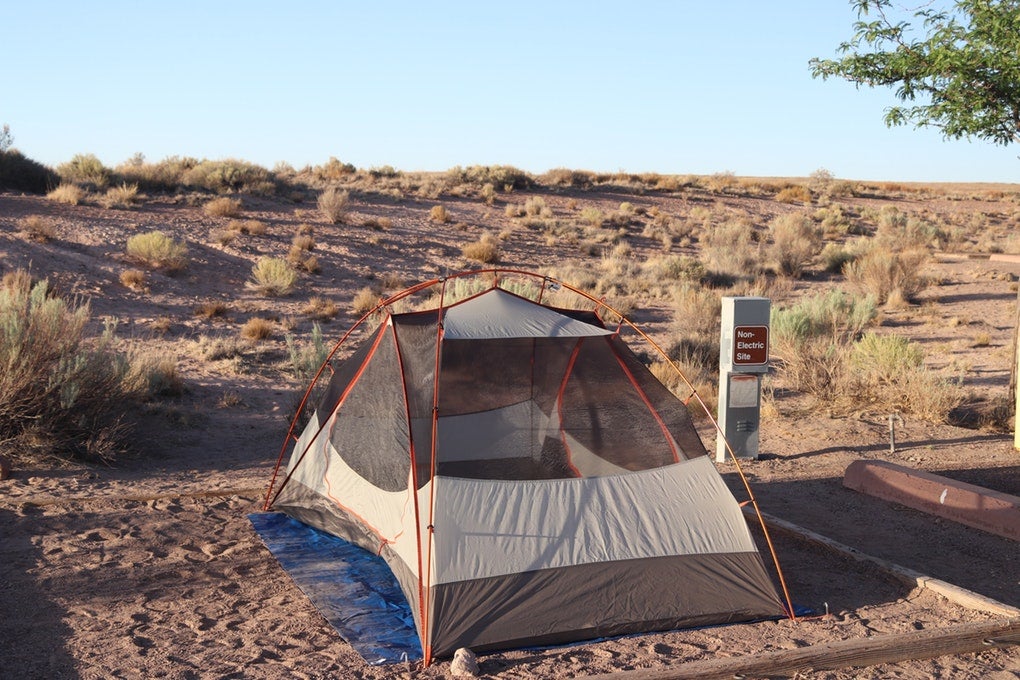 Located an hours drive from Petrified Forest National Park, Homolovi Ruins State Park is well worth the trip. The sites here are very open and shadeless and have access to clean bathrooms and showers. And if Native American History and culture interests you, then stopping here is a must. The visiting center itself is a piece of art and the artifacts on display are fascinating.
Campers love to large campsites, as well as the cleanliness of the facilities. The Native American History sites are all within walking distance and there is help from local guides available if you should need it. Given that the sites are shadeless, during hotter months you may want to avoid this one, or prepare for the sun to beat down on you.
3. Fool Hollow Lake Recreation Area Campground
Fool Hollow Creek Recreational Campground is an hours drive from Petrified Forest National Park and is perfect for escaping the Pheonix heat. The campground offers cabins and full hookups, but the tent sites are closer to the lake. And if you wanted to get out on the water, this campground also rents out kayaks, canoes, and little boats.
If you're looking for a nice recreation site that feels a little more natural than KOA, this is definitely a good option for you. Campers report that they really enjoy the proximity to the lake. In hotter months being closer makes a huge difference for those wanting to cool off after a day at the Petrified Forest. With clean amenities and the lake as your backdrop, this site is a great basecamp to explore the Petrified Forest National Park.
Petrified Forest Backcountry Camping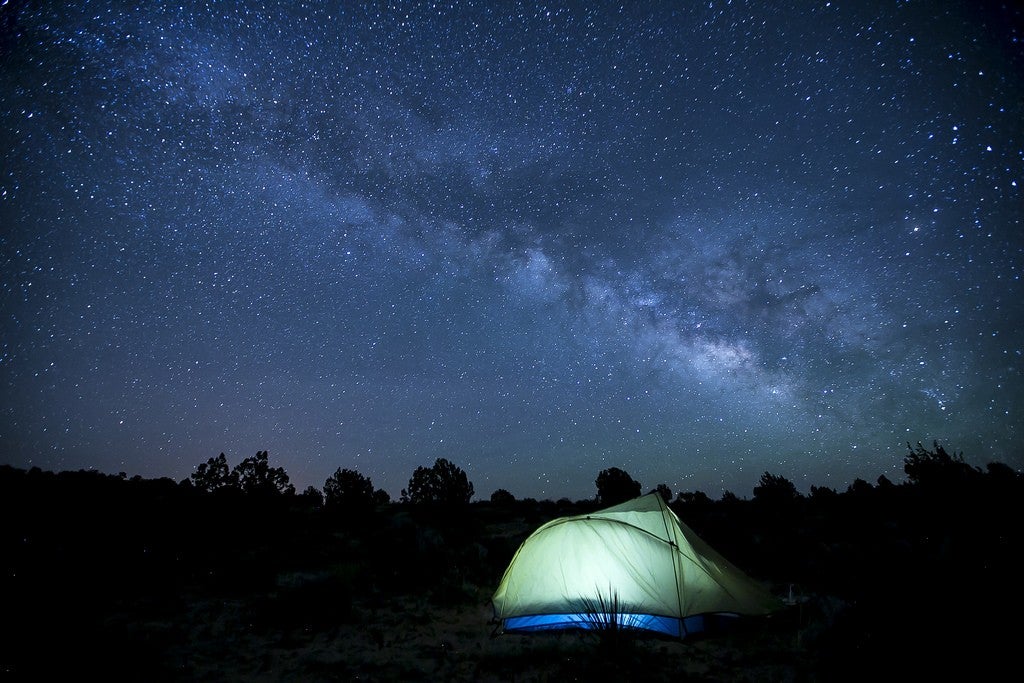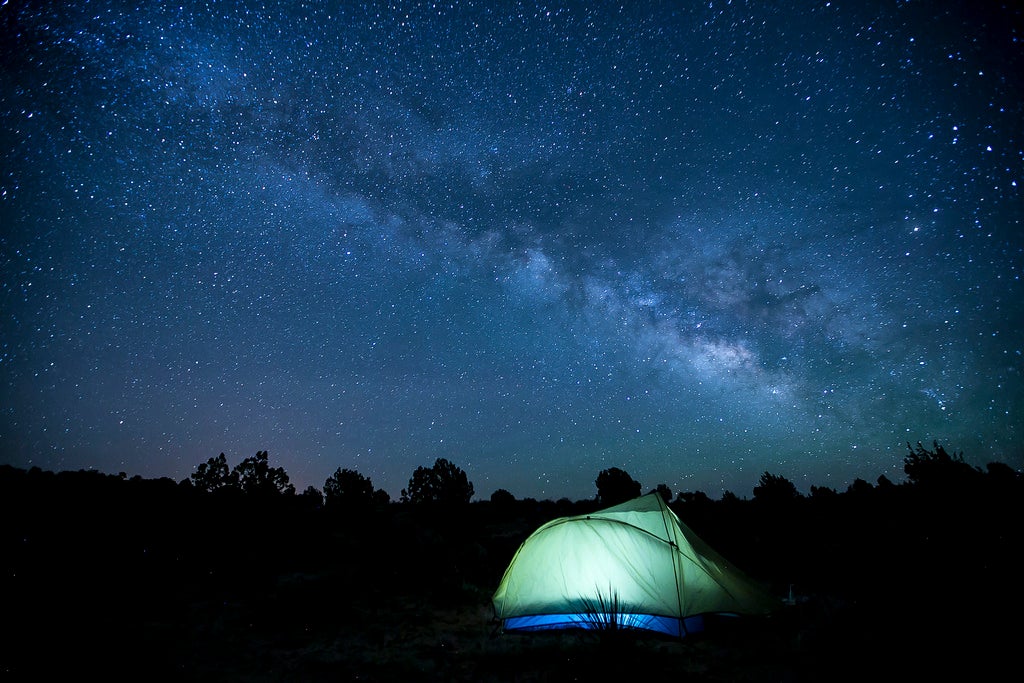 While there's a number of campgrounds nearby, you might prefer being right in the heart of the action. Backcountry camping in Petrified Forest is one of the easiest ways to gain access to the starry sky above, as well as the many fossils throughout. If you're planning on camping the Petrified Forest National Park backcountry, you need to know a few things about the rules and regulations.
Permits
If you're visiting the Petrified Forest wilderness area, you'll need to get a backcountry permit first. Permits are free, and can be acquired in person at either the Painted Desert Visitor Center or Rainbow Forest Museum. They will also give you instructions for parking, getting around, and more.
Groups
While everyone deserves the chance to camp out in the Petrified Forest National Park, it's important that groups stay under 8. The nature within the wilderness area is rich and unspoiled- limiting the group camping numbers assist to keeping it that way.
Rules
This campground follows Leave no Trace principles- pack out what you bring, and then some! In contrast, collection of rocks, wildlife, and any other natural resource in the area is against the rules. You might be tempted to take a fossil, but you're better off leaving them be to avoid a costly fine and disturbing nature. Finally, no bicycles or vehicles are allowed within the wilderness, nor any type of campfire (camp stoves are fine.)
The Petrified Forest is Full of Fun
With over 13,000 years of human history, Petrified Forest National Park is nothing short of surprising. Offering far more than world renowned petrified logs, you can see so much in this ancient area. Whether it's from your car, walking on trails or even hiking into the backcountry, a visit to the Petrified Forest is an experience like no other. Here's just a few ideas for your trip.
Go See the Sites from your Vehicle or Bike
Petrified Forest National Park is PACKED with scenic views and quirky geological formations. A really unique feature of this park is the many miles of road that traverse throughout its boundaries. The main park road spans 28 miles, and twists and turns throughout the most important desert scenery. Subsequently, cyclists and drivers alike tour this road for a peek into the beauty of the National Park.
Rich in geological history, Petrified Forest has opened up a few different visitor centers to allow campers insight into the region's history. There are three in total.
First, The Painted Desert Visitor Center is located just off exit 311 from the I-40. It offers a short film, as well as a bookstore, restaurant, back-country permits, and more.
Second, the Painted Desert Inn National Historic Landmark located at Kachina Point. While not as complete as the former, this center does offer an art gallery that is regularly updated, restrooms, and sweeping panoramic views of the park.
Finally, the Rainbow Forest Museum which is located just off US-180. This is worth visiting even if you saw the Painted Hills Museum, as it offers many of the same amenities plus additional region information. There is also trail access here that can't be had anywhere else. Furthermore, there is also a separate informational video and even a prehistoric fossil display.
See the Petrified Forest on Horseback
Horseback is an extremely intimate and efficient way to get right in the heart of the Petrified Forest landscape. Near Kachina Point, Two miles north of the Painted Desert Visitor Center, is the Painted Desert Wilderness access Trail. This trailhead offers a place to park your horse trailer, but please make sure to park in the back and out of the way of other vehicles. Trail conditions vary depending on time of year, so be sure to check out the National Forest page for updates.
Other Petrified Forest National Park Camping Activities
The Dyrt has put together this incredible video to document our Ranger's firsthand experience camping in Petrified Forrest National Park with the hopes of improving the visit of others.
The Dyrt Ranger Tip: "Since most people just drive through and stop at overlooks, information about hiking trails isn't readily available once you are inside the park. Be sure to stop at the Visitor Center for route handouts. Our personal favorite was the Jasper Forest loop."
And, in case you still (somehow) need convincing to fit this park in your summer itinerary, we present this scenic video of Petrified Forest National Park:
You'll Never Forget Camping the Petrified Forest
Like so many others have come to realize, the Petrified Forest National Park houses some of the most geologically interesting landscapes anywhere else in North America. From the many fossils and prehistoric samples that can be found throughout, to the multi-colored beauty of the hills and mountain faces throughout; you'll definitely find something to take with you (even if not the fossils.) Don't wait any longer to plan your trip! The Dyrt offers resources to campers seeking to make their voyages as memorable as possible. Still not sure you're ready? Check out other campgrounds within the area!
Popular Articles: