On January 19, 2019, hundreds will gather in a snow-dusted field in the small town of Custer, South Dakota for the sixth annual Burning Beetle. This full-day festival builds up to the main event, where torch-carrying participants march toward a large wooden beetle and light it on fire, chanting, "Burn, beetle, burn!" as drums beat and fireworks boom.
Sponsored by the Custer Area Arts Council, the Burning Beetle is an event that commemorates a mountain pine beetle epidemic that devastated the Black Hills in the early 2000s. While still a very local experience, the event has gathered visitors from across the country since its inaugural burn.
Origins of Custer's Burning Beetle Festival
"There was a lot of concern when the trees started dying," Krystal Hegerfeld, sponsor coordinator for the Burning Beetle, shared with The Dyrt. "What are we going to do if we no longer have this beautiful nature? That's our asset, as far as tourism goes. It's why people choose to live here. It was really scary."
The mountain pine beetle epidemic left the Black Hills brown, as dense, dark green pine forests succumbed to the feverish bugs. The rapidly changing landscape filled residents with a range of emotions: fear, anger, sadness. So, in 2012, when Custer Area Arts Council member, Linde Manlove, learned of an art installation in Fort Collins, Colorado related to their struggle with beetles, she suggested that Custer find its own way to heal through art.
Thus, the event began in 2013 with a "bug crawl" in downtown Custer. As community members visited participating venues, they wrote poems and songs about the beetles, and added to a visual survey of where they were in the seven stages of grief. The event has grown every year since, including the addition of the burning in 2014.
"Being involved with the planning for the event has brought me into the community in a really meaningful way," Krystal explained. "This event brings a lot of different aspects of the community together, whether from the arts or the logging industry. It's a fun way to get everybody out in the middle of winter, with lots of things to do for both kids and adults."
Plan Your Trip to Burning Beetle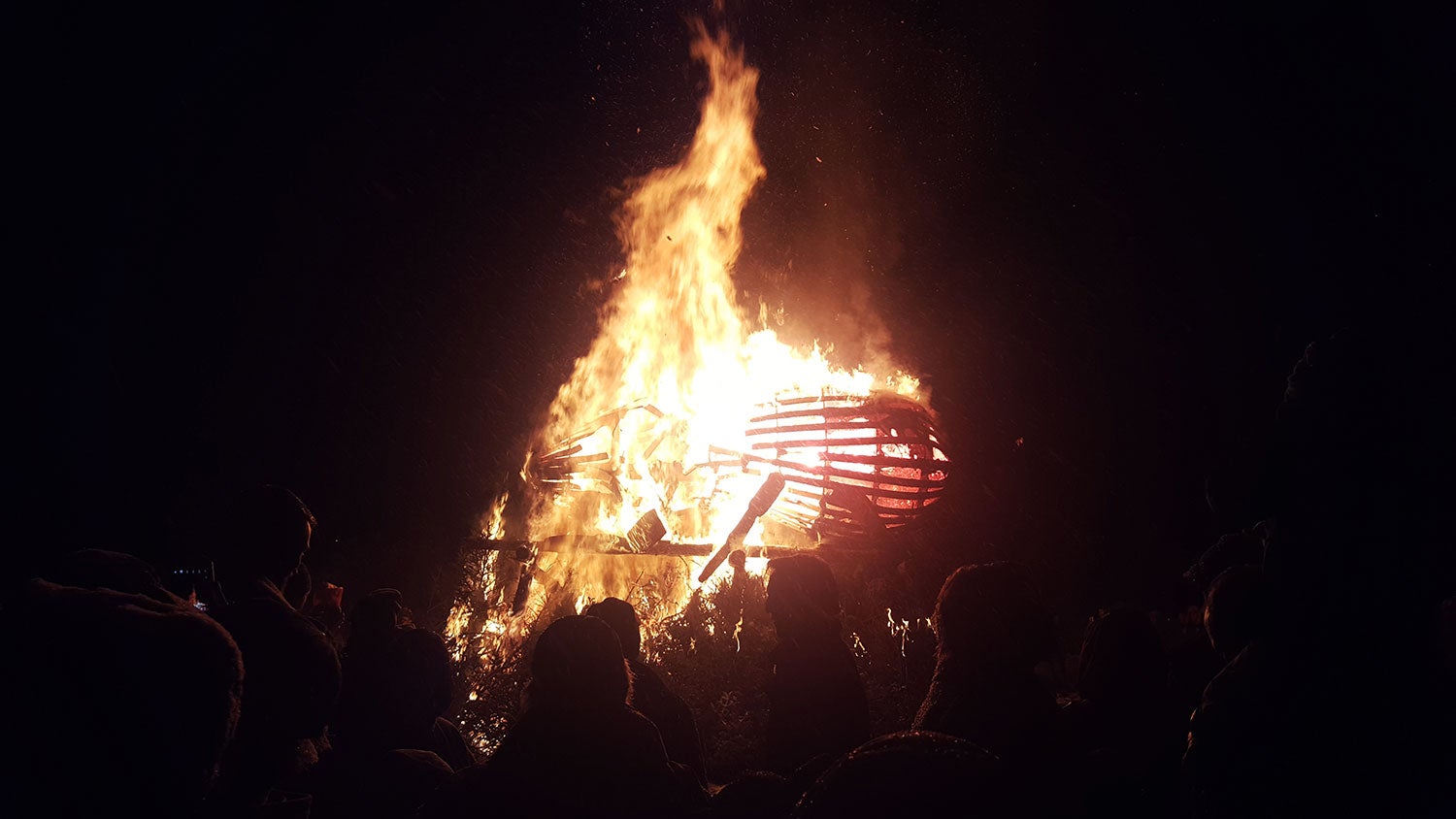 The 2019 Burning Beetle kicks off at 5:00 pm on Friday, January 18, at Art Expressions Gallery with an unveiling of plans for a permanent art installation aimed at educating visitors on the history of beetles in the hills.
Saturday, January 19, continues the festival with several events leading up to the burning:
8:00 am – 10:00 am: Join Black Hills Raptor Center at Calamity Jane Winery & Mercantile for "Breakfast with the Birds" to sip coffee and learn about the new regional raptor facility.
8:00 am – 12:00 pm: Be a spectator, or register before midnight on January 17 to participate in the first "Spin the Beetle Fat Bike Race," a 9-, 16-, and 25-mile ride on Black Hills trails.
3:00 pm: Attend a Variety Show held at Custer High School where event merchandise will be available for purchase.
4:45 pm: Join as organizers light 150 torches for participants and begin the march from Custer High School to the beetle sculpture at Pageant Hill.
5:15 pm: Watch the beetle burn and the fireworks show on Pageant Hill.
6:00 pm – 8:30 pm: Attend the Bug Crawl Pub Crawl for live music at participating locations in downtown Custer.
Popular Articles: