If you've ever driven to North Carolina's Outer Banks, there's a chance you passed right through the Alligator River National Wildlife Refuge and didn't even know it. But just because the refuge is easy to miss it doesn't mean you should.
Here's What You Need to Know About Alligator River National Wildlife Refuge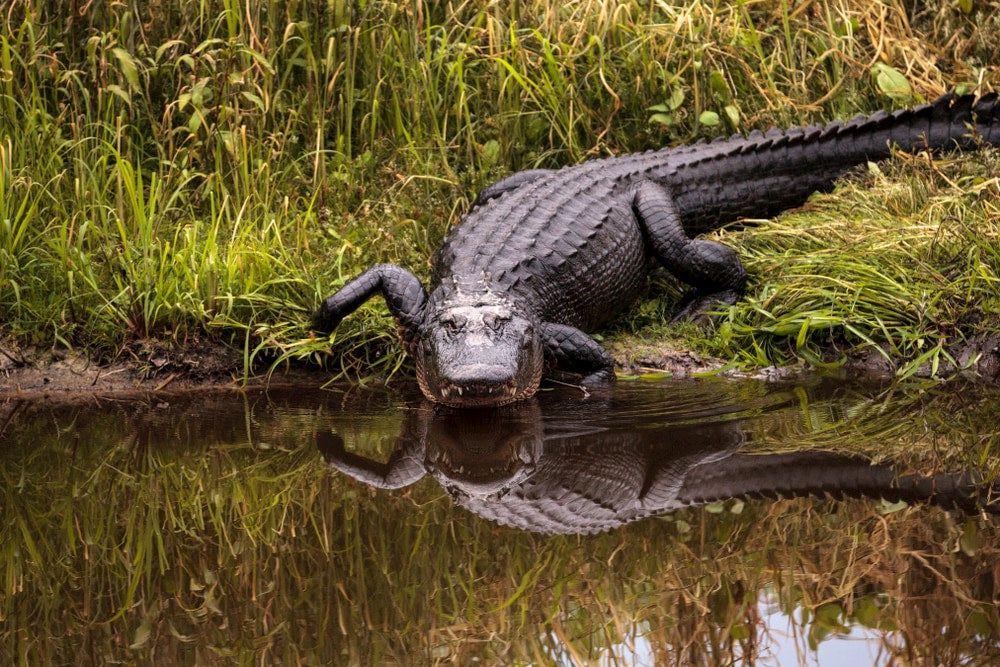 The 152,000-acre National Wildlife Refuge along North Carolina's Atlantic coast is a unique and diverse ecosystem that conserves the fish, wildlife and plants that call the refuge home. It also provides recreational opportunities like hiking, biking and wildlife watching to the people who visit.
History and Wildlife of Alligator River National Wildlife Refuge
For many years, the stretch of swampy earth that would one day become Alligator River National Wildlife Refuge was considered an uninhabitable no man's land. But in the late 1970s and early 1980s, conservationists began to better understand the importance of the marshes, forests, and wetlands that make up this tract of earth. The Alligator River National Wildlife Refuge was officially created in 1984 to protect the wetland and all of the unique creatures that live within.
After years of research, scientists finally understood that the land was one of the most unique habitats in North Carolina. Called a "pocosin," a wetland bog with sandy peat soil and woody shrubs, it provides a home to a number of species that are hard to find anywhere else along the East Coast, including the endangered red wolf, red-cockaded woodpeckers and American alligators as well as black bears, waterfowl and other migratory birds.
Today, the refuge encompasses 28 miles of land north to south and 15 miles of land east to west and is a special place to photograph, hike, hunt, paddle and observe wildlife.
One of the most exciting projects at the refuge has been the re-introduction of red wolves. Once common throughout the eastern and south central United States, populations were decimated over the 20th century. The wolves were designated endangered in 1967 and were biologically extinct in the wild by 1980. Then, in 1987, restoration efforts began with the experimental release of red wolves at Alligator River National Wildlife Refuge. Today, about 40 red wolves now roam their natural habitat at the refuge.
Things to do at Alligator River National Wildlife Refuge
Stop by the Visitor Center
The National Wildlife Refuges Visitor Center represents not just Alligator River National Wildlife Refuge but all 11 national wildlife refuges in North Carolina and one national fish hatchery. The center has interactive exhibits, audio-visual programs and even a virtual airplane ride. There's also a gift shop with fun and unique wildlife-related items for sale. All proceeds from the gift shop benefit the refuge programs.
Outside of the center you'll find 35 acres of wild land and four hiking trails.
Visit the Small Villages near Alligator River National Wildlife Refuge
The small towns of Manns Harbor, Stumpy Point, Engelhard and Swan Quarter remain small and charming fishing villages. They're also home to some of the only amenities in the refuge, including gas and grocery stores.
Explore the Murphy Peterson Wildlife Drive
For a prime chance to spot wildlife, take a drive down the Murphy Peterson Wildlife roads, 15 miles of gravel roads that offer visitors a chance to see black bear, wild turkeys, birds of prey, waterfowl and—if you're lucky—maybe even an elusive red wolf. Guided tram tours are offered weekly each Saturday in the summer months and monthly during the rest of the year, but the drive is best experienced, and explored, with your own set of wheels. Take note that wildlife are most active at dawn and dusk, but remember that the refuge is only open during daylight hours so plan to arrive (or leave) with the sun.
Kayak the Milltail Creek Paddling Trails
One of the best ways to explore the refuge is by canoe or kayak via the refuge's 15 miles of color-coded paddling trails. Pick up a paddling map at the visitor center and explore the waterways for a chance to see river otter, migratory birds and any number of reptiles and amphibians.
Join a Guided Tour
During the spring, summer and fall, guided tours the refuge offers guided tours. September through May, three-hour tram tours take place once a month. The cost is $10 per person. Children under 12 are free with a paying adult.
Additionally, Saturday "Red Wolf Howlings" are held during the spring and fall. Participants learn about the red wolf and then head into the refuge for a chance to hear the haunting call of the elusive species. Each Friday, year-round, a free Pea Island Bird Walk is also held. For young environmentalists, a Preschool Young Naturalist program takes place Fridays year-round at the visitor center.
Photography in the Refuge
Photographers willing to go the extra mile to get the perfect shot can reserve the refuge's portable photography and viewing blind, intended for public use so that photographers can quietly and safely observe and photograph wildlife in their natural habitat. The blind can be placed in several predetermined locations depending on the seasonal migrations of wildlife throughout the year. The blind is free to use and can be reserved by calling or visiting the visitor center.
Where to Camp Near Alligator River National Wildlife Refuge
There is no overnight camping in the Alligator River National Wildlife Refuge. On the Dare County mainland, adjacent to the refuge, it is possible to find small dispersed campgrounds. Inquire at the visitor venter.
There are also a handful of private and public campgrounds within a 35 minute,  1.5-hour drive of the refuge:
Located in the small fishing village of Wanchese, North Carolina, the Refuge on Roanoke Island is a camping community with 59 full-hookup RV sites, 44 of which are occupied by full-time residents and 15 that are rented to daily campers. The campground has a swimming pool, bath house, internet and offers both waterfront and interior campsites. From the campground, it's a 35-minute drive to the visitor center.
It's a 50-minute drive from Oregon Inlet Campground to the Alligator River National Wildlife Refuge. This public campground has 120 reservable campsites—23 of which have hookups—that are opened March 30 through the end of November. The campground has flush toilets, drinking water and heated outdoor showers.
"I camped here on the first night of my Outer Banks trip and it was a great place to stay. Just over the dunes from the beach, hot water in the showers, and close enough to Nags Head to check out some great seafood restaurants." —The Dyrt camper Alexis H.
Offering 58 full-hookup campsites, Ocean Waves Campground is a small RV campground with a swimming pool, flush toilets, hot showers, a game room and a camp store. If you prefer to pitch a tent, this campground also has tent sites near the beach. From the campground it's about a one-hour drive to the visitor center.
"Ocean Waves is smaller than most of the other campgrounds on the Island, but they are not small on service! They offer everything the bigger campgrounds offer, but at about half the nightly fee. FHU sites include cable TV and free WiFi, 89 total campsites, 3 bath houses, and they even have a few sites with shade trees" —The Dyrt camper Cliff M.
This privately owned campground is open seasonally March through December and offers campers oceanside camping, hot and cold water, sewer and electrical hookups, laundry facilities, and a camp store with grocery, a dump station and a bath house.
"The campground is perfect. Beach front campsites can't be beat! Hearing the rushing waves crash against the rocks puts me to sleep. I honestly slept amazing here when we stayed. It was super busy when we came, and for good reason. This spot is a gem and I hope people can take care of this place." —The Dyrt camper Ashley W.
Popular Articles: