Zero waste tips can help us all be more responsible campers.
---
Zero waste living isn't just a trend. It's a lifestyle overhaul based on living responsibly, with the intention of reducing our enormous carbon footprint.
One of the main goals of zero waste living is to create a circular economy that leaves no place for trash. It's a way to leave our world healthier and more habitable by keeping our environment clean, trash free, and beautiful for generations to come.
And while reducing your yearly waste to what fits inside a mason jar—like some extreme zero-waste practitioners—might seem impossible, there are many zero waste tips that are easy to incorporate in your day-to-day life, including your next camping trip.
Zero Waste Tips for Campers
If zero waste sounds like a lofty goal, that's because it is. But it's also necessary, and zero waste living is actually pretty straightforward. Cut out the one-time use products, buy in bulk, purchase second-hand where possible, and seek out products that are compostable or package-free. Whenever possible, make purchases that are locally grown or made.
Camping is a great opportunity to utilize zero waste tips. Surprisingly, despite the zero waste lifestyle becoming more mainstream and accessible, campers frequently rely on packaged meals and new gear wrapped in styrofoam and bubble wrap.
But imagine a camping trip where everything you've brought and everything you do creates absolutely zero waste. Don't think it's possible? It is.
Zero Waste Camping Food: Focus on Plant-Based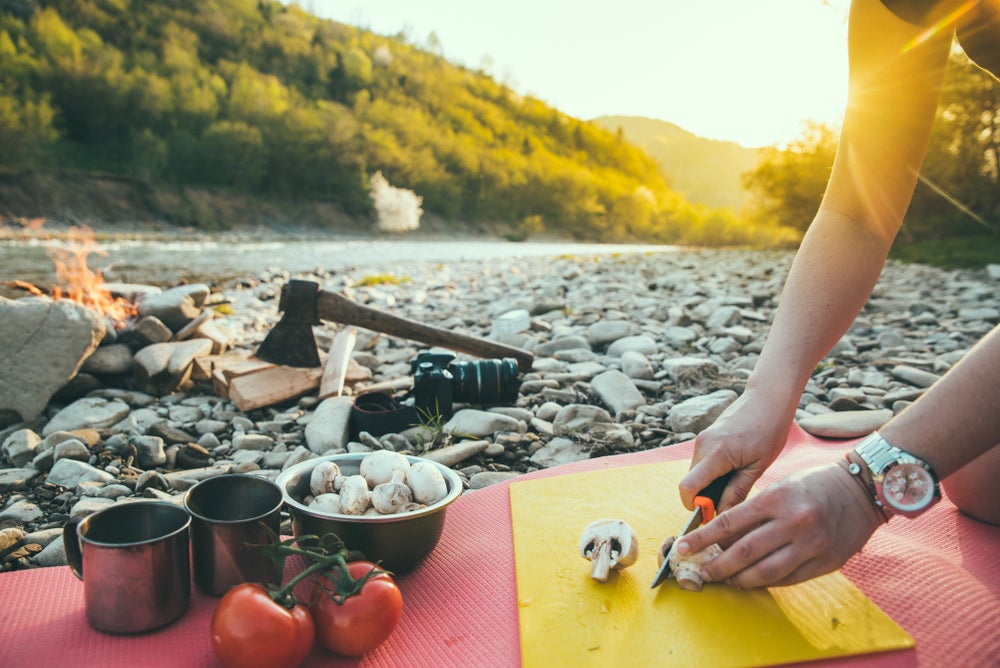 Eating a plant-based diet is the best bet for reducing your carbon footprint. When you're camping, it also reduces the need for ice (and those plastic ice bags). Eating locally-grown foods is a key component of zero waste living, but depending on where you live, this can be difficult. Do the best you can with what you have.
Bringing your food with you is key. Buy bulk when possible, use reusable bags when shopping (including in the produce aisle!), and bring all camping food in reusable packages. You may need to do some light meal prepping, depending on your camping meal plan. The best way to carry your food sustainable is with a reusable, durable cooler.
For ice, there is some preparation required. Use mesh bags in place of plastic bags, and fill them before you leave. You may need to start a few days early to build up enough ice, but you'll cut out the plastic bags that typically come with ice. Make sure that you have a quality cooler that holds ice for long periods of time.
Zero Waste Tips for storage: Store food in reusable, washable containers like glass jars. If you're worried about the containers breaking, I like to wrap each glass piece in a cloth napkin, which can then be used as napkins at the campground. Rinse, hang dry, and repeat to use throughout your camping trip.
Composting at the Campsite
Organic matter in landfills produces methane, a particularly harmful greenhouse gas. So what does this mean for camping? It's actually not really any different from composting at home; you'll just need to make a little extra room in your vehicle. While a composting canister will work if you have a secure spot in which to keep it, a tightly sealed bucket with lid also works—I use a five gallon pail with a lid. When you return from your camping trip, transfer food scraps from your bucket to your home composting bin.
Zero Waste Tips for Composting: Protect wildlife and yourself by keeping the bucket in a bear-safe container, in your trunk, or even hanging from a tree.
Reusable Eating Utensils
If you enjoy thrifting, this is one of the more fun zero waste tips. For a number of years now, I've been slowly building my camping gear bin with zero waste items. So far, I have a vintage floral enamel plate and bowl set, and utensils I love that I only use while camping. Thrifted enamelware in particular is zero waste (in that it's thrifted) and typically doesn't need to be replaced unless something breaks. If you do need to replace items, head back to the thrift store.
Zero Waste Tips for Water Intake: For water, bring a reusable water bottle. My personal favorite is a Hydro Flask, because it doesn't sweat and keeps hot beverages hot and cold beverages cold. Campgrounds often have potable water for refilling. If you are in an area where there is questionable water, you can prepare by bringing a reusable water filter.
Nature and Camp-Friendly Hygienic Products
Shampoo, deodorant, toothpaste, laundry soap—and everything in between—can be done zero waste. For example, shampoo and conditioner bars can be just as effective as those that come in a plastic bottle. If you don't have a shop near you that sells zero waste items, you can find them online. A personal favorite is Tiny Yellow Bungalow, a zero waste shop that sells all kinds of necessary, quality zero waste products at fair prices.
Zero Waste Tips for hygiene products: when camping, be aware of the products that can run off into the water. Zero waste products tend to be made from ingredients that are naturally safe. Whatever products you do have, or find, do a quick bit of research to make sure that the products will not harm natural water sources.
Zero Waste First Aid Kits
A first aid kit is an essential part of your camping trip. Here's a simple zero waste first aid kit that has all the essentials. First, up-cycle an old tin or lunchbox to create your kit. Don't have one? Try a secondhand store. Then, fill it with the following:
List of emergency contacts
Biodegradable bandages
Tweezers
Small bar of soap
Manuka Honey (it's antiseptic and antibacterial)
Zero Waste Tips for First Aid Kits: When in an emergency situation, it's best to collect all used medical gear and dispose in proper waste containers (needle containers, biohazard bins, etc.)
Buy Quality or Secondhand Gear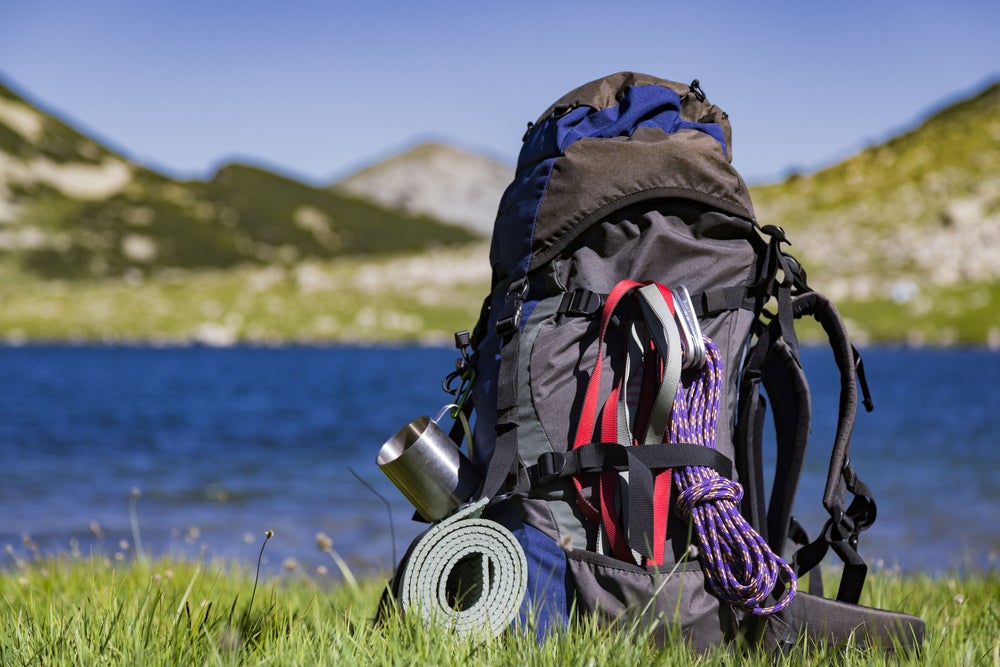 You have two options here. One: Buy new gear. Two: buy used gear. Here's how to go about either one.
New Gear
Avoid the temptation to buy cheap gear—it often isn't made responsibly and is less likely to go the distance, meaning it will end up in a landfill sooner than you'd like. Quality camping gear may be on the higher end of your budget, but keep an eye out for killer off-season sales. Build up your camping gear over time, rather than buying everything all at once. Patagonia has an excellent, environmentally-aware business model, carrying gear that, although it can be a bit more pricey, is of excellent quality. As a budget tip, purchase products from the previous season.
Used Gear
Facebook Marketplace, Craigslist, and even your local outdoor gear outfitters often sell gently used camping gear.
Zero Waste Tips for Camping Gear: Campers should find programs online or at local parks for recycling used camping gear they have no use for anymore—the gear either goes to community organizations or is properly recycled!
Stay Local
Short of throwing up your tent in your own backyard, you will most likely be burning fossil fuels to get to your destination. One way to reduce your impact? Explore the area around you.
Chances are, right near you, there are fantastic parks begging to be explored. As a bonus, these parks are typically less popular than well-known, big-attraction destination parks, meaning they won't be as crowded and it's often possible to get a last-minute reservation.
Zero Waste Tips for Camping Locally: Visit nearby state or national parks and get to know your local environment while reducing your carbon footprint.
Clean Up After Your Pets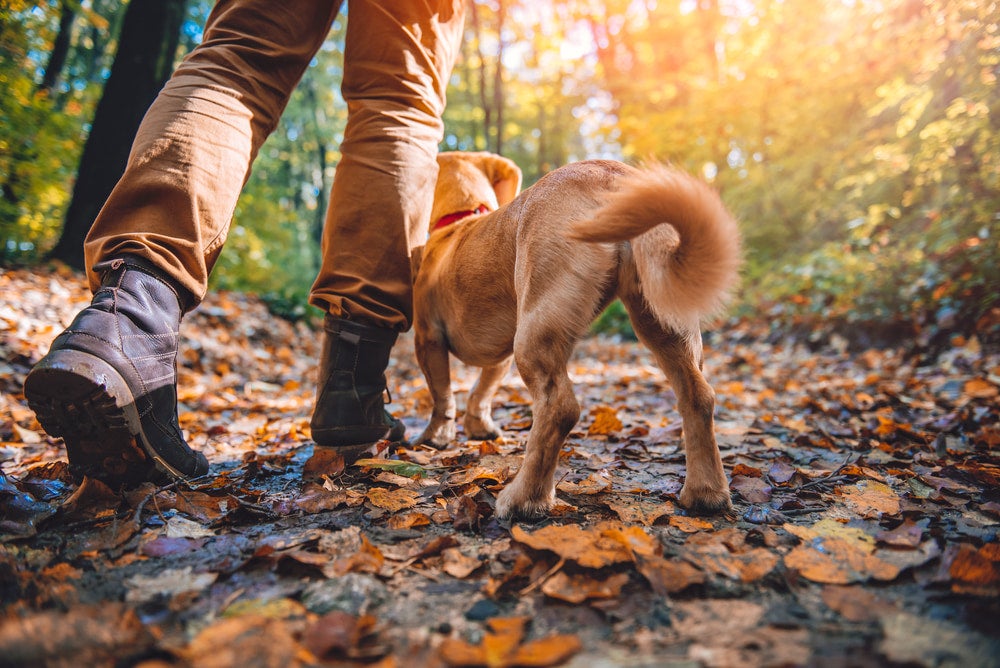 Pets have simple needs: food, water, and a lot of love. But what about zero waste camping with your pup? Those poop bags—are they really biodegradable? Sadly, no. This article goes through the pros and cons to a variety of types and brands of poop bags.
Zero Waste Tips for Pet Cleanup: If you can, always try to bury your pet waste. Dig a hole at least 5 inches deep and cover it up, much like you would when you're hiking in the woods and nature calls.
Back to Basics With Kids
I'm a parent, and I used to be a teacher, and I'm still going to say this: a healthy amount of boredom is a wonderful thing. When it comes to being in the outdoors, it's important to let your kids be bored. Let them use their imagination and creativity to find natural, wild toys that will spur innovative play and games. Engaging with them in this type of play is beneficial for both of you, and eventually, they'll look forward to this type of play freedom that will carry over into their everyday lives.
When in the outdoors, kids need little more than sticks, rocks, binoculars, a book or two, and a drawing pad. This idea of boredom even applies to babies. Let them soak in the sights, sounds, and feelings of being in the outdoors. Let them play with nature. It'll foster a lifelong love of the natural world, which, hopefully, will ultimately help to create stewards of our earth.
Zero Waste Tips for Camping with Kids: If you do bring toys from home, pack every single item back home with you. Zero waste camping is all about Leaving No Trace—something kids are notoriously bad at.
A good packing guide for children:
Binoculars
Animal guide book
Notebook and drawing utensils. (Encourage your child to document the animals they witness in their natural habitat, without disturbing them.)
Favorite reading book
Magnifying glass—you can create fire with these, so be vigilant!
Bicycle and helmet
For parents of young children, cloth diapers while camping may be one of the toughest zero-waste lines to cross, but it can be done—and I speak from experience. You'll need a clothesline to hang the diapers, a DIY spray (see below), a washing board, and a small tub.
How to clean cloth diapers while camping:
Fill the tub with water, scrub each diaper, and hang dry.
While hanging, spray with a simple DIY solution made from one cup of water, ¼ cup of white vinegar, and the juice of one lemon.
Let diapers hang in the sun to further bleach them.
Dump the water down a toilet if available, otherwise, follow LNT principles and dig a hole to bury the wastewater.
Carry in, Carry out, and Pick Up What You Find
Take the idea of "Leave No Trace" one step further by bringing biodegradable or reusable bags with you on your camping trip, and pick up whatever trash you find in the outdoors. If it doesn't belong there, take it with you. Hiking, beachcombing, bikepacking, kayaking—every single adventure in the outdoors is an opportunity for you to leave it better than you found it.
Popular Articles: