They all have one thing in common… Utah.
---
If we could design the perfect natural playground for people who love the outdoors, it would probably look like Utah.
Utah-based outdoor enthusiasts on Instagram offer feeds full of bright red rock, polished slot canyons, sweeping mountain slopes, and more. They climb, hike, ski, and make our heart race with the variety of ways to experience this state. It's no mystery why Utah has become a destination and a home for so many outdoor advocates, athletes, and nature lovers.
If YOU love Utah, or think you might, check out these Utah-based Instagrammers and the gorgeous photos they take of the state. Then enter our Camp the West sweepstakes for a chance to win a trip to experience these beautiful places in Utah for yourself!
1. Van-Life Desert Dweller, @briannamadia

Brianna, along with her husband, Keith, and their dogs, Bucket and Dagwood, live in a big orange van named Bertha. The "desert dwellers" can be spotted cruising down dusty roads, passing the red and orange rock formations of Utah as the dogs run alongside them. Come for the photos of the desert and canyoneering, and stay for the inspiring posts from Brianna who shares her passion for the simple things in life, like canine kisses and dirt.
2. Public Lands Advocate, @katieboue
Katie Boué is an avid and inspiring outdoorist who climbs and runs all over Utah. Katie uses her platform to motivate fellow outdoor lovers to stand up for public lands. Her stories offer timely updates on public land debates and the ways in which you can join the conversation. She'll motivate you to get involved and get outside.
3. Horse-Whisperer and Wylder Co-Founder, @jaineedial
The co-founder of Wylder Goods, an apparel company for the "modern outdoorswoman" obviously has style. Her romantic shots of horseback riding and the Utah landscape will make you want to ride off into that desert sunset.
Caroline Gleich has skied the 90 most challenging backcountry ski routes in Utah, and she documented this incredible feat in the film Follow Through, created in partnership with REI. Her Instagram gallery is full of sparkling powder, stunning summits, and honest reflections on the fear and challenges she faces in the mountains.
5. Endurance Athlete and Professional Skier, @brodyleven
Whether he's cutting up the slopes or running obscene distances, Brody Leven is hard to keep up with. The skiier, ultramarathoner, and all-around outdoor sports enthusiast somehow finds time to be an advocate for public lands as well. Utah is the perfect backdrop for all that action — you'll enjoy shots of the mountains, desert, and impressive gear collections while following Brody's adventures.
6. Storyteller and Photographer, @kylie.fly
Hailing from Idaho, Kylie Fly is a lifetime nature-lover who calls Salt Lake City home when she isn't traveling the world. She teaches outdoor photography workshops, so you know she knows her stuff. Kylie captures all kinds of adventures in her photos, from climbing and skiing in Utah to hanging with ponies in Iceland.

Parts of Utah look more like Mars than planet Earth. The bands of red and orange sand and the bizarre towers of rock are intoxicating in their strange beauty. Johnny Adolphson captures the colors and shapes that make Utah so unique. His striking photography will have you dreaming of finding your own quiet corner of a Utah to watch a sunset over the desert.
8. Third-Generation Adventure Company, @mountainbased
MountainBased was started by people who know and love Utah. With a long history of exploration and mountaineering, the family-owned adventure company is dedicated to helping people experience the American southwest. "We want to be that push that gets you to experience the places you've always wanted to, but just didn't know how to start," they write on their website.
The Dyrt is proud to partner with MountainBased in our Camp the West sweepstakes! You and a friend could win a guided camping tour of 5 national parks, showcasing some of the best landscapes and outdoor fun that Utah has to offer.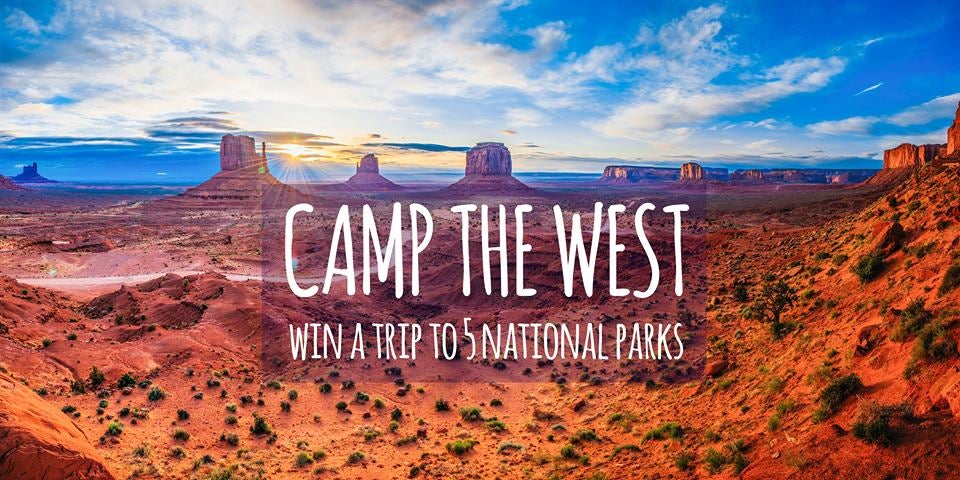 ---
Join us in our quest to make camping even better for everyone. You can find campgrounds all over Utah and elsewhere with The Dyrt. 
Popular Articles: