Shari and Hutch live on the road full-time in their vintage "canned ham" trailer. This week they created a fun online quiz to determine if you could make it as a full-time camper!
---
"You are living my dream!" is something we hear at least three times a week.
Living in a travel trailer and camping regularly comes with some great advantages and we love this lifestyle — but it's not for everyone. Others might think they'd love it, but the reality is much different than the dream. Between all of the idyllic photos of beautiful campgrounds and backcountry destinations, there are many challenges and occasional discomforts when you travel full-time. Most travel fantasies don't include mosquitos or hail storms.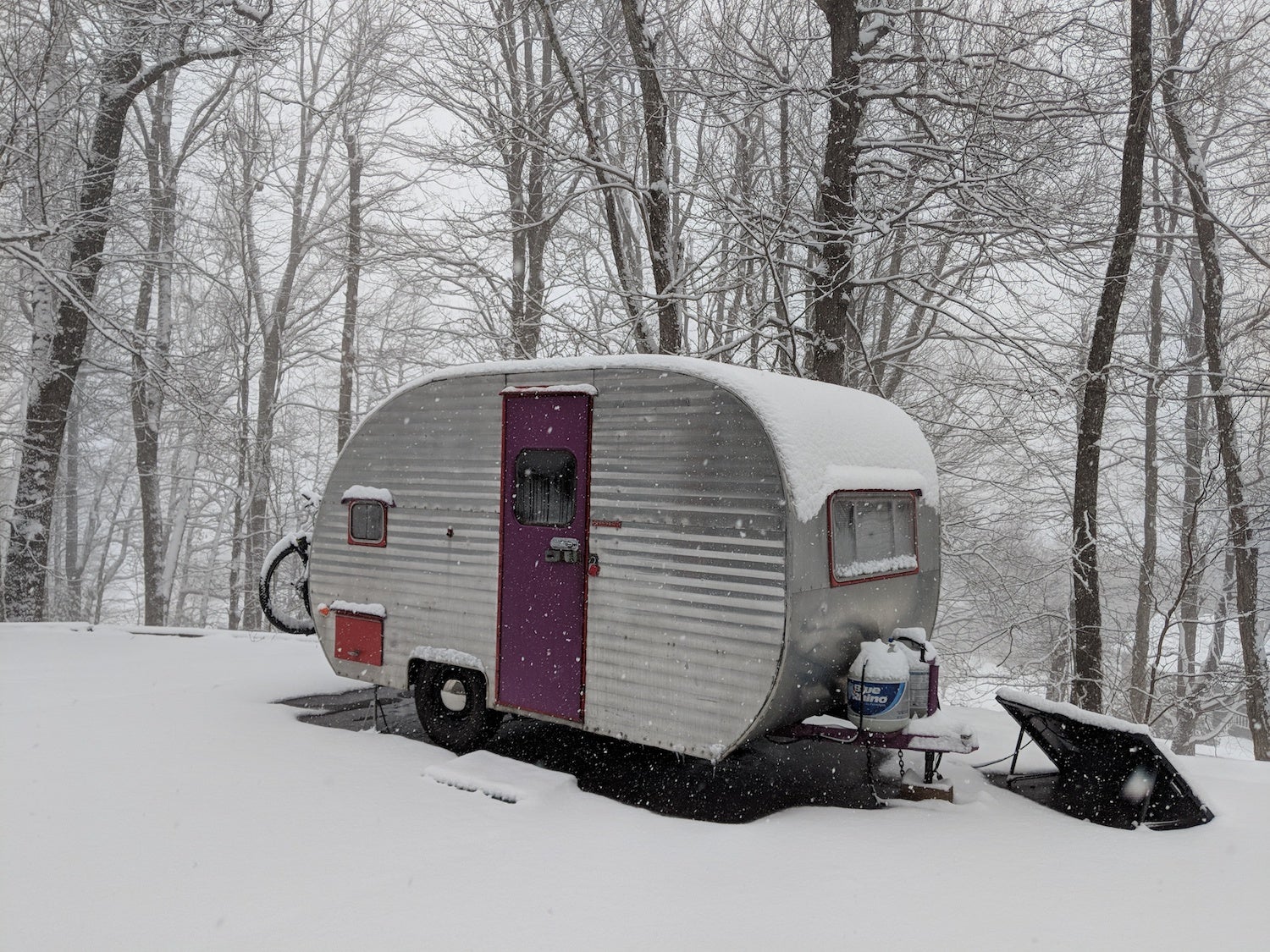 So, how do you know if YOU are ready to move your life on the road? Rate yourself on these 25 statements, between one and three. If you have potential traveling companion(s), send this online quiz to them, too.
3 = Oh, Yeah!
2 = This might work for me, with possible modifications.
1 = Ain't no way!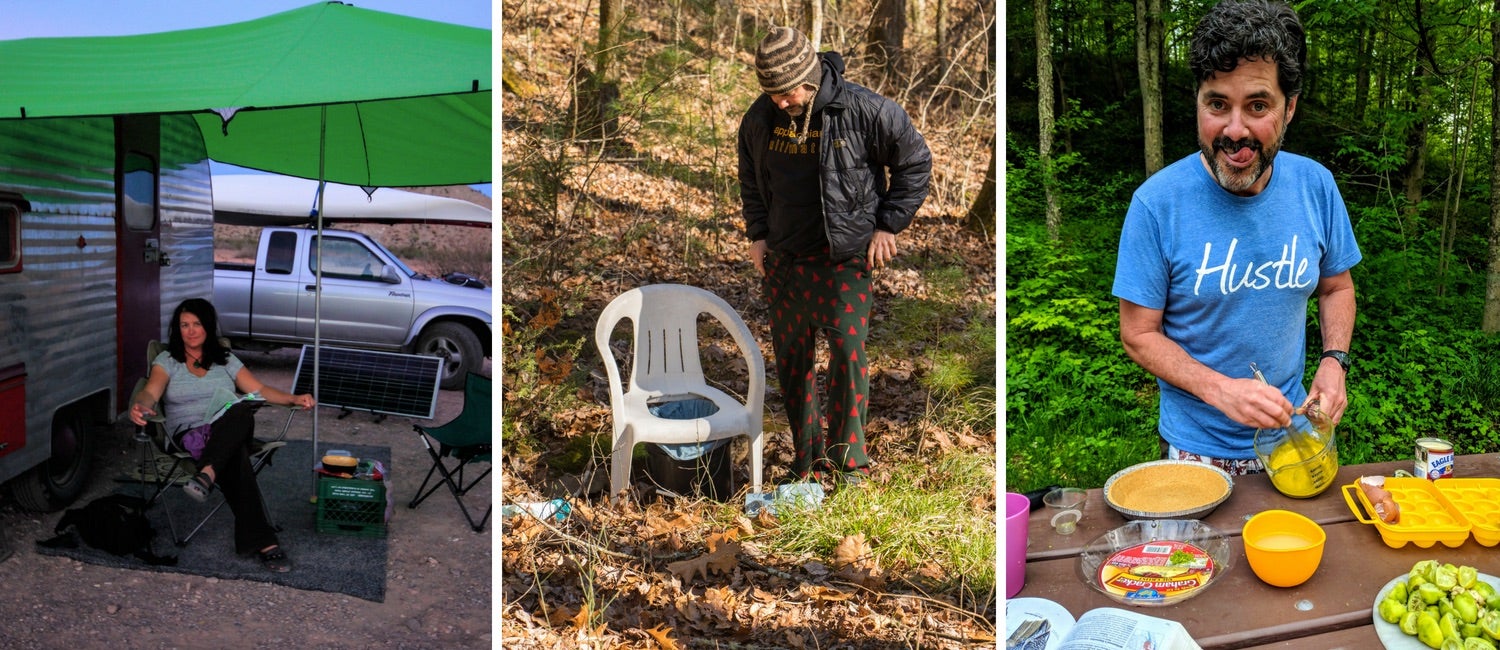 I thrive on change and deal well with regular transitions
I am willing and ready to deal with all types of weather.
I am comfortable spending 60 to 80% of my life outside.
I live clutter-free and put things away when done.
I can easily live with a minimal amount of stuff: clothing, linens, kitchenware, etc.
I can live without having electricity whenever / wherever I want it.
I enjoy exercise beyond the gym routine. I often walk, cycle, rock climb, or paddle to get a workout.
I have some money saved and my debt is paid off. Or, I'm retired and don't need to make money.
I have no one at home relying on me for daily support (financial or otherwise).
I can generally assess if a medical issue requires a doctor's visit.
I can deal with not showering or doing dishes for a few days at a time because there is limited water available.
I am comfortable using water from a stream/lake to do dishes or shower and/or filtering water from the same source for drinking.
I am a MacGyver at heart. I can fix just about anything with glue, duct tape, and bit of ingenuity.
I make friends easily and enjoy talking with people from all walks of life.
I have the financial willpower to make and save money that I'll spend later — maybe even years later.
I have or am willing to develop a variety of skill sets to find new work.
The outdoors and public lands are my amusement parks.
I am willing to put myself out there and be creative with how I make a living.
I am willing to bring my vehicle to almost any mechanic, not just my regular shop.
I can easily live without constant connection to the internet, knowing the latest news, watching TV, or being in touch with other people 24/7.
I am comfortable using public facilities (toilets, showers, laundromats, libraries, etc.).
I enjoy cooking rather than eating out regularly. I relish the challenge of cooking on a two-burner stove and/or campfire.
I trust and engage with strangers easily, but also have a strong "weird-o-meter."
I can deal with not always knowing where I'll stay the night.
I am comfortable sharing my life story multiple times per week, or when anyone asks "where ya from?"
---
How'd You Score?
Score 61-75: You are comfortable with all these statements! You are absolutely ready to pull up your roots and hit the road. What are you waiting for? Start planning your exit strategy and set a date. Here are some tips to help you hit the road. 
Score 48-60: Some of the statements in this online quiz have you scratching your head and wondering if this could work. You're either not quite ready to hit the road or you need to handle things differently than we do. But there are ways to make it work for your preferences. For instance, if you aren't comfortable using public facilities, make sure you get a rig with a bathroom and shower. If you aren't comfortable with not knowing where you'll stay the night, make reservations and plan accordingly. It might be a good idea to test your boundaries by camping without reservations during the low tourist season, boondocking in a national forest instead of staying at established campgrounds, and test out this lifestyle on a few extended trips.
Score 25-47: You cringed at the thought of most of the things on this list. Our advice is to stay put in a permanent home, live vicariously through those who travel, and use The Dyrt's app to go on a weekend camping trip or short-term road trip.
Popular Articles: