A student of Ansel Adams and a lifelong lover of national parks, Rob Decker is committed to capturing America's beauty through national park posters. 
---
There is so much beauty in our national parks, it's no wonder everyone sees them a little bit differently. Waterfalls are colored by childhood memories; mountain peaks are shaped by how close you get and how far you walk; camping in a national park is shaped by the conversations you have around a fire.
An artist's rendering gives us a chance to see our favorite place through someone else's eyes. And to remember it for ourselves. Rob Decker has been making memories in our national parks since he was six years old. For years, he's been combining his passions for photography, graphic design, and national parks, to transfer those experiences into National Park posters, stylized after the Works Progress Administration era.
Rob Decker Creates National Park Posters to Inspire a New Generation of Visitors
The WPA was an ambitious branch of FDR's New Deal in the 1930's, established to create jobs for unemployed Americans in public works projects. Those who were hired built roads and bridges and constructed buildings, slowly changing the face of the country's infrastructure. Others created posters, tasked with the challenge of sparking America's imagination and convincing them to experience places like zoos, museums, and national parks.
Between 1935 and 1943, 1,400 national park posters were produced — but only 41 have survived to this day (that we know of). Rather than recreating the beloved designs of that period, Rob honors the style with his own twist, using a composite of HDR photographs which he then turns into graphic art. In creating a new style of national park posters with a nod to the past, Rob Decker hopes to continue the tradition of WPA artists and to inspire a new generation of Americans to experience our national parks.
"My hope is that by creating these iconic images, I can help to generate awareness — not only of the grandeur of these amazing places — but also for the need of continued protection and operation of the parks," writes Rob on his website.
We caught up with Rob Decker to learn more about his photography, his love for national parks, and the time he spent studying under a very famous landscape photographer.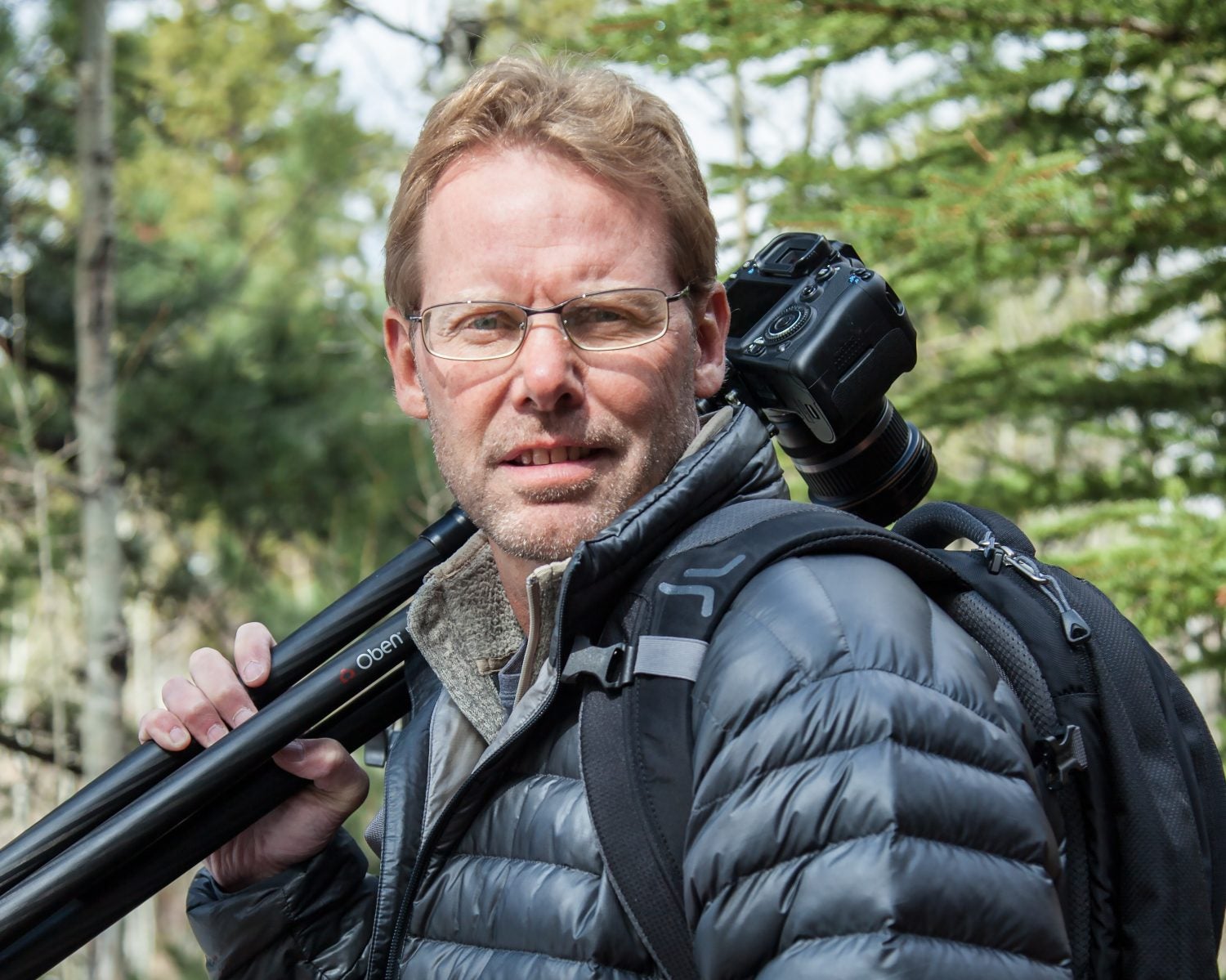 The Dyrt: What was the first national park you visited and what do you remember about it?
Rob Decker: I grew up in Northern California, and first visited Yosemite National Park when I was about six years old. What I remember most was the "Yosemite Firefall." The Yosemite Firefall began in 1872 and continued for almost 100 years. Each evening in the summer, a roaring bonfire was built at the edge of Glacier Point, some 3,200 feet above Yosemite Valley. Down at Curry Village, the Master of Ceremonies would shout out, "Let the Fire Fall!" and the bonfire was pushed over the edge of Glacier Point, creating a waterfall of fire. It was amazing!
When did you first discover photography and what got you hooked?
I got my first camera when I was eight — a Kodak Duaflex camera that my grandfather gave me. It used black and white roll film, and you had to open the back of the camera, feed in the leader of the film, and advance it several inches so that the first frame could be properly exposed. I think you got 10-12 images per roll!
What type of photography work have you done since then?
I've done all kinds of photography work over the years. I ran a portrait business with one of my best friends for several years. I've done product photography, and had a variety of corporate projects from companies like American Express, the National Association of Realtors, Rand McNally, Sprint, and many others.
How did you come upon the opportunity to study under Ansel Adams?
When I was 19, I learned about the chance to study under Ansel Adams in Yosemite National Park — and jumped at the opportunity! There was an application process, and I had to submit a portfolio. It was more intense than applying for college!
Can you tell us about one memorable experience from your time studying with him?
One day, we drove up into the high country of Yosemite near Tenaya Lake. We got out our gear and he set up his 4×5 camera, and he talked to us about lighting, composition and exposure. It was an amazing session, and it was that experience that solidified my love of photography and the National Parks.
What inspired you to start this poster series of national parks?
It actually started with my daughter's wedding about 5 years ago. She found a vintage-style dress, and I took photographs all around Colorado that we used for the Save the Date cards, table cards, welcome bags, and I created a poster for all the guests to sign.
Although it was her special day, I got a lot of encouragement and support to do something more. So I ended up running three successful Kickstarter crowdfunding campaigns — and from that point, I left my day job in the rear view mirror — and never looked back!
"I think it's really important to educate younger people from all walks of life in order to create the next generation of national park supporters."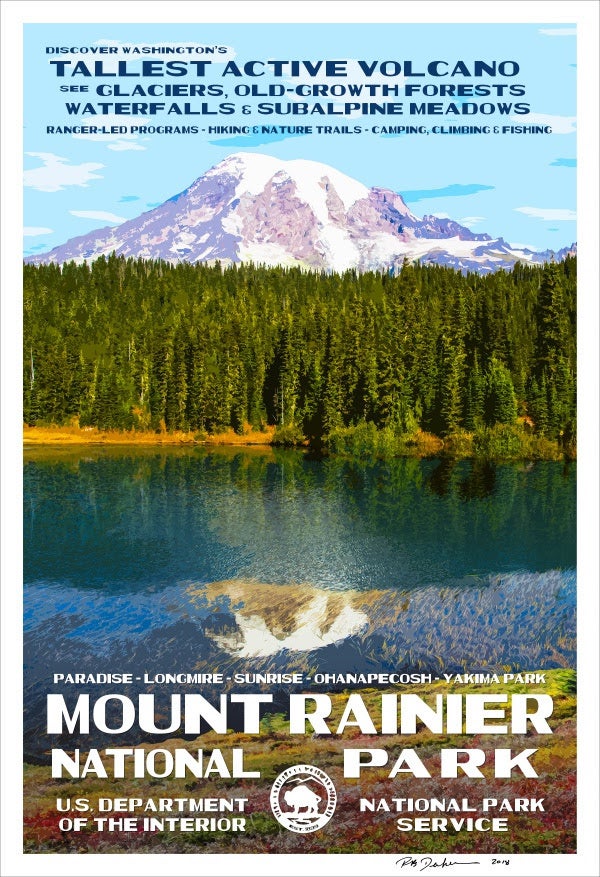 What do you hope to convey in stylizing your work to be reminiscent of the Works Progress Administration?
For one, there were only 14 national park posters created during the WPA era. Now with 60 national parks, there's a gap to be filled, and my goal is to create posters for all 60 parks. But I think it's really important to educate younger people from all walks of life in order to create the next generation of national park supporters. That's why I donate 10% of annual profits to organizations that support the national parks, and when possible, earmark that for educational programs.
What is your favorite national park and why?
Yosemite it the ultimate park for me. Not only have I visited many, many times, and of course spent the summer of 1979 studying under Ansel Adams — but my history with Yosemite goes back nearly 100 years. My grandparents honeymooned there in the 1920s and we celebrated their 60th wedding anniversary there in the 80s. My brother got married in the Yosemite Chapel in the 90s, and I hiked, camped and backpacked extensively throughout the park in my teens and twenties.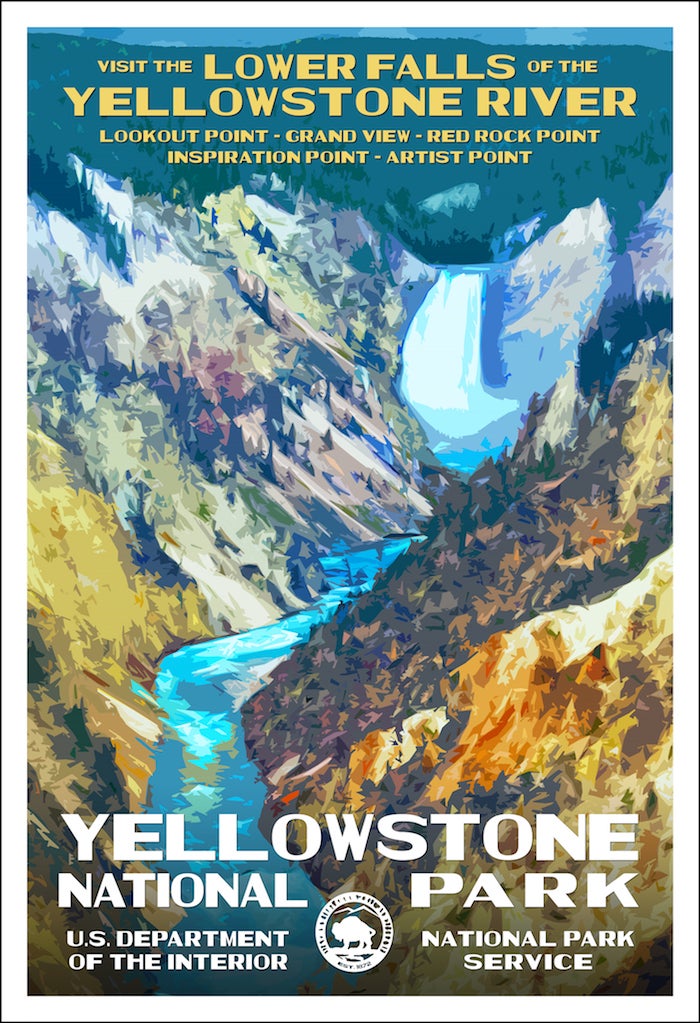 There is so much variety in landscape, climate, and beauty in our national parks. Which one have you found most challenging to capture?
The biggest parks present the biggest challenge — like Olympic National Park in Washington. The park has nearly a million acres, and protects a vast wilderness, thousands of years of human history, and several distinctly different ecosystems, including glacier-capped mountains, old-growth temperate rain forests, and over 70 miles of wild coastline.
Other than beautiful places, what do you hope that people see in your photographs of national parks?
I hope that these images inspire people to explore the amazing landscapes, vibrant culture, and rich history that the parks protect. And, I hope it captures the essence of the park, so that people can remember and celebrate their own national park experiences.
Can you offer one piece of advice for any budding landscape/nature photographers out there?
There's a big difference between taking a picture and making a photograph. Ansel Adams taught me to pre-visualize the end result, and to pay close attention to lighting, composition and exposure. Don't be in a hurry to snap a picture and move on. Take your time, photograph in the early morning or near sunset for more dramatic lighting if you have the chance.
---
Rob Decker's National Parks posters are printed on 100% recycled paper with soy-based ink. Each poster is numbered, signed, and dated. You can purchase National Park posters through his website for $35. 
---
Related Campgrounds:
Popular Articles: