This article about mushroom recipes is brought to you by Mountain House. For camping dinner ideas in the backcountry, Mountain House offers tasty freeze-dried meals you might even want to eat at home.
---
Not everyone loves mushrooms. But if you do, then you know they're a great addition to almost any meal. And when you're camping? Their chewy texture and rich flavor adds a kick to campfire cuisines.
With plenty of ways to cook these tasty morsels, you'll likely be throwing an extra package or two into the cooler for the rest of your camp trips this summer. Plus, all these recipes cook in less than an hour, making them a true winner while camping and at home.
(Did we mention these mushroom recipes are wildly easy? Even the kids can get in on the cooking fun.)
10 Family Favorite Mushroom Recipes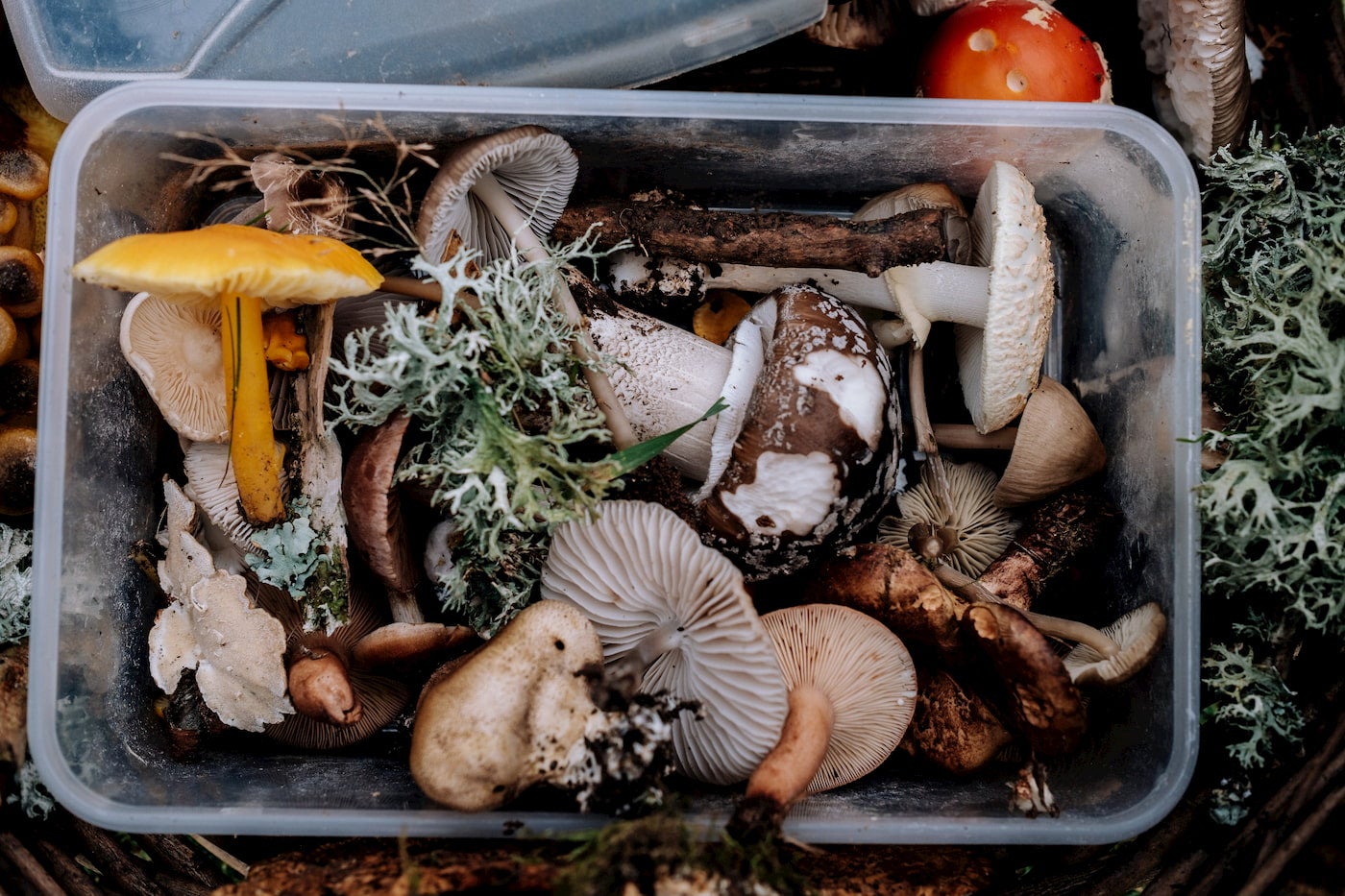 It's important to plan camping mushroom recipes that the whole family will love. While the kids might not be thrilled about mushroom risotto (until they try it), they'll love the process of cooking the stuffed mushrooms, and shoveling mushroom quesadillas in their faces after a long day on the trail or lake.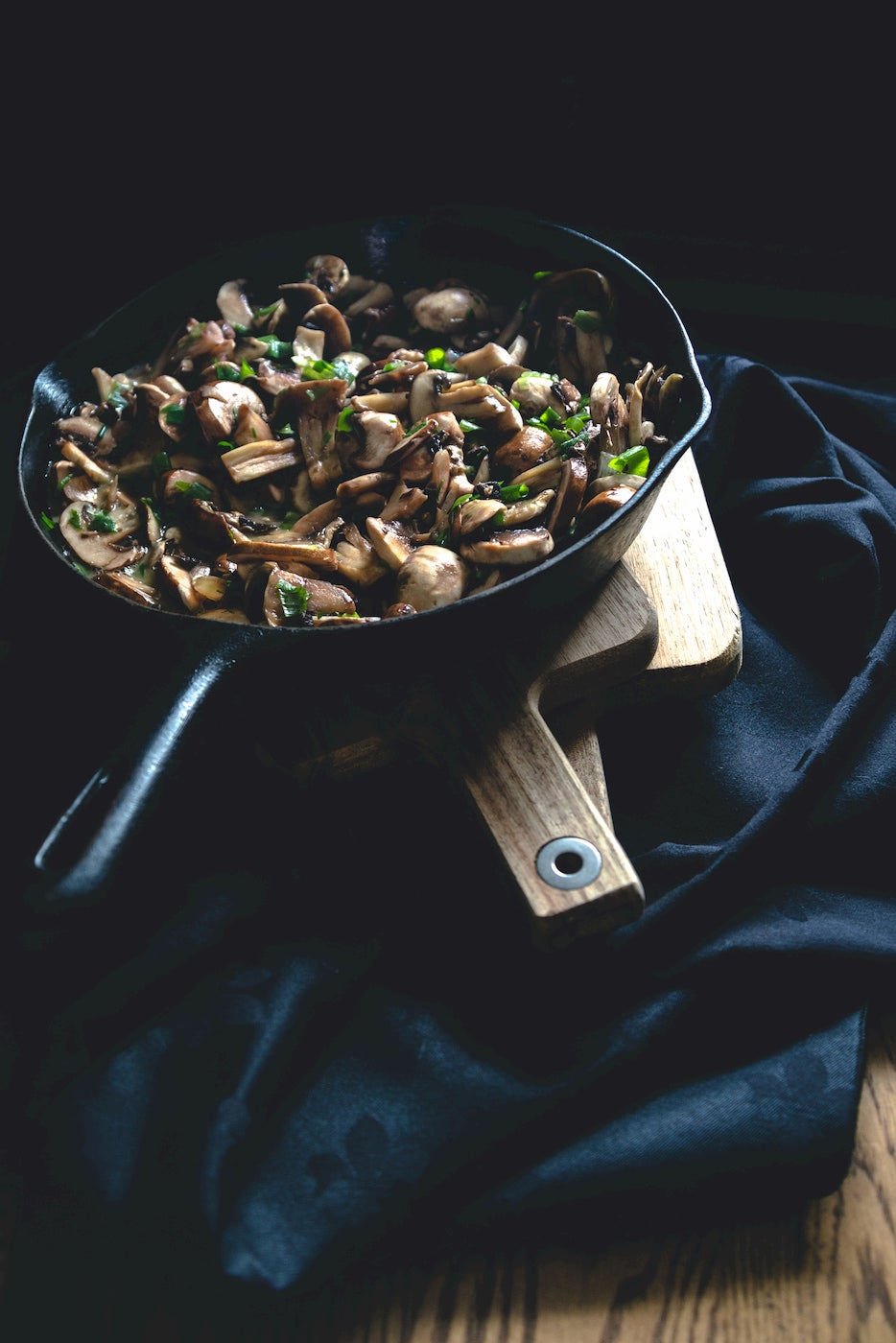 Let's start with the basics; this campfire mushroom recipe is simple, delicious, and a great addition to steak, foil dinners, omelettes, or salad. Using mostly herbs and a little bit of alcohol, this recipe has every good and yummy thing in life. Not to mention it takes less than 15 minutes.
Ingredients:
2 boxes of various mushrooms (or forage your own)
½ stick of butter
2 minced cloves of garlic
2 chopped scallions
1 sprig of rosemary
½ juiced lemon
¼ cup red wine
Directions:
1. Cut mushrooms into thirds, including stems. Heat butter in a cast iron skillet and add mushrooms, tossing until coated entirely in the butter.
2. Add scallions and stir until mixed, then add the rosemary and garlic.
3. Stir and let cook for 8-10 minutes or until a darker brown.
4. Add the lemon juice and cook for another minute.
5. Add red wine and let cool for 5 minutes, then serve!
You had me at stuffed. These yummy mushrooms are filled with cheese, breadcrumbs, and chopped up mushroom stems for an easy gourmet camping recipe you'll want to make time and again.
Ingredients:
10-12 mushroom caps
2 tablespoons butter
2 minced cloves of garlic
¼ cup breadcrumbs
¼ cup grated parmesan cheese
4 oz cream cheese
Directions:
1. Remove stems from mushrooms and chop finely. Add to skillet with melted butter.
2. Add garlic and breadcrumbs and toast for 3 minutes. Season with salt and pepper.
3. In large bowl, mix together parmesan, cream cheese, and mushroom mixture from the skillet.
4. Fill mushrooms caps with mixture, then sprinkle parmesan on top.
5. Place the mushrooms cheese-side up in a grilling basket.
6. Hold over campfire until cheese is melted, then serve.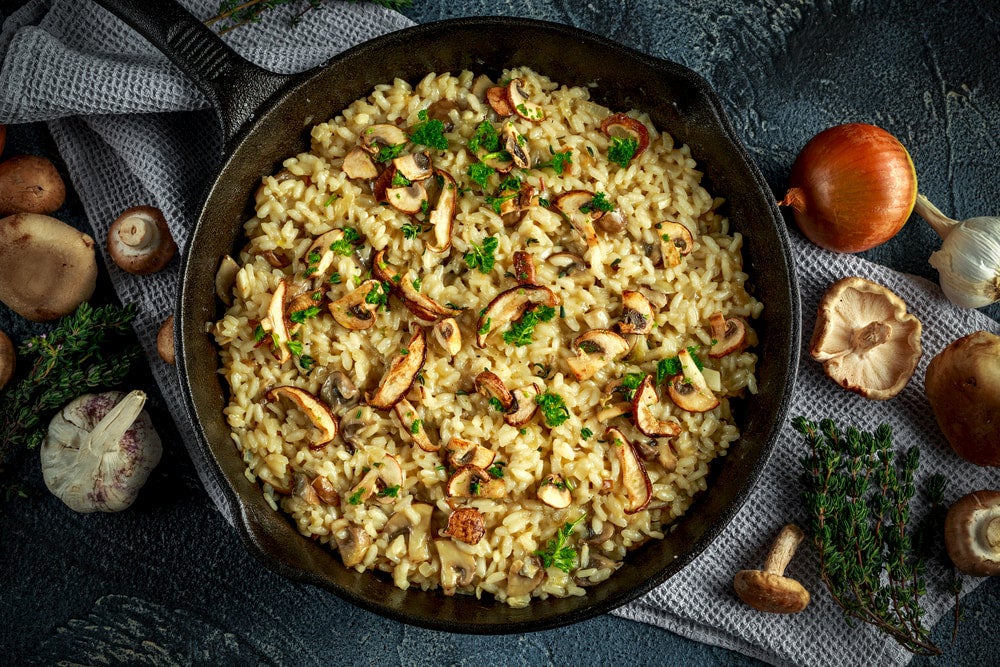 While risotto might bring to mind an angry Chef Ramsey throwing skillets halfway across the kitchen, lay-chefs like you and me can whip up a tasty version with far fewer expectations. This mushroom risotto recipe takes less than an hour and is so delicious you might want to double the batch for leftovers.
Ingredients:
1 tablespoon oil
1 diced onion
2 crushed cloves of garlic
1 cup arborio rice
⅔ cup red or white wine
1 ⅔ cup vegetable stock
1 pound dried mushrooms
1 tablespoon dried parmesan
1 tablespoon butter
1 tablespoon parsley flakes
Directions:
1. Boil stock and then set aside in a separate container.
2. Add vegetable oil to a pan, then add onion and garlic. Cook until translucent.
3. Add rice to coat in the onion and garlic mixture.
4. Add wine until it's almost entirely absorbed by the rice. The wine and rice should be simmering, not boiling.
5. Add the stock ¼ cup at a time, waiting until the stock is almost entirely absorbed before adding the next ¼ cup.
6. After you've added ¾ cups of stock, add the chopped mushrooms into the mixture.
7. Once the stock is entirely absorbed (about 20-25 minutes) turn off the heat and stir in butter, parmesan, and parsley flakes. Serve immediately.
For such a simple breakfast, this wild mushrooms recipe on toast will kick your tastebuds with flavor they'll be more awake than you at 6 in the morning. If you don't know how to forage for mushrooms (it can be risky, so if you're new to foraging, proceed with caution), you can buy a carton from the store and they will work just as well.
Ingredients:
3-4 tablespoons unsalted butter
4 cups chopped wild mushrooms
½ onion, chopped
Salt, pepper, onion powder to taste
Firm bread, sliced and toasted
6 large eggs, fried
Shaved parmesan cheese
Directions:
1. Thoroughly wash mushrooms, chop, then set aside in a bowl
2. Chop onion and garlic, set aside
3. Melt 2 tablespoons butter in a cast iron skillet, then add wild mushrooms, cooking until all moisture has evaporated.
4. Add onions and garlic mixture, stirring frequently. Cook until onions are translucent. Season with salt, pepper, and onion powder.
5. Place a griddle over the coals and melt an additional teaspoon of butter, then toast bread on both sides until brown.
6. Fry eggs on griddle however you like!
7. Spoon mushrooms on toast, adding the egg on top then shaved parmesan. Serve and enjoy.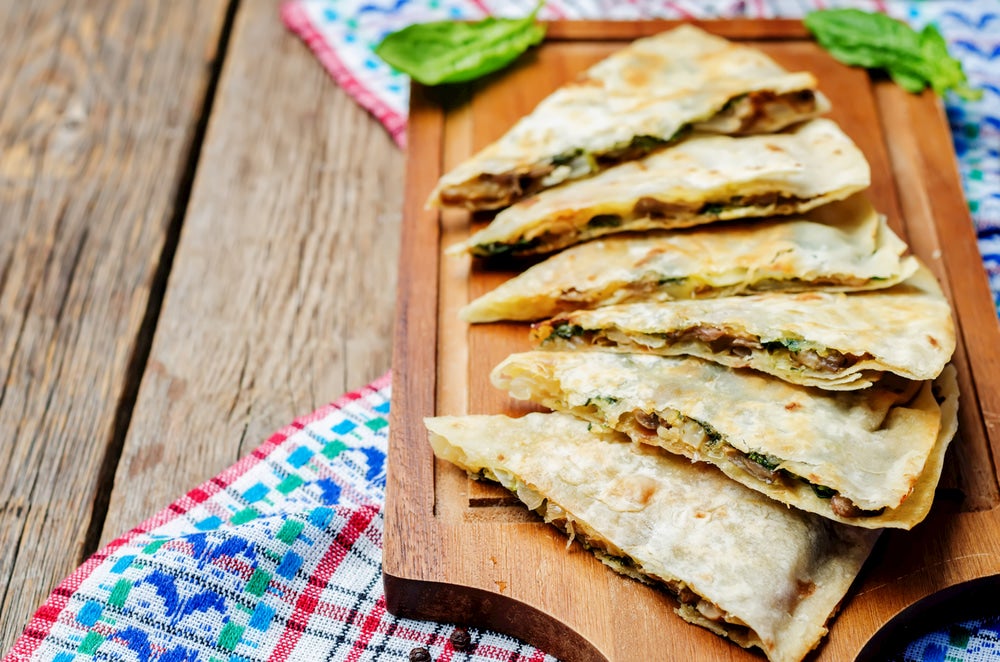 One time I put corn in a quesadilla and that was a mistake. Adding mushrooms is not. This easy, quick, and tasty mushroom recipe requires very few ingredients — though, you can add as many as you like–and takes less than 15 minutes to make. For anyone who turns into a bear when their hunger gauge starts falling towards empty, this is a sure winner.
Ingredients:
2 teaspoons oil
½ medium red onion, sliced
10 mushrooms, sliced
Salt and pepper to taste
4 tortillas
1 cup shredded cheese
Directions:
1. Open four pieces of foil, then place a tortilla on top of each.
2. Add half the cheese between the four tortillas, then add the mushrooms and red onion. Sprinkle the remaining cheese over the top of the mixture and add salt and pepper.
3. Fold the tortillas over then seal the foil to trap in the heat.
4. Place on the grate over your campfire and turn a few times to cook each side.
5. After 8-10 minutes your quesadillas are done and ready to eat!
Another simple recipe, with a campground twist. Instead of grilling mushrooms on a skillet to add to steak or quesadillas, throw them in a foil packet, rotate them on the grill, and voila–shrooms of your dreams.
Ingredients:
1 pound mushrooms
2 tablespoon thyme, mint, sage, or rosemary
3 garlic cloves, chopped
Salt and pepper to taste
2 tablespoon olive oil
Directions:
1. Combine mushrooms, herbs, and oil to a bowl and stir to combine
2. Brush the inside of the foil with olive oil, then add the mushroom mixture to the center of the 12 x 12 pieces of foil
3. Crimp edges of foil to maintain moisture, then place on grate for 20-25 minutes, turning regularly.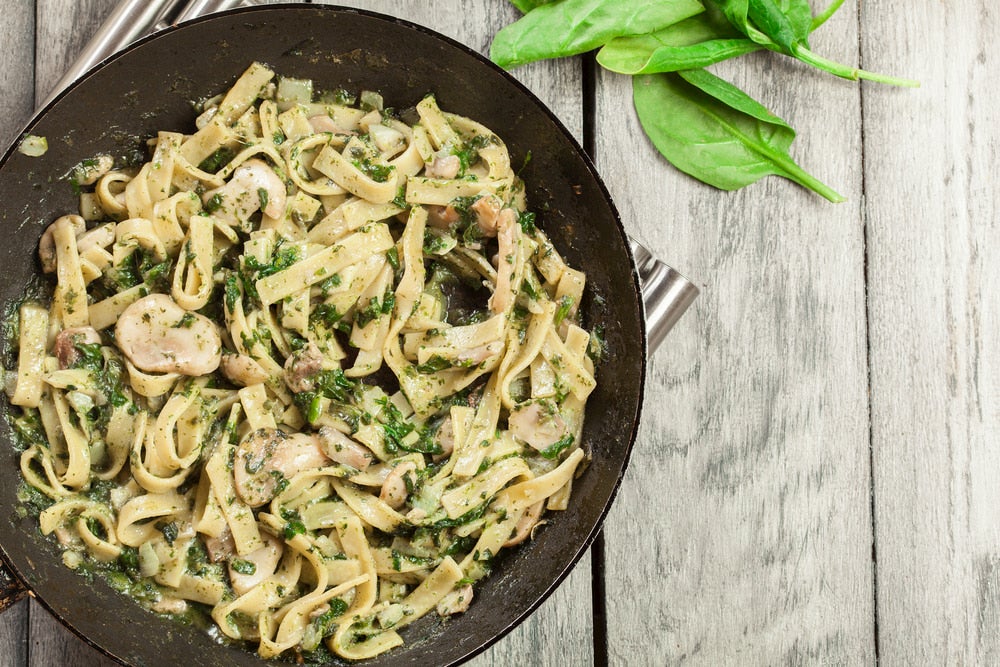 Could these be the three best words in the culinary world? I'm a novice and know nothing about cooking beyond what I learn from Netflix documentaries, but anytime I see "creamy" and "mushroom" and "pasta" in the same sentence, I know I've found a winner.
Ingredients:
2 tablespoons of olive oil
1 pound of mushrooms
2 shallots, diced
4 garlic cloves, minced
2 teaspoons rosemary or thyme, chopped finely
3 ⅓ cups vegetable stock
12 oz spaghetti
2 ½ cups milk
2 teaspoons salt
2 tablespoon nutritional yeast
2 teaspoons white miso
Directions:
1. Place a frying pan over medium-high heat. Add the oil and mushrooms, stirring frequently until golden brown.
2. Add the shallots, garlic, and herbs to the pot, and cook until the shallots are translucent.
3. Add vegetable broth, spaghetti, and 2 cups of milk, salt, nutritional yeast, and miso.
4. Cover mixture and bring to a boil. Once the spaghetti is cooked, remove from heat and add the remaining ½ cup of milk. Serve promptly.
If you're sticking to a diet or are trying to watch what you eat for health purposes, the mushroom cauliflower rice recipe is a great option for low-calorie deliciousness. You won't be slaving over the stove, either–this recipe cooks in less than 30 minutes.
Ingredients:
2 tablespoons of olive oil
1 stick celery
½ cup onion, chopped
1 garlic clove, minced
3 cups mushrooms
14oz cauliflower rice
⅓ cup vegetable broth
Soy sauce to taste
Directions:
1. Add oil to a large skillet then add onion and celery and cook for about five minutes, until the onion is translucent. Then add garlic and cook for 30 seconds.
2. Add mushrooms and stir until it's browned and cooked through, then add the cauliflower rice, soy sauce, and vegetable broth. Cook until cauliflower rice is soft, then add spinach and cook for an additional 2 minutes.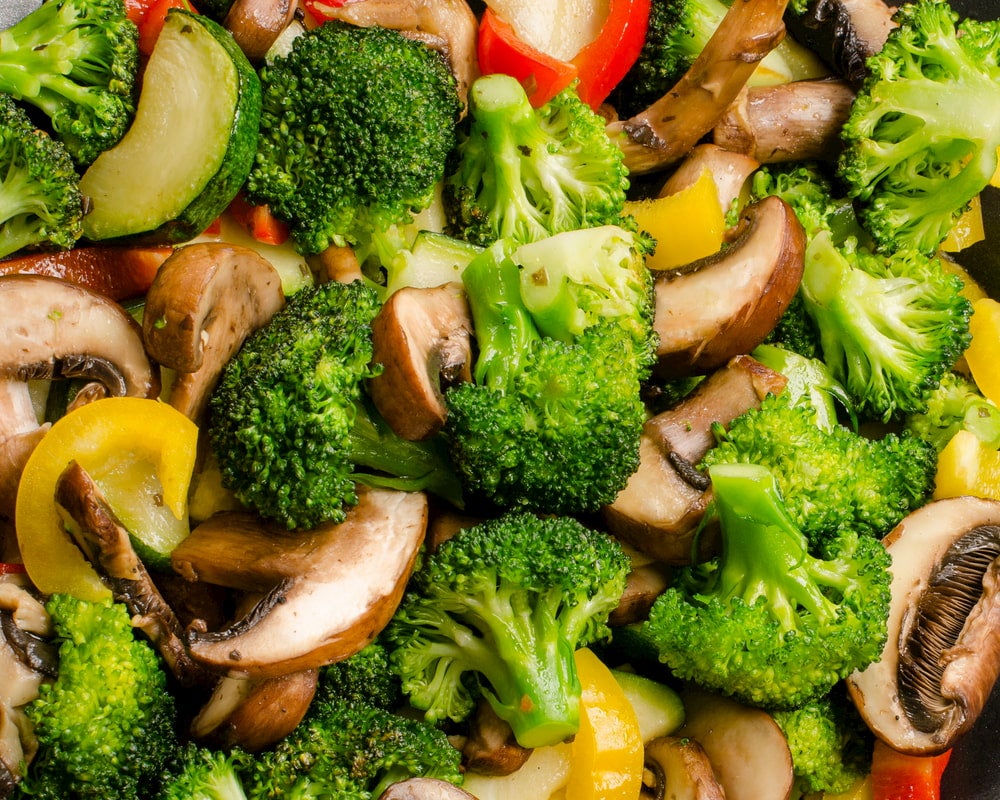 Mushroom recipes are nearly always enhanced tenfold with an asian spin; try this broccoli and mushroom stir fry–it's fast and convenient to make and tastes like, well, stir-fry. It's sure to make your camp neighbors jealous as they serve hamburgers for the fifth night in a row.
Ingredients:
2 cups broccoli
¼ cup chopped red onion
3 cloves minced garlic
2 cups sliced mushrooms
2 tsp ginger
¼ cup vegetable broth
½ cup shredded carrot
¼ cup cashews or water chestnuts
2 tablespoons rice wine vinegar
2 tablespoons of soy sauce
1 tablespoon sugar, preferably coconut
1 tablespoon sesame seeds
Directions:
1. Put skillet on medium-high heat and add olive oil. Add broccoli, mushrooms, garlic, onions, ginger, red pepper, and vegetable broth stir well.
2. Add the remaining ingredients, aside from the sesame seeds. Cook until broccoli is tender, then serve over rice and sprinkle sesame seeds before serving.
The best part about this creamy mushroom spinach gnocchi is that you'll feel pretty damn healthy with a splash of green on your plate. Otherwise, this is one of many mushroom recipes with the three magic words–creamy, mushroom, and pasta–that makes all campground-ready mushroom recipes a winner.
Ingredients:
1 tablespoon olive oil
½ onion, chopped
12 oz mushrooms, chopped
3 cloves of garlic, minced
Heaping teaspoon of Dijon Mustard
⅓ cup dry white wine
1 cup heavy whipping cream
1 pound potato gnocchi, uncooked
1 handful baby spinach
½ cup parmesan cheese, grated
Salt and pepper to taste
Directions:
1. Heat a skillet on medium high and add oil. Add onions and cook until translucent, around 5 minutes. Add mushrooms and garlic, stir for another 5 minutes.
2. Add dijon and white wine, then the cream and the gnocchi. After it begins bubbling, cover the pan and reduce to low. Let cook for three minutes, then add the spinach. Let the spinach melt for another 3 minutes.
3. Add parmesan, salt, and pepper, then check to make sure the gnocchi is done and you have enough flavor. Serve and enjoy!
---
This article was brought to you by Mountain House.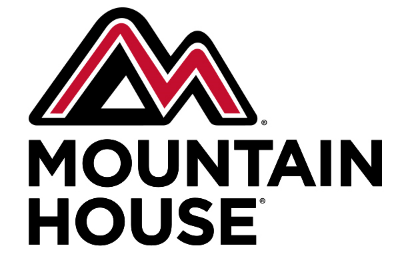 Try one of their camping dinner ideas on your next trip outdoors!
Popular Articles: