Mobile RV repairs can be expensive and stressful. One experienced road tripper offers her advice. 
---
Let me spare you $1,200 in RV repairs by telling you an important fact I did not know about operating the propane fridge. Do not run the fridge if the RV is parked on an angle. You run the risk of having ammonia crystals form and block the tubing, ruining the mechanism.
Can you guess I learned this the hard way?
This was an expensive lesson that cost even more money because the mobile RV repair person caused an interior electrical short when he screwed the fridge back into place, nicking the wiring while installing the cooling unit. He refused to take responsibility, even after I had the technician who fixed the electrical short speak directly with the mobile repair person and his wife who'd told me, "I just don't want to believe that could happen."
I agreed with her. I didn't want to believe it was happening either!
This was my first adventure in an RV. I'd traveled all the way from my home state of California, survived crazy thunderstorms in Missouri, and a tire blow-out on the Pennsylvania highway only to find myself at a rainy Florida campground trying to keep my food chilled with bags of ice packed in the freezer compartment until the cooling unit part arrived directly to my campsite via UPS.
Had I spent a little more time in searching for a reputable RV repair shop, or a mobile RV repair option, I would have saved myself a lot of time.
Bringing your RV to a repair shop, while generally a safer choice, often means leaving it there for days or weeks at a time. In the busy season, it could be months. If you regularly move from place to place in your RV, this can be a serious setback.
But finding a trustworthy and reliable mobile repair person can be a gamble. So what do you do when you're in an unfamiliar place and need the convenience of a mobile RV repair? How can you find a trustworthy and reputable provider?
6 Things to Consider for Mobile RV Repair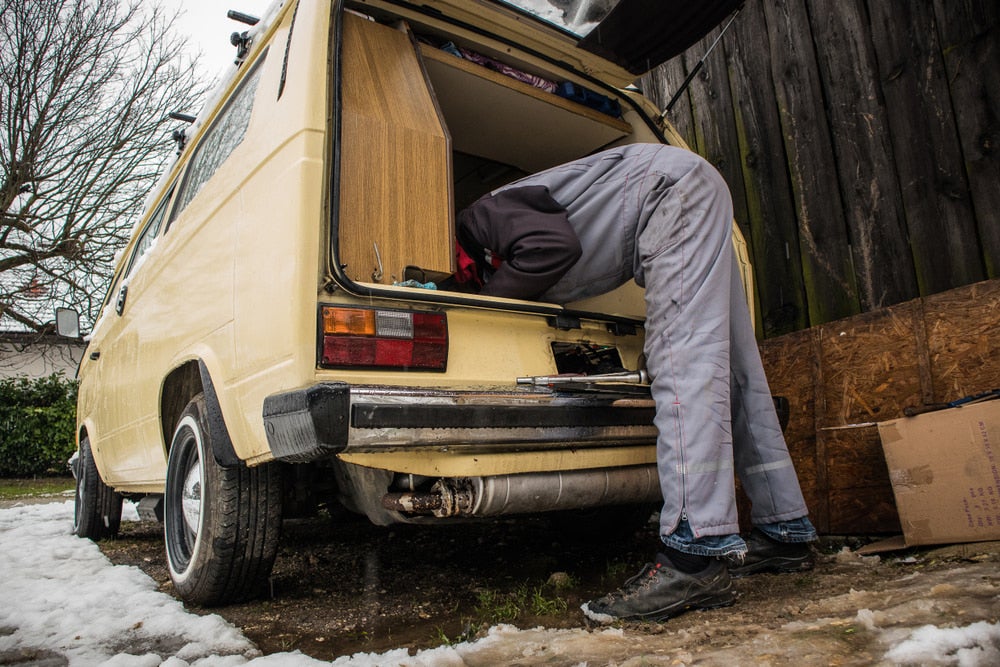 1. Ask for referrals from the campground management, hosts and fellow campers.
Then do your own research on any recommendations. I blindly trusted a referral and paid for it. Make sure the repairperson operates an established, reputable business with a website or Facebook business page and has social credibility from Google, Yelp or Facebook. I learned after the fact, the business I hired didn't have any Internet presence. In this digitally connected age, that's a red flag.
2. Most mobile RV repair services charge to diagnose the issue.
Spend as much time with them on the phone and ask them how much experience they have in repairing the specific issue you're having with your RV. Confirm they will put things in writing for you and have policies in place for damage they may cause.
3. Check for their business license.
How do they respond when you ask for their business license number? A professional won't hang up on you! Get the number and research their standing in the state where they're licensed. A simple web search for, check business license in (name of state), will help you navigate to the proper website.
If they don't have a business license, as tempting as it may be to save a few bucks, ask yourself if it's really worth it.
4. Get it in writing.
This applies to the estimate for the cost and the time for the repair. Are they doing a few extra fixes while you have them at your site? Confirm if those are included in the estimate. During the course of their work, they could cause damage. You should have in writing that they would be financially responsible for that damage if it's not feasible for them to make any necessary repairs. In my case, I'd driven three hours away from the scene of his crime before I discovered the damage.
---
Prepare for your next adventure in your off-road trailer by downloading maps. The Dyrt PRO lets you download maps and campgrounds without cell service. "My alternative to using pro would be to drive back out to cell service".
---
5. They only take cash? Don't give them yours.
And never give a repairperson cash to go buy parts. There are plenty of scammers with ads on popular sites like Craigslist who will be more than happy to help you part with your cash. Pay by credit card so you have some recourse if there's a dispute. With the transient nature of RV'ers, the repairperson likely won't accept a check. Just don't pay cash. Period.
6. Have patience, flexibility and a backup plan.
Whether it's your fridge, slide-out, air conditioning or RV toilet, have a plan B while on the road if any systems should malfunction or need repairs.
After a few days of growing tired of purchasing fresh ice and securing it in zip-lock bags to keep fresh food chilled, I realized that the Dinty Moore microwavable beef stew was actually pretty tasty, and peanut butter became my best friend.
When I kept things in perspective, that I was lucky to even have an RV and be on this great road trip adventure and could afford to buy the part I needed, it soothed my impatience and feelings of being inconvenienced.
After all, it's all part of the journey.
---
Related Campgrounds:
Popular Articles: