Did you know that the Timberline Lodge— known to most as the hotel in The Shining film— is actually on Mount Hood? It's also where Dyrt Ranger Kevin L. set out to test his new Limelight Tent from Marmot. Fortunately neither the Timberline Lodge nor Kevin's new tent are as haunted as the fictional Overlook Hotel. And fortunately for you, that piece of movie trivia is just one of several fun facts about this iconic peak just 90 minutes from Portland, Oregon.
Four Fun Facts About Mt. Hood:
Mount Hood was originally named Wy'east by the Native Americans in the region. The mountain received its modern name in 1792 when a ship from the Vancouver Expedition made it as far upstream in the Columbia Gorge as just east of where Portland sits now. The mountain was named in honor of Samuel Hood, Admiral of the British Fleet. It was named by Lieutenant William Robert Broughton.

Mount Hood is a dormant or "sleeping" volcano. Just because it isn't actively trying to erupt, however, doesn't stop steam and other gases from spewing out of vents called fumaroles.

The Timberline Lodge Ski Area on Mount Hood has the only year-round ski season in North America, closed for only 2 weeks in late September.

The first official ascent of Mount Hood was on August 14, 1845, by  3 members of the Barlow Party— Sam Barlow, Joel Palmer, and Phillip Locke.
(Thanks to the Mount Hood website and Northwest Road Trips for the trivia!)
Bear Spring Group Campground Review:
Dyrt Ranger Kevin went to Bear Spring Group Campground with his new Limelight Tent from Marmot. "About 20 miles from Government Camp, this is a pretty cool campground as you are hopping over Mt. Hood," he writes. "With its location south east of the mountain and about 3000 foot elevation, good place to camp in the early spring if you want to then drive up Hood to get to snow. You can hear cars drive by on Highway 216, but loved the open sites, big pine and fir trees and huge group-sized fire pits."
Kevin also filmed this Bear Spring Campground video review: 
The Marmot Limelight Tent Review:
Kevin also pitched the Limelight Tent, which proved pretty easy since the main poles are actually one continuous, connected piece that extends to all four corners of the tent. You can see for yourself in this Marmot Limelight Tent video review:
Another feature Kevin appreciated is the full net ceiling and huge open doors on the tent, which gave him great views of his spot at Bear Spring Camp. This is what the campsite looks like from inside the Marmot Limelight tent:
More About Mount Hood:
If you're interested in heading to Mount Hood for your own camping trip, we've pulled together a list of the Top 10 Awesome Mount Hood Campgrounds.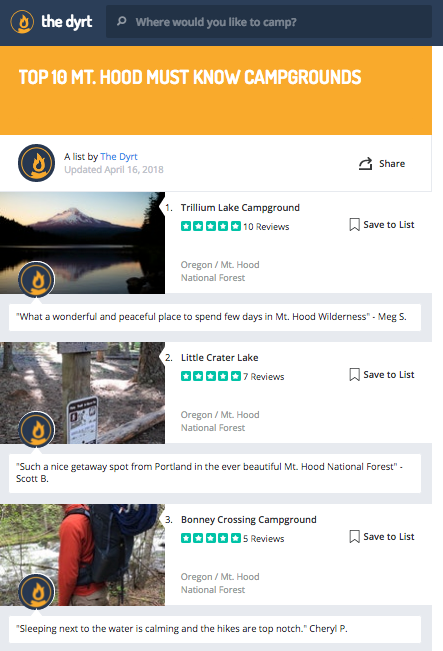 Love our list feature? You can build your own! Here's how:
Find a campground you like
Click "Save to List" on the right side of the campground listing
Go to your Dyrt profile and click "Lists" to see all your lists and what campgrounds you've saved to them.
You can also start a list from scratch in the Lists section of your Dyrt profile
That's it! Now you can go camping.
---
Related Campgrounds:
Popular Articles: