This collection of unique marshmallow recipes was brought to you by Grubstick, the makers of a multitude of campfire cooking accessories to make the perfect s'mores with your friends under the stars.
---
As the summer camping season comes to a close, campers say goodbye to long, warm days in the outdoors—or buggy, can't-end-soon-enough days, depending on how you look at it. With the dog days of summer in the rear view, there's still time to gather around a campfire with a gaggle of coveted pals and roast marshmallows to gooey perfection. If you're looking to try something new during a fall campfire, We've rounded up five marshmallow recipes that will push the bounds of your confectionary creativity, and likely shock your friends with a variety of unique flavors and textures for the tastiest of s'mores.
5 Unique Marshmallow Recipes to Enjoy Around the Campfire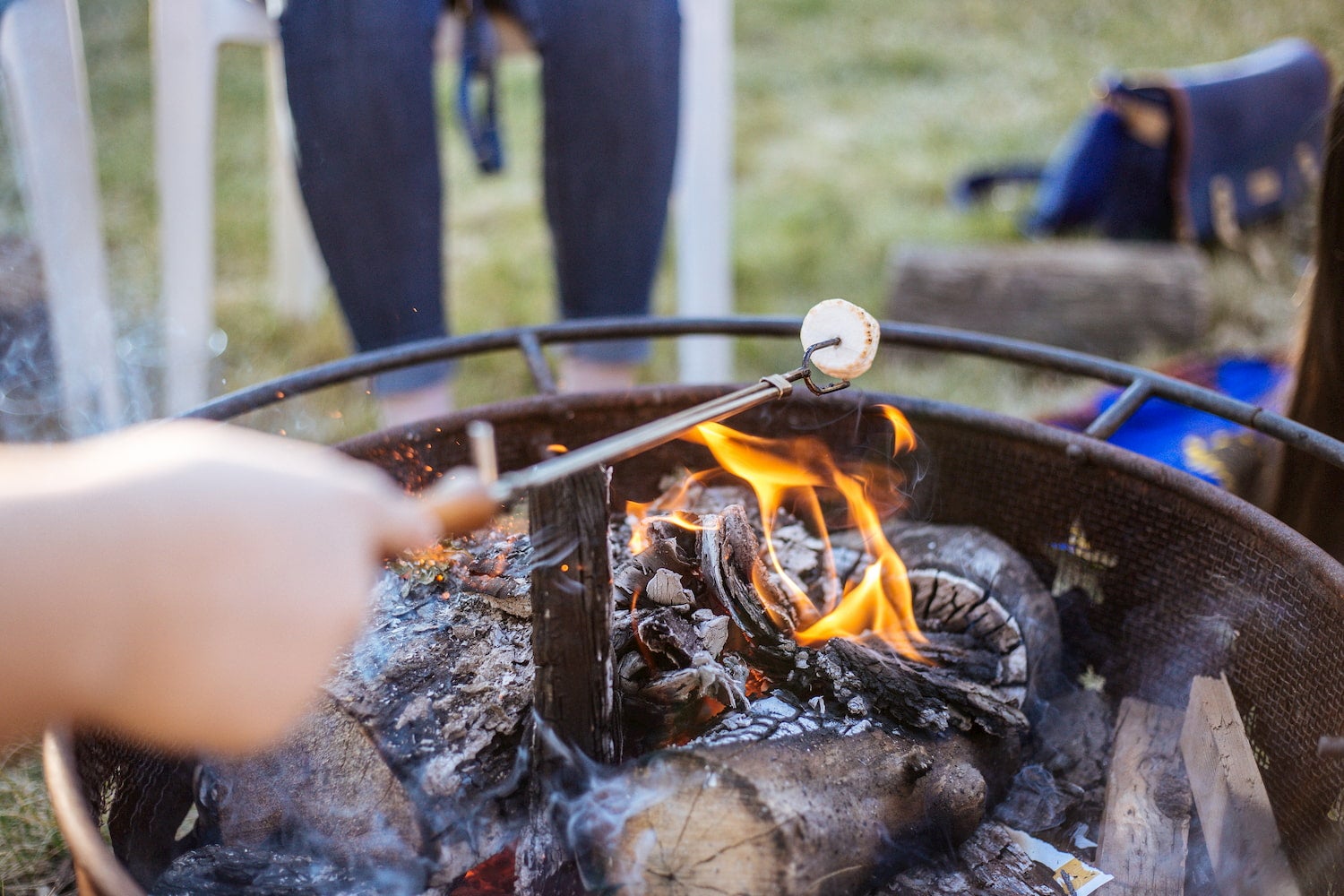 These marshmallow recipes are the works of other bakers who have generously shared their recipes, but we've supplemented some of the ingredients to eliminate corn syrup and cornstarch from each recipe. Although tasty, marshmallows can have these artificial ingredients that can lead to a variety of health issues. That said, we hope you enjoy these decadent treats with teensy bit of health sprinkled in. Make sure to have a stand mixer and a candy thermometer to begin your baking journey.
The Grubstick Handle is a great option to use for roasting sweet treats, as it extends 30 inches, so there's no need to dance around the fire ring to avoid smoke.
1. Honey Vanilla Marshmallows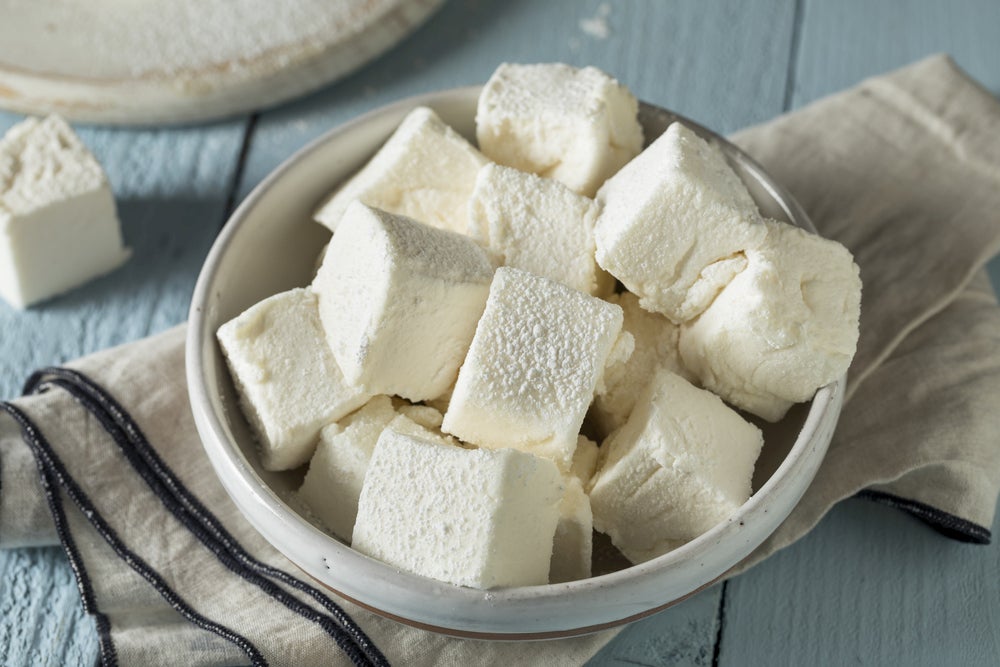 Honey and vanilla are a classic combination. This marshmallow recipe has organic ingredients and with only seven ingredients, is easy to make.
Ingredients:
3 packets unflavored gelatin
1 cup ice cold water
1 cup granulated organic sugar
1 cup organic honey 1/4 tsp salt
1 tbsp bourbon vanilla extract
1/2 cup powdered sugar
Cooking spray (olive oil or sunflower oil spray)
Instructions:
Spray cooking spray on a 9×13 baking pan and dust it with powdered sugar. Set pan aside for later.
In a bowl, combine gelatin with the ½ cup of water and use mixer to blend.
Combine the other ½ cup of water, sugar, honey and salt together in a saucepan and stir.
Place saucepan on stove and stir on medium heat until sugar dissolves. Using a candy thermometer, heat until mixture reaches 240 degrees fahrenheit, then remove from heat.
Whip the set aside mixture of gelatin and water in a stand mixer and add the hot, honey mixture while continuing to mix.
Once the honey mixture is in, raise the speed and whip until mixture is thick and white, about 12 minutes worth of mixing. Add in vanilla and continue mixing.
Spread marshmallow mixture into the pan using a spatula and smooth out mixture as much as possible.
Dust marshmallow mixture with powdered sugar and let it dry for 4 hours or overnight.
Once mixture is dry, take a slab of marshmallow out of the pan and place on cutting board.
Use a knife to cut the slab into squares. Voilà! Bon appetit.
Recipe from Pineapple and Coconut
2. Chocolate Delight Marshmallows
Artisan marshmallows are becoming more popular and this marshmallow recipe is perfect for those looking to get their chocolate fix. Add them to hot cocoa if you can't get enough chocolate. The arrowroot in this recipe substitutes cornstarch.
Ingredients:
3 packets unflavored gelatin
1/2 cup ice cold water
1/2 cups organic sugar
1 cup agave nectar
1/4 teaspoon kosher salt
1/2 cup water
4 ounces dark chocolate, melted
Nonstick spray
1/4 cup powdered sugar
1/4 cup cocoa powder
1/3 cup arrowroot
Instructions:
In a stand mixer bowl, combine gelatin with ice cold water and mix it gently with a spoon to ensure the gelatin doesn't clump.
In a saucepan, combine sugar, agave, salt, and water. Heat on medium high heat with the lid on. After a few minutes, bring to a boil. After the mixture boils, remove the lid and heat on high until the candy thermometer reads 240 degrees fahrenheit. As soon as it hits 240 degrees, remove the mixture from heat.
With the stand mixer, mix the gelatin and the ice cold water on a low speed.
Poor sugar mixture slowly into bowl with gelatin.
Mix this new mixture on high speed and continue to mix for about 8-12 minutes or until it looks like fluffy marshmallow. While this is mixing, melt chocolate in the microwave in one minute increments, stirring after each increment.
Add in melted chocolate to marshmallow mix and continue mixing for one more minute.
In a separate bowl, mix arrowroot, cocoa powder, and powdered sugar.
Spray 9×13 baking pan with cooking spray and spread with spatula. Add about 1/3 of the arrowroot blend, then shake the pan to evenly coat the bottom and sides.
Transfer the marshmallow mixture from the bowl to the baking dish and spread into an even layer.
Top marshmallow mixture with ½ of the remaining arrowroot mixture and spread evenly.
Let the marshmallows sit uncovered for 4-10 hours.
Lift marshmallows out of pan and transfer onto cutting board and cut into desired shapes. Roll marshmallows in remaining arrowroot mixture to coat all sticky sides.
Store in airtight container or freeze.
Recipe from Self Proclaimed Foodie
3. Vegan Marshmallows
Marshmallows are a blast to roast around the campfire or throw into hot chocolate on chilly winter days. But to a vegan's dismay, gelatin is found in most marshmallows recipes. This vegan friendly recipe includes alternative, natural ingredients like aquafaba and agar agar to make the texture and taste just as delicious as class all-American marshmallow.
Ingredients:
½ cup aquafaba (leftover liquid from a can of chickpeas)
¼ tsp cream of tartar
2 tbsp vanilla
⅔ cup water
1 tbsp agar agar powder (not flakes)
1 ¼ cup organic sugar
½ cup powdered sugar for dusting
Instructions:
Dust an 8×8 pan with powdered sugar and set aside.
Put aquafaba and cream of tartar in a mixing bowl and mix on high for 6 minutes until fluffy.
Add vanilla extract to the mix and whip for three more minutes until it is white again and forms stiff peaks.
In a small saucepan, combine water and agar agar and bring to a boil for three minutes and stir frequently.
Add sugar and boil for another three minutes, stirring frequently over medium-low heat.
Turn off heat and add hot sugar mix to beaten aquafaba. Do this slowly, while beating aquafaba with mixer set to low for about 30 seconds. The mixture should be fluffy and shiny.
Pour mixture into pan that has been dusted with powdered sugar.
Dust the top of the marshmallows with powdered sugar and let them sit and cool for about an hour.
Cut into 1 inch squares and dust on all sides with powdered sugar.
Turn oven on to 150 degrees F. Once heated, turn it off and put marshmallows into warm oven to dry them out.
Recipe from The Hidden Veggies
4. Speculaas Caramel Marshmallows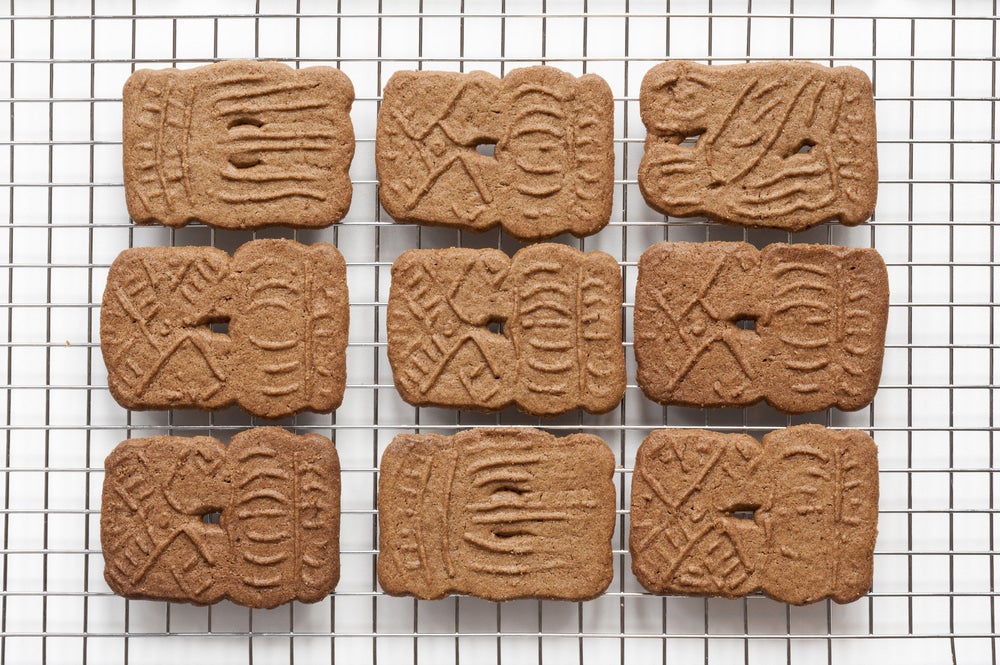 Caramel lovers will rejoice in this marshmallow recipe, and can embrace Germanic and Austrian Christmas celebrations with Speculaas, a warming spice perfect for the holidays.
Ingredients:
10 Gelatine Sheets
500g of powdered sugar
4 tsp liquid glucose
200ml cold water
2 egg whites, large
1 tsp Speculaas spice mix
4 tbsp Dulce de leche
Instructions:
Line 9×9 baking sheet with clingfilm and sprinkle with powdered sugar.
Fill a large bowl with cold water and gelatin sheets.
In a large saucepan, add sugar, liquid glucose and the cold water.
Heat the sugar mixture on low heat until sugar has dissolved.
On high heat, bring the sugar mixture to boil until it reaches 250 F on a candy thermometer.
As the sugar boils, uses a stand mixer to beat egg whites until they are stiff.
When sugar mixture has reached a firm ball stage while boiling, turn off heat and carefully pour the mixture steadily into egg whites while the stand mixer is still going.
Remove gelatin sheets one at a time from water and gently squeeze out extra water.
Add soaked gelatin sheets one at a time to the whisked egg and sugar mixture, while stand mixture is still beating.
Add the Speculaas spice to the mixture and continue beating for 10 minutes until mixture is thick and pourable.
Pour ½ of the mixture into the lined baking sheet and spread it out evenly.
Add dulce de leche on top of marshmallow mixture, and spread evenly throughout and in the mixture.
Let the marshmallow set for two hours.
When marshmallow is set, gently turn it on to a board dusted with powdered sugar, and cut desired shapes.
Recipe from Crumbs & Corkscrews
5. Pomegranate and Cranberry Marshmallows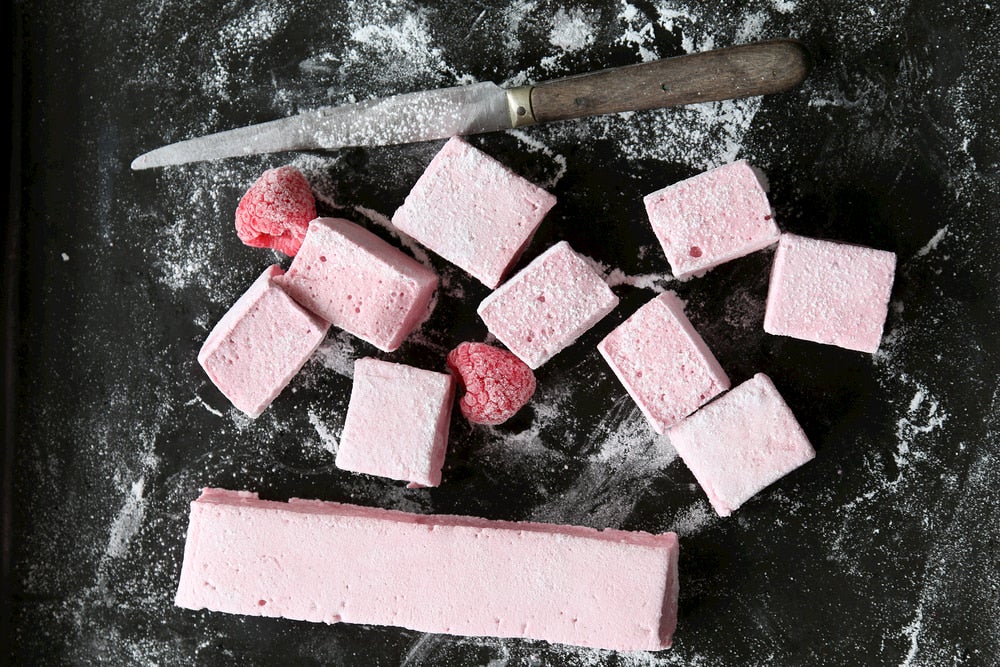 This marshmallow recipe has the perfect mix of tartness and sweetness and is overall very flavorful, but not overwhelming. It is quick to make, and uses agave instead of corn syrup. You can also use maple syrup as a sweetener.
Ingredients:
½ cup pomegranate juice plus a separate ¾ cup of pomegranate juice
3 unflavored gelatin envelopes (21 grams of gelatin powder)
2 cups granulated sugar
¾ cup agave syrup
Red food coloring
Vegetable oil
¼ cup cranberry powder
Instructions:
Pour ½ cup pomegranate juice in the bowl of a stand mixture and sprinkle gelatin over juice. Let this mixture rest so that gelatin can absorb the liquid.
Meanwhile, put sugar and agave in a saucepan and add ¾ cup of pomegranate juice to cover the sugar. Add more or less if necessary. Stir thoroughly.
Cook sugar mixture on low until sugar has dissolved, then bring mixture to a boil. Make sure mixture reaches 265 degrees fahrenheit. Once it does, remove from heat.
Begin mixing gelatin mixture on medium speed. Slowly pour hot sugar mixture into gelatin mix and continue mixing.
Once all of the sugar mixture is in the gelatin mixture, add food coloring to your desired brightness.
Continue mixing until the texture is thick, like meringue.
Line 9×13 pan with baking sheet, lightly greased with oil. Scrape marshmallow mixture into pan and spread it evenly throughout. Let the mixture set in the fridge for 1-2 hours.
Place marshmallow on lightly greased surface (it will be especially sticky).
Cut marshmallows into desired shapes and roll each piece in cranberry powder.
Recipe from Food Nouveau
---
This article was brought to you by Grubstick
Makers of the ultimate cooking stick for days and nights around the campfire.
Popular Articles: