This article is brought to you by our friends at TREDAGAIN. 
---
Creativity is an essential ingredient to any artistic pursuit. But when you're trying to create art with recycled or found materials, you have to get really creative. We appreciate creative recycling as much as our brand partner TREDAGAIN, so we've scoured the country for art installations that are not only beautiful and thought-provoking, but eco-friendly, too!
Take a virtual tour of these public art exhibits, made entirely of recycled or found materials. Then get out there and see them for yourself! We've included a tip for where to camp when visiting each unique exhibit.
You Would Never Guess These Art Installations Are Recycled
1. Seven Magic Mountains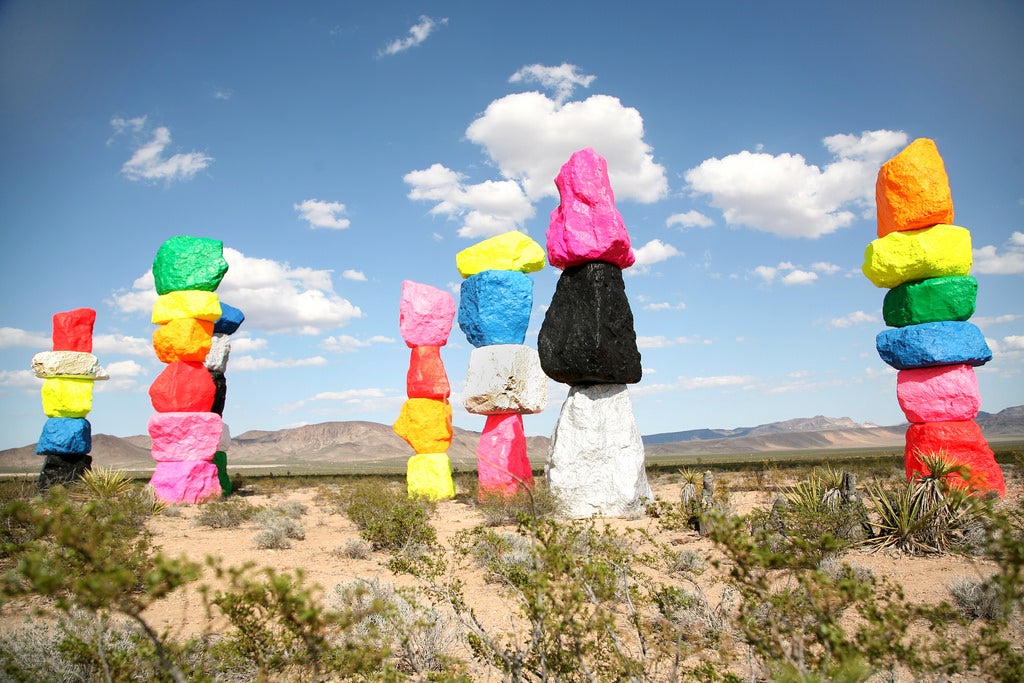 Make your next Vegas trip even more memorable by visiting this highly Instagrammable desert art installation: Seven Magic Mountains. The boulder towers stand over thirty-feet high, bursting with color against the brown landscape.
If you want to spend a few extra days in the Vegas area and don't know where to camp, we recommend booking a campsite at Red Rock Canyon Campground. There's also great hiking and rock climbing in the area. Camp here
2. Beartooth Portal
Celebrate the raw and stark beauty of Montana's wilderness by hiking to Beartooth Portal. The 25-foot tall installation at Tippet Rise Art Center is in Fishtail, and the structures are meant to look like they're part of the natural environment. Creators from Ensemble Studio turned to site specific resources to build something harmonious with nature.
Enjoy the Custer Gallatin National Forest while you're there and stay at Emerald Lake Campground. Camp here
3. The Heidelberg Project
The Heidelberg Project takes up a whole street in Detroit, with colorfully painted houses and creatively curated sculptures of found materials. It's a reflection of both the struggles and resilience of Motor City.
Not sure where to camp near Detroit? Set up northwest of the city at Proud Lake State Recreation Area. Camp here
4. Carhenge
Located along the edges of the Sandhills of Nebraska, Carhenge resembles the mysterious stone towers of Stonehenge — the major difference, though, is we know how these got here. Jim Reinders, the designer, studied Stonehenge and wanted to replicate its size and layout. The repurposed vintage cars were arranged with the help of the Reinders family, who ultimately built the installation in remembrance of Jim's late father.
One of Nebraska's two National Forests is a short drive from Carhenge, and the Chadron State Park Campground has all the amenities for a weekend getaway in the woods. Camp here
5. People's Bike Library of Portland
You might recognize this pile of bikes from the opening credits of Portlandia. The sculpture is an iconic spot in downtown Portland, and serves multiple functions as bike rack, a "lending library," and a monument to the city's pervasive bike culture.
Just outside Portland city limits, campers can find respite at Oxbow Regional Park. With well maintained sites, and close proximity to the river, it's easy to forget you're minutes away from a metropolis. Camp here
---
Related Campgrounds:
Popular Articles: