With each passing year, Washington DC continues to attract a record number of tourists, drawing 20.8 million visitors from within the United States alone in 2017. Most come to visit the Lincoln Memorial, local museums, and to catch a glimpse of the White House – and as one of the most popular destinations for youth trips, the capital city is no stranger to tiny tourists. Bring the whole crew and find camping near DC that keeps your family close to the action and the adventure. 
Most campgrounds offer fire rings, tables, and a decent selection of camping areas. That isn't hard to find. But when you're seeking out family-friendly camping near DC, you're probably looking for a little more than picnic areas. Choose from activities at these 6 campgrounds that will keep your kids busy, and we think you'll have a good time, too:
If you want the best of both worlds when camping near DC, take a scenic drive to the beaches of Calvert Cliffs State Park. There, you'll find 24 miles of protected cliffs and shoreline that have long been beloved – Jamestown's own John Smith affectionately named the cliffs after his mother's family on a map he sketched in 1612. With such a diverse local ecosystem, it is clear why this region has come to earn so many fans.
While you can hunt for deer and turkey in a 550 acre section of the park, the rest of the Calvert Cliffs area is incredibly biodiverse. Bring your binoculars and a birdwatching book for a chance to meet more than 160 different bird species who call the surrounding Chesapeake Bay area home.
Your little adventurers will also enjoy the opportunity to do some "rockhounding" when camping near DC at Calvert Cliffs. Comb the shoreline for shark teeth and ancient fossils from as far back as the Miocene era – that's somewhere between 5 and 23 million years ago! That isn't the famous Jurassic period when dinosaurs roamed, but 3-toed horses and massive oceanic creatures did. We think the little ones will find that pretty cool.
For the kiddos: what kid doesn't love collecting new and unusual things? Calvert Cliffs has everything they'd ever need to get started! Fossils and shark teeth can be found along the shore, including remnants of legendary giants like the Megalodon.
"This park is awesome! I have been going here for years. The park has a great playground right off the main parking lot for kids to play on, as well as a few bathrooms. The trail is marked very clearly through the woods, across some bridges, and next to a marsh. Finally the beach is very beautiful even though every year it gets smaller and smaller. The park staff are very friendly, and are very informative on the many fossils you may find on your visit down there." – The Dyrt camper Anthony S.
---
Many explorers who go camping near DC also seek out a chance to immerse themselves in our country's rich history. Thanks to KOA, the Civil War Battlefields at Harper's Ferry Campground can make that goal a whole lot easier to achieve. Pitch a tent or park the RV in one of almost 200 sites before heading to the nearby Harper's Ferry National Historic Park where you will find everything from museums to shops and hiking. For a deeper look at the battlefields, you can even arrange a walking tour of a remaining trench from the Civil War. You can't get any closer than that!
Though this campground is just an hour's drive from the heart of Washington DC, this West Virginia campground is surrounded by activities and attractions that the whole family is sure to love.
Back at the campground, release all of the pent-up energy earned from a day of learning. Let your four-legged-friends loose at the luxury dog park while the kids choose between mini golf or a movie. Parents won't want to miss out on the campground's specialty beverage store, Grapes & Grinds, which will serve you a warm cup of jo in the morning, and a refreshing afternoon glass of wine.
For the kiddos: Bring the swimsuits, energy, and an appetite! This KOA campground has everything your kid campers could ever want like a swimming pool, massive arcade, sport facilities, bottomless pancake breakfasts, and more.
"Crowding issues aside, this is a really nice (albeit expensive) campground. Almost everything, from the grounds, to rec halls, to pool and laundry, was sparkling clean and beautifully maintained. Staff was very friendly, as well. Tons of stuff to do here, especially for families: arts & crafts, indoor movie theatre, games, civil war reenactments, wine tastings, etc. We were certainly never bored, and the kids thought they had died and gone to heaven." – The Dyrt camper Jen V.
---
DC campers looking to make a splash can't get enough of Pohick Bay Regional Park. Thanks to the alluring waters of Gunston Cove on the Potomac River, this destination has become a haven for water lovers. Bring your own boat to the public ramp, or head over to the rental booth to take a paddleboard, canoe, or kayak for a dip. The 40-mile Occoquan Watertrail is at your disposal, after all.
Don't leave the poles behind either. With a fishing license, the whole family can catch bass, carp, and perch, then cook them up for a fresh dinner at the campsite.
You couldn't possibly get tired of paddle tours or equestrian trails, but when you want a chance to take a breath and give back to the lush nature around you, the Northern Virginia Regional Park Authority offers an interpretive program for campers of all ages. The NVRPA's Roving Naturalist Program connects nature lovers with the land through guided tours, studies, and live demonstrations. Immerse yourself in the Virginian forests and take those tips home with you.
For the kiddos: Cool off at Pirate's Cove Waterpark for the ultimate summer experience. You won't want to miss the opportunity to have 500 gallons of water dumped on you at once – parents will enjoy a ticket price at under $10 per person, too!
"It's a clean and laid back park that has fun programs for the kids. We camp around the playground and they have several events scheduled right there so the kids don't have to go far and the parents can relax and watch. The little camp store is fun to visit for the little ones as well with some live reptiles to see. There is also hiking, fishing and frisbee golf all within walking distance of the campground." – The Dyrt camper Sean R.
---
Patapsco Valley State Park was originally established as a forest preserve, with hopes of maintaining the surrounding water resources following the 1906 completion of Bloede's Dam. The park stretches along all 32 miles of the Patapsco River, providing opportunities for aquaphiles of any age. After securing camping near DC, your family can fish for trout in the surrounding waters, choose from over 200 miles of trails, and spend time together picnicking beneath one of the park's many pavilions.
Pets are family too! And fortunately, your pups are welcome at Patapsco Valley State Park, aside from restrictions in the park's Pickall area.
Despite being closer to Baltimore than other camping near DC options, Patapsco Valley remains popular with visitors of our nation's capital. With the picturesque Cascade Falls, historic swinging bridges, and a panoramic valley views from Hollofield campsites, it isn't hard to understand why DC campers venture up north. You might even recognize the surrounding woods from the final scenes of the Blair Witch Project. A 200 year old, multi-story structure called the Griggs House originally stood in the park and was popularized by the 1999 film, before being torn down by the state of Maryland.
https://www.instagram.com/p/Bk-nMVUHky2/?utm_source=ig_embed&utm_campaign=embed_loading_state_control
For the kiddos: Nature Bingo! Print out a Bingo Card for the little campers in your group and introduce them to the joys of nature observation. Need more of a challenge? Encourage your older kids to identify different species in the park too. The possibilities are endless!
"This national park has a wonderful throwback to the colonial era of the American colonies. There are frequent live reenactments as well as active animal husbandry. There are several wooded trails with some alongside the shore as well. There is a large dock that you can fish from. There is also a visitor center/educational center/store. Very sweet place." – The Dyrt camper Theresa K.
---
Little Bennett Campground is a renovated gem in the heart of Montgomery County's Little Bennett Regional Park. Campers can choose from one of 91 shady sites, 3 yurts, and more than 25 miles of trails during their time camping near DC. Pulling into Little Bennett takes you past the campground's first recreation stop – a sight your kids are sure to take notice of. A bright, inflated jumping pillow can be found near the Stoney Brook Trailhead, and the go-kart track is close by. Keep driving past the yurts, camp store, and amphitheater to uncover more goodness like laser tag and a playfield.
Surrounded by a number of historic sites, this campground is an enriching experience for adventurers of any age. Home to 14 historic points of interest, the Little Bennett Regional Park proudly offers visitors a trip through time – back when tobacco was the cash crop and children spent as much time working on the farm as they did at the playfield. The valley's surrounding meadows sustained farmers and lumber manufacturers since the 18th century, and have saved a few remnants for us to enjoy as well.  
For the kiddos: Are you more of a crafter or an adventurer? Trick question! You can be both! When camping near DC at Little Bennett Campground, you can decorate a wooden birdhouse in the morning, then hit the Pedal Kart Track in the afternoon. Movie nights, tie-dye parties, ceramics, and tons of other fun craft projects can also be found here.
"This is a good regional campground with activities for kids on special days. Took our granddaughter there for her first camping trip and she loved the bouncing strawberry and the hikes. She was 3 or 4 at the time. Family stays there when coming into town as it's convenient (but, also only one in the area). We also regularly hike with a group in and around this park as the trails are good and well maintained." – The Dyrt camper Georgia H.
---
Families seeking more adventure during their time camping near DC will be interested to know about River Riders and their campground at Harper's Ferry. Offering primitive waterfront tent spots, back-in RV sites with hookups, and cozy cabins, this campground will also offer a $5 discount for any campers who book an adventure trip with River Riders.
River Riders is a guide service started in the early 1970's that has grown and evolved over the last few decades to provide a premium outdoor adventure experience. In 2003, the company grounds expanded by an additional 3 acres and introduced a number of guided tours and aerial courses that continue to thrill those camping near DC each year.
When you're not hanging loose on an adventure course, you'll take comfort in the amenities found at the campground like firewood and showers. Some sites even get a view of the last zipline in the Canopy Tour – feel free to check with the main base before reserving a spot if this isn't ideal for your family. Hop in your boat from your very own waterfront campsite or sign up for a guided trip through River Riders, there's adventure to be found all around.
For the kiddos: The campground hosts organize a number of incredibly fun activities for the whole crew. Your family can choose from the Aerial Adventure Park, a zipline canopy tour, whitewater sports, and even multi-day adventure camps.
"The campground offers adventures like rafting, biking, tubing and zip lining to name a few. If you would like to do some exploring, then you can walk the trail right next to the campground into the historical town of Harper's Ferry. [The train] never bothered us or our daughter who even as a baby slept through it. There are cabins, RV hookups and tent sites. Bathroom and showers located nearby. Overall it's a great family spot!" – The Dyrt camper Maggie A.
---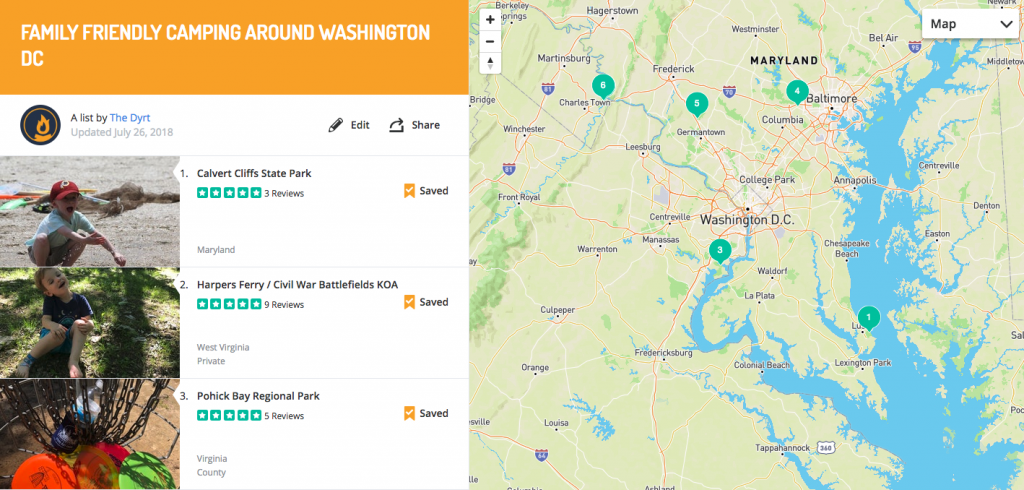 Save this list of family friendly campgrounds near DC for yourself!
---
Related Campgrounds:
Popular Articles: