From the window of the float plane that was taking me deep into the backcountry of Alaska's Katmai National Park, wilderness was all I could see. There was no option left to stop at a store for some last-minute gear. With an eight-day trip ahead of me, I needed to be prepared. It was in this moment that I thought about, of all things, my hiking underwear. I was grateful I'd chosen the perfect moisture-wicking, odor-resistant merino wool hiking underwear to see me through my adventures ahead.
Over the years, I've tried many different styles of hiking underwear. Some have left my skin irritated and others have led to uncomfortable hiking wedgies. However, with some trial and error, I eventually found my perfect pair, and my hiking life has been bliss ever since.
How to Choose the Best Hiking Underwear for Your Next Trek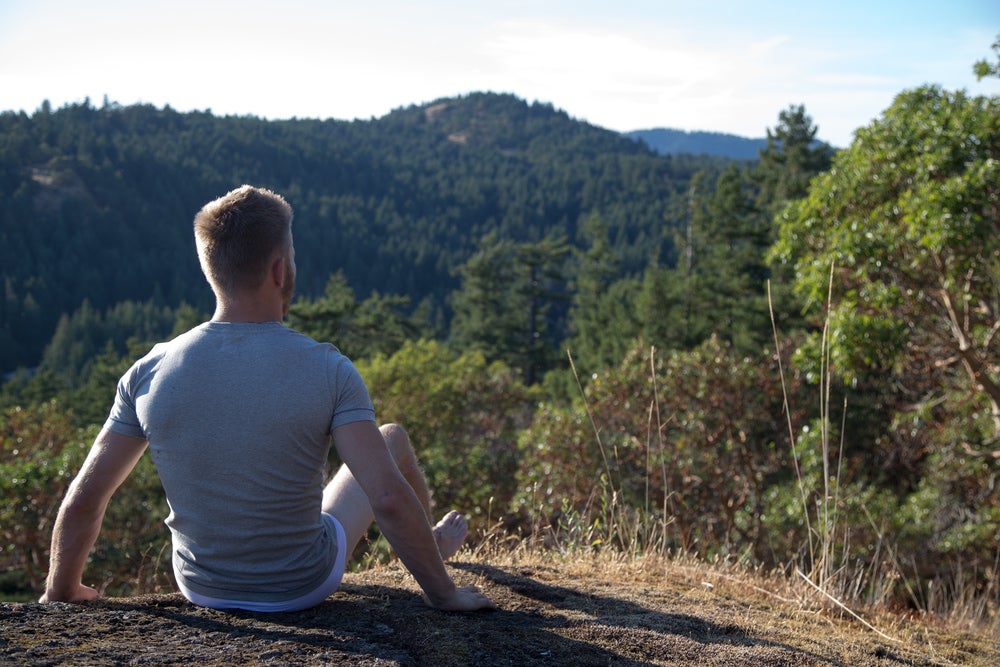 Every hiker on any kind of trek should have the best experience on the trail — at least, your underwear shouldn't be the thing holding you back. All too often, though, hikers go unaware of how much more comfort they could be in, if they knew how to pick the right hiking underwear. After careful thought (and years of experience), here's how to pick your ultimate bottom layer for any kind of hike.
Choosing The Right Underwear Fabric
The first thing to consider when looking for your new favorite pair of hiking underwear is what fabric is best for your planned activities.
Wool
Wool is my personal favorite fabric for hiking underwear (and really all my hiking clothes!) Wool is a natural, renewable fiber that wicks moisture away from your skin. This makes it so when you start to sweat, you don't feel sticky or clammy. If your wool does get wet, however, it continues to insulate you. With excellent breathability, wool helps keep you warm when its cold and cool when hot. It is also highly odor-resistant thanks to its natural antimicrobial properties.
Even though merino wool is a very soft type of wool, some with sensitive skin might still find it a tad itchy at times. As well, wool hiking underwear don't last quite as long as other fabrics and may begin to wear through after heavy use. However, some wool hiking underwear are woven with small amounts of nylon or other synthetic fabrics to help increase durability.
Cotton
At some point in time, you've probably heard one of your outdoor friends exclaim, "Cotton kills!" But, why do people say this? Mostly, this is in reference to cotton's inability to breathe. When cotton gets wet, it ceases to insulate. If you end up in the wrong conditions, wearing wet cotton can lead to hypothermia.
Cotton's other related downside is that it doesn't dry very quickly, so you can't always count on hanging up your wet cotton clothes at night and having them be ready to hit the trail again by morning. Similarly, cotton doesn't wick water away from your skin, so if you get particularly sweaty on a hike, the fabric is likely to get wet, stick to your skin, and then stay there. This can lead to chafing and general discomfort.
Knowing all of this, cotton is typically not a good fabric for your hiking underwear. However, if you're just doing a quick day hike and enjoy the comfort and familiarity of cotton, wearing a pair of cotton hiking underwear is no problem.
Synthetics
Synthetic fabrics, such as polyester, nylon, rayon, or polypropylene, are a popular option for hiking underwear. This is due to the fact that synthetic fabrics are excellent at wicking away moisture and drying quickly. They are also the most durable of the fabric options, so your hiking underwear will last you for many miles. Finally, since synthetic hiking underwear typically include some spandex, they offer hikers a snug fit with comfortable stretch.
The main drawback of synthetic fabrics is that they tend to retain odor. If you're going to be on the trail for several days, this may become an issue. In my experience, some even retain odor after multiple washings. Synthetic fabrics also feel less natural on the skin, and, well, that's because they are. Synthetic fabrics are forms of plastic, which also means that frequent washings release microplastics into the watershed.
Important Features for Great Hiking Underwear
Once you've picked your fabric, it's time to consider the different features you'd like your hiking underwear to have. Several of these will ultimately depend on the fabric you choose. Before you make your purchase, consider these.
Flat Seams: Avoid getting hot spots on the trail by looking for hiking underwear that have flat seams. The fewer potential skin irritants you can have on the trail, the better.
Moisture-wicking: Keep dry by selecting hiking underwear with moisture-wicking properties. This will also help with breathability.
Odor Control and Antimicrobial Properties: As mentioned above, wool is the definite winner here, but if you're looking at synthetic hiking underwear options, there are some that have an antimicrobial treatment to help prevent odor.
Durability: If you're going to drop some money on some nice hiking underwear, you may want to consider how durable they'll be given your intended use.
Best Underwear Styles for Hikers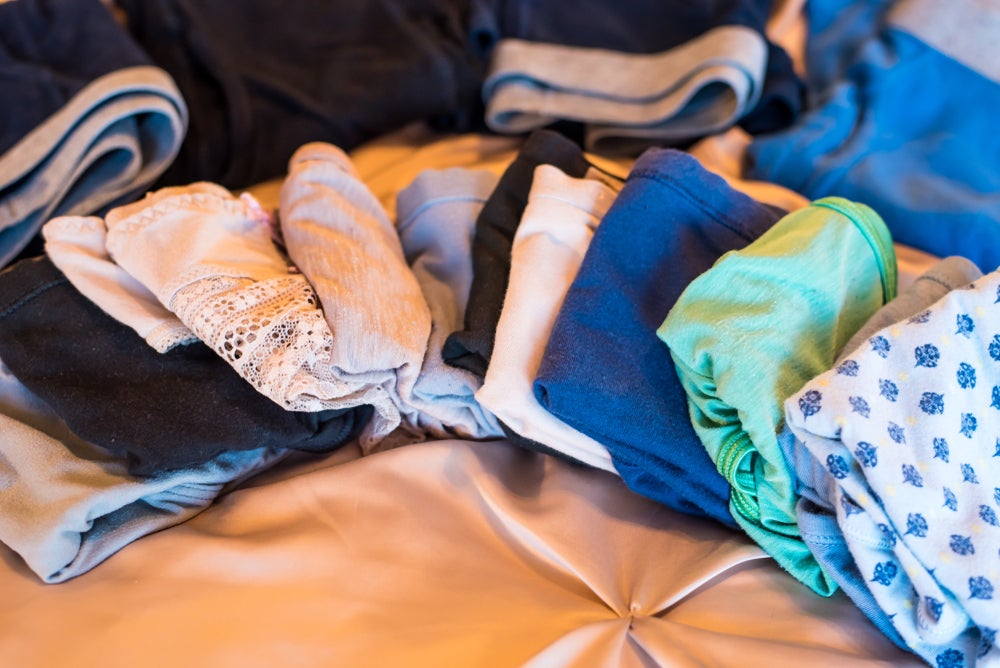 In my experience, whatever style of underwear you prefer wearing off the trail is your best bet for comfort on the trail. You may want to look for different options within your preferred style, and then do a little trial and error. When testing out hiking underwear styles, check to see whether they'll be snug enough to not move around and lead to chafing or trail wedgies, but not so tight that they'll be uncomfortable. The goal is to not be thinking about your underwear while hiking.
Hiking Underwear Styles for Women
Bikini: The bikini style offers less rear coverage, a lower rise waist, and higher cut legs. It's a good option on the trail if it's one you already find comfortable. Otherwise, there's some wedgie potential.
Boy Shorts: Hiking underwear styled as boy shorts provide the most coverage. For some, this may feel like too much fabric out on the trail. Others might enjoy how this style reduces inner thigh chafing.
Thongs: Thongs provide very minimal coverage, but are lightweight and quick-drying due to the small amount of fabric.
Briefs: Briefs can come in a few different styles, including hipsters and high-rise briefs. They provide good coverage, but slightly less than the boy shorts style. They're a happy medium between the bikini style and boy shorts.
Sports Bras: When looking into hiking underwear, women may also want to consider a sports bra. Sports bras provide comfort through some added support on the trail. Things to consider when looking at different styles include: strap size and adjustability, padding, materials, and fit.
Hiking Underwear Styles for Men
Briefs: Briefs for men offer good support, but since they have less coverage, there's a greater potential for chafing between the legs.
Boxers: Boxers offer a loose fit, which some men might enjoy for breathability and to avoid inner thigh chafing. However, if boxers are too loose, the fabric can bunch and lead to discomfort.
Boxer Briefs: Boxer briefs are just what they sound like—the best of both worlds. The style includes the greater amount of fabric and coverage that boxers offer to limit chafing, and the snug support that briefs offer.
Our Top Hiking Underwear Picks
It takes a little trial and error to find the best hiking underwear for you, but using the fabrics, features, and styles above, we know you'll be on the right path to never worrying about your underwear on the trail again! Here are some of our favorites to get you started.
Fabric: 83% Merino Wool, 12% Nylon, 5% Lyrca
Price: $40 (look for end-of-season sales!)
Key Features: My personal favorite hiking underwear! Icebreaker got these right with the perfect level of coverage and comfort. Breathable, moisture-wicking, odor-resistant, lightweight, and come in fun colors!
Buy Now: $40
Fabric: 81% Merino Wool, 12% Nylon, 7% Spandex
Price: $28
Key Features: Seamless and tagless, you'll forget you have this thong on. It's machine washable and dryable even while getting the majority of its fabric from wool. To top it off, you'll feel good beyond the trail, as this thong comes from a women-owned, ethically-sourced small business.
Buy Now: $28
Fabric: 94% Nylon, 6% Lycra Spandex
Price: $20
Key Features: Breathable mesh fabric to keep you cool. Antimicrobial treatment to reduce odors. Easy care instructions and durable for longer trips.
Buy Now: $20
Fabric: 87% Merino Wool, 13% Nylon Core
Price: $45
Key Features: Ultra-soft and machine washable, these boxer briefs come with excellent reviews. They also include smooth, flatlock seams and a wide elastic waistband with Merino lining for additional comfort.
Buy Now: $45
Fabric: 77% Nylon, 23% Polyester
Price: $30
Key Features: A no-sew waistband prevents chafing with these boxer briefs, and a micro-mesh fabric allows for maximum breathability.
Buy Now: $30
Fabric: 83% Merino Wool, 12% Nylon, 5% LYCRA
Price: $40
Key Features: Soft, stretchy briefs with all of the amazing properties of wool—breathable, moisture-wicking, odor-resistant! Include a contoured pouch and flatlock seams to prevent chafing.
Buy Now: $40
---
Our recommendations are based on providing value to campers across the country. Some articles may contain affiliate links. By purchasing through our articles, you help support this camping magazine.
Popular Articles: