If you visited campgrounds, national parks, or really any highway across the country this summer, there's a good chance you spotted a hand-painted campervan rental on the road.
The bright exteriors are hard to miss, their splash of creative designs zipping across desert landscapes, coastal sunsets, and winding through forested roads.
These are Escape Campervans travel vans, and they've become ubiquitous at campgrounds and along scenic drives.
Campers love them because they're fully stocked with everything you need (besides food) for a weekend or a month of camping on the road, including bedding and kitchen essentials.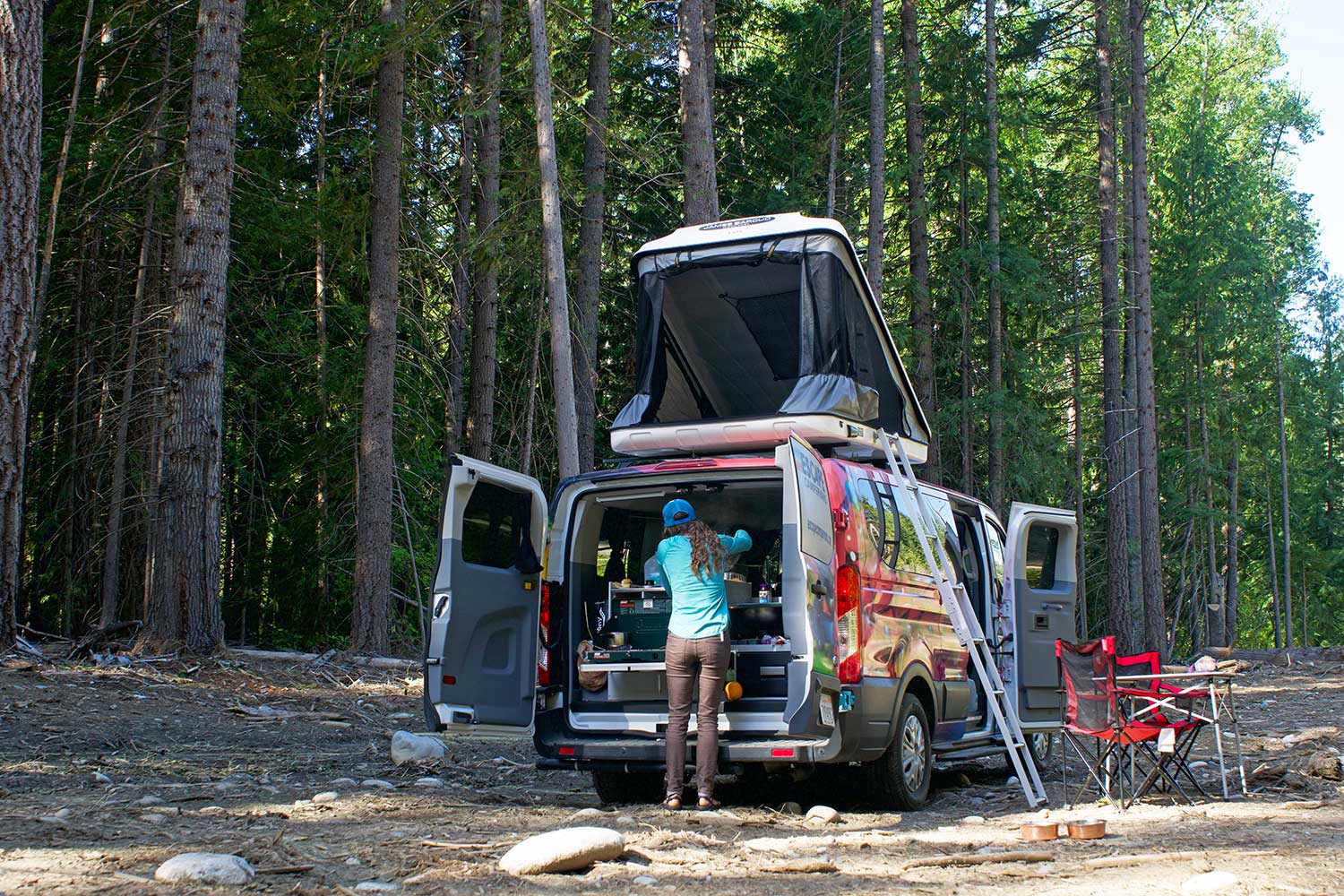 Escape Campervan Rental: Behind-The-Doors Tour
We caught up with the Escape Campervans crew at Outdoor Retailer Summer Market to get a behind-the-scenes look at their Maverick model, a 5-seater Ford E-150 rental van that can sleep five people with the additional rooftop tent.
We love everything about the Maverick model: easy-to-access kitchen with everything you need like cups, plates, silverware, marshmallow roasting sticks, matches, you name it, a solar-powered refrigerator drawer to keep your beer or boxed wine cool until you've built the wood teepee for your campfire, and built-in curtains for privacy.

There's more to love: the Mavericks model drives like a dream. While the length of the vehicle clocks in at 17.7′, it will fit in most tent sites, and with the right skills, it's possible to parallel park downtown (worthy of a gold star, for sure).
Itching to hit the road? Autumn is the perfect time for a road trip, especially since Escape Campervans offers fall discounts! They're offering 25% off on East to West coast trips and 25% off Denver to the West. Heater and extension cord are included so you won't be freezing when you stop to camp along the way.
For all other times of the year, use DYRT15 to save 15% on your next (or first!) Escape Campervans trip.
Book Now
Popular Articles: