When people think of car camping, they picture quick getaways, families in tow, and often the same bundle of gear they've been hauling to the campground for years. So what can Outdoor Retailer, the largest outdoors gear showcase in the U.S., offer those who are car camping gear lists stay the same, year after year?
Surprisingly, a lot.
Car camping gear has come along way over the years, and this year was no different with plenty of brands, both established and new, debuting comfortable, car-friendly camping gear that could make your next trip more comfortable and convenient. This year, our team scoured the floor of the Summer Market at Outdoor Retailer to find the future of car camping gear—and we've collected the best of the best, just for you.
The Car Camping Gear That Impressed Us From Summer Outdoor Retailer
These 14 items are worth the upgrades in car camping gear, before your next trip:
The Luci Solar Inflatable Base Light is the biggest and brightest solar-powered light from MPOWERED yet—which is saying something. The brand's longstanding line of Luci lights are well known for their portability and affordability for solar-powered lights. MPOWERED knows the last thing you want to deal with at the campground is batteries, so they designed the Luci Inflatable Base Light to put out up to 360 lumens, lasting 2.5 hours on a single charge. The lower setting will put out around 20 lumens, lasting close to 50 hours—meaning this light will stay on for the entire duration of your trip, if you want it to. The best part? The USB port will allow you to also charge any device while using the light, making this both a portable charger and a light. What car camper doesn't like all-in-one gear?
Buy Now: $50
There's car camping, as in using your car to get to the campsite, and then there's car camping, as in really using your car as an integral part of the whole camping experience. Case in point, there are some seriously great camping cars on the market these days that are roomy enough for your crew, your gear, or even to sleep in. But there's also a number of products out there that let you convert your car into a full on part of your outdoor experience. Take the Tailgater Tire Table, for example, which lets you turn your vehicle's tires into support for a rugged little camping table.
The pieces fold up when not in use, and then easily come together to make a flat work surface for outdoor cooking, picnics, tailgating, etc. The design comes in handy especially at dispersed campsites where you can't count on the usual picnic tables and fire rings, and anywhere with uneven ground. And because it doesn't rely on a hitch like some car accessory tables, you can easily bring it along in a friend's car, rentals, etc., giving you extra flexibility.
Buy Now: $139.99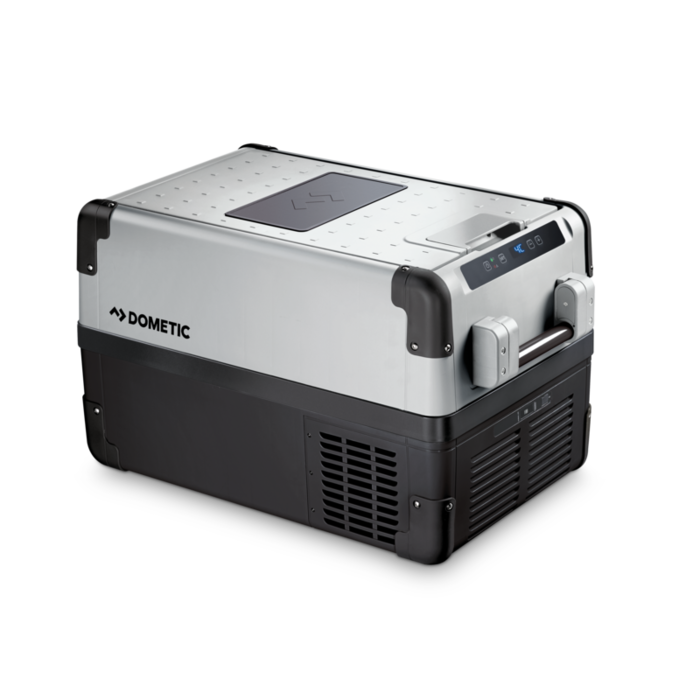 Campsite power hookups, meet the Dometic electric cooler. Instead of messing with ice, simply plug in the Dometic CFX and adjust the temperature to the right range. You'll have more room for food and beverages, precise control over keeping items at a safe, correct temperature, and an LED light to help make it easier to find things. Think of it like a camping refrigerator for your car, RV, or camper van. And campers with disabilities or chronic health conditions can feel confident knowing medications and food safe for dietary restrictions can be stored without accidentally freezing or thawing, even when you're miles from home.
Buy Now: $930
You don't have to be Gordon Ramsay to want to bring your entire kitchen with you camping. The lack of options as far as car camping gear for the kitchen goes can be limiting, and sooner or later, everyone gets tired of hot dogs over the fire. If you're tired of looking at your skewers sideways, the iKamper Aioks brings a complete kitchen to your campsite. The Aioks (literally an acronym of "All In One Kitchen System") is perfect for campers looking for the conveniences of RV and van kitchens in a portable, compact format. Complete with a fold out stove, enough counter space to form its own four-person table, and storage within the box for all your food items, our team at Outdoor Retailer learned that this "picnic basket on steroids" might just be worth some extra space in your trunk.
Buy Now: $499
If you've looked into sustainable habits this decade, you've most likely heard of wax food wraps. The Colorado-local brand Khala & Co. caught our eye on the Outdoor Retailer show floor for their embrace of natural materials in reducing plastic waste. The benefits of non-plastic food wraps in the outdoors combine the best of Leave No Trace ethics and most state laws—plus, you'll find yourself saving money on sandwich bags. Khala's various size options and sturdy design allow these wax food wraps to cover everything from your trail mix to your backcountry dinners, while being tough enough to stuff in your backpack. Available in a variety four pack, once you get started you might replace half the plastic in your kitchen with these wax food wraps from Khala & Co.
Buy Now: $20.99
The most frustrating thing about traditional coolers—essential pieces of car camping gear—is having to schlep them around, whether it's wrestling all those pounds of ice, beer, and food out of the trunk of your car to the picnic table or getting down to the beach in time for sunset. RovR addressed that pain point by designing rolling coolers with all-terrain wheels and other extra features and optional add-ons for outdoor enthusiasts.
There's the BikR Kit that lets you tow your RollR cooler with your bike, as well as an optional Umbrella Holder, cutting board, stash bag, cup holders, and lanterns all intended to turn your RovR into a mobile food and drink prep station. Plus these coolers come in bright, fun colors, and you can purchase some of the accessories, including the dry bins and lanterns, in special Artist Series styles that add a big visual punch.
Buy Now: $369
Trailtopia's gluten-free camping meals save you from spending more time reading ingredients lists than studying your topographical map before a camping trip. Ranging from breakfast items like Blueberry Oatmeal to entrees including Ramen Noodles, Stroganoff, Jambalaya, Stirfry, to Apple Crisps for dessert, you aren't exactly facing a limited menu, either. You can also order side packs with extra protein portions, including chicken, beef, sausage, or hulled hemp seed, giving you a chance to customize your camping meal even further. And Trailtopia's offerings are tasty enough to eat whenever, wherever, not just when you're far, far from your refrigerator.
Buy Now: 8.99/meal
If you're a car camper, you probably don't need to invest in an expensive personal locator beacon, since wandering far off trail is much more of a likelihood for those taking multi-day thru hikes. But if you're worried about generally staying found in the woods, desert, or anywhere you regularly camp, the Breadcrumb Trackable Location Marker is a cheaper, simplified version that's great for peace of mind.
It works by acting as a beacon for your campsite (or any area you'd like as a home base), once you leave it at the campsite, people who are meeting you there can find the site, even if your cell phones are out of service. Any number of people can connect their phones via an app, and the beacon can be reached from up to 150 yards away. Perfect for venturing off your campsite on a lengthy hike, or for hitting the beach down the trail from your site.
Buy Now: $39.99
From picking up trash along the trail to separating the really dirty laundry from tomorrow's leggings in your backpack to needing a daypack for jaunts to the nearest swimming hole, an extra bag always comes in handy. The trick is how to bring one along without taking up too much room in your kit. Sea to Summit was showing off their ultra-packable, lightweight backpack that can compress down to the size of a hard-boiled egg, but unfurls to hold 18 liters worth of whatever you got. So even if you're taking public transit to the trail or planning a "yakpacking" trip, you can definitely squeeze the S2S Ultra-Sil Nano Daypack into the mix.
Buy Now: $39.99
Side sleepers rejoice! Nemo Equipment has designed a sleeping bag specifically for people who always get tangled up in their back-sleeper mummy bags trying to roll over in the middle of the night. The special spoon-shaped design of the women's Viola sleeping bag and the men's Forte sleeping bag gives your knees and elbows more room as you shift from side to side. They're also designed to fit together with ultra-sturdy YKK zippers, making this a great option for couples, especially couples who are both side sleepers, or anyone who likes to spoon when the night gets chilly. The design isn't just a gimmick, however, with plenty of insulating features and extras like a pillow pocket that new and seasoned backpackers and car campers can appreciate.
Buy Now: $142.39
Cast iron is one of the go-to materials for campfire cooking, and for good reason. Sturdy, easy to clean, and tough enough to be shoved right onto the coals, cast iron is some of the most versatile cookware you can purchase. A single cast iron skillet can get you from breakfast to dessert, good for everything from frying up eggs and hash in the morning to hot apple crisps and Dutch babies after dinner. But that versatility wasn't enough for Lodge, who are practically synonymous with cast iron (especially in the southeastern United States).
Lodge wanted to also create a complete outdoor cookware system that provides total control over the meal prep process. With just two smartly designed pieces, the Cast Iron Cook-It-All is car camping gear that can transform into five different cooking configurations, converting from wok to skillet to grill to griddle, even turning into a pizza oven or Dutch oven. And to prove that it's up to the challenge of cooking everything from grilled steaks to a full on rustic paella, they teamed up with Chef Eric Neil of Easy Bistro in Chattanooga, Tennessee to put the Cook-It-All through its paces, using some of the same outdoor cooking techniques he's used to prep for a crowd at events like the Scenic City Supper Club at Lula Lake Land Trust.
Buy Now: $129.95
It isn't often you run across an outdoor chair that's comfier than its indoor counterparts, but that's what you get with the Freeform Zero Gravity Lounger from GCI Outdoor. It's clever design suspends you on a bed of breathable mesh suspended from bungee-like straps, giving you that weightless feeling as soon as you sit down. The lounger also adjusts to a footrest recliner position with your feet up, as well as a fully reclined Zero Gravity Mode where you can really kick back and relax. Light enough to bring camping, tailgating, or fishing, this reclining piece of car camping gear might just be your new favorite piece of car camping gear.
Buy Now: $114
IceMule's new Go Series puts a city spin on your favorite car camping gear. With fun prints that run from urban chic to festival season tie-dyes to the smart, feminine Devoe style, there's a little something for everyone. And all those new colors are made from the same durable "Muleskin" exterior that makes IceMule tough enough for the backcountry. The IceMule Jaunt is just the right size for a six pack or a bottle of wine, so it comes in handy as much for neighborhood block parties and your kids' soccer games as your next camping trip.
Buy Now: 79.95
Car campers and RV enthusiasts have long enjoyed OOFOS' clogs, slip-ons, and thong sandals for their cushy foam recovery soles that take the pressure off tired joints. Now they've made an adjustment (pun intended) to their beloved sport slides, adding a new feature that lets you tighten or loosen the band over your foot to get your perfect fit. Thanks to feedback from campers, marathoners, hikers, walkers, and more, OOFOS wanted to make a shoe that could accommodate different foot widths and heights and give a more custom experience. The result is the Sport Flex series, which currently comes in three colors, all with the adjustable velcro strap.
Buy Now: $79.99
---
Our recommendations are based on providing value to campers across the country. Some articles may contain affiliate links. By purchasing through our articles, you help support this camping magazine.
---
Related Campgrounds:
Popular Articles: