The Dyrt team traversed hundreds of miles through the backcountry of Colorado last month with a mission: find the backcountry camping gear that will keep you comfortable on big-mile adventures. OK—we were actually at Outdoor Retailer in Denver, a gear showcase filled with lots of brand representatives and booths, not trees and wild animals.
But we did walk around a lot, and we discovered so much backcountry gear.
Hundreds of brands showcased new backcountry camping gear at the annual Summer Showcase. A number of new brands shined brighter than some of the big names at the event. Whether you're interested in the lightest and smallest gear, or something to help you go the extra mile in comfort, there was no lack of inventive backcountry gadgets, gear, and apparel on display. And we want you to know about the best of it, without having to face all those bears. (I mean, booths.)
Whether you're replacing your entire backcountry kit or just looking to add a few creature comforts, we think these backcountry gear items will impress you, too.
The Backcountry Camping Gear We're Most Excited about from Summer Outdoor Retailer 2019
From our gear-obsessed team, here's what we're looking forward to in the world of backcountry camping gear.
It can be tough for women to find backcountry camping gear that feels good, period. More specifically, it can be tough to find outdoor gear that is designed to fit  fits right and comes in appealing colors. Gregory has been pioneering backpack designs that fit female bodies since the 1970s, with unique suspension systems that flex where you do.  Now, they've taken a fresh approach to picking new color schemes, too.
Gregory brought women together into focus groups tasked with putting together fresh fabric swatch pairings they'd like to carry on the trail. The results include the new Mercury Grey, with orange and pink accents that are bright and fun against the durable charcoal background. Put that color scheme on the their 22 oz hiking backpack, and you've got a functional, feminine, piece of gear just right for backcountry day hikes.
Buy Now: $120
Mountain House is turning 50 years old this year, but instead of celebrating with birthday cake they're rolling out two new flavors. One is a Yellow Curry and the other is Pad Thai, both due out this fall. The new entrees are a departure from the backpacker takes on American comfort foods Mountain House is famous for, like their Turkey Dinner Casserole, Beef Stew, and Chicken & Dumplings.
The Yellow Curry and Pad Thai are more similar to Mountain House's new Simple Sensations line, which includes a Chicken Fajita Bowl, Italian Pepper Steak, and Spicy Southwest Skillet. Both the Yellow Curry and Pad Thai have a slight heat to them, along with a rich flavor. Mountain House was offering samples at Outdoor Retailer, and we can't wait to dig into more of these during backpacking trips later this year.
Buy Now: $6/pouch
Every once and awhile, a piece of backcountry camping gear comes along that feels so obvious, you wonder why it took so long for someone to invent it. That's Outdoor Element's Firebiner, a survival tool that is part carabiner, part fire starter, with an included safety blade, bottle opener, screwdriver, and keychain. The last part is especially thoughtful, with two holes spaced just right so you can keep your keys organized without them getting jammed together.
While you can't climb with this carabiner, it can take up to 100 lbs, while weighing less than an ounce. And when the ferro rod that works with the spark wheel to create fire wears out, you can simply pop another one in. It's simple, elegant, easy to use, and has just the right number and combination of features without being too complicated or bulky.
Buy Now: $15
If you want to know for sure that your outdoor clothes are tough enough to go the distance, over many years of cold, wet backcountry conditions, look no further than the rain pants and shells worn by workmen in some of the toughest conditions on earth. RedLedge's Free Rein jackets and full zip pants are incredibly affordable for the quality you get, and they're the same pieces of gear worn by the fisherman on The Deadliest Catch. With YKK zippers, taped seams, watertight pockets, and double storm flaps, you can stay confident that you'll stay dry, even if you're camping in wet conditions.
Buy Now: $46.75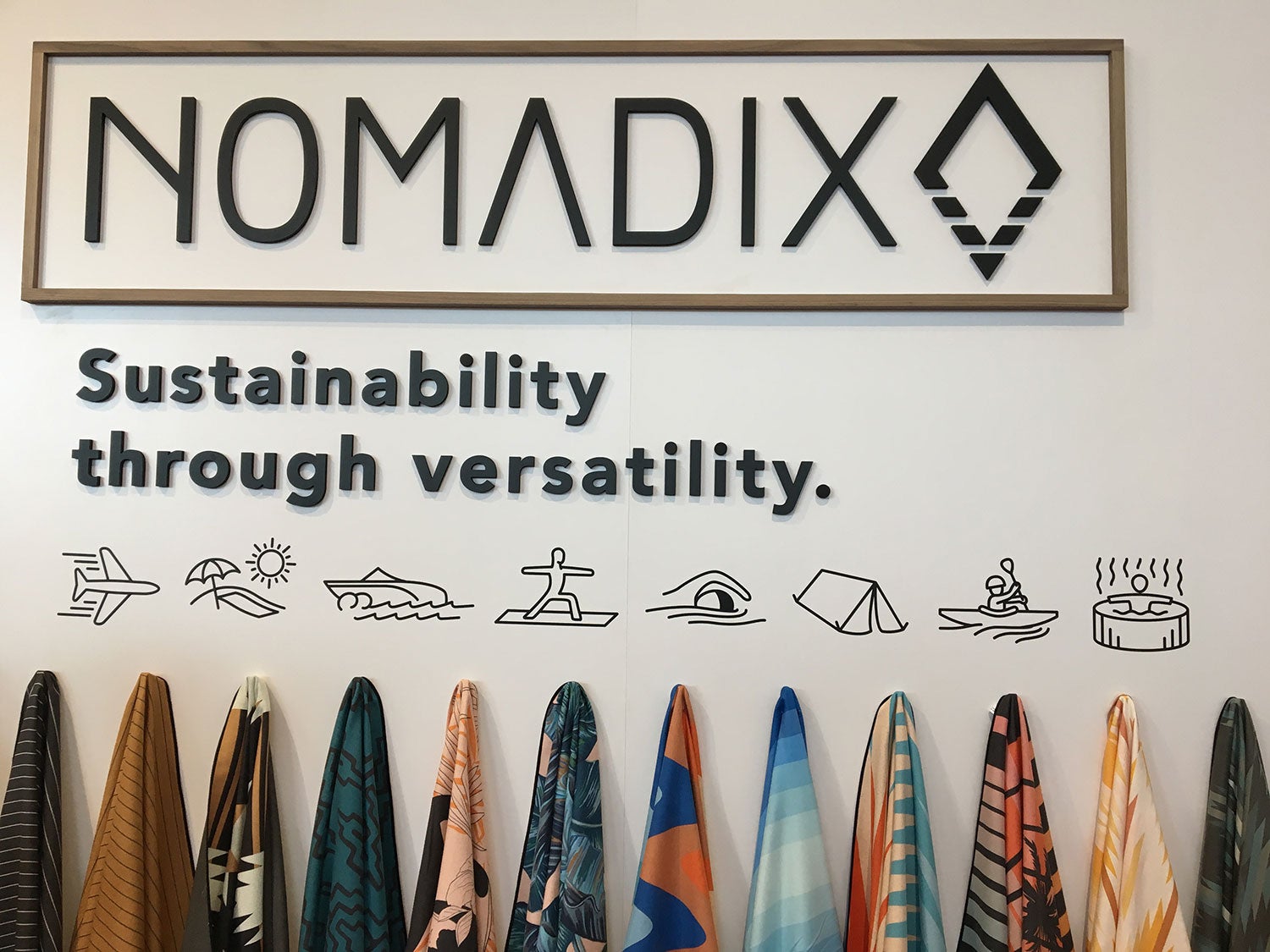 The Nomadix Ultralight Towels won't just bring comfort to the backcountry—these handy go-tos will also bringing convenience to any outdoors trip you're planning this summer. The brand's Ultralight Towels are well suited for backpackers for a reason—weighing just 8oz and packing down into a 2″ x 5″ x 5″ pack. The towels are reversible and quick drying as well, making for a worry-free addition to your pack.
Nomadix believes the comfort of wrapping yourself up in a fresh towel should be available everywhere, from the beach to the backwoods. While that might sound like one of the hotel conveniences you sacrifice while camping, these packable ultralight towels ensure both comfort and convenience on your next trip.
Buy Now: $30
What do you get when a former Michelin-starred restaurant owner brings her gourmet stylings to the meals of backcountry camping gear? Meal packages like Bibimbap, Chicken Gumbo, and New England Corn Chowdah, to name a few. After decades with some of the top restaurants in the Northeast, co-founder and head chef Jennifer Scism brought her passion for delicious meals to the often-underwhelming world of freeze-dried camping food with Good To-Go Gourmet Backpacking Meals.
All of Good To-Go's meals are made gluten-free, low in sodium, and without preservatives, and offer several vegetarian and vegan options. For thru-hikers looking to bundle up, Good To-Go sells Weekender packs of two entrees and one breakfast—perfectly portioned for your next weekend getaway. Our team got to try some at Outdoor Retailer, and found it to be just like something you'd eat at a restaurant or at home–and not a sacrifice for backpacking.
Buy Now: $7/pouch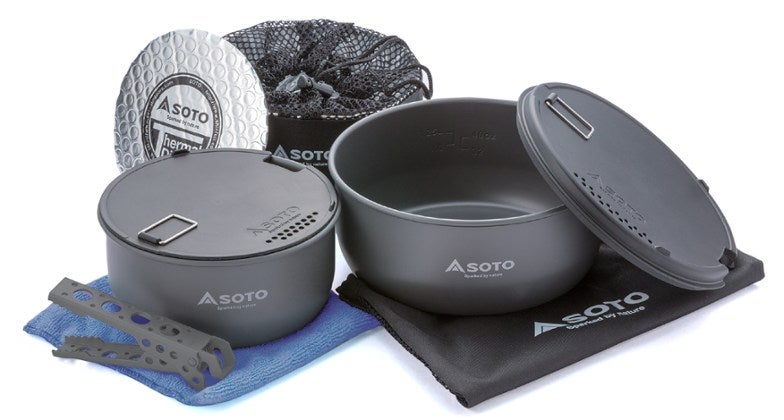 When it comes to stocking your backcountry kitchen, a lot of backpackers will start minimally, with one small, light pot. That's great if you tend to hike solo or stick to a can of tuna or some ramen. But if you want to make one purchase that will work for almost any backcountry meal prep scenario, whether you're hiking alone or with friends, it's Soto's Navigator Cook Set.
The set includes not only a large pot, small pot, and a handle that pack up nicely into a stow bag, you also get lids for both pots that double as colanders, cutting boards, and fuel canister stabilizers, as well as a thermal disk and cozy to keep your food warm for up to six times longer than without. The whole set weighs just 17 oz, and can be used in a variety of combinations to make meals you look forward to after a long day on the trail.
Buy Now: $48.93
Clocks and navigation have gone hand in hand since the 1600s, when Dutch astronomers were still trying to find their way around the world's oceans. Casio has brought that partnership into the world of backcountry camping gear, however, with a digital watch that also displays full-color maps whether you're online or off.
The new PRO TREK Smart WSD-F30 watch from Casio will show your current location, help you get to meetings and events on your Google calendar, can save up to five offline maps, is built to U.S. military standards, and has sensors to gauge air pressure, altitude, an accelerometer, gyrometer, and compass. That's great for anyone who has meetings to keep track of during the week, and epic backpacking plans once the office lights are out.
Buy Now: $550
---
Our recommendations are based on providing value to campers across the country. Some articles may contain affiliate links. By purchasing through our articles, you help support this camping magazine.
---
Related Campgrounds:
Popular Articles: