Too many nights I've laid awake in my tent, shifting from one side to the other, trying desperately to get comfortable enough to fall asleep. Either my mummy bag is too tight around my legs or my sleeping pad is already losing air and it seems like sleep is a lost cause — no matter how efficient the camping gear might be, it won't ever beat a bed. What's the next best thing?
A camping cot! Camping cots get you off the ground and into more comfortable, home-like territory. Most have sturdy aluminum frames and ripstop nylon material that can withstand weights up to 500 or 600 pounds. Some are rated for two people to sleep, others are wide enough to sleep like a starfish.
Ready to Upgrade to a Camping Cot? Here Are Our Favorites
We asked members of our Facebook Campfire which camping cots they would recommend and, as always, they were enthusiastic in their responses. Turns out most campers who use camping cots have relied on the same one for years, so once you make the switch to one of their recommendations, you can count on it lasting.
If you have a hard time falling asleep at the campground, it might be time to upgrade to one of these camping cots for a more restful night in the wild.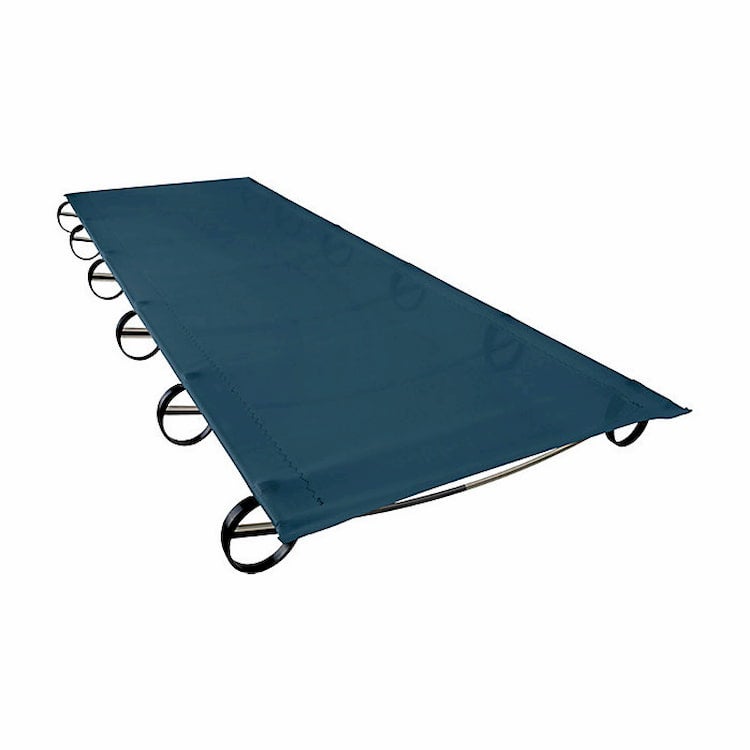 The Thermarest Luxury Lite Cot is about as good as it gets for thru-hikers spending a night sleeping off the ground in the backcountry. In addition to being lightweight (4lbs 3oz), it's also incredibly easy to setup—taking roughly 2 minutes or less to do so. The nylon material gives enough tension to sleep snugly with or without a sleeping pad on top. Though, if it gets cold, you'll want a sleeping pad to prevent cold air from sneaking up beneath you.
"We borrowed thermarest cots and they were compact and nice to sleep on."–Facebook Campfire member Krista T.
Buy Now: $120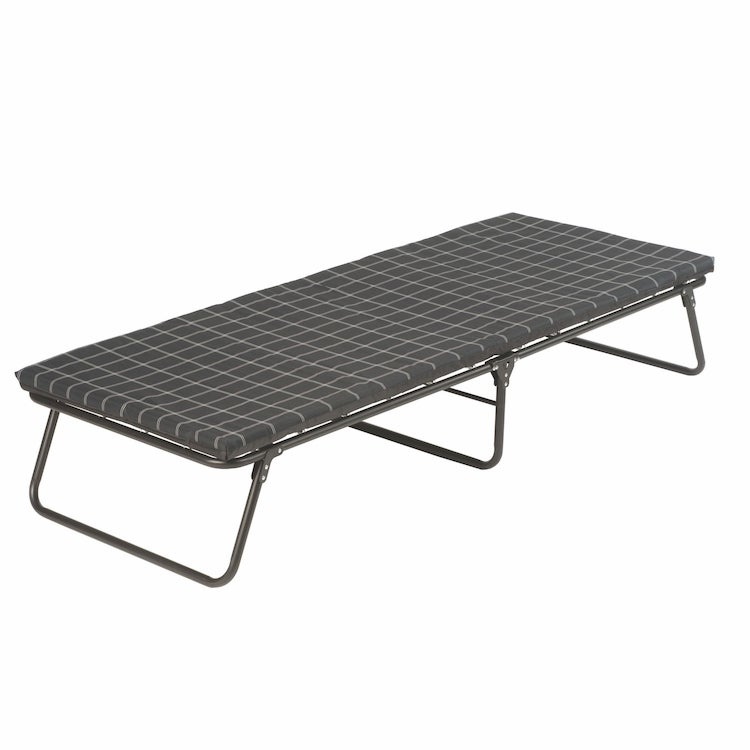 Coleman's ComfortSmart Deluxe cot takes it up a notch. Not only does this cot offer high clearance from the ground, it also has a sleeping pad built in to give you a nights sleep that feels similar enough to sleeping on your bed at home that you'll want to camp year round. The Comfortsmart coil suspension system offers the spring you'd experience on a normal bed while the thick foam mattress feels like laying on clouds.
"It has a spring suspension and comes with a pad . . . very comfortable"–Facebook Campfire member Tim L.
Buy Now: $85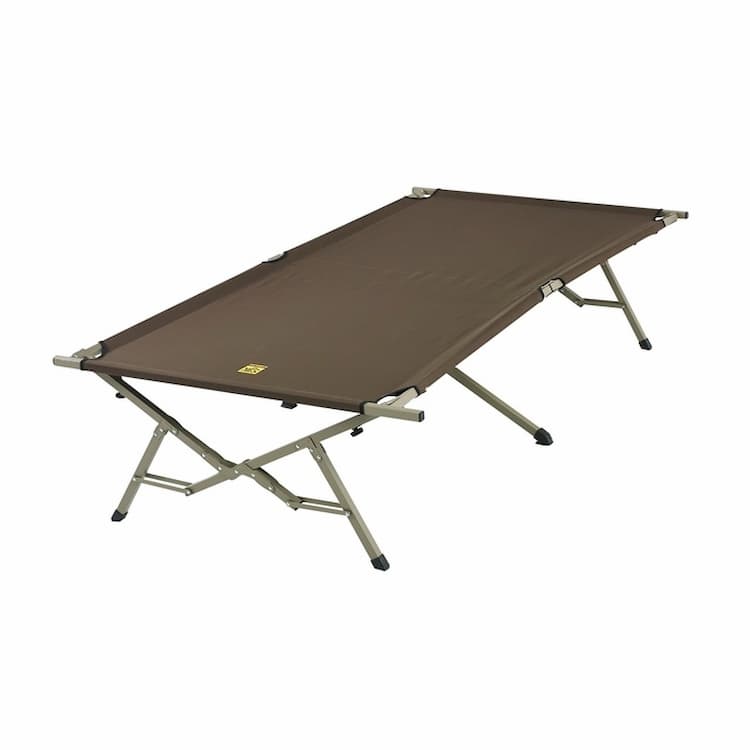 You won't want to haul the Slumberjack XL farther than the campsite. You also won't want to get out of bed in the morning, either. Despite the 35lb weight, this super sturdy cot provides enough tension in the material and strength in the frame to make you feel supported throughout the night. With a weight rating of 500 lbs, the Slumberjack XL can accommodate almost any camper while giving them an unmatched nights sleep.
Buy Now: $100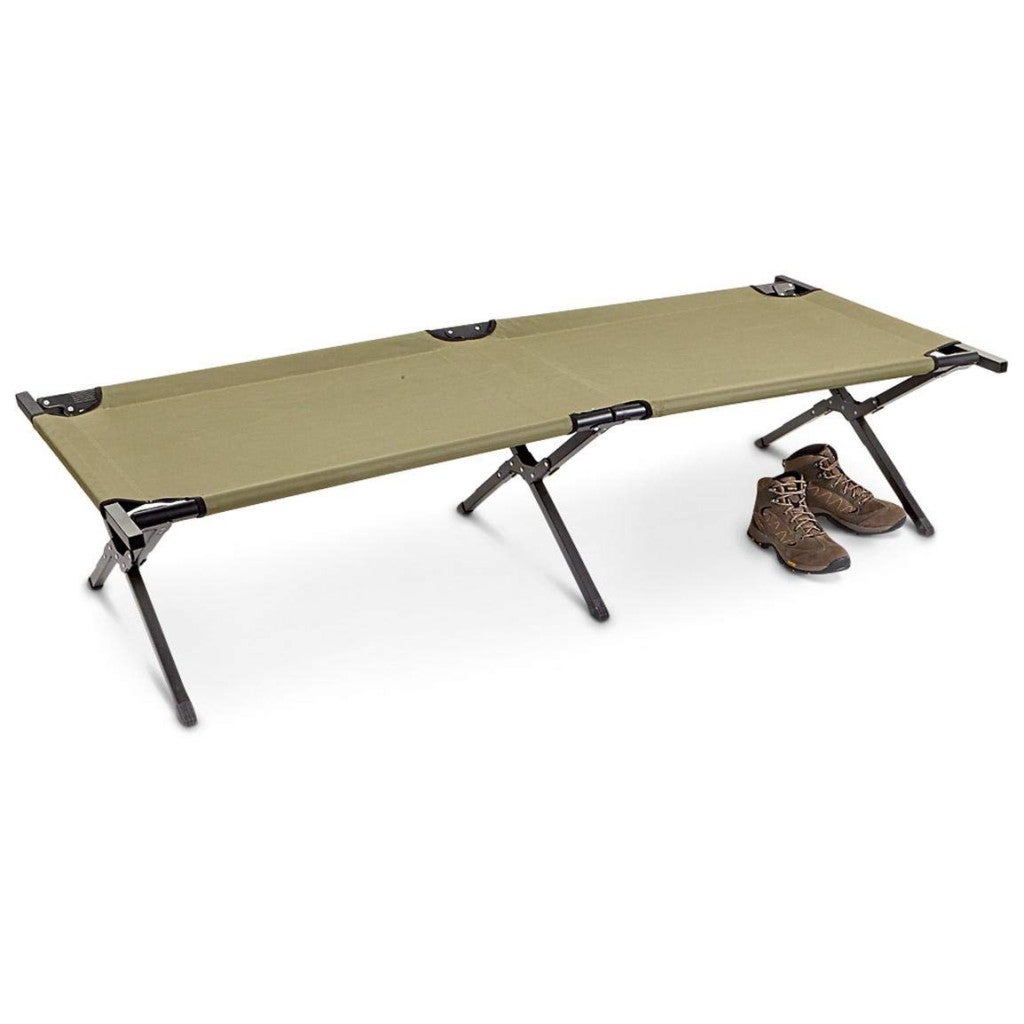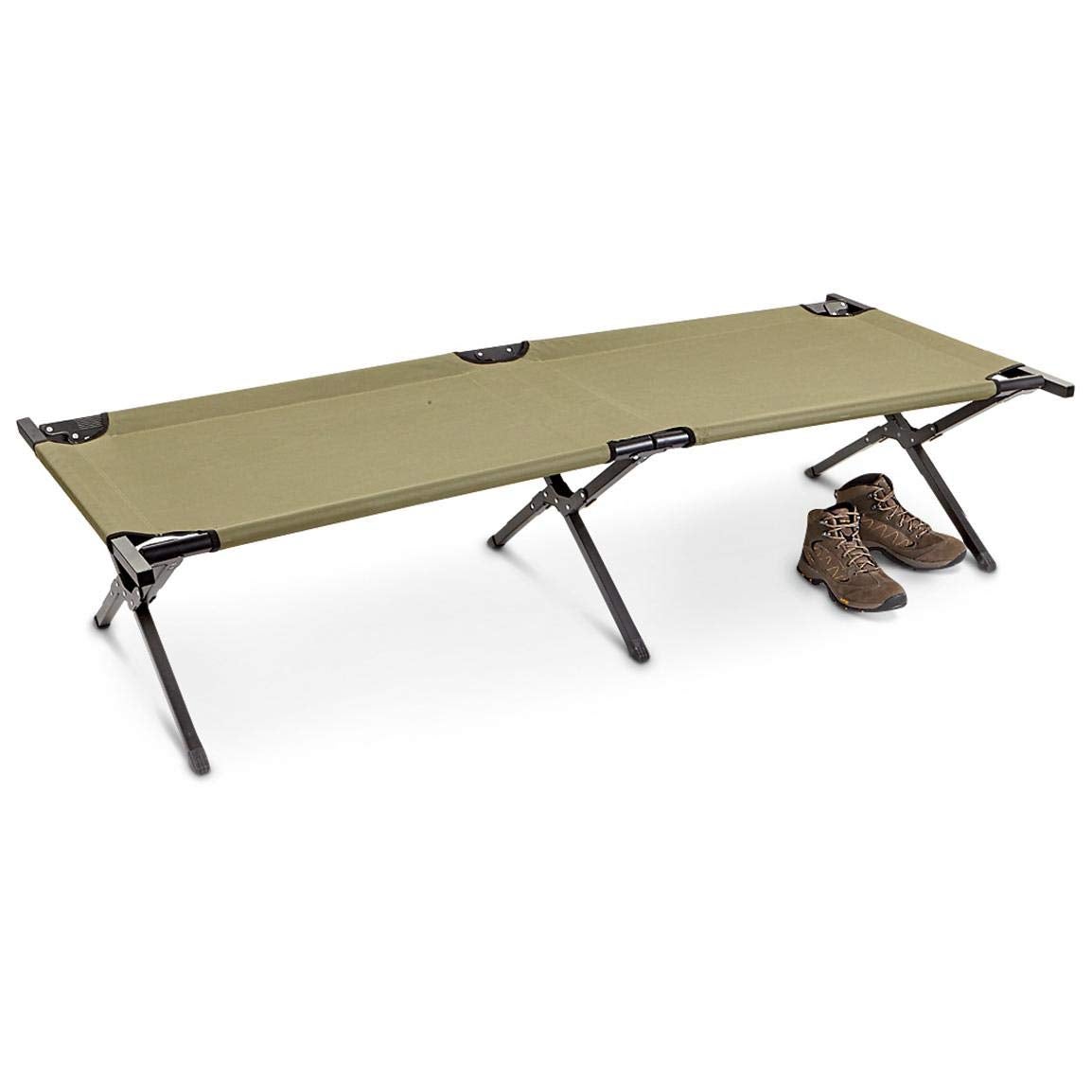 Many of our Facebook campers praise their army cots as the best sleeping situation available. However, finding a true army cot can be like finding a four leaf clover–difficult and for the lucky. While you might snag one at a garage sale or Army Surplus, there are very few authentic versions found online–and the ones you can find are pricey. Otherwise, a few knock-off versions exist on Amazon for $50 or less.
"I'm sporting an old WW2 green cot. Its old as dirt but still hanging in there."–Facebook Campfire member Al G.
Buy Now: $50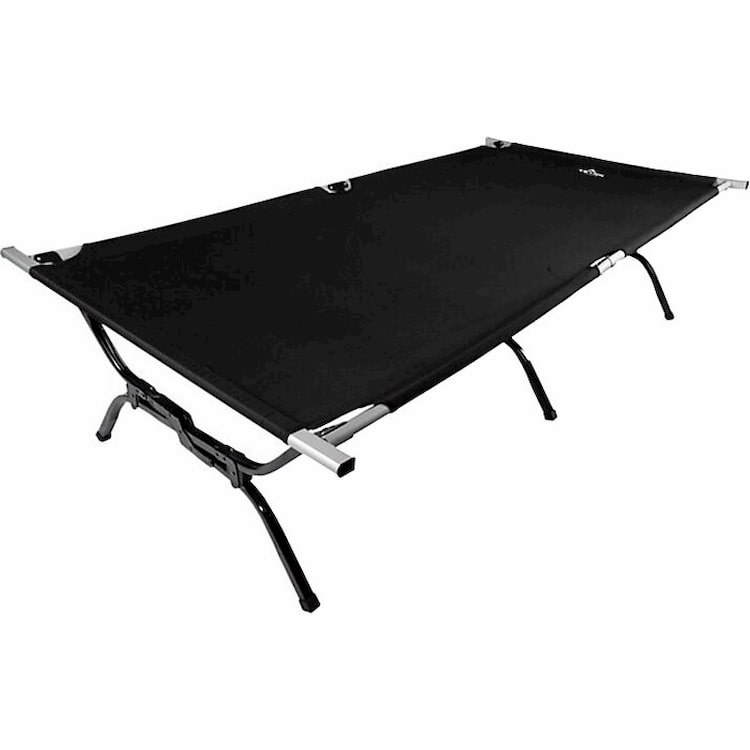 If you like to sprawl out before calling it a night, the Teton Sports Outfitter XXL Camp Cot is made specifically so you can stretch, spread, and sprawl out before you fall asleep. With dimensions similar to a Twin XL, you have plenty of room on this cot to create a backcountry bed, and it has a hearty weight rating of 600lbs–so if you want to get cuddly with your significant other there's plenty of space and capacity to do so.
"Its extra wide and extra long. It's absolutely the best!"–Facebook Campfire member David S.
Buy Now: $120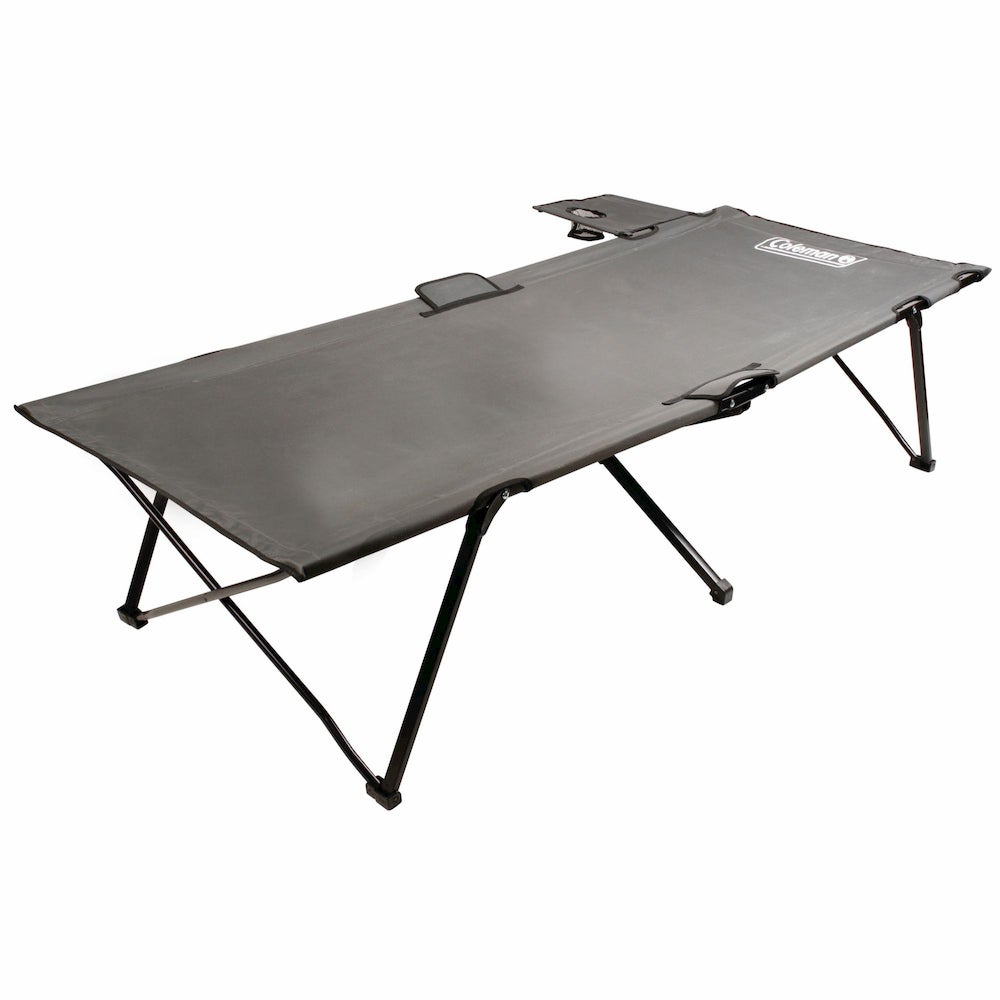 What's better than a lightweight cot that takes your camping experience up to 10? A camping cot that takes your camping experience up to 10 and has a side-table and cup holder for anyone who gets parched at 3 am. The Coleman Packaway Cot is lightweight, easy to set-up and pack down, and is comfy enough to sleep on for a week of camping at your favorite state park.
"We rough it with no pad. It's aluminum and fits in the trunk of my Subaru Impreza."–Facebook Campfire member Danette V.
Buy Now: $52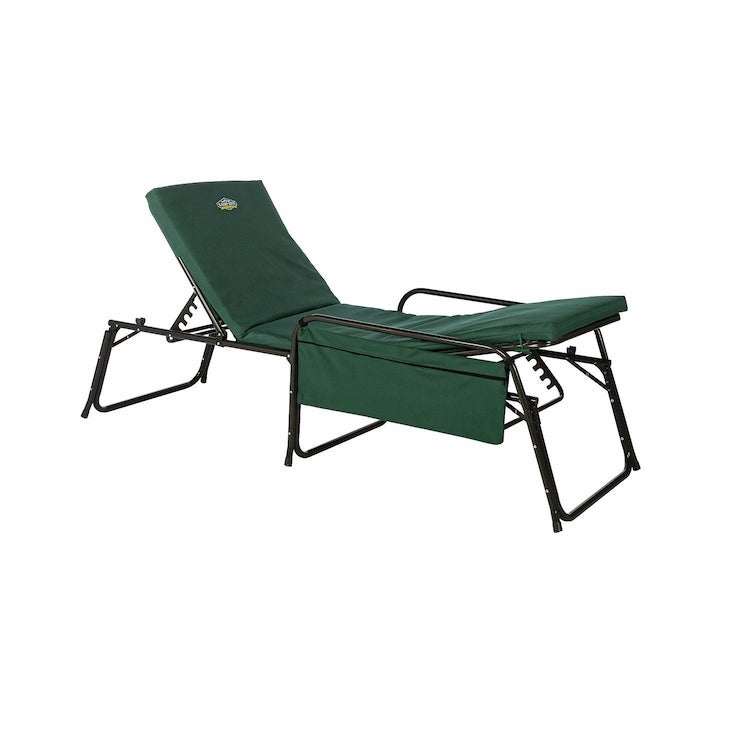 While you may not necessarily consider a triage cot your go-to camping option, you might want to rethink your camp set-up. Spanning the length of a regular cot, the Triage and Rapid Treatment Kamp Rite cot offers multiple options for raising your feet if they're swollen after a long day of hiking, or raises your head up to read a book before falling asleep. There's also a handy side pocket to store essentials nearby. And hey, if things go awry, you'll have a great option for triaging a patient.
"I like it because I can elevate either the foot end or the head. Some people do not like a cot this high, but it is easier for me to get up from and also allows for ample storage underneath in taller totes. It fits nicely in the back of my Toyota Sienna van, and is very comfortable."–Facebook Campfire member Teresa F.
Buy Now: $150
Popular Articles: