The popularity of thru-hikes, section hikes and day hikes has been on the rise in recent years, as more and more people are hitting the trail—and liking what they find out there.
To get the most out of your time on the trail, a solid pair of hiking boots is key. But finding the best hiking boots isn't as straightforward as you might think. What kind of hiking you'll be doing—short day hikes, longer section hikes or even extended thru hikes—plays a big role in the boot you'll need, as do terrain, climate and other factors. Whether you're new to hiking and the outdoors or a seasoned pro, you're going to want to outfit yourself with the best hiking boots for your needs.
The Best Hiking Boots on the Market in 2019
Colors and aesthetic design are important to consider, sure, but what's really key for the trail is foot stability, quality materials and making sure there's enough traction to grip the trail in all types of terrain. These 12 hiking boots are consistently rated highest on the market for those reasons—and more.
Best Hiking Boots for Shorter Day Hikes
For day hikes, a lightweight boot or more aggressive hiking shoe is the preferred option. These four boots steal the show.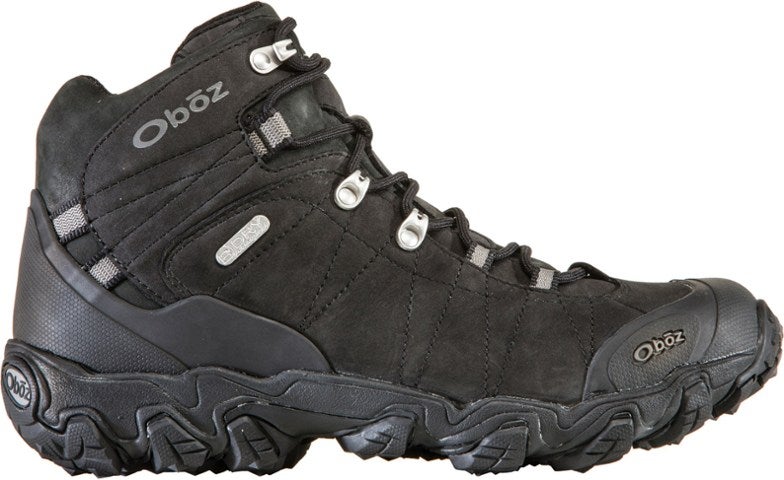 Price: $180.00
Weight: 16.2 oz, two width options.
This boot is my personal favorite, although the praise doesn't just end with me. It also was awarded "Best for Backpacking" by Men's Journal and "All-purpose Champ" by Backpacker Magazine. They've taken me through all kinds of terrain, from hiking an ice-covered Icelandic alpine tundra to sections of the soggy Long Trail of Vermont.
I've worn these boots through slush, rivers, mud, ice, snow and just regular, dirt-covered trails. I've never had pain from rocky terrain or root-covered pathways, even on multi-day hikes. These boots have kept my notoriously cold feet warm and dry and completely comfortable in all elevations and weather. They're lightweight, breathable, totally waterproof and feature an aggressive grip.
I can only speak to the women's shoe, but I've heard equally positive reviews on the men's version, as well. I don't love that Oboz did away with their insulated version of this same boot, but they've been sufficient enough for colder weather hikes with a solid wool sock. One more pro: Oboz plants a tree for every pair of shoes sold.
Buy Now: $180.00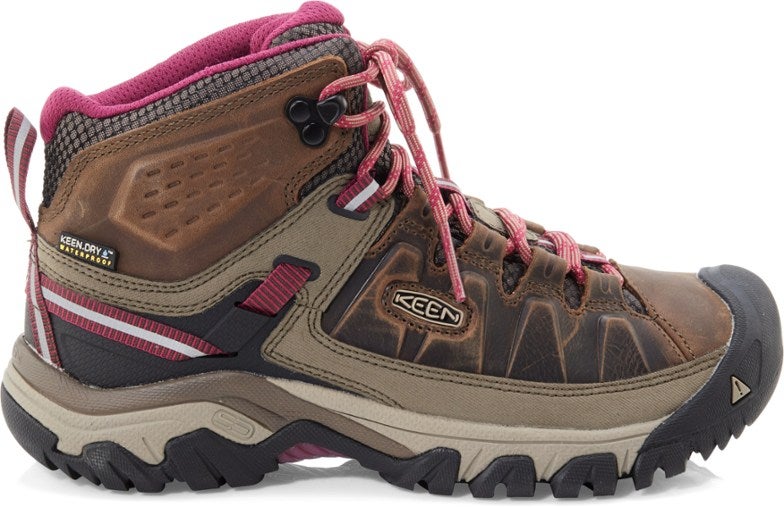 Price: $145.00
Weight: 2 lbs, 2.8 oz
The Keen Targhee has a diehard fanbase. This is considered one of the best hiking boots out there in its price point, and those with wider feet love Keen's almost fan-shaped toecap. It's a durable leather mid hiker that offers good stability and ankle support.
Although it does feel a little less secure on tough trails than other lightweight hiking shoes, the Keen Targhee remains in competition for its solid grip and comfort, making it a fantastic option among day hikers.
Buy Now: $145.00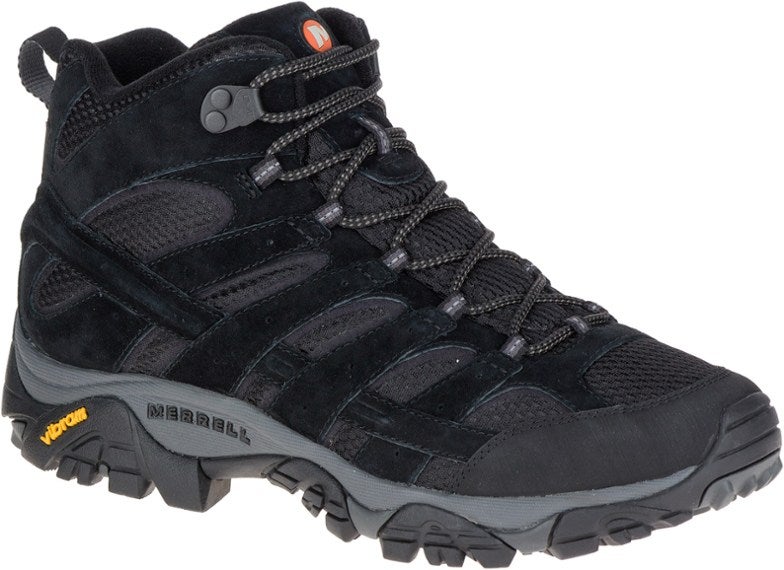 Price: $110.00
Weight: 2lbs, 2 oz
These boots are comparative to the Keens Targhee III for design, comfort and lightweight yet solid support. The sole isn't as durable as other highly-rated hiking boots, but the breathability and immediate out-of-the-box comfort you'll feel make them a contender on any list of the best hiking boots.
These are a great option for hikers who like warmer climates, flatter terrain and who need a little less support for their day hikes. The lower price is also a huge bonus.
Buy Now: $110.00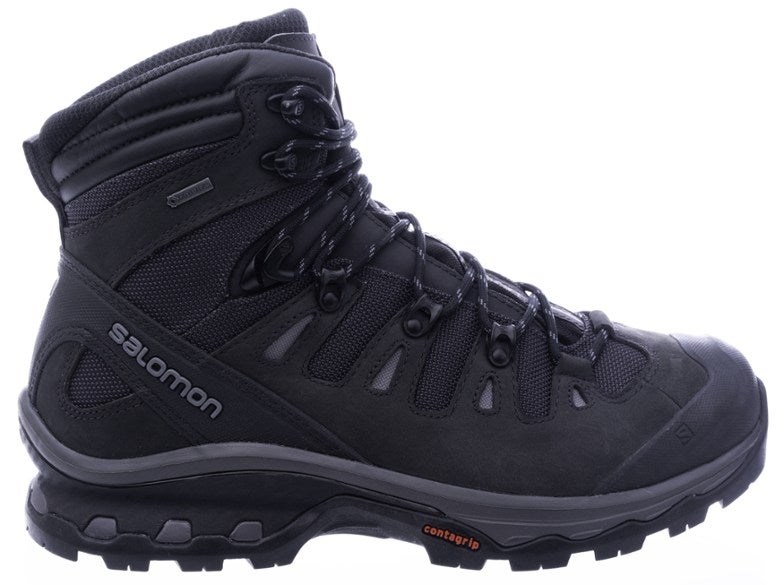 Price: $230.00
Weight: 2 lbs, 13.8 oz
Although these boots are a bit heavy for day hiking, they're a dynamic option with a solid grip for pretty much any condition. The fit and construction of these boots keep hikers happy for miles, even with the added weight. If you're a speedier hiker looking for a lightweight boot, skip these.
Otherwise, if you need extra support and protection, you—and your feet—will be incredibly happy.
Buy Now: $230.00
Best Long-Distance Backpacking and Section Hiking Boots
One of the biggest rules of backpacking? Skimp on weight to conserve your energy. But if you're carrying all your gear, and you're hiking over varied terrain day-in and day-out, you'll likely want something with a little more support and solid construction than a lightweight shoe. These next options are some of the best hiking boots out there for backpacking and section hiking.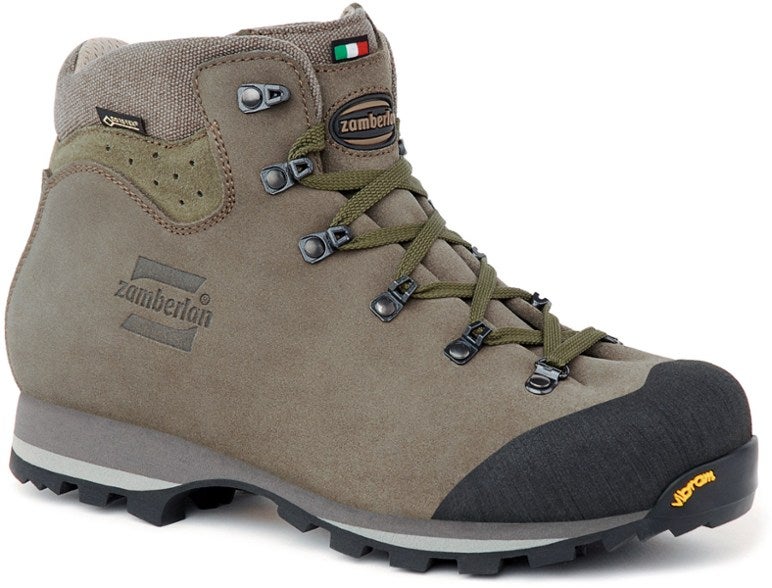 Price: $240.00
Weight: 2 lbs, 2 oz
Zamberlan's Trackmaster boots are a sturdy, highly supportive option that features a cushiony EVA midsole and a stable upper boot, leaving your ankle fully locked in and ready to handle inclement weather and terrain. This boot is a bit low on ventilation, leaving feet that are prone to sweating pretty uncomfortable, but the Gore-Tex does keep your feet dry from any outside forces.
Buy Now: $240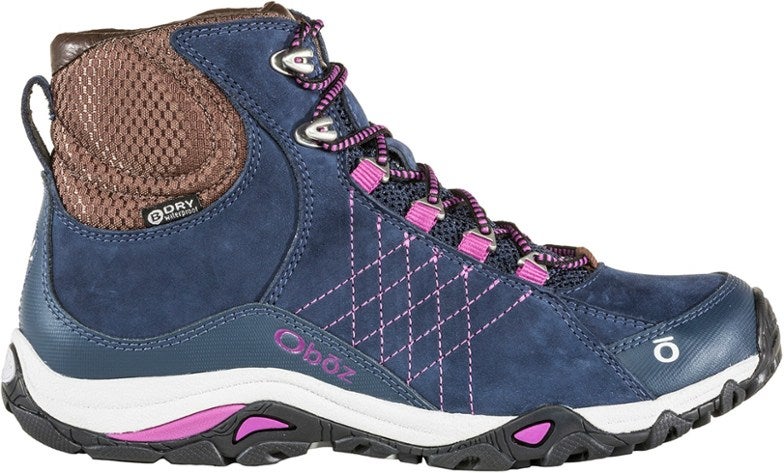 Price: $160.00
Weight: 14.3 oz
These hiking boots are women-specific; the ankles feature an asymmetrical collar and smaller forefoot, which both offer a better fit for women's (typically) smaller, more narrow ankles and feet. The shoe is fully waterproof, so for wetter areas, it's a definite plus.
There are three densities of EVA in the midsole, which means you have not only a supportive shoe that's really comfortable, it's also extremely durable. For hikers who prefer a lighter, more versatile hiking boot, this boot is consistently reviewed as feeling more like a trail runner than a mid-range hiking boot.
Buy Now: $160.00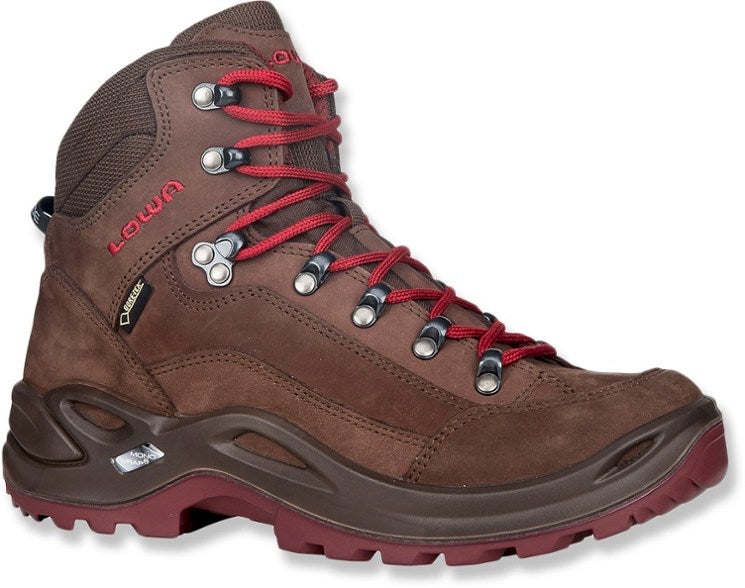 Price: $240.00
Weight: 2.44 lbs
With a Vibram Evo sole for trustworthy traction, PU MONOWRAP frame construction for stability and support, and a slew of other specs that led Backpacker Magazine to award this boot the Hall of Fame award, it's no wonder that the Renegade is Lowa's best seller.
Whether you're spending a long weekend section hiking or hitting the trail for a lengthier backpacking trip, this boot is consistently reviewed as having virtually no break-in period.
Buy Now: $240.00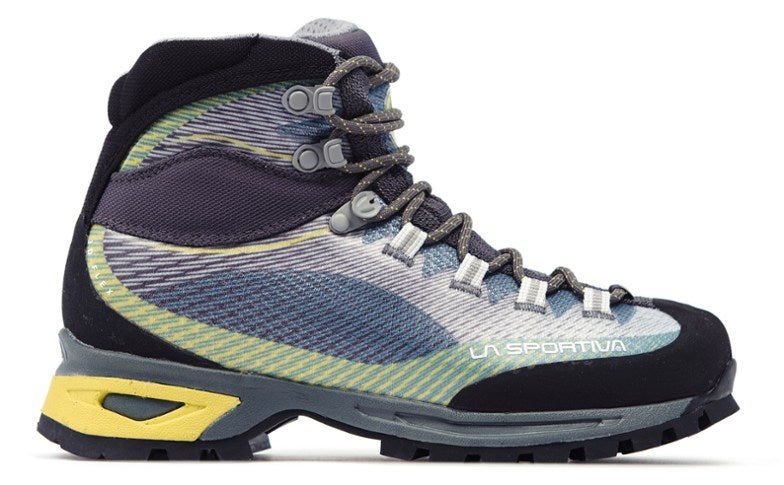 Price: $220.00
Weight: 20.2 oz
This boot is an interesting boot. Completely synthetic, it's fully waterproof with minimal seams, helping to keep your feet blister-free and dry. It has a Vibram Mulaz sole, giving supportive traction on tough terrain. The boot's 3D Flex System allows the foot and ankle to flex as you step, while the upper portion keeps lateral stability throughout your ankle.
It's one of the best hiking boots on the market for support, comfort, flexibility and stability, meaning you'll be happy with their performance.
Buy Now: $220.00
---
Our recommendations are based on providing value to campers across the country. Some articles may contain affiliate links. By purchasing through our articles, you help support this camping magazine.
Popular Articles: