There are over 10,000 state parks in the United States, and each of them offers something unique. But only one of them has mermaids. The mermaids of Weeki Wachee Springs State Park have welcomed generations of guests at one of Florida's oldest, and quirkiest, roadside attractions. Since the 1940s, these ladies (and gentlemen!) have performed underwater acrobatics using a specialized hose for oxygen. The Weeki Wachee mermaids have been on hiatus while renovations were completed at the park, but this April, they will return as the state park's most unique attraction.
---
Editor's Note: Due to scheduled renovations, the mermaid show, river boat ride and wildlife show are currently closed. Those activities are scheduled to reopen April 19. Buccaneer Bay will reopen March 15. You can follow Weeki Wachee Springs State Park on Facebook or Twitter for updates.
---
Their stage is fed by the Weeki Wachee Springs, which are just one of many natural springs in Central Florida, far removed from the massive theme parks. The springs provide year-round access since the water remains the same temperature, welcoming manatees, swimmers (and mermaids!) alike.
The state park's name comes from the Seminole name for the area, which means "little spring" or "winding river." The spring that makes up the park is made up of over 100 million gallons of clear water that come from underground caverns daily.
Weeki Wachee is a special place, combining the theatrical delights of larger parks in Florida, with the peace and beauty of natural surroundings. If you're planning a trip to Weeki Wachee Springs, whether to see the famous mermaids or explore the flora and fauna of Florida via kayak, start here:
Add these Weeki Wachee Springs Attractions to Your Bucket List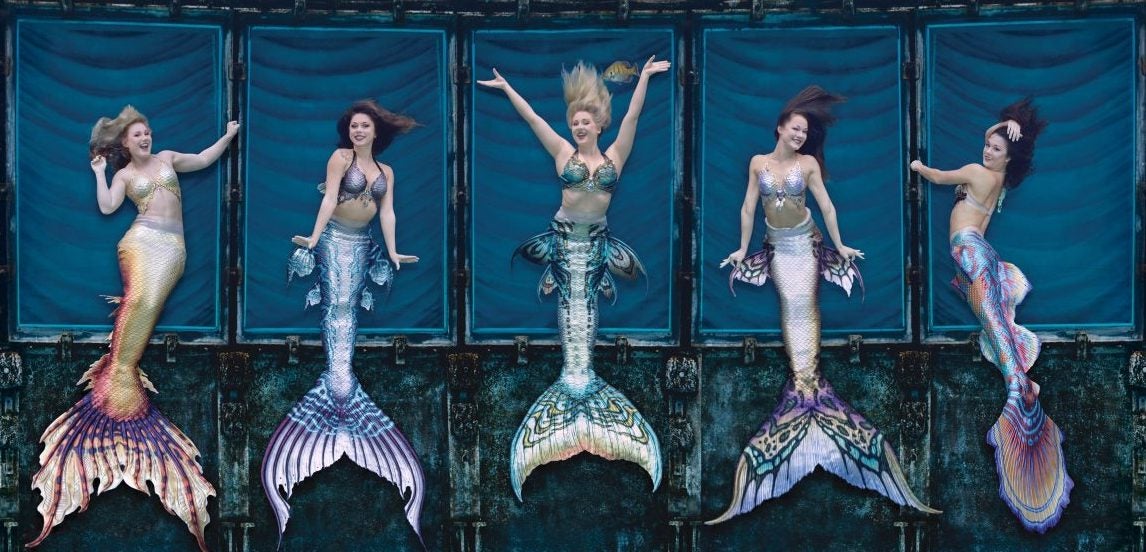 Weeki Wachee Springs—the deepest naturally formed spring in the United States—was first explored in 1946 by former Navy sailor Newton Perry. The spring had been used as a dumping site, so he cleared it out and experimented with using a breathing hose to explore its depths. The next year, Perry led the construction of an 18-seat theater, cut into the limestone for the star attraction: Weeki Wachee Mermaids.
Catch a Weeki Wachee Mermaid Show
The mermaid show was created using Perry's unique underwater breathing methods. The mermaids perform underwater dances, taking their oxygen from a shared hose and swimming 16 to 20 feet below the surface. In the following few years, the Weeki Wachee Mermaids became one of Florida's top roadside attractions. It was featured in movies like Mr. Peabody and the Mermaid and Neptune's Daughter, and visited by celebrities like Elvis Presley.
Today, the mermaid shows are still the main draw of Weeki Wachee, held 365 days per year at 11 am, 1:30 pm, and 3 pm. They perform a reimagining of The Little Mermaid as well as Fish Tails, a show where they eat, drink, and dance underwater. Mermaid shows are included with the price of admission into Weeki Wachee Springs State Park.
Get Soaked at Buccaneer Bay Water Park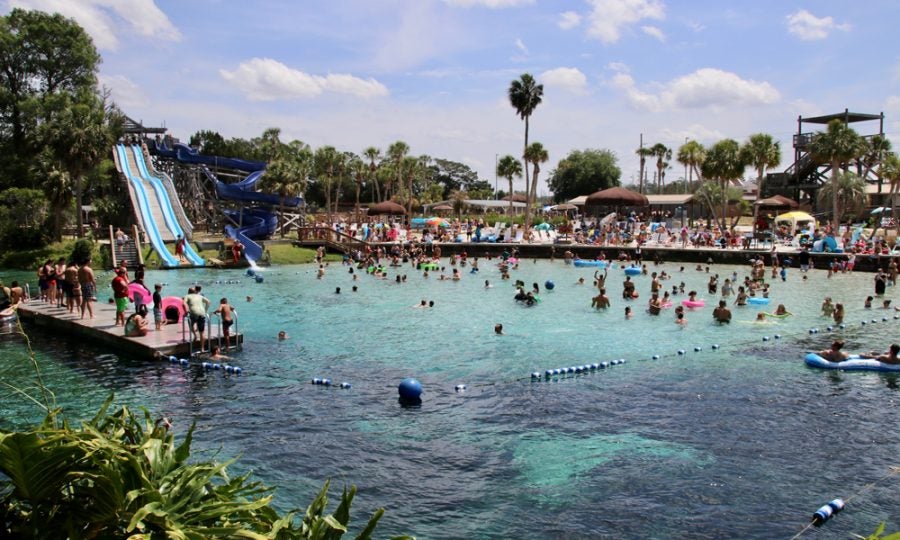 In 1982, Weeki Wachee added to its offerings by opening the Buccaneer Bay Water Park, which features a lazy river with inner tube rentals, water slides, and an artificial beach. Three of the four water slides drop you in Weeki Wachee Springs itself. The Thunderbolt and Cannonball flume are exciting thrill rides. Children six and under can play and enjoy the wading pool at Lil Mates Caribbean Cove. There's also a designated swimming area within the spring where you might spot wildlife, but keep your distance.
The park is staffed by certified lifeguards. You can bring your own chairs, tents, coolers and umbrellas into the park. It's open seasonally and the park often reaches capacity, especially on weekends and holidays.
Kayak at Weeki Wachee Springs State Park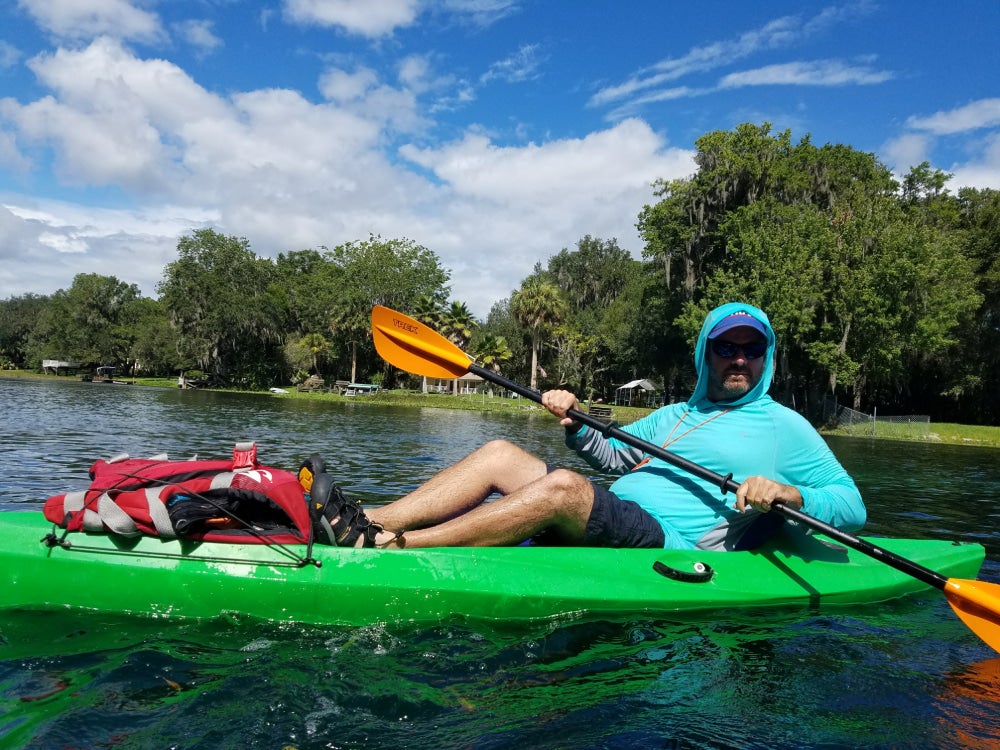 The Weeki Wachee River continues to the Gulf of Mexico, so you can also take a boat tour or explore by kayak. The River Boat Cruise is one way to see the water, and you might just catch the West Indian manatees that call the river home. The cruises are included within admission and run throughout the day during the warmer months.
Weeki Wachee Springs also has the only rental facility for kayaks and paddleboards on the river. Reservations are required, but you can also book a guided tour. If you have your own boat, there is a nominal fee to use the boat launch and shuttle service. There are also wildlife shows featuring alligators, birds, and other creatures.
Camp Near Weeki Wachee Springs
This state park doesn't have its own campground, but it does have a picnic area for guests. There are also a number of campgrounds nearby. Cody's RV Park is the closest place to stay for park goers, set on 15 acres less than 10 minutes from the park gates. They have canoe and kayak rentals, fire rings and picnic tables, and both full and partial hook-up sites.
Mary's Fish Camp provides the classic Old Florida experience, and it's also just 10 minutes away. It was established on the Mudd River in 1946 and has 17 RV sites with power, water, and sewer available for the day, the week, or even months, as well as tent sites. Guests can go fishing or rent a kayak or paddleboard.
They also have kids camps to keep the little ones entertained. The Junior Mermaid Camp teaches visitors about the process of becoming a Weeki Wachee Mermaid, while the Junior Lifeguard Camp teaches lifesaving and leadership skills. The camps are for those ages 7 to 14 and held over weekends. They are day camps, so guests must have their own accommodations. But the fun isn't limited to kids. Adults 30 and older can join the Sirens of the Deep Mermaid Camp for training as an underwater performer.
What to Pack for a Weeki Wachee Springs Excursion
What you bring to Weeki Wachee depends on the season. If you're visiting during the summer months, be sure to bring a swimsuit and sunscreen, ideally eco-friendly brands that won't pollute the springs. Mosquito repellant is also a good addition to your bag. For those looking to explore the springs via kayak, bring a waterproof bag to protect your belongings as well as a water bottle. And you'll definitely want a hat to protect yourself from the Florida sun.
Popular Articles: