This article is brought to you by our friends at SylvanSport. 
---
When the weather warms up, it's natural to daydream about propping your bare feet on a dashboard and cranking the tunes as the world blurs by; from cities to beaches, from mountains to desert.
There is so much to see in the U.S., and road trips allow us to explore the inbetween places. When you skip the flight, you discover the journey might be the best part.
Campers, we know you love a good excuse to pitch the tent in a different spot every night. Who needs motels when we've got starry night skies?
5 Road Trips We Can't Wait to Tackle This Year
Pack up the car, the camper, or the SylvanSport GO, and start your engines. Here are 5 road trips we're especially excited to explore this summer.
Blue Ridge Parkway

Connecting Shenandoah National Park and Great Smoky Mountains National Park, this is a windy road that's bookended by two incredible destinations, with plenty of scenery to enjoy along the way. More people drive along this route each year than visit the Grand Canyon, so you know it's worth a look — though you might want to rise extra early to beat the traffic. There are eight campgrounds along this 469 mile route, including Otter Creek (where the parkway dips to its lowest elevation), Rocky Knob Campground (located among 4,000 acres of forest), and Julian Price Campground (for quiet, lakeside camping).
---
Badlands National Park to Black Hills

Located in the southwestern corner of South Dakota, the Badlands National Park dot the prairie with unique eroded buttes that have to be seen to be believed. You'll feel as if you have stepped onto another planet; it isn't surprising that a variety of sci-fi movies have been filmed here, including Armageddon and Starship Troopers.
The nearby Black Hills are home to Mount Rushmore. From horse camps and fossil museums to some of the country's most scenic drives, you won't have to do much driving to cover incredible scenery and adventures in this region.
Take Interstate 90 west out of Badlands for the quickest hop between the two. Alternatively you can drive the 44 to Highway two to the 40 for a more scenic loop.
Make sure to stop at the famous Wall Drug along the way. There are so many signs for it on I-90, you won't be able to resist. But half the fun is the mystery of it all. What is Wall Drug? You'll find out when you get there. And you'll definitely want to grab a Wall Drug bumper sticker to prove that you're a real road tripper.
Camp at Cedar Pass Campground in Badlands National Park. According to The Dyrt camper Katelyn K., there's a great little diner up the road where you can refuel on greasy food before heading to the hills.
---
Grand Tetons and Yellowstone National Park in Wyoming and Montana

Yellowstone National Park is America's oldest national park. Its name evokes images of iconic geysers, big buffalo blowing steamy breaths into icy air, and even wolves. No great American road trip could be complete without Yellowstone on the itinerary. Nearby Grand Teton National Park includes stunning ridge lines of the Wyoming peaks.
Stop and smell the wildflowers! Drive the 191 for the most scenic view between these two national icons. You can drive through both parks on a variety of roads; the 26 and the 14 are two notable throughways.
There are a bunch of campgrounds in Yellowstone National Park. Mammoth Campground is a popular one; its open year-round and visitors can explore the Boiling River Trail and hop into a year-round hot tub. Make your way to Lizard Creek Campground in Grand Teton National Park for 60 first-come first-served campsites.
---
Big Sur to the Oregon Coast

Famous for its cliff-side beaches, Big Sur in Northern California lies right off of the famous Pacific Coast Highway. It's an inevitably slow moving drive with so many twists and turns and vistas, begging for you to stop and take photos of the seaside views.
Head north to enjoy the Oregon Coast, which features stunning variety in its landscape, from old growth forest growing on cliffs, to wide open beaches that you can drive on. Cruise down a sand dune on a saucer, or bounce over them with four wheels in the the Oregon Dunes National Recreation Area. Then visit the barking sea lions in Newport. Further north, stop at Haystack Rock on Cannon Beach, made famous by The Goonies.
You'll definitely want to camp along the way, and wake up to the coastal sights and sounds. For Big Sur Camping, check out Pfieffer Big Sur State Park or Kirk Creek Campground. In Oregon, try the popular Beverly Beach State Park where you'll find a sprawling, family-friendly campground with convenient amenities.
---
The National Parks of Utah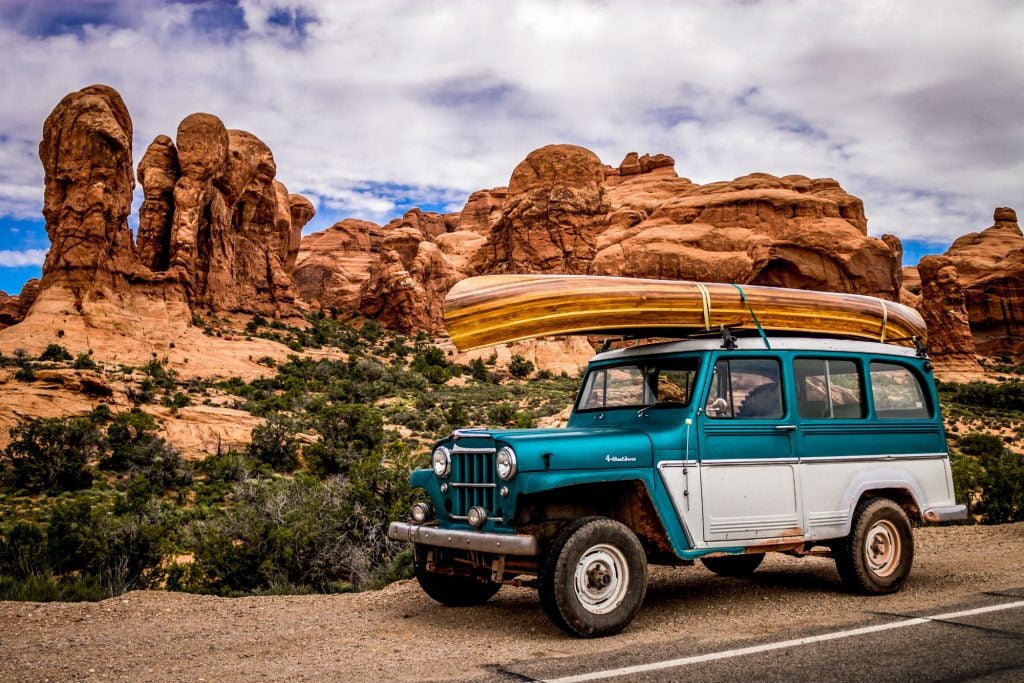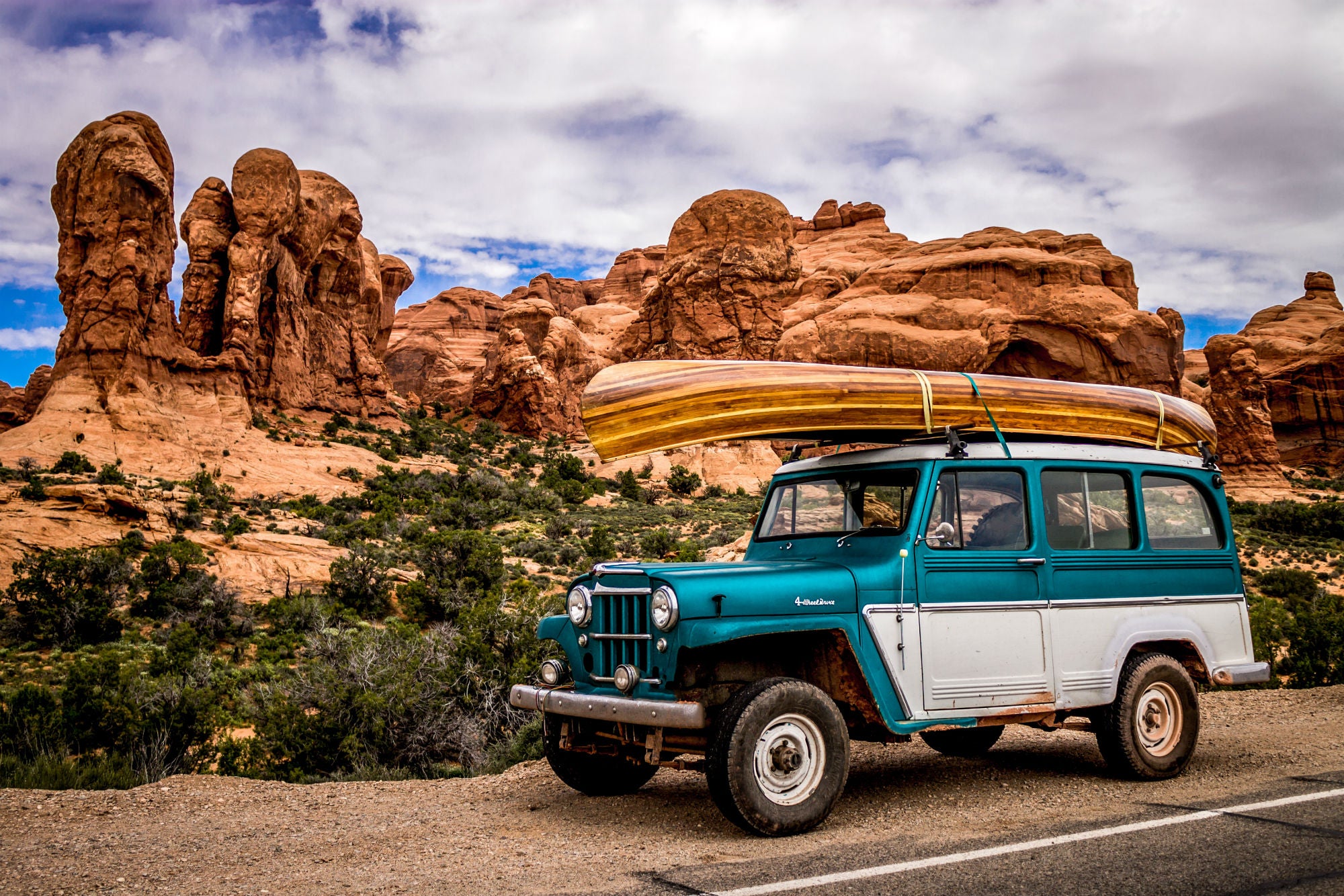 If desert bliss is what you seek, look no further than Moab, Utah. There are five — yes, five — national parks surrounding Moab. Arches National Park boasts jaw-dropping rock formations. Bryce Canyon is the place to go for dramatic red rock spires. Zion, Capitol Reef, and Canyonlands all offer their own unique and stunning landscapes.
Interstate 70 offers the quickest connection through the various areas of southern Utah. It's beautiful in its own right, but if you want a tiny road in an expansive desert, use Highway 24 to connect your routes. Since this road trip widely depends on the order of your parks, it's best to get out a map and plan a custom route. Just be sure to take note of any dirt roads. They often provide a more exciting drive, but take much longer. In some instances you'll need a 4WD vehicle.
There are campgrounds in and around each of these national parks. If you're bringing your pooch along for the ride, consider dispersed camping on BLM land where dogs are allowed. (Utah state parks are pretty strict about where dogs are and are not allowed.)
Popular Articles: