As a Ranger for The Dyrt, I occasionally get the opportunity to test gear in the field. During our 14-day road trip around the US, I was lucky enough to try out the GO camper from SylvanSport.
This was our sixth-night camping in the GO and was one of the warmer nights we've had so far. But, thanks to how well ventilated the camper is, it had no effect on us. We're falling in love with something new about the camper each day!
On our sixth night on the road, we stayed at Mather Campground and I was able to test the Double Hammock from Grand Trunk. From here, we'll head to Antelope State Island Park where I'll continue to camp and test gear for 14 straight days.
Day 6 of 14: Road Trip Around the US
Campground: Mather Campground
The sixth night we stayed in the GO was at Mather Campground in Grand Canyon National Park.
After staying at Desert View, we wanted to give the less remote and much bigger Mather Campground a try. If you prefer to camp in locations where you can't see your nearest neighbor, then this is probably not the campsite for you. With over 300 campsites, things can get a little cramped.
The Verdict: Now, if you don't mind being close to your fellow camping neighbors, then this is an amazing site. With a general store, laundry mat, flush toilets and pay showers, the campground offers all of the modern conveniences. The best part is that there's a shuttle service that takes you around the canyon for free!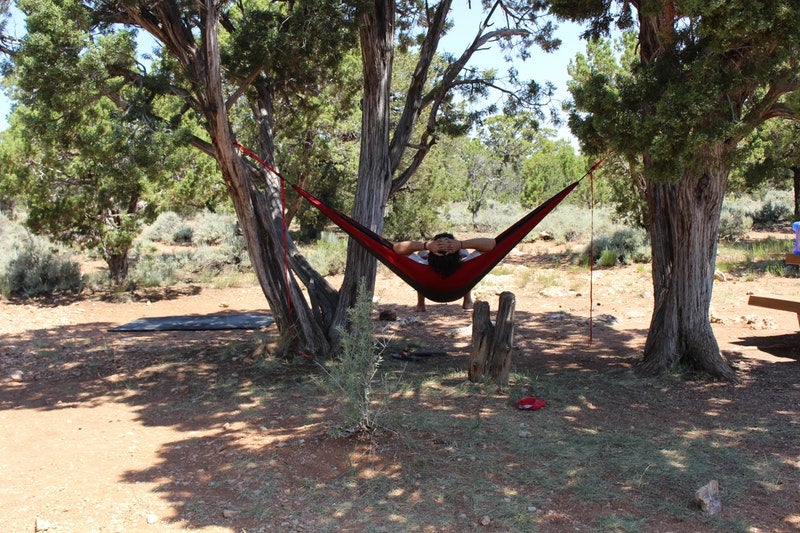 Even though this campground does take reservations, it can fill up fast. So fast in fact, that it's best to book at least six months in advance. You can always try your luck at the first-come, first-served site (Desert View) about 30 miles north of Mather, but that usually fills up at 10 am every morning. Other than being very popular, Mather Campground features plenty of trees to hang a hammock and is a great spot to experience the canyon.
Gear: Double Hammock from Grand Trunk
At this stop, I tried out the Double Hammock from Grand Trunk. After having owned Grand Trunk hammocks before, I was very excited to test the double hammock. Apparently, even if you plan on using the hammock by yourself, the double is the way to go. And, boy were they right.
The Verdict: Whether I'm out in the courtyard during lunch or deep in the backcountry on a camping trip, I love laying out in this double hammock.  My favorite feature is that the hammock comes standard with a set of straps, so you are ready to jump in as soon as you get it. But, I definitely would recommend purchasing a set of Trunk Straps, just to make that hammock-life all the sweeter.
Next Stop: Antelope Island State Park for Day 8 of 14
Mather Campground has been a great spot to camp! And even though exploring the grand canyon has been an unforgettable experience, we're looking forward to moving on. Next up, we're heading to Antelope Island State Park to camp and test some gear. Click here to see what it's like to camp at Antelope Island State Park in Utah!
Read day four here and day eight here.
---
The Dyrt is a FREE app solving the pain of finding campsites online. Like Yelp for camping, you can find the perfect campsite for you with photos and reviews from real campers across the country. And if you write reviews, you can WIN free outdoor gear all summer long.
Popular Articles: