Camping in the fall has its perks for many reasons. The summer crowds have departed, making it easier to score a coveted campsite at the last minute. Temperatures are cooler but still nice enough to sleep outside.
And if you pick the right spot at the perfect time, you'll catch a stunning display of fall foliage right from your campsite.
But how do you get that timing right?
We're here to help.
Here's how to plan a fall camping trip so you can line up peak autumn colors.
---
When to Go
Fall foliage season tends to last from mid-September until mid-November, but it differs slightly every year depending on a variety of factors.
Those factors include things like recent temperatures, precipitation amounts, altitude, and what specific geographic location you're targeting

You can use this handy Fall Foliage Prediction Map—which is put out by SmokyMountains.com but covers the entire U.S.—to estimate roughly when different parts of the country will be at peak foliage.
The Farmers' Almanac also has a list of date ranges for when each state should be at ideal leaf peeping time.
To zone in on the precise date even further, some states operate their own up-to-date regional foliage reports, with current conditions, predictions, and other helpful resources.
---
What to Know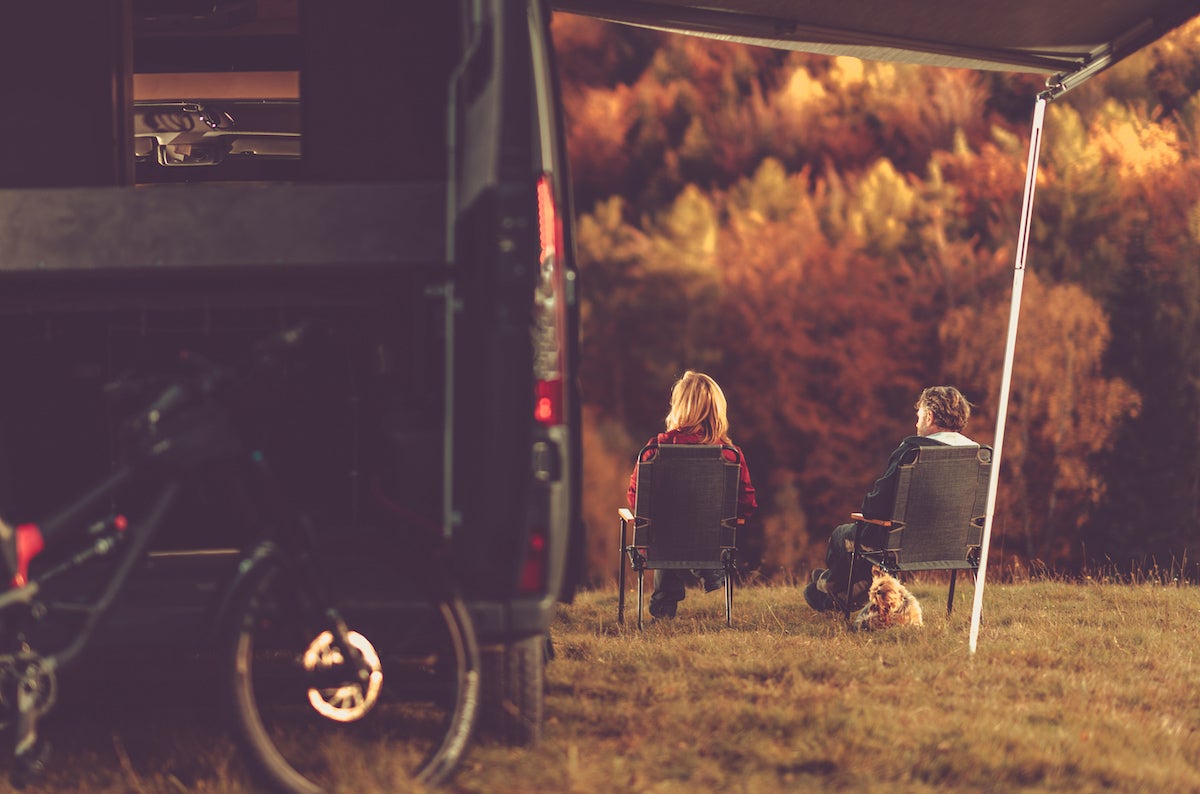 Obviously, temperatures are a little chillier in the fall, so if you're camping in September or October, plan accordingly.
Bring warmer layers (consider a warm hat and puffy jacket essential items), stock your campsite with extra firewood (if campfires are permitted) or bring a propane fire pit, and throw in your toastiest sleeping bag.
The days are also shorter, so plan on having darker mornings and evenings than your mid-summer camping trip. That may mean you use your headlamp, string lights, and lanterns more than usual.
And remember, some campgrounds close after Labor Day or are open just for limited weekend dates in the fall. So, make sure you triple-check availability and operating dates before you go!
---
Where to Go
You can use The Dyrt's interactive map to find camping near you or to discover a new campsite in an area that you've always wanted to visit.
Try using the different filters to search for specific things you need: pet-friendly campsites, features like showers or WiFi, free and dispersed camping, or those best suited for RVs or glamping.
We've rounded up a few of our favorite campsites across the country for spotting changing colors at this time of year.
---
Best Campgrounds in New England for Fall Foliage
Vermont and New Hampshire are known worldwide for their incredible fall foliage season.
Be sure to use the Vermont Fall Foliage Report or the New Hampshire Foliage Tracker for the most up-to-date information on current conditions.
In Vermont, the 19-site Moosalamoo Campground at the base of Mt. Moosalamoo and near the town of Brandon, has access to 70 miles of hiking trails, a biking pump track on site, and campsites are surrounded by sugar maples, American beech, and birch trees that turn gold and crimson.
Grout Pond Recreation Area, in Stratton, Vermont, is popular for hiking and fishing and has 12 lakeside campsites set in a conifer and hardwood forest.
Camp at Singing Wood Farm, in Morristown, Vermont, and you're near Mount Mansfield State Forest, the 300-mile-long Catamount Trail, and you have access to a farm stand selling local supplies like apples and maple syrup. The farm offers primitive tent camping sites or boondocking spots for your van or RV.
Also in Vermont, Gifford Woods State Park, near Killington, has four cabins, 21 RV and tent sites, and 19 lean-to sites, all set amidst old-growth hardwood stands of hemlock and sugar maples. 
Elsewhere in New England, check out the fall foliage at Mount Desert Campground on Maine's Mount Desert Island, near Acadia National Park. This private campground allows dogs just during the quieter fall season.
You can't beat the fall colors right from your campsite at Spacious Skies Balsam Woods, near Abbot, Maine, which has a camp store, cabins, and a playground.
In New Hampshire, Gunstock Mountain Resort, a ski area near the town of Gilford and minutes from the shores of Lake Winnipesaukee, offers camping year-round at 250 sites but come during the fall for the best leaf colors around.
---
Best Fall Foliage Camping Elsewhere in the Country
Just because New England is famous for its fall colors doesn't mean you can't catch changing colors elsewhere.
In Colorado, soak in the sights of the Maroon Bells at the Silver Bells Campground, outside of Aspen, for stunning high-elevation vistas while camping within a picturesque aspen grove.
In Tennessee, Abrams Creek Campground, a more secluded, remote campsite within Smoky Mountains National Park, has creekfront campsites with panoramas of the changing forest.
And in California, don't miss the incredible views of the peaks of the eastern Sierra from Silver Lake Campground, on the June Lake Loop outside the town of Mammoth Lakes, which is dotted by aspen groves.
---
Popular Articles: