Have you ever wanted to escape the demands of modern life and spend weeks – or months – in the woods? Two long-distance hikers are sharing their journey on the AT and the PCT, and showing how you can do it, too.
Join us for first-hand accounts as they tackle the country's most iconic long-distance trails; the Pacific Crest Trail (PCT) and the Appalachian Trail. Jenny R. and Shelly B. are both hiking enthusiasts with busy lives that make it difficult to take a whole summer off. So they're covering sections of the trail instead of going end to end, proving that you don't have to take off for months to experience the thrill of thru hiking! Jenny and Shelly are each testing out a Gregory backpacking backpack to see how it holds up for long-distance hikers.
---
Jenny, Jeremy, and Delilah have been on the road for 15 days now. Let's dive back into Jenny's journal entries for the final leg of their epic hike across Oregon on the PCT.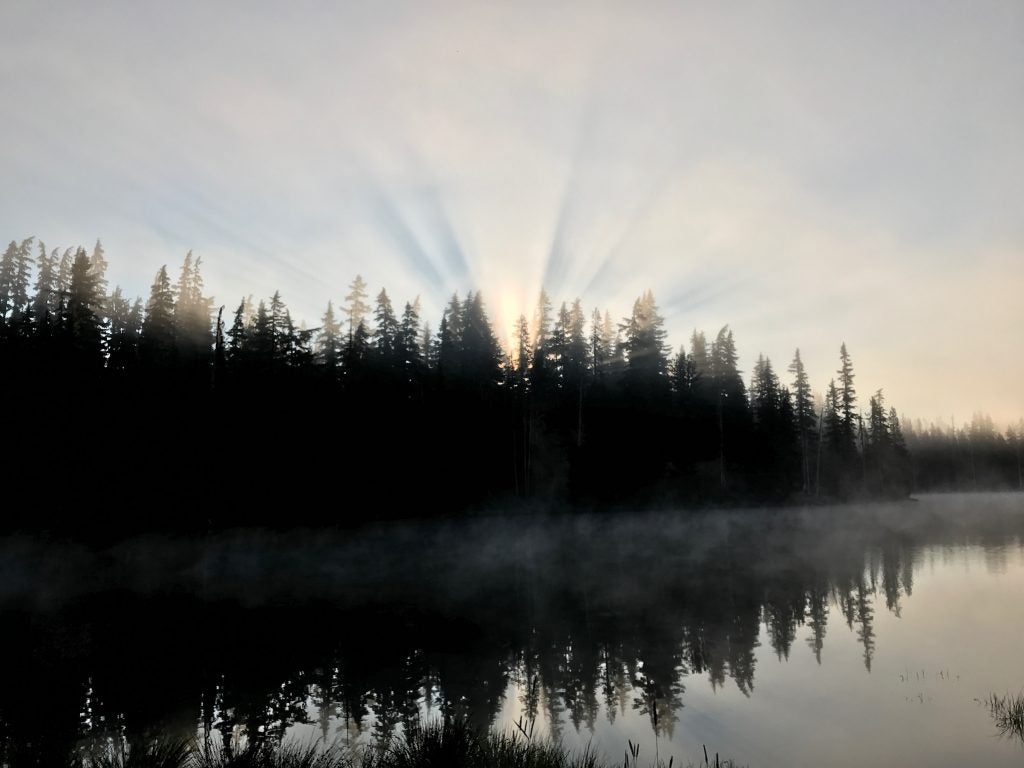 Slept in until 7 today! We decided to go back and hit Diamond Peak (which the Oregon Skyline trail avoids) so we won't be so far ahead. I'm so glad we went back! The views were great, but the climbs were never-ending. We met some PCT day hikers and had to put on our spikes for some traverses, with only had a few footprints to follow. The bugs were bad all day, especially as you got lower.
Camping tonight by a beautiful lake and we found a new paddle board spot. Jeremy hiked more with me today then ahead which was really nice. I think he is starting to get the relaxing nature of this trip…maybe. I think he will get foot rubs tonight.
Today was overall a good day. Waking up at the lake was peaceful despite lots of dew and bugs. We got going by 7 for a big climb, then a traverse across Diamond Peak. There was lots of snow which made for some slow going.
Delilah was loving the snow. So much fun! We ran low on water and had to filter some interesting pond water as Jeremy hit a wall.
We made it to Shelter Cove in good time and met Kimmy and Lincoln. Lots of food which makes our packs heavy—we almost didn't need to stop. Showers and laundry were amazing and much-needed. It was good to let Kimmy know things were going well. She has been a great trail angel!
Day 17: Cruising along to Bobby Lake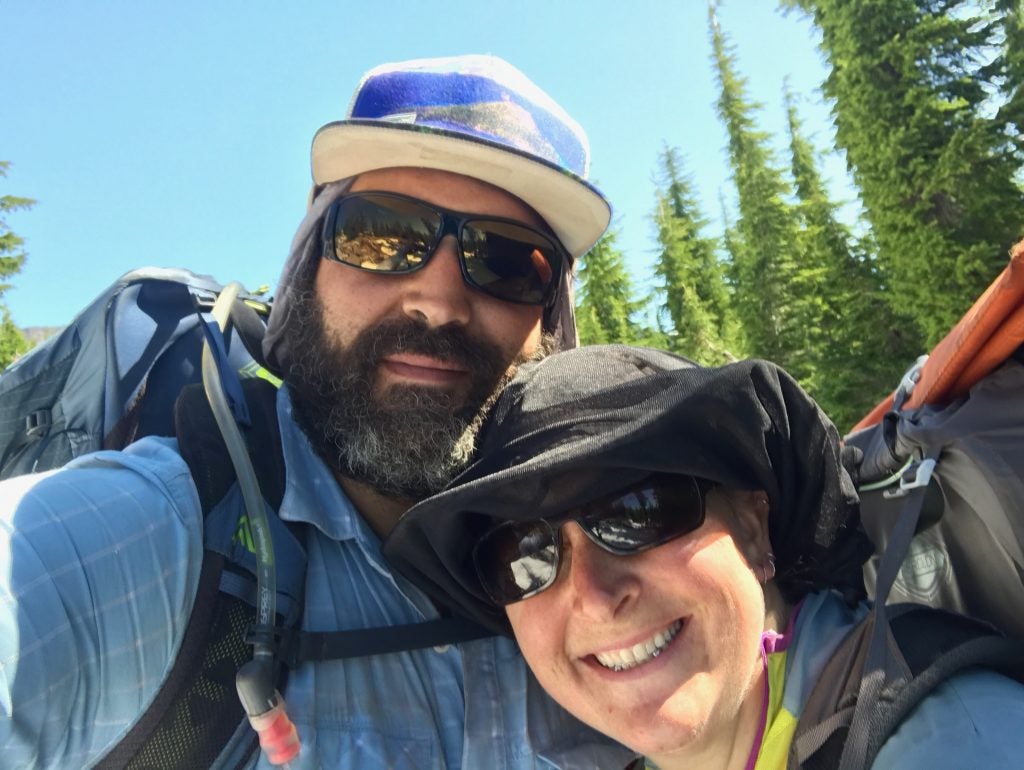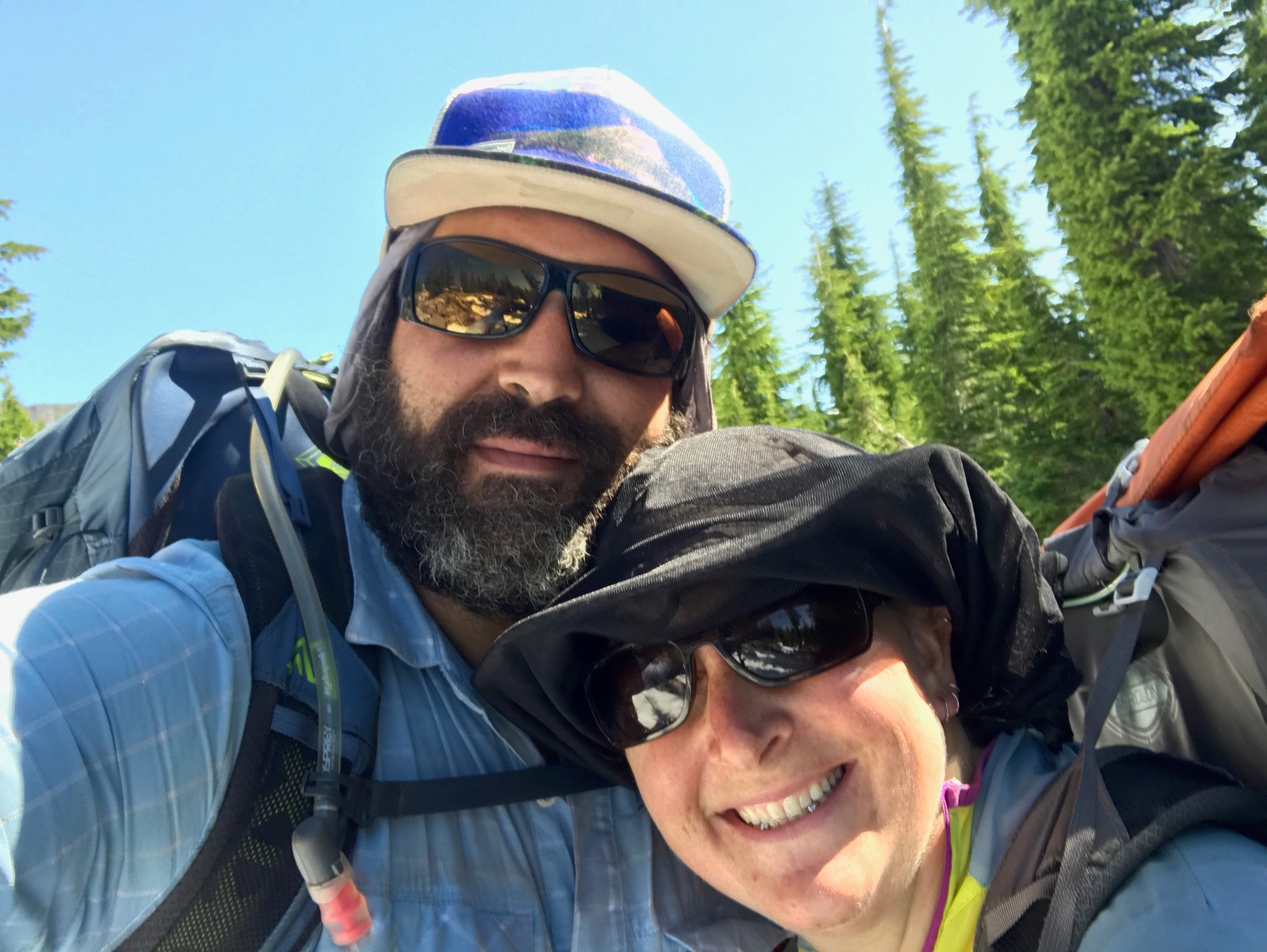 It was a great, relaxing day. Slept in and had a yummy breakfast with Kimmy, then got our stuff all packed up and ready to go.
We only have 3-4 days until our next Trail Supply Co. box so our packs seem really light. New sleeping bags and down blankets won't be here until Elk Lake which is kind of a pain in the ass since we explicitly told them to UPS it and they sent it USPS. Kimmy will do another drive out with supply boxes and meet us in Elk Lake so she can take away the old ones. She is so great to do this for us.
Today's PCT hike was pretty easy—very maintained trails with lots of day hikers. Met up with Greenhorns at Shelter Cove! Glad to see they are still at it—changed their plans to only do 5 miles a day which is way more their speed and skipping lots of sections. To each their own! Passed Rosary Lakes—so beautiful and a great place to paddle. Did anther big climb and camped at Bobby Lake—I hope the bugs don't get too bad. Crazy, we are already close to Eugene!
Today was a grind. We had to make it to Elk Lake which was a long haul. Good thing the terrain was pretty easy. However, the mosquitos made it really annoying and frustrating. Remember, walk fast enough and they won't get you!
We bought dinner at Elk Lake Resort, enjoyed showers, opened our Trail Supply Co. box and got our new sleeping bags and blankets so we are stoked. We decided to eliminate the Olallie Lake stop since they aren't accepting packages anymore, so we are prepping for a 10 day haul up to Timberline, instead. These will be some heavy packs.
Pup is still a little gimpy on her front paws so we are putting those booties on for a bit each day.
Day 21: Big climbs and heavy packs in the PCT backcountry
We hit every type of mountain terrain you can imagine today; big climbs w/expansive views, valleys, meadows with lots of wildflowers and a stream, and mountain bases. It was quite beautiful. Felt great to be hiking again. I guess I needed the rest day more then I thought. Only bad part was the sunburn. It kept me nice and toasty.
Packs are heavy from our resupply boxes but the food sure is tasty!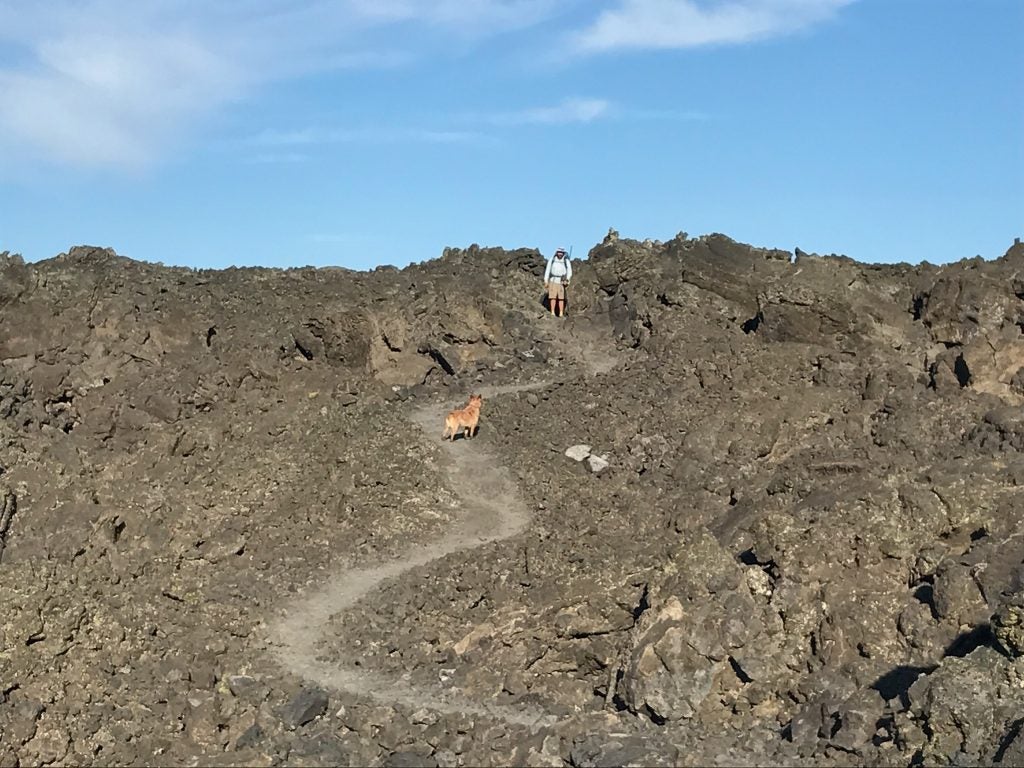 Wow! Today was epic on the PCT. We got to see a variety of volcanic history of Oregon. Started with a climb to obsidian restricted area and hit a beautiful waterfall. Then we saw huge boulders of obsidian, which was amazing—I had never seen them so big. Next we hit a pretty mountain valley with lots of wildflowers, followed by black lava fields.
There was a gnarly uphill climb that felt like the road to Mount Doom in Mordor! It was caused by the Collier Glacier which we went to see for a short slack pack hike. The rest of the day was a mix of forest outcroppings and lava fields.
Puppy paws sure needed the booties today. We didn't make our mileage goal, but we still felt accomplished.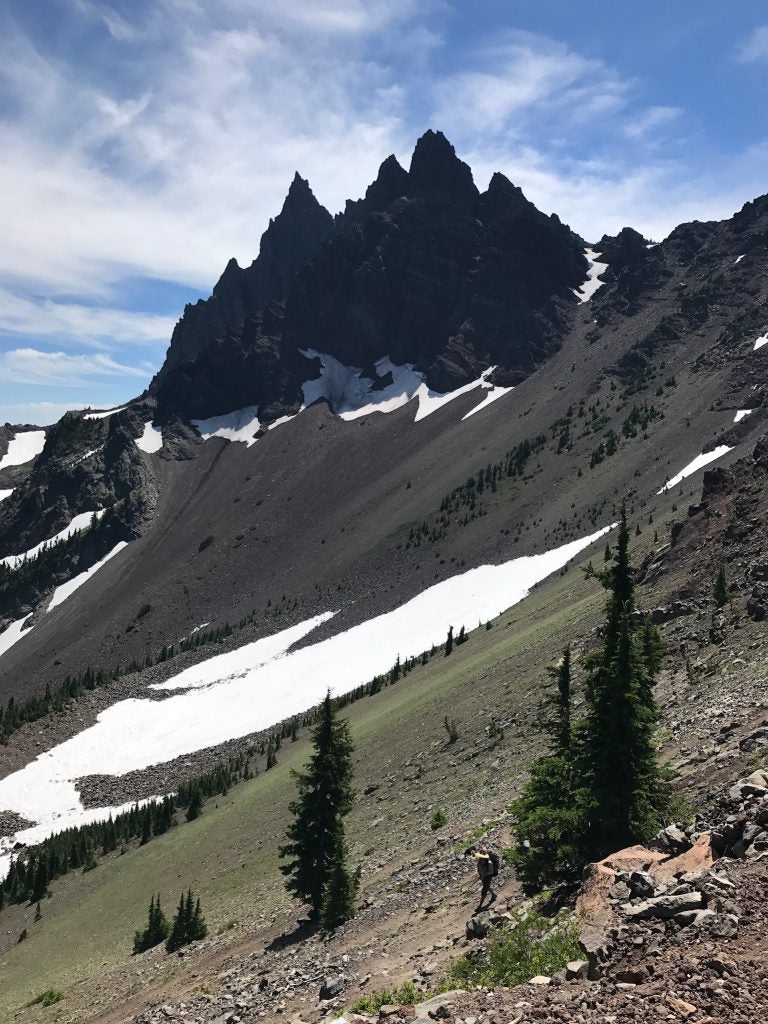 Today was beautiful but grueling—long exposed climbs that weren't too steep but so long. It is really cool to get some perspective when hiking. We started in front of Three Fingered Jack, went up and around it and saw the path to the summit, then continued on. Now I can look back and it looks so small.
I also never realized how much of the state has burned or how much of the trail goes through fire areas. Regrowth is looking great and the flowers smell amazing, but we walked through a lot of exposed area. Hiked with our trail friends Vegy and Trail Mix—I like that we have new friends to walk with. We have people that match each other's pace.
The puppy is super wiped. We are also going to try to hit Timberline by Sunday — apparently they have an amazing Sunday brunch. 20 mile days here we come!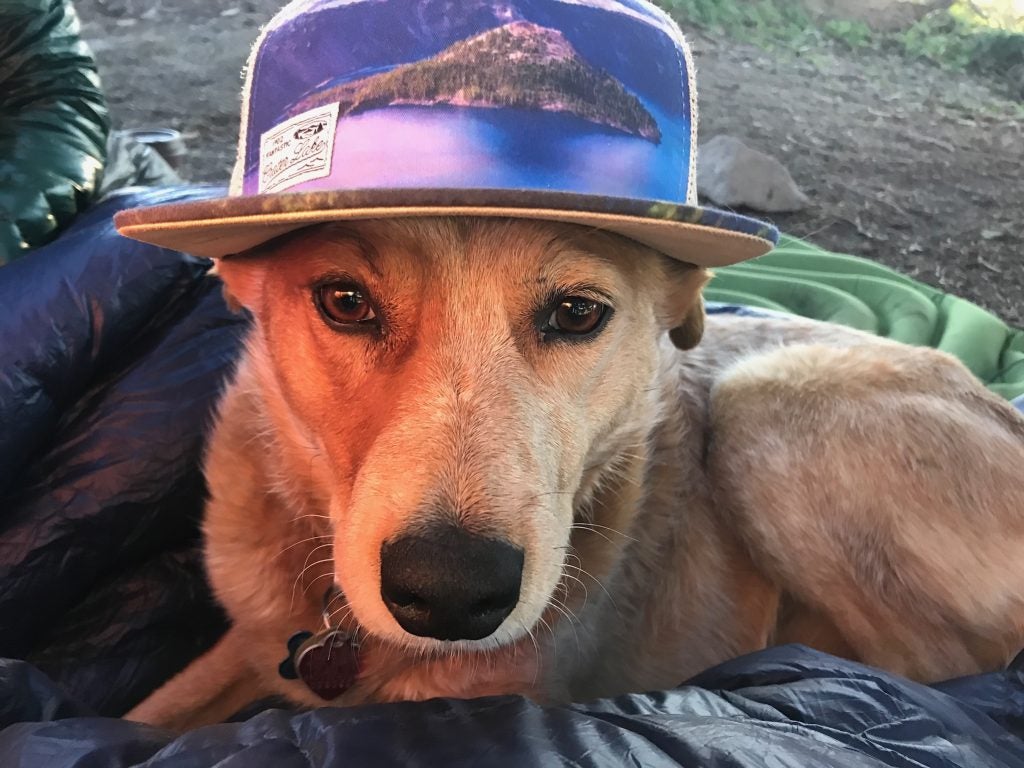 Today's hiking was the ultimate green tunnel. Easy and mostly flat terrain, but all through forests. This kept the temperature down which was easy on the body.
Delilah had booties on all day but still has a big sore on her front left foot.
We made it past Timothy Lake—very big and pretty. We'll definitely need to come back to camp. Stopped by Little Crater Lake. Really neat but a bit underwhelming. Crazy to see the whole trees down in the water.
Got some Pacific Crest Trail magic today! Three ladies gave four of us (Festivus would meet up with us later) each a beer. So we toasted to their friends who are hiking part of the trail as well and sent good vibes that they would get a beer as well. Pulled another 20+ day. We are tired but excited to make Timberline by Sunday. Lots of great water along the trail.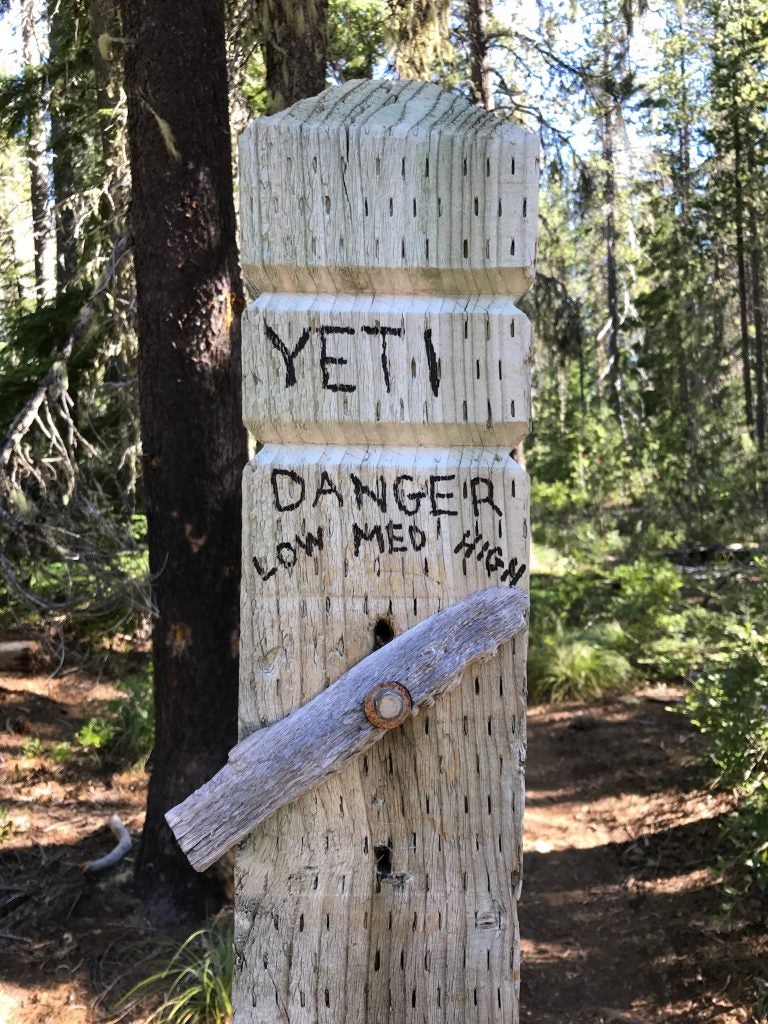 Today was a really good day. We made it to Timberline and in good time, too. The only sucky part was the last mile or so—uphill, exposed, and in the sandy volcanic dirt. It just took forever.
Mt. Hood is an interesting mountain to walk by and it was way different than the other mountains on the PCT. Jefferson had lots of burn zones so we could usually see the mountain all the time. Hood, however, was always blocked by trees. Then it would be like, "Oh, hello Hood!" when the trees opened up.
When we got our boxes (yay for resupply!) and got some beers and had a merry old time. We even got some awesome showers due to some top secret trail magic intel. So far, Timberline is treating us very well.
Day 30: Ramona Falls and Rogue One in the Backcountry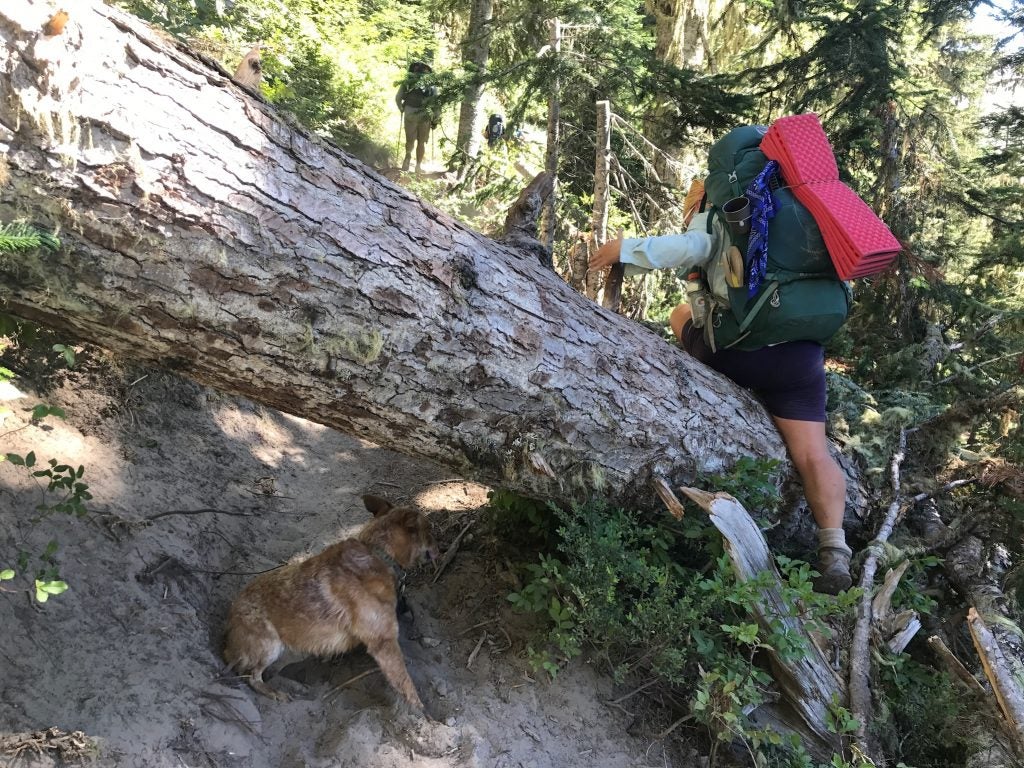 Made a detour to Ramona Falls today—very pretty—and had lunch. Festivus left our little group today to haul through Washington as he has some time constraints. It was sad to see him go.
Delilah stopped with the booties and seems to be doing really well after one fell off from water and sand. Crossed the sandy river and had lots of deadfall to climb over. We traded the mosquitos for biting black flies. No fun. When we got to camp we all sat around Jeremy's phone and watched part of Rogue One after dinner.
Day 32: A rough morning leads to a finish line!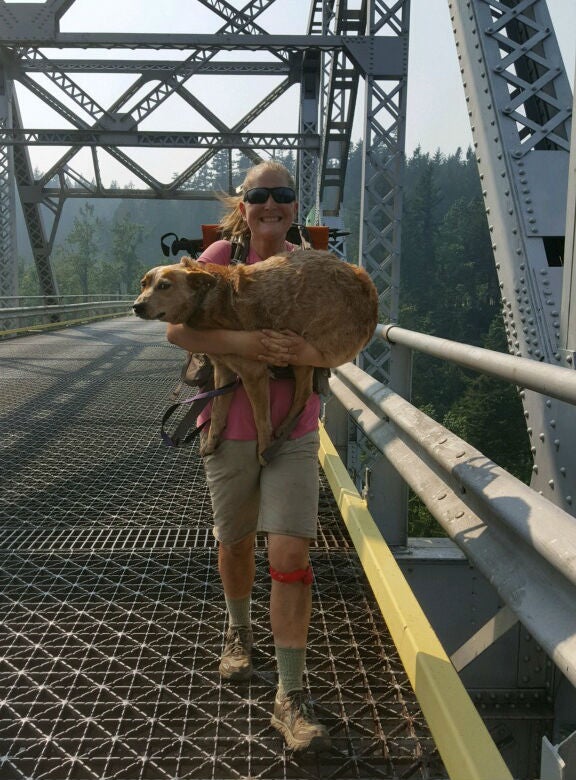 This morning was rough. I just couldn't get in the groove and it made me cranky and irritable. Walking solo-ish with unhappy thoughts is not a good way to start your day, as all irritating thoughts tend to come to the surface and stew. Not a good combo.
But self-awareness makes it better as you can control what and how you say things. I cooled off a little and finally got into the rhythm of hiking the PCT.
The terrain was almost all downhill which hurts my knees and makes me go slow. We made it down and I finally tied a bandana around my knee to help add pressure and stabilize the kneecap. Not sure if it really worked but it made me feel like I could go a little quicker.
We saw a cool waterfall at one of our water stops. Cascade Locks is super hiker friendly! We had lunch at the Ale House. Then we all walked across the Bridge of the Gods to complete our journey. I had to carry DQ as she couldn't walk on the grates. She was great and not too wiggly but she did get heavy.
We all had to make it to Washington. Finally, we made it back across and got all set up at camp near the marina. It was great to see old friends we hadn't seen in a while and to meet some new ones either just starting or going south.
It was a great trip and experience, and I am sure I will do some more reflection. Mom and Dad will pick us all up tomorrow morning to take us to Eugene. It will definitely be bittersweet.
---
A big thank you to Gregory Packs, Trail Supply Co., and Ledlenser for partnering with The Dyrt in presenting their stories.
And that's a wrap on Jenny, Jeremy, and Delilah's PCT adventure! You can revisit Part I and Part II for even more inspiration on planning your own Pacific Crest Trail section or thru-hike.
---
Related Campgrounds:
Popular Articles: