The diverse lands of Colorado are about to get a bit more extreme as attendees of Outdoor Adventure Quest reach each corner of the Centennial State on June 22-24.
As you find yourself preparing for the big weekend, you will soon realize it isn't so easy finding the right place to rest your head – and your body – at night. Whether you plan to rough it all weekend or are looking for luxurious spots to "glamp" in, we want to make it easier for you to get there. That's why we partnered with Outdoor Adventure Quest to create camping resources that simplify the research process, so you can focus on your adventure-filled weekend! 
So put down the outdated guidebooks and let us help you find the best campgrounds across Colorado for June's Outdoor Adventure Quest. Stay tuned for tips on how to earn extra points on your Quest, and save your team some money for being campers on The Dyrt!
What is Outdoor Adventure Quest?
Outdoor Adventure Quest is a build-your-own-adventure challenge that you can share with a team of your favorite people. Explore Colorado all weekend long, exactly the way you've always wanted to!
Why Quest?
Discover new parts of Colorado you haven't explored before
Check off bucket list items you've always wanted to see or do
Create some epic road trip memories with your crew
Try new sports, new trails, new climbs, new beers and new places
Start from any location in the state and choose activities that you're expert in – that's right, you earn points for the easy stuff too! This new event format is comprised of over 500 outdoor challenges in 12 sport categories. Show off your chops by mountain biking, hiking, camping, climbing, rafting, kayaking and more!
They've even got your low key afternoons covered with challenges for slack-lining, archery and fishing! The best part? Outdoor Adventure Quest also has a Drinkables category with breweries, wineries and distilleries to stop at along your way! You can be sure that your team will have a blast.
Our friends at Outdoor Adventure Quest have even added a special treat for Colorado campers taking part in the challenge: if you review a campground on The Dyrt, you'll earn 5 points toward your OAC Team's total! Not only do you get points with The Dyrt and Outdoor Adventure Quest by reviewing Colorado campgrounds this summer, you can also save a pretty penny thanks to the OAC team.
Save 25% when you register a team of 2-6 people for the Colorado Quest by using the code TheDyrt!
Where to Camp at Outdoor Adventure Quest in Colorado
Heading into a Quest means you've probably been focused on a ton of pre-planning, and we can only imagine the questions still floating around in your head. Did you pack the right hiking socks? How waterproof is that old backpack anymore? Is your camera all charged up for the photography challenges (and your Instagram, duh)?
As you find the solution to those concerns, let us put one more thing at ease: where you're going to camp! With more than 25,000 campgrounds and growing, we are confident that our users' authentic campground reviews will be your most valuable resource.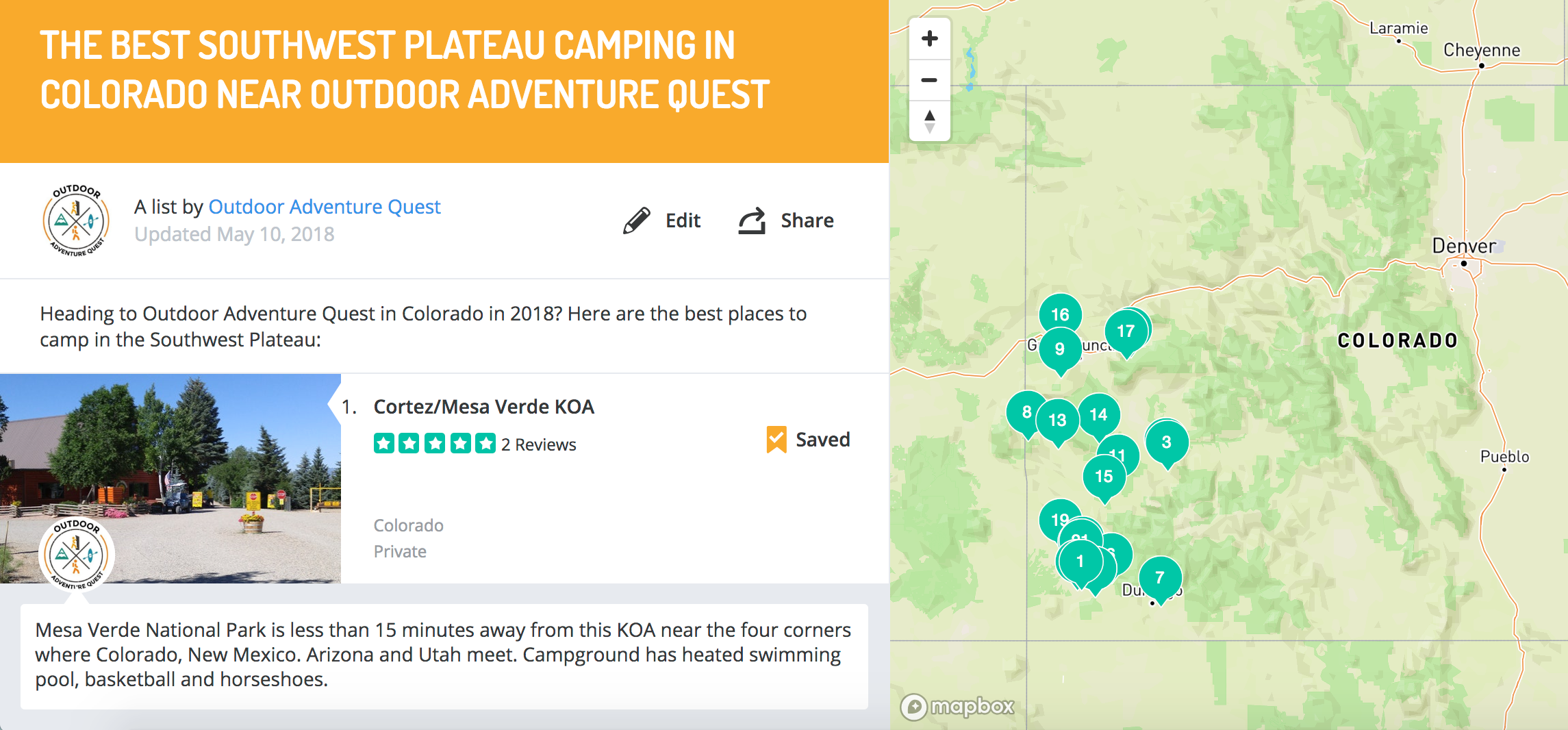 We've put together five camping lists for Colorado's 5 distinct regions to help you find the best camping at every corner:
Northwest Basin – Great for river adventures, stargazers, and anglers.
Southwest Plateau – Great for cyclists, kayakers, and bird-watchers.
Central Rockies – Great for hikers, climbers, and slackliners.
Northeast Plains – Great for equestrians, archery fans, and cyclists.
Southeast Plains – Great for hikers, bikers, and history buffs.
Review Campgrounds, Win Prizes
Not only will your first campground review earn points during your Quest, but you'll also start racking up points on The Dyrt! Every photo, review, and share you contribute brings you that much closer to winning amazing gear from top outdoor brands – what more could you ask for? Add your photos and campground reviews on The Dyrt (website, iOS, or Android), then get points for your contributions, and win prizes!
And as always, remember to practice the 7 Leave No Trace principles when you camp at Outdoor Adventure Quest in Colorado this Summer!
Popular Articles: