This article about Montana glamping destinations is brought to you by Midland — their Walkie Talkies for the Mountains are perfect for any of these areas
---
Montana's endless skies, towering peaks, ancient glaciers, and fabled wildlife have won the state a place in the hearts of outdoor lovers across the nation. There are so many stunning places and sights to see in Montana, you'll want to make sure you visit as many as you can. And this time around we're not limiting ourselves to just the typical camping options. We're also focusing on the more luxurious camping options out there—aka 'glamping'. So, here are some of The Dyrt's favorite glamping destinations in Montana.
Camping & Glamping in Montana: What You Need to Know
For some, glamping means a yurt with a four-poster bed, a Wi-Fi connection, and phone service. For seasoned backpackers, camping near running water and a toilet qualifies as unexpected luxury.
Backpackers crossing National Parks on endless trails and comfort-loving road trip enthusiasts can use this guide to plan their stays and find the adventure they are seeking. Whether your definition of glamping in Montana is a gorgeous cabin, a yurt, or just a spot with access to running water, The Dyrt has you covered.
Montana is a state just as famous for its unpredictable weather as it is for its tremendous beauty. If you're hoping to do some Montana camping, always remember to practice basic weather and wildlife safety—even while glamping.
Flathead National Forest
Flathead National Forest is a 2.4 million-acre expanse in the Rocky Mountains of Northwest Montana, just south of the Canadian border. This rugged wilderness landscape holds countless lakes, enormous ski areas, untamed rivers, stunning campgrounds, and over 2,000 miles of trails. It's a prime destination for glampers and campers alike.
There are numerous options for camping near Flathead National Forest. With prices ranging in $20-$40 per night, Swan Lake Trading Post & Campground offers some of the best glamping in Montana. Yurts, cabins, tent sites, walk-in sites, and RV sites are all available and reservable in advance. Located near the town of Kalispell, visitors can enjoy the site's mountain charm and the proximity to both Flathead National Forest and Glacier National Park.
Swan Lake Trading Post & Campground also offers glampers plenty of luxurious amenities. Wi-Fi, a campground market, on-site firewood, electric hookups, water hookups, trash service, drinking water, hot showers, and toilets bring the comforts of home to you. Alcohol, pets, and campfires are all permitted. With a small lake, a creek, and family games available at the campground, glampers can strike the perfect balance of wilderness and entertainment.
Glacier National Park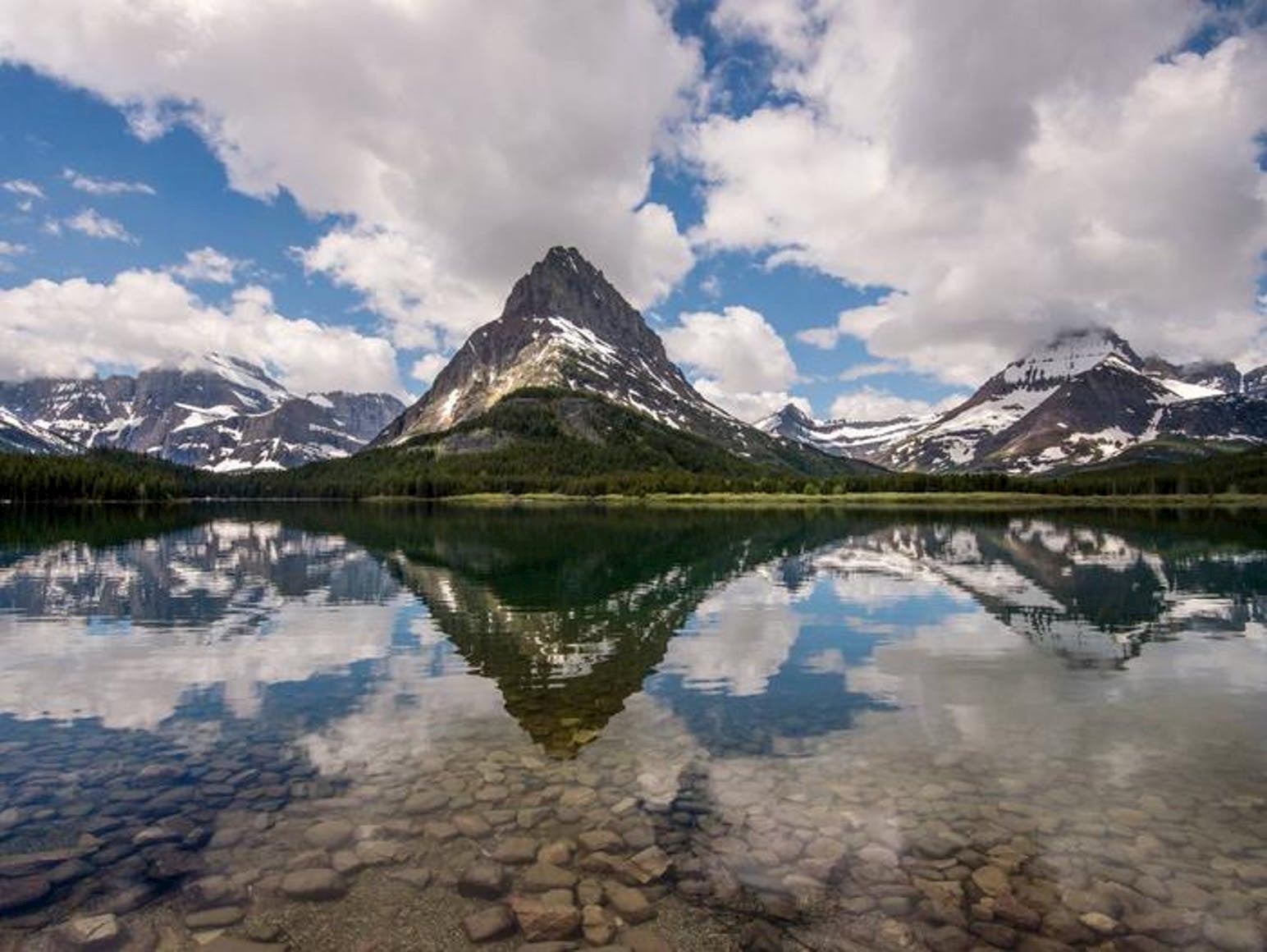 Glacier National Park's spectacular views and vast wilderness landscape are a hiker's paradise. Solace and solitude await those eager to explore mountain lakes, alpine meadows, and unspoiled forests. Deemed the crown of the continent by many, Glacier does not disappoint.
The camping near Glacier National Park will not disappoint, either. Excellent campgrounds fill the area, but one of the best spots is Many Glacier Campground. Located at an elevation of approximately 4,500 feet, on the eastern side of Glacier National Park, Many Glacier Campground offers 41 reservable sites and 62 first-come, first-served sites. Pets, campfires, and alcohol are all permitted.
These factors, plus the site's access to many hiking and backpacking trails, make Many Glacier Campground ideal for both pre-planned road trips and adventurous, last-minute detours. Cabins, tent cabins, ADA-accessible sites, RV sites, group sites, traditional tent sites, and walk-in sites are all available.
Bear safety is essential, as grizzly bears and black bears are in the area. Picnic tables, a campground market, firewood for sale, electric hookups, water hookups, trash service, drinking water, showers, and toilets allow you to camp and glamp in comfort.
Bozeman
Located in Southern Montana in the Rocky Mountains, Bozeman is located near countless stunning outdoor destinations. Rock and ice climbing opportunities abound, with everything from bouldering to trad climbing. Nearby Big Sky Resort offers world-class skiing and snowboarding. Plus, Gallatin National Forest's trail system accommodates hikers, mountain bikers, runners, four-wheelers, and your four-legged friends.
The city is a university town with plenty of restaurants, bars, cafes, shops, outdoor gear retailers, and bookstores. There are numerous opportunities to satisfy Bozeman visitors of all kinds—sophisticated, artistic, adventurous, and those who are just eager to end the day with a relaxing cocktail.
Are you planning on camping near Bozeman? Lewis and Clark Caverns State Park offers some of the best and most otherworldly glamping in Montana. The state park plays host to one of the most decorated caves in the northwest. Yawning caverns, towering stalagmites, and eerie stalactites make for surreal subterranean landscapes. Aside from caving, the park also offers hiking trails, fishing, hunting, and canoeing.
Lewis and Clark Caverns State Park campground has a playground for the kids, ADA-accessible sites, cabin sites, tepee sites, tent sites, and RV sites. Alcohol, pets, and campfires are all permitted.
Picnic tables, a campground market, and on-site firewood sales make it a perfect spot to set up an evening campfire. The campground also has sewer, water, and electric hookups, trash service, drinking water, toilets, and showers to help keep everyone comfortable.
With epic expanses and plenty of national forest land, national parks, and state parks to explore, glamping spots in Montana are remarkably easy to find. And most importantly, they're also located in the most stunning, adventure-filled destinations across Montana.
Popular Articles:
---

---