This article is brought to you by our friends at Gregory Packs, who have been making trusted backpacking backpacks since 1977. Today, they make packs for the whole family — for any sized adventure — including their Wander line for kids. 
---
Is there anything more wonderful than introducing your kids to hiking and camping? Watching their imaginations wander in the forest, roasting marshmallows for the first time, catching lightning bugs in the summer months, hooking, their first fish…the list of memories could go on and on, and we hope they do.
The trick to encouraging your kids to love the outdoors as much as you do is to start them easy – get on their level and let them discover the natural world at their own pace.
In the Pacific Northwest, you have plenty of options…
Check Out These Pacific Northwest Campgrounds for Kid-Friendly Camping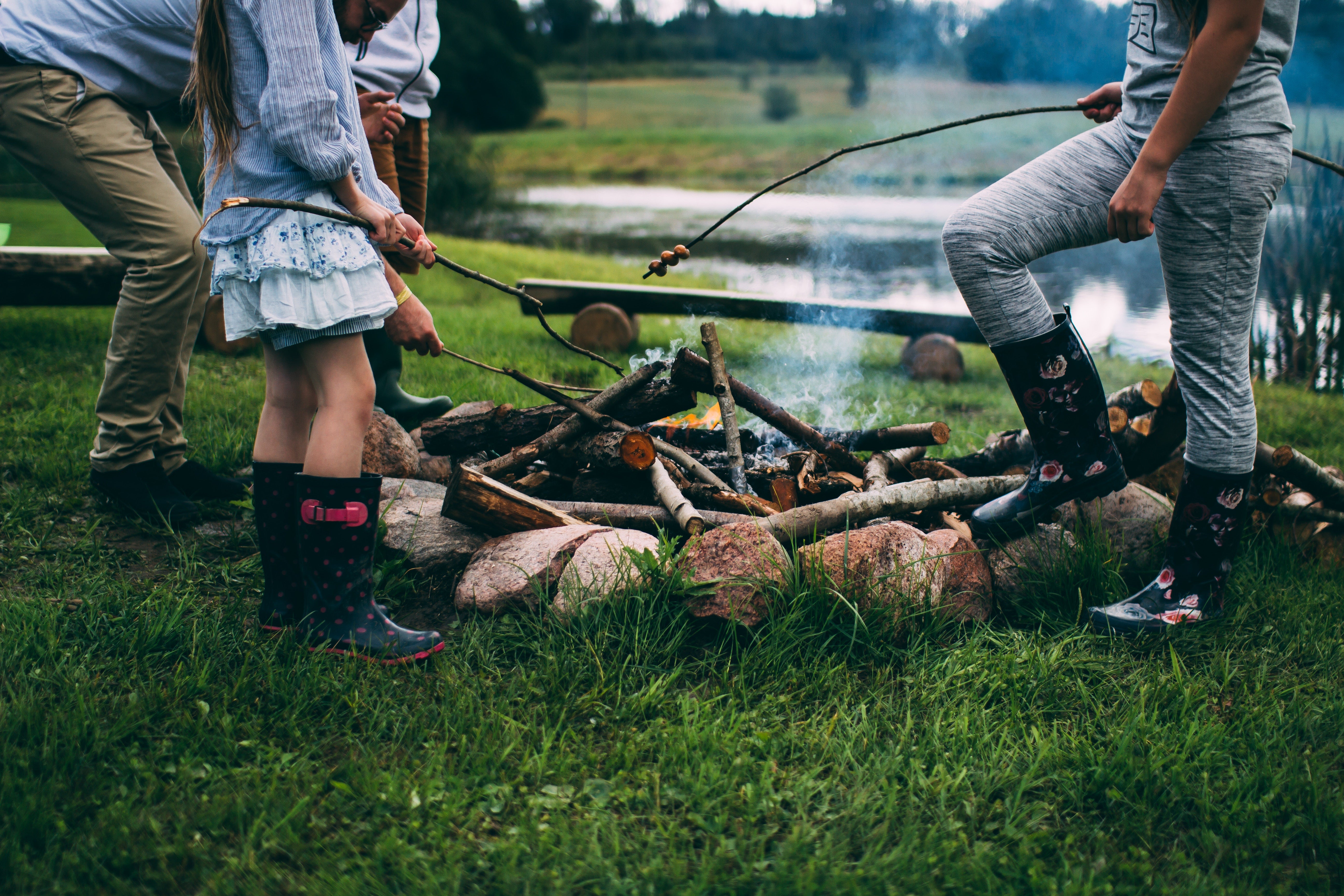 If you live in the Pacific Northwest, then your kid is going to grow up with some incredible opportunities for outdoor adventure. From the snow-capped Cascades to the fossil-filled hills of Eastern Oregon, the options are endless for exposing them to nature. If you're visiting, now is the time for them to experience a lush region of the country, where you can revel in rain forests and tell stories of Big Foot (if they're brave).
There are plenty of Pacific Northwest campgrounds, so keep it simple and aim for ones that are convenient for you and your family – especially if your kids are camping for the first time. You don't want them to run out of interest before you reach your site. As they get older and exhibit more enthusiasm, you can ease into overnighters and more serious backpacking trips.
Gregory makes backpacks for kids over 10 – their Wander line will give kids the chance to pull their own weight on the trail as they tackle more miles. Tell them tales of your own big hikes, and watch them aspire to do the same.
For kids of all ages, hanging out at the campfire is a surefire way to make lasting memories, even if you don't venture beyond your site.
Salt Creek Recreation Area, Washington
If you want to spend more time relaxing outdoors than actively hiking, Salt Creek Recreation Area is a great option. There's plenty to see and do, but none of it requires much exertion to enjoy.
Dyrt Ranger Kim B. notes, "There's so much for all ages right at the park, kids loved the tide pools and the different kinds of beaches to explore, plus the historic WWII sites, good views." You also don't have to worry about getting grubby or running out of something crucial like snacks. Dyrt Ranger Harry H. says, "They also have some sports fields, showers, camp store, and a few other modern amenities that compliment the natural beauty. Exceptional camping here." Camp Here
Chehalis RV and Camping Resort, Washington
Chehalis RV and Camping Resort offers a great introduction to camping with plenty to keep the kids entertained if they aren't yet amused by the majesty and peacefulness of nature. You'll have wonderful views of Mount Rainier and Puget Sound, and can stroll along the Mt. St. Helens Trails that surrounds the resort.
Rainbow Falls State Park is nearby, too, if you want to explore more of the surrounding area. Afterwards, however, you can avail yourself of all the kid-friendly activities at Chehalis. Dyrt Ranger Corinna B. says there is a "swimming pool, mini golf course, and trails to explore." Camp Here
Larrabee State Park, Washington
Larrabee State Park is a kid-friendly campground that has plenty to keep kids of all ages happy. In addition to a playground for the little ones, there are a variety of trails to match your children's' stamina. Older kids and teens will enjoy the mountain bike trails.
Dyrt Ranger Jessica C. writes, "We see starfish on the rocks some times. This is an amazing spot for sunsets! The campsite is nice and the spots are fairly private." But she adds, "Beware there is a train that rolls right next to the campground all night long!" If your kids are hard sleepers or well-worn out from a day of play, it's hard to beat this scenic park. Camp Here
Farragut State Park, Idaho
https://www.instagram.com/p/BgArCOLhGrh/?utm_source=ig_embed
You might not expect a World War II naval training station to be packed with kid-friendly activities. But this military training ground in Idaho was decommissioned in 1946, and 4,000 acres officially became Farragut State Park in 1965, transforming over the years into an outdoor destination for many families.
The park is located on the southern tip of Lake Pend Oreille which is the fifth deepest lake in the US and deeper than Loch Ness. This massive lake has 111 miles of shoreline and is home to the Navy's Acoustic Research Detachment.
The large park offers 3 classic Pacific Northwest campgrounds, over 40 miles of hiking and biking trails, and over 20 miles of horseback riding trails – there are even horses to rent for a trail ride. Visitors can revel in the natural beauty of the lake, thick evergreen forests, and surrounding steep rugged mountain ranges that seem to rise straight up out of the lake. The park also features three 18 hole courses and beginner 9 hole course. The visitor's center not only has snacks, trail maps, and a gift shop but also offers Junior Ranger activities and interpretive educational programs during the summer.
At the north end of the park, explore the new Tree to Tree aerial adventure course. Opening May 2018, this adventure park includes zip lines, Tarzan swings, and obstacles to entertain the entire family. If you have time, swing by Silverwood Theme Park and Boulder Beach Water Park – the northwest's largest theme park. Camp Here
Tugman State Park, Oregon
Tugman State Park Campground takes care of the hassle of packing and setting up a tent with their on-site yurts. These circular tents feel more like cabins and make camping with kids extra easy. You can watch the kids play below from the yurt deck, giving them some freedom outdoors.
Another advantage of the yurts is that you really can bring the whole family. As Dyrt Ranger Melissa N. put it, "The dog we were watching loved it and I think the yurt was best for him since he'd have been scared of the tent. Only a couple of the yurts are designated pet-friendly. A short walk leads to a kids play area and the beach isn't too far away."
Just remember to book in advance–the yurts go fast, especially the pet-friendly ones. For a relaxed day at the beach, check out the kayak and paddle board rentals at Eel Lake. For the thrill-seekers, head to nearby Winchester Bay and rent ATVs to explore the sand dunes. Camp Here
Horning's Hideout, Oregon
https://www.instagram.com/p/BiLfmfdnZNp/?utm_source=ig_embed
If you want to treat your kids to their first fishing trip, then Horning's Hideout is your campground.
The Dyrt Ranger Corinna B. writes, "The kiddos are pretty much guaranteed to catch a fish, which is why we came there, and they offer plenty of help including a 'trout shack'." Along with paddle boats and fishing, there are three 18-hole disc golf courses on the property. As you explore the 160-acre property, keep your eye out for one of the several resident peacocks. And check out the Hideout's new neighbors, Pumpkin Ridge Zip Tours. Camp Here
---
You can win free gear from Gregory and 19 other outdoor brands by reviewing Pacific Northwest campgrounds – and beyond – on The Dyrt. Share past camping experiences, photos, and videos to earn points towards monthly prizes in The 2018 Great Camping Giveaway!
---
Related Campgrounds
Popular Articles: