In the darkness of night in Dismals Canyon, hordes of tiny, bioluminescent creatures light up the moss-covered canyon, and surround visitors with an effervescent glow. Similar to the glowworms found in Australia and New Zealand, these "dismalites" emit a bright, blue-green light to attract their food and mates. And because they require a unique habitat to survive (high humidity and still air), Dismals Canyon is the perfect place for them to thrive—and the only place to see them.
Your Guide to Visiting Dismals Canyon
Located in northwest Alabama, approximately 100 miles from Birmingham, Dismals Canyon is a privately-owned National Natural Landmark. Designated in 1975, it is managed by the National Park Service, and serves as a nature conservancy for 85 acres of sandstone gorges and old-growth forest. Whether you choose to camp in the rustic campground or relax in a cozy cabin, there are plenty of things to do and see in this remote corner of Alabama's Franklin County.
Things to Know About Dismals Canyon
From exploring the lush canyon bottom to learning the area's colorful history to seeing an eerie natural phenomenon by lantern light, here are five tips to help you plan your Dismals Canyon vacation.
1. Experience Primeval Nature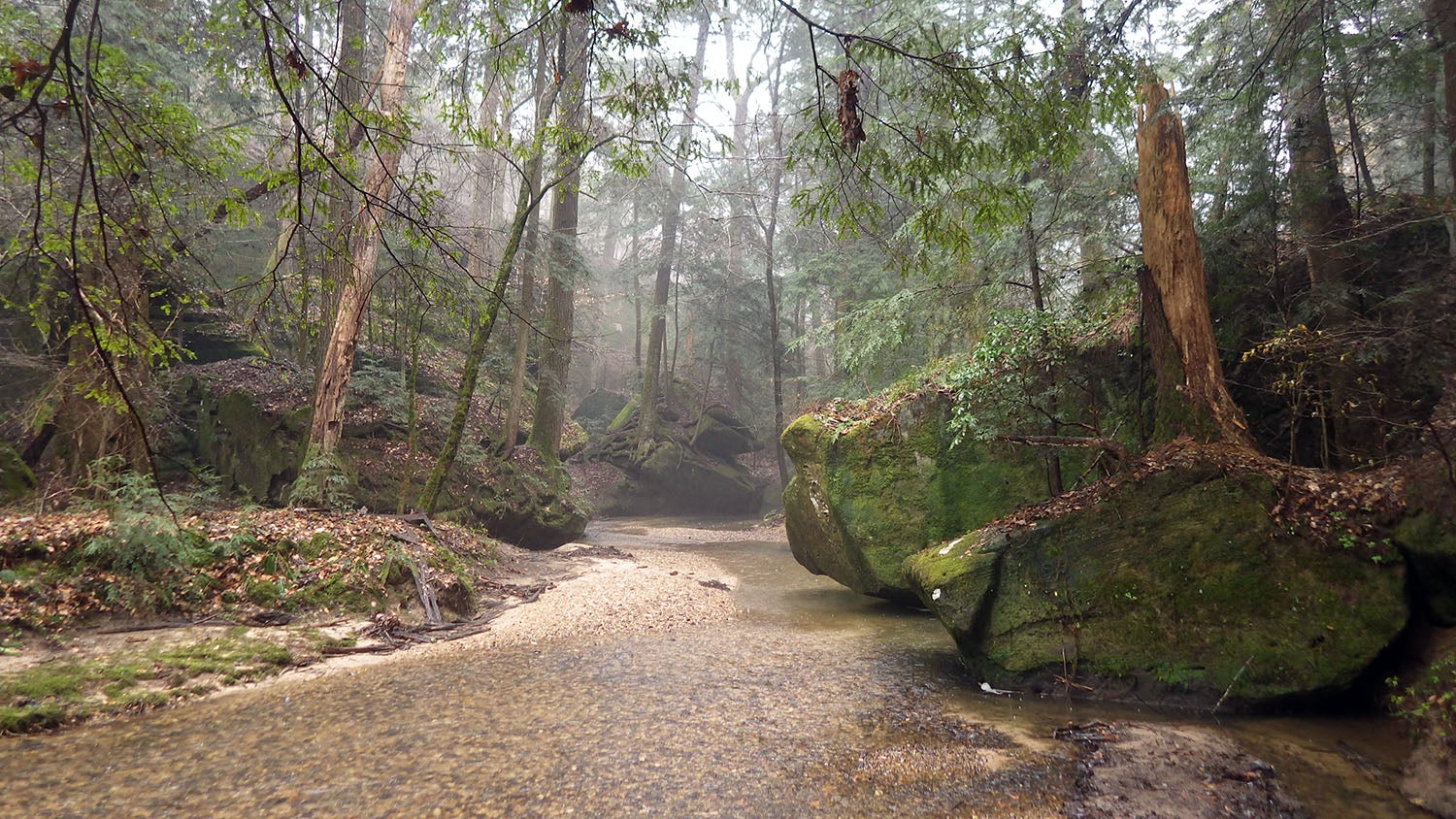 Besides the resident dismalites, Dismals Canyon offers visitors plenty of eye-catching scenery. The lush forest within the canyon is home to more than 350 species of exotic flora and 27 different varieties of trees. This includes one of the largest trees in Alabama, a 370-year-old Canadian Hemlock. Amid the sprawling ferns and towering trees, Dismals Branch Creek flows through the heart of the canyon, where it winds around moss-covered boulders and tumbles over two picturesque waterfalls. 
Visitors can explore the canyon on a 1.5-mile-long hiking path that traces the creek through the canyon, which maintains a much cooler, calmer climate than the surrounding area. This makes it an ideal refuge to escape the sweltering summer heat—and contributes the right conditions to sustain the dismalites. Sights along the trail have fantastical names like Secret Falls, Temple Cave, Weeping Bluff, Rainbow Falls and Witches Cavern. Carrying a trail map and wearing good hiking boots are recommended.
2. From Bluff Shelters to Bank Robbers
In addition to its natural features, Dismals Canyon is also rich in Native American and Western history. Within the gorge are the remains of bluff shelters and grottos used by Paleoamericans more than 10,000 years ago. The local Chickasaw and Cherokee tribes also utilized these ancient shelters for a time. This was before they were forcibly removed from the area in the early 1800s. Many native artifacts have been discovered inside the canyon, including pottery shards and spear points.
It is believed that settlers in the later 1800s named the canyon "Dismals," after a similarly rugged area in Scotland. Here they built a water mill, a cotton gin and a sawmill at the top of Rainbow Falls. These stood until the 1950s, when they were destroyed by a flood. One of the millstones can still be seen at the bottom of the falls, where it landed after the flood. Local legend also holds that the notorious Jesse James once used the canyon as a hideout after one of his bank robbing escapades.
3. Dismals Canyon Can be Romantic 
Contrary to its name, Dismals Canyon can be a romantic getaway. Visitors are invited to stay in one of their two private cabins, located at the north end of the conservancy. Kick back during the day with a good book on the covered patio, prepare your own delicious meals in the fully-equipped kitchen, then relax in the evening next to the stone fireplace. For stays of two or more nights, guests will receive a complimentary wine and cheese basket—perfect accompaniments for fireside cuddling.
If Dismals Canyon's beauty alone isn't enough to relax, guests can choose from a range of stress-relieving massage packages. From Swedish and pregnancy massages to mini-facials and a brown sugar body scrub, it's hard to imagine anything more relaxing than a spa treatment in the middle of nature. Spa services are available to cabin guests, campers and day visitors.
4. Take a Flashlight on the Dismalite Tour 
In order to see the canyon's star attraction, the glowing dismalites, you'll need to take the Dismalite Night Tour. And the only way to navigate the narrow canyon in the dark of night is with a lantern or flashlight. When you get down into the canyon, the tour guide will instruct everyone when to turn off the lights. This is the best way to see the little, glowing creatures.
You can prepare ahead by bringing your own flashlight, or by purchasing a light in the Country Store. To help your eyes adjust quicker in the darkness, you can use a flashlight with a red filter. Tours last approximately 45 minutes and can accommodate up to 20 guests. Tour times vary from season to season, and reservations are recommended. 
5. Roughing It, Without Totally Roughing It
Even though Dismals Canyon is a nature conservancy in a wooded setting, it's not without a few creature comforts. Conveniently located on site, Dismals Canyon's Country Store stocks camping supplies, treats, Indian wares, gifts, and souvenirs. And when it's time to eat, the Soda Fountain & Grill offers a selection of burgers, sandwiches and salads, as well as tasty milkshakes, malts, sundaes and ice cream sodas.
If you're not hiking the canyon or kicking back campside, you're invited to hang out on the open-air deck. Here, you can relax, play games or enjoy your lunch. There is also a large, community fireplace, which makes a nice spot for gathering and making new friends. There is no cellular service, so your stay at Dismals Canyon gives you an opportunity to completely unplug and unwind.        
Camping at Dismals Canyon
Visitors to Dismals Canyon can choose between five primitive campsites and two rustic cabins. Campsites are spaced out generously enough to provide plenty of privacy, and all have access to a modern bathhouse. The Sleeping Water campsite, large enough for 15 campers, is situated in its own box canyon and has its very own waterfall. Campsites range from $27–$48/night, plus fees.
The Dyrt camper Sara C. says there's "no denying the scenery is beautiful," but wasn't impressed with the excessive fees.
The Dyrt camper Keri J. also concedes the fees were expensive, but says Dismals Canyon is "worth a visit, [and the fees] protect the canyon habitat."
For those looking for a little more luxury, enjoy your stay in one of Dismals Canyon's private cabins. Each cabin is constructed of Western redcedar, and features vaulted ceilings, stone fireplaces, and fully-equipped kitchens. Additional amenities include charcoal grills, televisions, and board games. Cabins can sleep up to eight people, and range from $175-$300/night, plus fees.
---
Related Campgrounds:
Popular Articles: