While many people associate wooden covered bridges with Eastern states like New Hampshire, Vermont and Pennsylvania, there are also plenty of them in the Pacific Northwest. In fact, the total number of covered bridges in Oregon alone exceeds 50, the largest concentration of any state in the West.
Although Oregon may be most famous for its varied natural attractions, such as Crater Lake National Park, the Oregon Coast and Mt. Hood National Forest, it is home to its fair share of cultural highlights as well. From Oregon's ghost towns to an abundance of wineries and craft breweries, history buffs and foodies alike find enjoyment here.
If you're looking for an original and unique thing to do, however, consider an Oregon covered bridges road trip.
Your New Oregon Covered Bridges Road Trip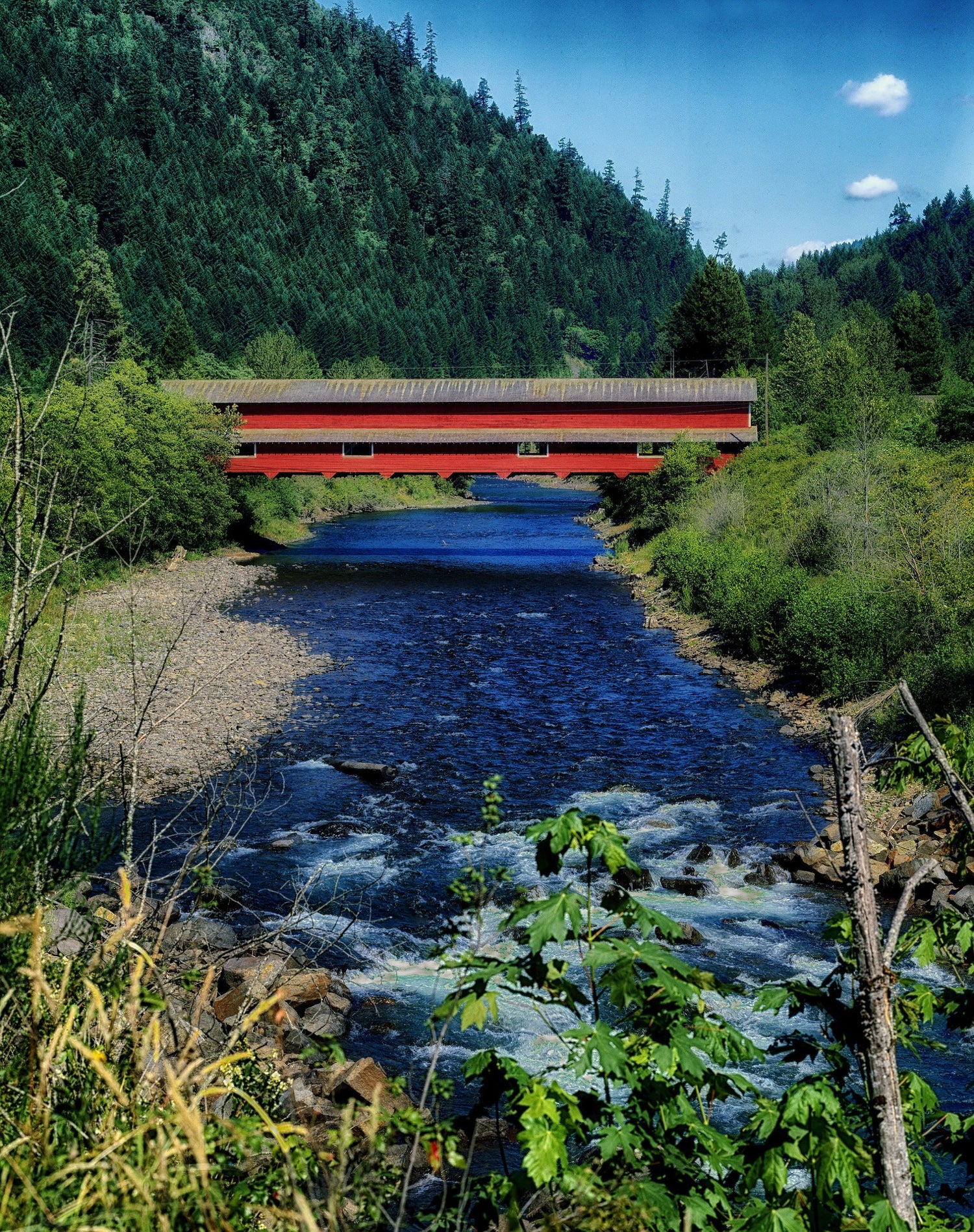 Most of the covered bridges in Oregon were built after World War I when steel wasn't readily available. Wood, on the other hand, was always abundant in this heavily forested state. Additionally, the Pacific Northwest 's rainy weather made it necessary to keep otherwise slippery bridges dry.
While there were once 450 or so wooden bridges in Oregon, just over 50 remain today. Pretty much all of them lie in or west of the Cascade Mountains, specifically in the Willamette, Applegate, and Umpqua Valleys. There's one covered bridge in Bend, the only one east of the Cascades.
The Covered Bridges of Lane County
More than 20 of Oregon's 50-something covered bridges are found in Lane County, the densest concentration of covered bridges in any county west of the Mississippi. You can find them dotting the landscape around the towns of Cottage Grove, Lowell, Springfield, and Eugene.
Cottage Grove / Dorena
Centennial Bridge
Stewart Bridge
Mosby Creek Bridge
Currin Bridge
Chambers Bridge
Dorena Bridge
Lowell / Dexter
Office Bridge
Parvin Bridge
Lowell Bridge
Cannon Street Bridge
Unity Bridge
Pengra Bridge
Springfield / Marcola
Belknap Bridge
Goodpasture Bridge
Wendling Bridge
Earnest Bridge
Veneta
Eugene
Wildcat Bridge
Lake Creek Bridge
Deadwood Bridge
Lane County is the best region for an Oregon covered bridges road trip, even though you'll also find several of them around Salem and Albany.
Two designated routes in Lane County allow you to visit a selection of them—one scenic car route and one bike route. Both of these routes overlap or parallel one another, taking you to all six covered bridges around Cottage Grove and Dorena.
Additionally, these scenic routes will take you along the peaceful shores of Dorena Lake in a welcoming region between the Cascade foothills and the Oregon Wine Country. In Cottage Grove, you can see more than twenty outdoor murals depicting the town's history, while the surrounding farmlands, woods, and vineyards offer a wide range of outdoor activities.
Hike up Bohemia Mountain or behind a waterfall on Brice Creek, go horseback riding, fishing, or boating on the lakes and rivers that characterize the region. Avid bird and wildlife watchers will also find this to be a great destination. The many water features are home to numerous bird species, the forests to elk, deer, black bears, porcupines, and raccoons.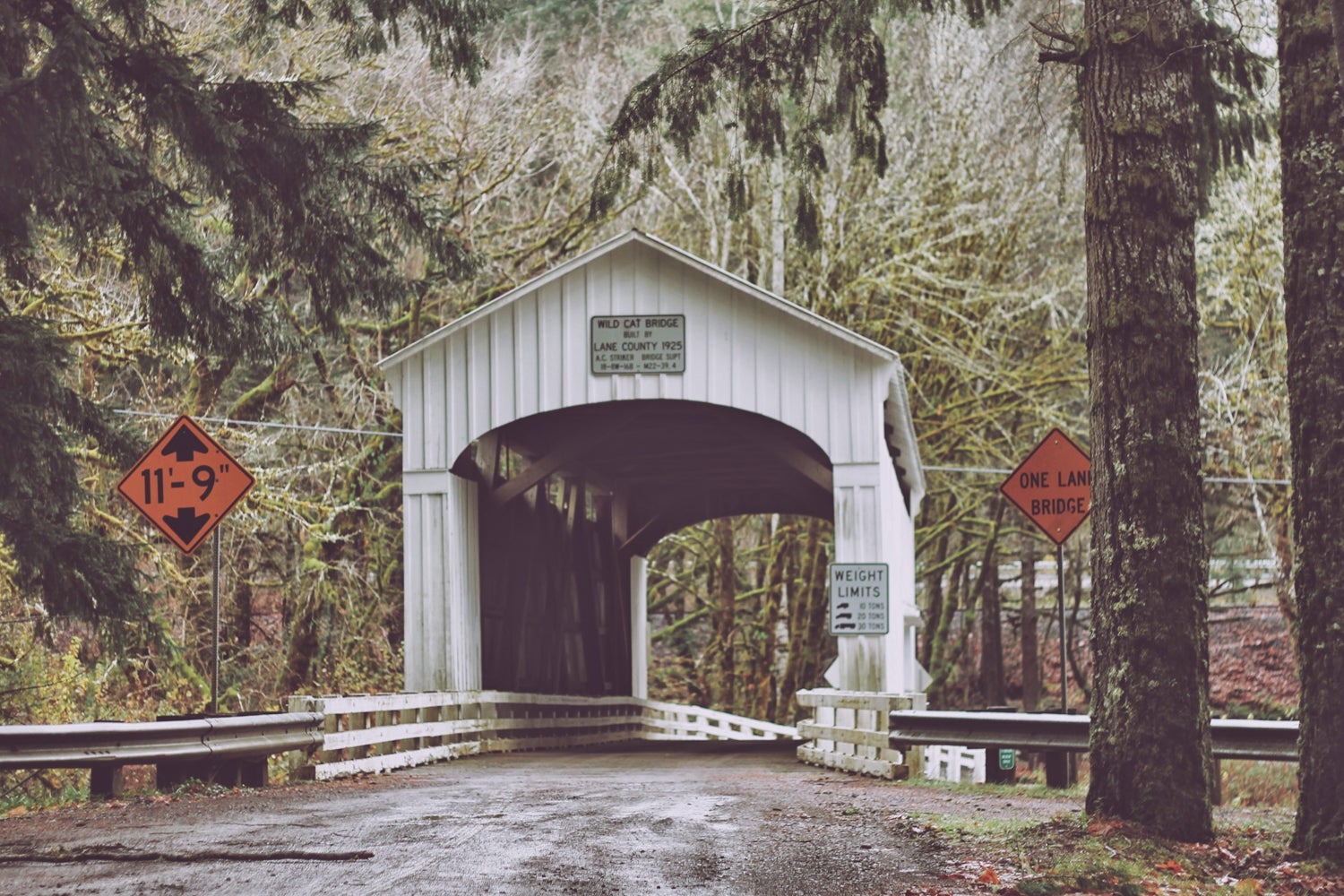 Cottage Grove Covered Bridge Tour Route
The Cottage Grove Covered Bridge Tour Route is a laid-back, 20-mile journey through beautiful Lane County. This is one of the many officially designated scenic drives in Oregon, along with the National Scenic Byways and Oregon State Scenic Byways. You'll see a half-dozen covered bridges on the way as you travel along the meandering shores of Dorena Lake and the Row River.
For several more covered bridges, you can easily extend your drive by heading north(east) toward Eugene. For example, explore the area west of Lookout Point Lake and Fall Creek Lake, home to five covered bridges.
Covered Bridges Scenic Bikeway
The 34-mile ride on the Covered Bridges Scenic Bikeway basically parallels the Cottage Grove Covered Bridge Tour Route. Begin by pedaling through the historic center of Cottage Grove, listed in the National Register of Historic Places. Visit two covered bridges at the western edge of town, including the Chambers Bridge, which is said to be the only covered railroad bridge in the West.
From the town center, you can access the 17-mile, one-way Row River Trail. This pedestrian and cyclist-only trail runs along the north shore of Dorena Lake, constructed on an old railroad. The path ends in Dorena, home to the gorgeous Dorena Covered Bridge, a justifiably popular site for wedding photos.
From there, you can backtrack the same way or loop back to Cottage Grove via Shoreview Drive and Garouette Road, thereby adding yet another covered bridge (the Stewart Bridge) to your itinerary.
Camp Near Covered Bridges in Oregon
There are two campgrounds right on the Cottage Grove Covered Bridge Tour Route and the Covered Bridges Scenic Bikeway loop.
"No hookups in this little campground, but you can't beat the location. Nestled on the shores of Dorena Lake east of Cottage Grove in the trees. Little boat dock. Stocked lake. Rental kayaks and swimming hole. One of our favorite places." —The Dyrt camper Shari. P
"This campground has a ton of space for group camping and some great spots along the river. It's close to several great fishing holes and beautiful covered bridges. During the summer, the Army Corp of Engineer Rangers give a tour of the Dorena Dam every Saturday. I highly recommend going if you can!" – The Dyrt camper Jill T.
---
Related Campgrounds:
---
Related Articles:
Popular Articles: