The luxurious shelters with a view of New York City might be too stylish for some to consider it camping. Canvas tents have been set up with plush beds and locally-sourced amenities and lit by chandeliers instead of headlamps. But Collective Retreat's campground or "glampground" on Governor's Island, just a short ferry ride from New York City, is an undeniably unique way to experience The Big Apple, with a lot more fresh air than you'll find at nearby hotels.
Collective Governor's Island is one of five Collective Retreat locations, all of which offer access to outdoor spaces through thoughtful consideration of the natural surroundings and the comfort you'd find at a luxury resort.
What You Get with Camping Reservations at Collective Governor's Island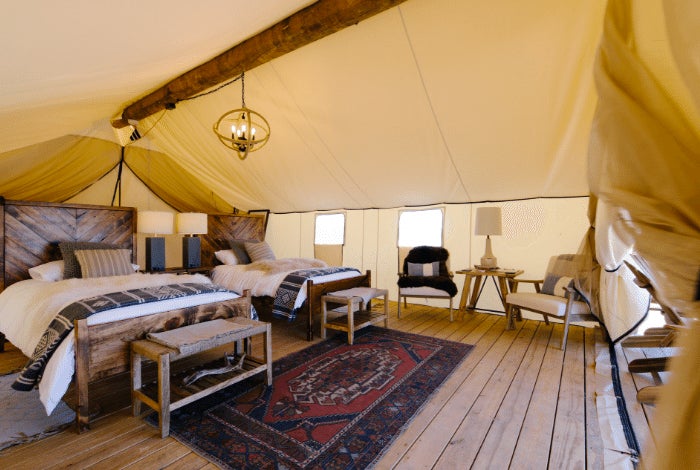 Visitors have their pick from three accommodation styles. The Summit Tent is "where luxury and rustic style meet," a canvas tent with one king or two twin-sized beds, a private deck, and a private bathroom. The Journey Tent is similar but guests have access to centrally-located, shared bathrooms. For those seeking maximum luxury and space, there's the Outlook Shelter which includes a spa soaking tub.
All guests enjoy extra special amenities like in-room curated coffee and tea selections, handheld lanterns for night-time walks, and private boat transportation to the island. All tents and shelters are expertly designed with accents and artifacts from New York City.
Collective Governor's Island is open summers through October 31. Book Now
Exploring Governor's Island with Collective Retreats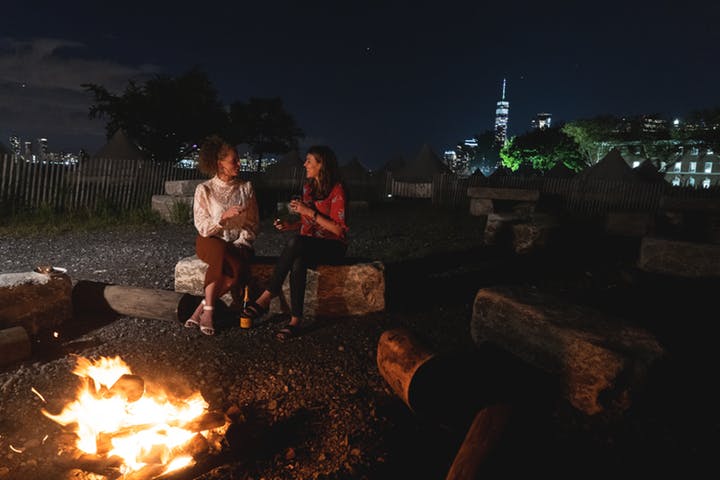 Governor's Island isn't what you picture when you picture New York City. The 800-acre island is located in New York Harbor, between Manhattan and Brooklyn. Here you'll find fresh air, trees, walking paths, and the Lower Manhattan Cultural Council's Art Center. You'll also find Collective Retreat's shoreline property, where you'll sleep next to a glittering skyline.
A visit to Governor's Island a unique New York City experience with a little something for the whole family.
The Yard is Governor's Island 50,000 square-foot adventure playground for kids-only. It's only open on the weekend when trained playworkers are on hand to help kids explore and experiment with building materials, encouraging them to let their creative energy free. Kids can play with tires, paint, wood, and other materials that might be off-limits elsewhere.
NYC's Audobon society runs a seasonal nature center on the island, and a variety of art exhibits are always coming and going. There's a picnic area to enjoy one of the many local vendors, and Collective Retreats visitors also have access to a complimentary breakfast at Three Peaks Lodge, and dinner reservations can be made for the Farm and Fisherman dinner.
Collective Retreats is located on the shore of Governor's Island, facing the iconic Statue of Liberty. With just 172-acres to explore here, visitors can embrace the compact simplicity of this retreat from the city, or hop on the ferry to explore all that NYC has to offer.
Popular Articles: