This article about Colorado Springs camping cabins is brought to you by Midland. Their radios and long-range walkie talkies will keep you connected as you explore Colorado year-round.
---
Who doesn't want to spend a few days in Colorado Springs camping cabins? Wilderness cabins are the perfect way to get out of town and cozy up to Mother Nature. You don't have to go far to take advantage of year-round cabin rentals that give you a front-row seat to Colorado's best hiking, skiing, fishing, and hunting. Check out these Colorado Springs camping cabins for a memorable Colorado wilderness experience.
The Best Colorado Springs Camping Cabins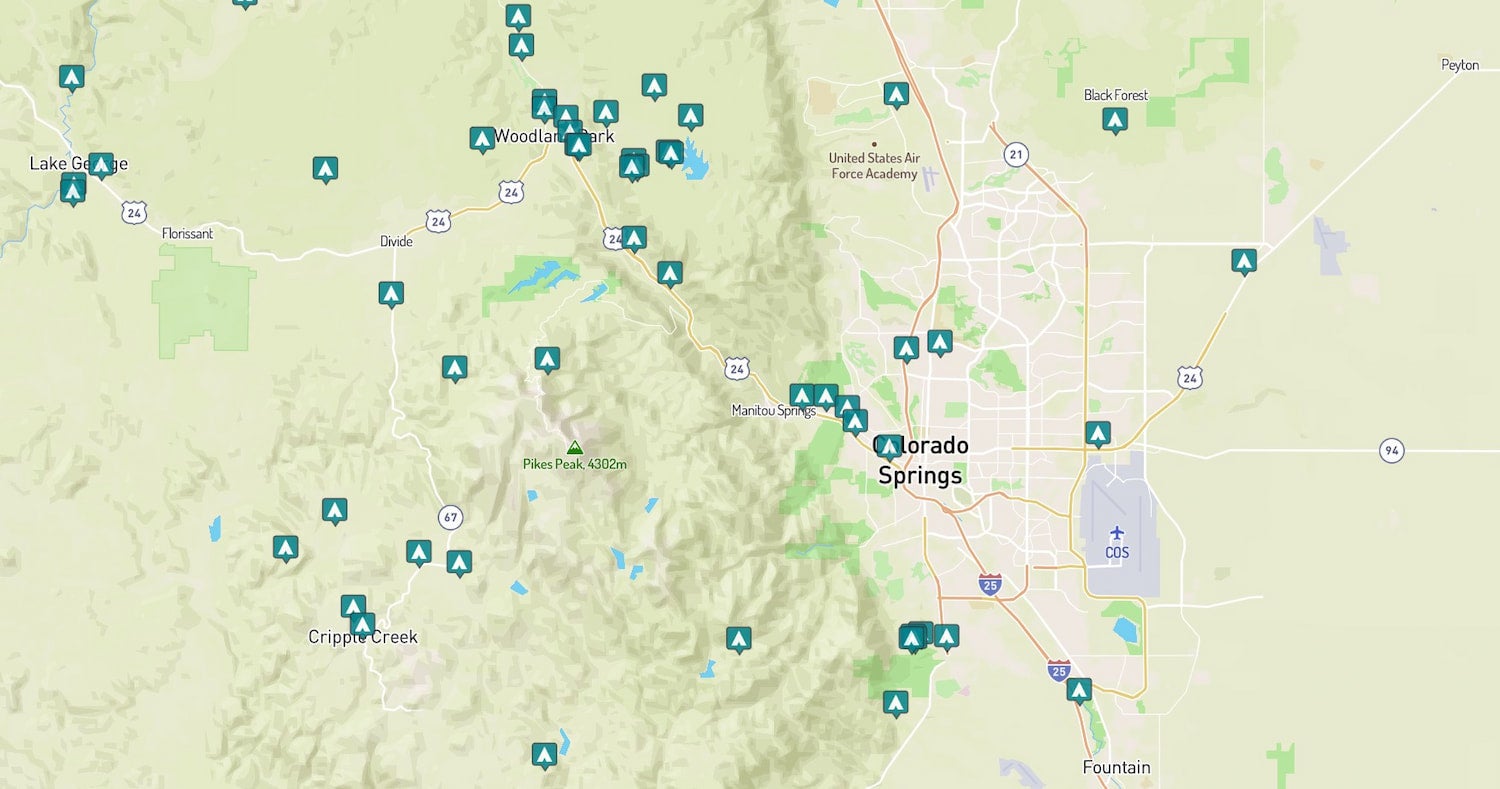 ---
The cabins at Mueller State Park are beautifully expansive, giving you a luxurious getaway at a reasonable price. You have three opulent cabins to choose from that comfortably fit up to eight people. The Pine Cabin has a roaring fireplace and private deck overlooking aspen forests. The spacious Spruce Cabin has two levels for larger groups, with a sizable yard. And the deluxe Ponderosa Cabin features breathtaking views of Pikes Peak. It comes with luxury amenities, and a welcoming at-home feeling. Staying at the Mueller cabins puts you front and center to some of Colorado's best hiking trails, skiing, hunting, and photography.
"This Colorado state park brings visitors year-round for all types of recreation. The views range from evergreens and aspen to Pikes Peak. The hiking trails are well-marked and lead to various ponds, abandoned buildings (from when this was a ranch) and an abundance of wildflowers. Fall is especially beautiful when the aspens turn gold. There are several well-maintained picnic areas and a visitors center where you can learn about the wildlife and geology." There are no 'bad' spots in this park." – Kristen
Campground Details:
Price: $150-270
Number of sites: 3
Fires allowed: Yes
Pets allowed: Yes
Fully Furnished: Yes
---
For a weekend off the beaten path, check out the Mountaindale Cabins & RV Resort. This secluded resort has four unique cabins that will leave you feeling restored. Each cabin sleeps up to six people and includes a fireplace and air conditioning. The Getaway Cabin has a separate sleeping loft with a private porch and grill. The Seclusion Cabin has a private bedroom and loft with a big-screen TV for rainy days. The Hideaway Cabin has a bedroom and loft, with satellite TV and a grill. And the Wilderness Cabin has a private bedroom, kitchen, and expansive private deck. You're a short drive from all kinds of hiking trails, skiing, and wilderness adventures. It's the perfect destination to get away from it all and commune with nature
"This is a lovely park about 30 minutes south of Colorado Springs. We saw deer wander around the campsites every morning and evening. From here we visited Garden of the Gods, Royal Gorge and Pike's Peak, all within 30 minutes to one hour's drive. The bathhouse is extremely clean, with several private bathroom/shower rooms. There is also a laundry with 4 washers & dryers. The grounds are beautifully landscaped and the folks are all friendly. I highly recommend!" – Lori C.
Campground Details:
Price: $80-140
Number of sites: 4
Fires allowed: Yes
Pets allowed: No
Fully Furnished: Yes
---
The Mingus Ranch cabin is a restored 20th-century high-country ranch set in the Wet Mountains. The cabin's two floors can accommodate up to six people and it comes with modest amenities. You get electric heat and lights, a vault toilet, and bunk beds with mattresses. You'll need to bring bedding, water, and camping gear. You also have access to a barn and horse corral. The cabin sits at a towering 9,400 vertical feet, surrounded by a spruce forest. Mingus Ranch is a great place to rewind time and stay in an authentic homestead.
"National forest cabin that is affordable. Very rustic with no water and only one outlet. Cabin has an outhouse that is fifty feet from cabin. Located in a great area with San Isabel lake and Bishops castle nearby. Lots of hiking and off roading nearby. Two bedrooms upstairs and day bed down. Interesting history to the cabin, read about it before you go." – Carlos H.
Campground Details:
Price: $50
Number of sites: 1
Fires allowed: Yes
Pets allowed: No
Fully Furnished: No
---
These camping cabins are (very) honorable mentions. They're a little further from Colorado Springs but well worth it. Who's up for a road trip?
---
State Forest State Park's Bockman campground has 15 rustic cabins for rent. With so many options, you can have your wild cake and eat it, too. Most of the cabins sleep up to four people, with two larger group cabins. Some cabins come with flush toilets and electric stoves, but the primitive cabins have vault toilets, propane stoves, and separate showers. They all come with bunk beds and mattresses, but you'll need to supply the bedding. Most of them have private decks and grills for outdoor picnics. They also have two deluxe cabins with private bathrooms, electricity, and running water. You're steps away from hiking, boating, skiing, hunting, and more. These State Forest State Park cabins are the perfect answer for adventurers who want to live like pioneers.
"This campground is large and flat. There are lots of spots that are relatively close together, but it seems quite spacious. There are almost no trees in the campground, but the 360 degree views are worth it! The bathrooms were clean. There are lots of great activities to participate in very close by – fishing, hiking, 4-wheeling and more!" – Jackie E.
Campground Details:
Price: $90-120
Number of sites: 15
Fires allowed: Yes
Pets allowed: Yes
Fully Furnished: No
---
Steamboat Lake State Park has ten rental cabins for a weekend in the country. These primitive cabins are a great way to relax. They include electric heaters, beds with mattresses, and a small fridge. They're right next to the campground, where you can take advantage of the showers and laundry. You'll have to cook outside and bring your own bedding, but you're within walking distance to the boat launch, where you can fish (or ice fish) in Steamboat Lake. The cabins put you in a great location to hike, ski, hunt, or enjoy wildlife. Staying at Steamboat Lake's cabins is a rugged experience that will leave a lasting impression.
"We traveled to this park from Jackson WY. The site is about 30-minute drive up a winding road from highway 40. It's a large state park on a local reservoir. The mule deer were nightly visitors during our two night stay. The lake below can fill up on weekends and become very busy. The visitor center and office is on the road leading to the campsite. The staff were very helpful even with large summer crowds. This is a nice option if you are traveling to Steamboat Springs." – Steve & Ashley G.
Campground Details:
Price: $109
Number of sites: 10
Fires allowed: No
Pets allowed: Yes
Fully Furnished: No
---
Whether you want to score some first-rate backcountry skiing or finish that novel, these Colorado Springs camping cabins are the perfect place to rest and get away from it all.
---
This article about Colorado Springs camping cabins was brought to you by Midland. Be sure to bring along one of their radios or long-range walkie talkies on your trip to any of these campgrounds.
Popular Articles: