At The Dyrt, we often come across campers that are living the outdoorsy dream—whether they're backpacking through rugged wilderness, living on the road full time in an RV, a dedicated family of weekenders, or anything in between. Sometimes we come across a camper so unique that we can't help but celebrate their lifestyle with the world; this month we're celebrating The Dyrt camper Suzy Wheeler.
---
In 2018, Suzy traded in her sailboat for a Subaru Forester, pointed her headlights towards the nearest Phish concert, and never looked back. Not your usual path for a full-time camper.
Like many of us, Suzy began camping as a child with her family. It was hard to avoid the outdoors being raised in Oregon, where about ⅗ of the population go camping every year. Her passion for the outdoors wasn't rekindled until 2016, when she began dedicating her life to music festivals. Since 2018, she's traded in first in her Forester named "White Rabbit", for "Starship Snowbird"—a GMC Cargo van—and hit the road full-time.
What Makes Suzy a Unique Camper?
None of this came up when I asked her what made her a distinctively different camper. She didn't mention her sailboat or Phishhead lifestyle. But her response is equally unique: "I tent camped with cats; that takes a special kind of crazy." She also mentioned that her newest adventure has been stealth camping, which is both frugal and a novel way to explore various cities.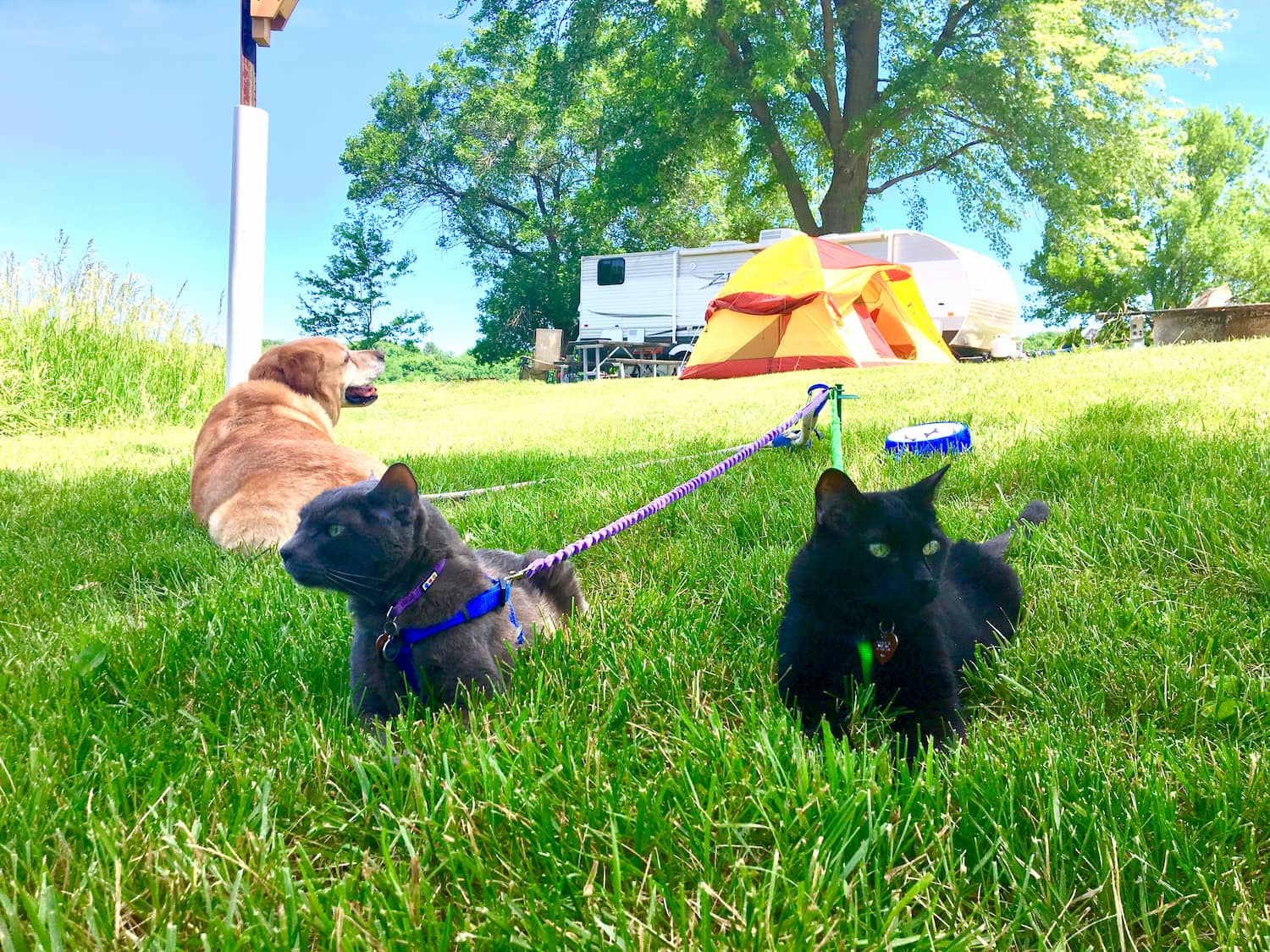 The Music Festival Camping Lifestyle
Suzy's music festival lifestyle is largely unpredictable. Concerts and festivals aren't designed with people like her in mind, so sometimes she might camp in one location for a whole season, and other times she'll be racing across the country to make it to a show on time. Her camping style varies wildly depending on which mode she's in. When she's making a bee line to the next festival, she's sleeping close to the road in a rest area or Walmart. During less busy seasons, she's searching for locations that are off the beaten path, focusing mostly on "free or low-cost sites in national and state parks where we can relax and hike".
Upon arriving at a festival, Suzy has even more challenges unique to her lifestyle. The majority of festivals ban any glass, which prevents her from bringing many glass items in her kitchen, like hot sauce or coffee pots. In addition, music festivals have a loose definition of weapons. In the past Suzy has been barred from bringing many tools essential to her van-lifestyle, like wrenches, screwdrivers, kitchen knives, and bear spray. To follow the rules, Suzy consistently boards her pets and many other daily items before attending a festival.
What's Next for Suzy
As of right now, Suzy isn't racing from rest stop to rest stop. With nowhere to be anytime soon, Suzy is working her way down the California coast before heading east across the south to New Orleans. She's never been there before and is excited to dig her heels into all the culture, music, and food it has to offer. After that, she'll be "on the east coast catching as many festivals and Phish shows as [her] budget allows."
If you'd like to follow along on her future adventures, you can check out her blog, Orbis Non Sufficit.
---
Camper of the Month couldn't exist without The Dyrt's community of reviewers and campers. If you'd like to be featured, send an email to editorial@thedyrt.com with your pitch and a link to your account on The Dyrt. 
Popular Articles: