A brand new outdoor innovation festival is hitting Hood River, OR this June.
Dubbed the OUTFOUND Series, it's essentially South by Southwest (SXSW) of the outdoors: a 3-day festival combining entrepreneurship and the outdoors. I caught up with Antonio Aransaenz, founder of the OUTFOUND Series, for a quick interview to talk about the event, why it matters, who should go, and where it's going.
Ryan Fliss: Antonio, if you were to break down the OUTFOUND Series to four key words, how would you describe it?
Antonio Aransaenz: South by Southwest meets the outdoors.
RF: For those unfamiliar with SXSW, would it be fair to say OUTFOUND is a festival for the intersection of entrepreneurship meets the outdoors?
AA: Yes exactly.
RF: When do the different events take place?
AA: The activities are spread throughout the 3 days of the festival, June 9-11. Mornings are more heavily focused on workshops/ outdoor activities while afternoons are more about the speaker series, startup competition, and other networking activities. It's a festival space so attendees can roam around and interact with all of the creative games and activations aside from the scheduled activities. At night, it's pure entertainment with outdoor films on Friday night and music performances on Saturday night.
RF: "Activations" is an interesting word–what do these look like in practice?
AA: Activations are sponsorship and collaboration spaces at the festival. For example Vibram brings a resoling truck called the Sole Factor.
RF: What are example workshops, networking activities, and outdoor activities I could choose to participate in at OUTFOUND?
AA: For workshops we have yoga, slacklining, outdoor photography, massage, meditation, and a lot more. Networking events are happy hours every afternoon, a #VanLife meetup, and of course networking at our Speaker Series and Startup Competition. As far as outdoor activities right on-site we will have SUP, kitesurf, mountain bike, windsurf, slackline, and many more.
RF: That sounds incredible… and incredibly complex to coordinate. What does it take to run an event like this?
AA: First and foremost, there's a lot of time spent brainstorming creative activations and activities that are unique to attendees and contribute to the overall outdoor experience. Then it's all about outreach and multi-tasking. You only have so much time, so it's important to get help with tasks for which you're not a master. Festivals are never a solo effort and it's definitely the same with OUTFOUND. Finally, we are big believers that if you are passionate about something, anything is possible. Creativity and passion know no boundaries.
RF: In the end how many people played a role in putting this series together?
AA: Just six people.
In the end, OUTFOUND stems from a deep rooted passion in wanting to push outdoor innovation
RF: And why are you the right people to put this on on?
AA: As founders, we each have a background in the event space. Whether it's our previous experience working on music festivals, putting on speaking events or brand awareness activations, our skills are combined in this new, one-of-a-kind event. We are all outdoorsmen and grew up in passionate outdoor families so it felt like second nature to launch an event in the outdoor space. In the end, OUTFOUND stems from a deep rooted passion in wanting to push outdoor innovation and build a creative experiential gathering around that idea.
RF: Why is now the right time for this kind of series?
AA: The outdoor space has so much innovation taking place but so little in terms of gatherings that provide innovation the platform it needs to thrive. We've seen tremendous growth in experiential festivals in the music space and tech space, so why not build something for the outdoor space?
AA: Plus, at the end of the day brands are craving an environment to engage consumers directly and creatively, and consumers want to get hands-on with products and experience innovation first hand. Which makes us ask the question, why don't we have something that brings all of this outside? Isn't being outside one of the main reasons many of us work in this industry? This is why we chose Hood River, OR for the first event and why we're transforming the venue into an interactive outdoor playground
RF: And how long have you been working on the event?
AA: We've been planning this festival for two years, tinkering with what activities should be combined at the festival and with finding the best venue for it. In the end, we came up with a combination that allows people to meet organically, enjoy unique activities, and leave the festival with new ideas for outdoor endeavors.
RF: How many people are slated to attend?
AA: We expect 2,000 people to the event for Year 1.
RF: Describe a couple types of people who would love this event. 
AA: Sure. On one hand you have the outdoor entrepreneurs: Young professional who either started their outdoor company or are looking to. Roughly ages 21-35. These people are our leaders and will revel in the fact that they can further their business ambitions at the event while just having fun for 3 days.
AA: On the other hand you have the general outdoor enthusiasts: People who work in the industry or other sectors but love spending their time in the outdoors. Weekend warriors aged 25-45. If they have a family, they love to bring the kids with on hikes, bike tours, watersport days, skiing, etc.
RF: What do you see this event looking like 5 years from now?
AA: In 5 years, we'd love for this to be a fixture on outdoor innovators' and enthusiasts' calendars. Our long-term goal is to run 2-3 other annual OUTFOUND festivals in key geographical areas so we make sure it's accessible to outdoor lovers in different parts of the country.
AA: Ultimately, our mission is for this to build a community of outdoor innovators (entrepreneurs, creatives, athletes, general enthusiasts) and foment outdoor innovation, starting with Hood River. If we can help up and coming entrepreneurs take the plunge to launch their own outdoor business, we'd consider our mission a success.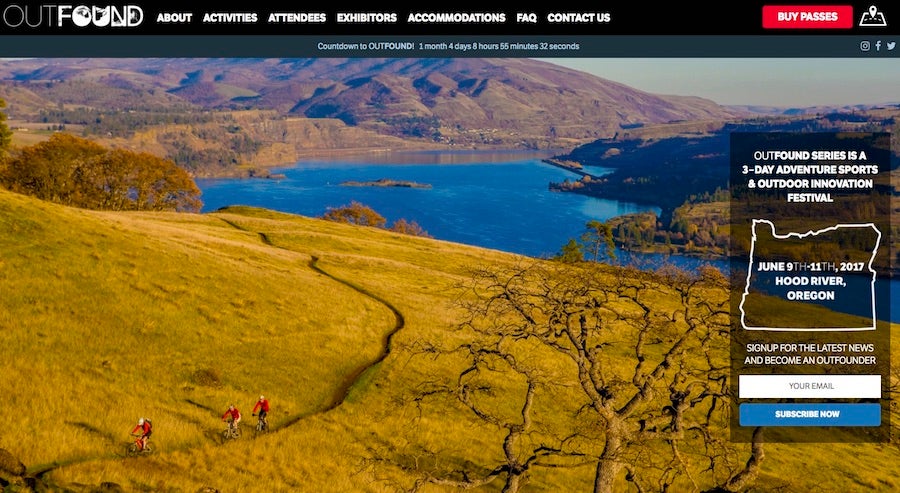 See more on the OUTFOUND series here.
Popular Articles: