It's a 93-degree July day. I'm baking in the sun at an overlook on the Cliff Nature Trail at Oregon Caves National Monument and Preserve. I take in the panoramic view of the green Siskiyou Mountains before me and feel sweat beading on my forehead. Moments earlier, I was in another world, crawling on my belly for three hours through damp, 44-degree darkness in the park's cave, my skin cool and hidden from the sun.
As a national park artist in residence, I'm trying to find the words to describe the gratitude I feel for this moment—the warmth, the light, the opportunity, the adventure. How can I capture the gravity of what these disparate natural environments offer the human soul? How does this moment highlight the value of our national parks? How, through storytelling, can I help others connect to this place?
My Time as a National Park Artist in Residence at Oregon Caves National Monument and Preserve
A month before I found myself surrounded by Douglas fir trees, I was surrounded by Washington, D.C. cityscapes, packing up my basement apartment. My partner, who at the time was a seasonal ranger with the National Park Service, was off to his next summer job at Oregon Caves National Monument and Preserve. Ready to leave the urban environment, I planned to move with him.
Upon learning about his job, I began looking into whether the location offered a national park artist in residence program. I wanted to be able to connect deeply with the region that would be my new home. I wanted an outlet for the inspiration I feel when exploring nature. I wanted to use that inspiration to give back to our public lands.
As a smaller National Park Service site, there wasn't an established national park artist in residence program at Oregon Caves National Monument and Preserve. However, there was interest in starting one. Through conversations with the park's Chief of Interpretation, we agreed that I would move to Oregon Caves as its first national park artist in residence for the summer and fall seasons. Along with the opportunity to develop my craft in a wilderness setting, I would also have the opportunity to develop the framework for this new park program.
What It's Like Living in a National Park as the Artist in Residence
Getting to live long-term in a national park is a special opportunity. By doing so, I had time to unwind from city life and uncover the park's hidden details. Living in the park for five months allowed me a full immersion into its environment.
Unsurprisingly, the majority of visitors come to Oregon Caves National Monument and Preserve for its cave. President William Howard Taft established the cave as a 480-acre national monument in 1909 for its historic and scientific interest. The cave is an impressive marble cavern that visitors can explore through a variety of ranger-led tours. While at the park, I was able to join an off-trail tour, a candlelit tour, a general walking tour, and a few special tours led by resource managers at the park.
However, there is much more to the park than the cave. Since many visitors only make day trips to the park to see the cave, they don't have time to traverse its other elements. As the national park artist in residence, I did.
In 2014, Congress designated the two-fifths of a mile where Cave Creek runs through the park's cave—named the River Styx—as the first subterranean National Wild and Scenic River. To protect the river's surrounding watershed, Oregon Caves National Monument grew a 4,070-acre national preserve. This preserve is filled with hummingbirds and butterflies that flit about fields of wildflowers. Its trails take hikers to scenic summits, alongside lily-padded lakes, and through dense old-growth forests. The park is largely surrounded by U.S. Forest Service land. These abutting public lands give the park a remarkably remote feeling with miles upon miles of nature to explore in every direction.
As the national park artist in residence, I enjoyed getting to know those miles upon miles. I would awake in my apartment, surrounded by the park's vast forest, to the sound of birds and the fresh scent of trees. It became a favorite activity to roam around, seeking out idyllic, concealed picnic spots. During my time at the park, I was able to walk each of its trails, noting what made them unique. I got to investigate my inner landscape—from anxiety to exhilaration—while squeezing through tight cave passages.
Each day living in a national park was a chance to see from a new angle, to ask deeper questions, and to appreciate the sound of silence—though it was not without its challenges. The nearest town was a 45-minute drive away down a twisty mountain road, turning a simple grocery trip into a big trek. When the summer's wildfires sparked throughout southern Oregon, we were trapped in thick smoke right in the middle of it. There were times I missed the conveniences of life in a more traditional locale, but then I'd get a tip from a ranger on where I could spot a Pacific giant salamander—the largest amphibian in Oregon—and I was back to feeling blissful about this unique experience of being a national park artist in residence.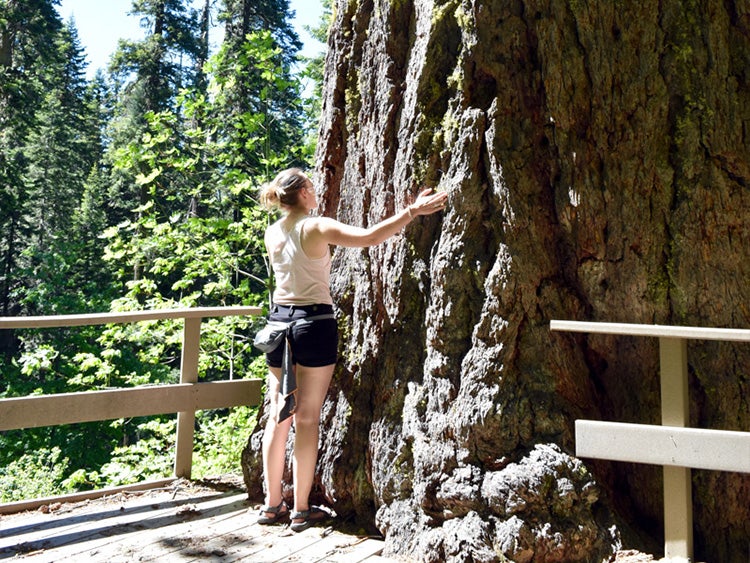 Exploring Storytelling as a National Park Artist in Residence
While serving as a national park artist in residence, my artistic craft was writing. I focused on different ways I could tell the park's story. Sometimes I used personal narrative to describe the park in an essay. Other times, I interviewed park rangers and visitors to write their stories of how they arrived there or what the park meant to them. I soaked up information on ranger-led tours that covered everything from the history of the park to the effects of climate change on its landscape. I also traveled into town to meet local artists in southern Oregon whose work was inspired by the park, and read a variety of nature authors from a variety of scenic overlooks.
My creativity was set ablaze by living in a national park. I walked around with a notebook to jot ideas down as they came to me. It filled up quickly. The process also made my hikes rather lengthy at times, with all the pauses I took to scratch notes onto paper. When you have prolonged time to really stop and look and experience your surroundings, it is amazing how much you will find that is worth sharing.
In some ways, the most unexpected part of being a national park artist in residence was the sense of busyness I often encountered. I assumed that living in a national park would be day after day of a meditative state where I had no worries or a need for to-do lists. However, with so many ideas popping into my head, I soon realized that I would need to prioritize which stories I wanted to research and write. I had to fight the urge to take on more and more projects.
Ultimately, I left the park having completed several essays and journals, and continued to tell the park's story after I'd left through a variety of outlets. Some of my projects included:
A personal essay about how the park's off-trail cave tour allowed me to contemplate my fear of the unknown
A blog post exploring the importance of national preserves as a National Park Service designation
The storyboard for a "Know Before You Go" informational video released by the park
A podcast in collaboration with She Explores that told the story of the park through the eyes of the park's superintendent, an interpretive ranger, and a local artist
An in-depth print article profiling a couple who decided to retire early from their traditional careers and become seasonal park rangers
A curriculum for a nature writing walk along one of the park's trails
Tips for Becoming a National Park Artist in Residence
Looking for a position as a national park artist in residence can feel like a daunting task. Several parks have competitive programs, and it can be difficult to navigate the different application processes for each park. However, if you want to develop your craft within a truly inspiring environment, there is a national park artist in residence program for you.
To begin your search for a program, start by asking yourself some questions:
What is my art form, and which parks would give me the best opportunity to explore that craft?
Do I want to visit a park I've already been to and deepen that connection, or have a new experience?
How far am I willing to travel to participate in the national park artist in residence program?
What is the ideal length of a national park artist in residence program for me?
What do I think I can offer the park, and what do I think this experience will offer me in return?
Why would this be an important experience for my art?
Which samples of my art will I send along with my application?
As you think through these questions, and others that might arise, here are some resources and tips to consider once you begin the application process:
National park artist in residence programs vary in length. Most are two to four weeks.
The Arts in the Parks website has a map of each National Park Service site that currently offers a national park artist in residence program. Don't see the park you were hoping for? Try reaching out to staff at the park to see if there's interest in developing one.
Each park has its own application process and timeline, so you'll need to visit its specific page to learn all of the details.
Smaller parks may have fewer applicants, so if you're early in your artistic career, don't rule these out. You might find that you enjoy the quaint community feeling these sites offer.
National parks are not the only public lands that offer an artist in residence program. Some state parks offer them, too. If you're interested in applying for a state park, a quick google search of "[state name] state parks artist in residence program" will steer you in the right direction.
The national park artist in residence program was a meaningful experience for me. It gave me time and space to let nature fuel my creativity. It is a unique opportunity that I hope to participate in again at another park some day. I hope others also continue to apply to the national park artist in residence program, and share these parks' stories with all of us through their craft.
---
Related Campgrounds:
Popular Articles: