It may seem outlandish, but to us, it's a dream. If you don't feel like trading in your house for 40 square feet, you can rent travel vans from Escape Campervans. It'll give you a taste for living in a van without all the commitment and downsizing. Use code DYRT15 and save 15% when you decide to try out vanlife.
---
There's a movement happening, folks, and it includes decluttering, downsizing, and simply living with less. For hundreds and thousands of years, mainstream society has supported the purchase of bigger homes and designer decor. Now, the American home averages 2,662 square feet.
We are inundated with marketing about things we should own — things we need. Sponsored posts pop up on Facebook feeds and find their way into our Instagram stories. If Kim K. is wearing Dolce & Gabbana, should I wear Dolce & Gabbana too?
There's a backlash to all of that consumerism, though. More and more people are trading items for experiences, which is why my husband and I bought a 2018 Ram Promaster and started building it out with minimal experience, zero tools, and a dream.
The Vanlife Dream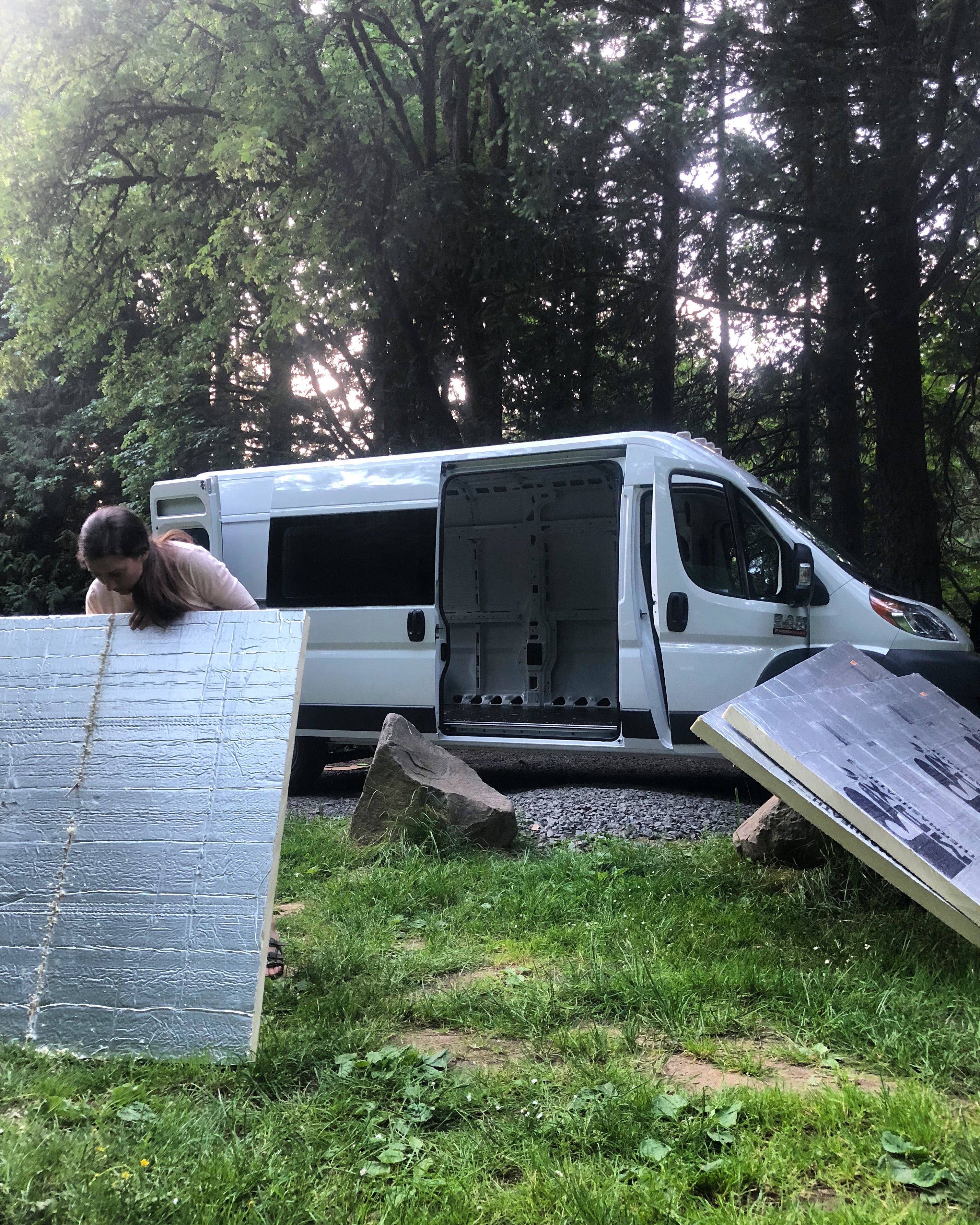 When I first discovered Where's My Office Now, I was obsessed. I scrolled through their feed, and tried to picture myself at the wheel of an old VW van. Traversing the country, writing stories, and checking off bucket list items like visiting all 59 National Parks, rafting through the Grand Canyon, and seeing Denali's massif in person.
I've never been one for tradition. It took me six years to graduate from college because I took extended periods of time off to travel, and when I graduated with a degree in Creative Writing, I applied to work at Delta Air Lines as a flight attendant so I could travel even more. Living in a van, then, seemed like a perfect transition (or escape) from the "real world."
---
Related reading:
---
Our decision to try living in a van is more than that. In a time when the housing market is volatile, and college degrees can barely secure you a $15/hour job, it's become increasingly hard for college grads to obtain a loan (especially when student loans heavily tip the needle on debt-to-income ratio), or a house that isn't in a state of total disrepair.
After a few months searching the Salt Lake City housing market, and seeing houses sold for 40k+ above their asking price in cash, we realized buying a home wasn't in our near future. Plus, everything was far too big. We didn't need four bedrooms or 1,800 square feet for the two of us and our dog.
We then moved to Portland, where cost of living supersedes that of Salt Lake twice over. After spending more than 1/3 of our income on rent we decided something had to change, so we started to look at vans.
Home on Wheels
Undertaking a van conversion is no easy task. You have to think about insulation, carpentry, electrical, plumbing, design, and more.
Coby and I had none of these skills. We didn't even have the tools to hone these skills. But, we had passion and a dream, so we took to YouTube to learn the ins-and-outs of building and living in a van — and borrowed tools from friends.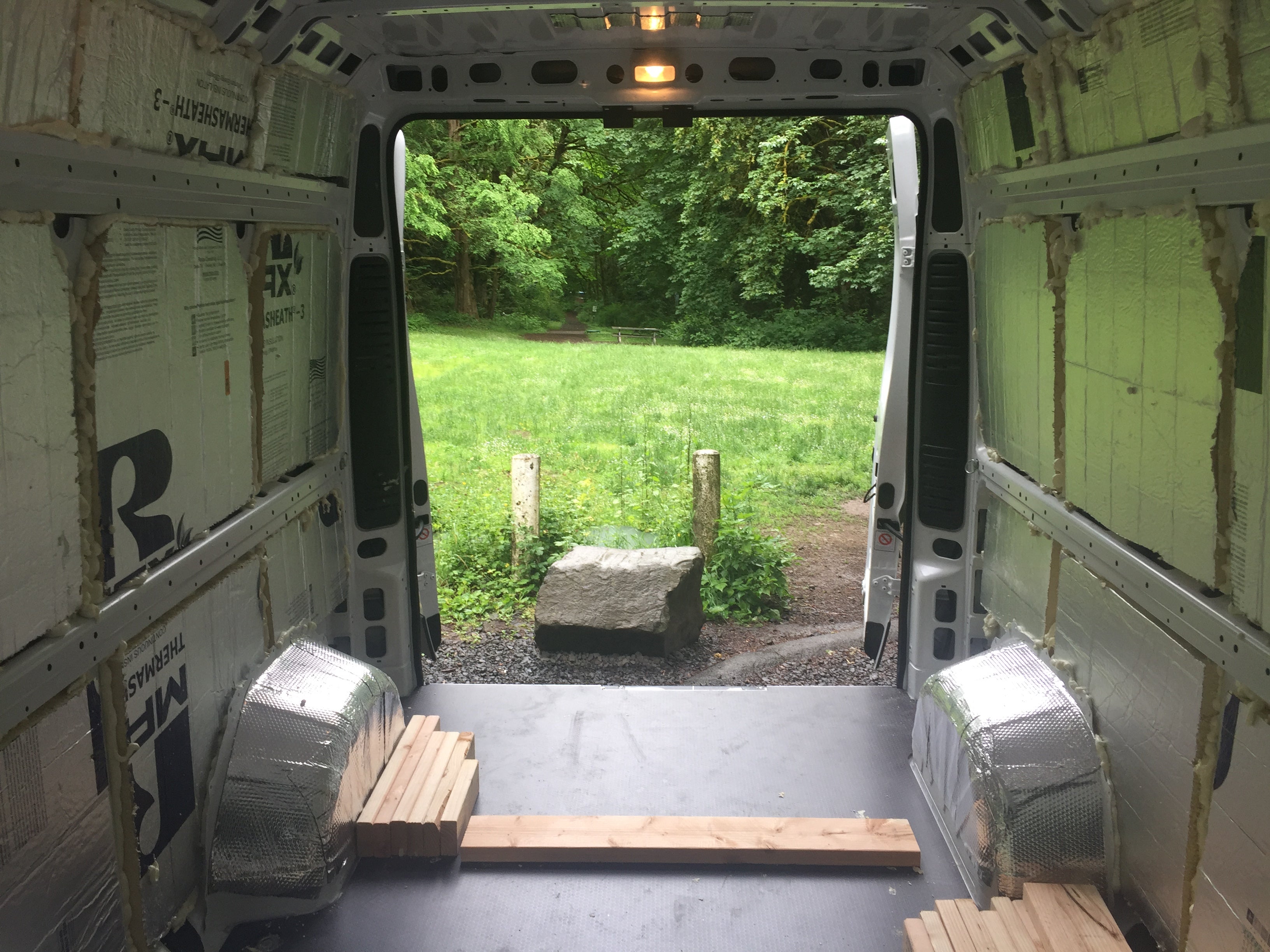 Our biggest concern was storage space. We need enough storage for our outdoor gear, as well as clothes, pots and pans, bathroom essentials, and food. Even when you downsize significantly, fitting your belongings into a van is no easy task.
In the process of decluttering, I realize I've hung on to so many things: cards from high school, articles of clothing I never wear, documents that are no longer valid. As I moved each item to the donate, sell, or throw away pile I felt lighter and happier.
---
Related Reading:
---
This is why I am so excited to live in 40 square feet. In my 27 years, I've already accumulated so much stuff. I have a guitar sitting in my corner that I haven't touched in years. But I hold on to it because I keep hoping to play again. I have more blankets than I'll ever use at one time. I have four cutting boards, two pots of the same size, and enough spoons for Octomom, her kids, and her kids' kids.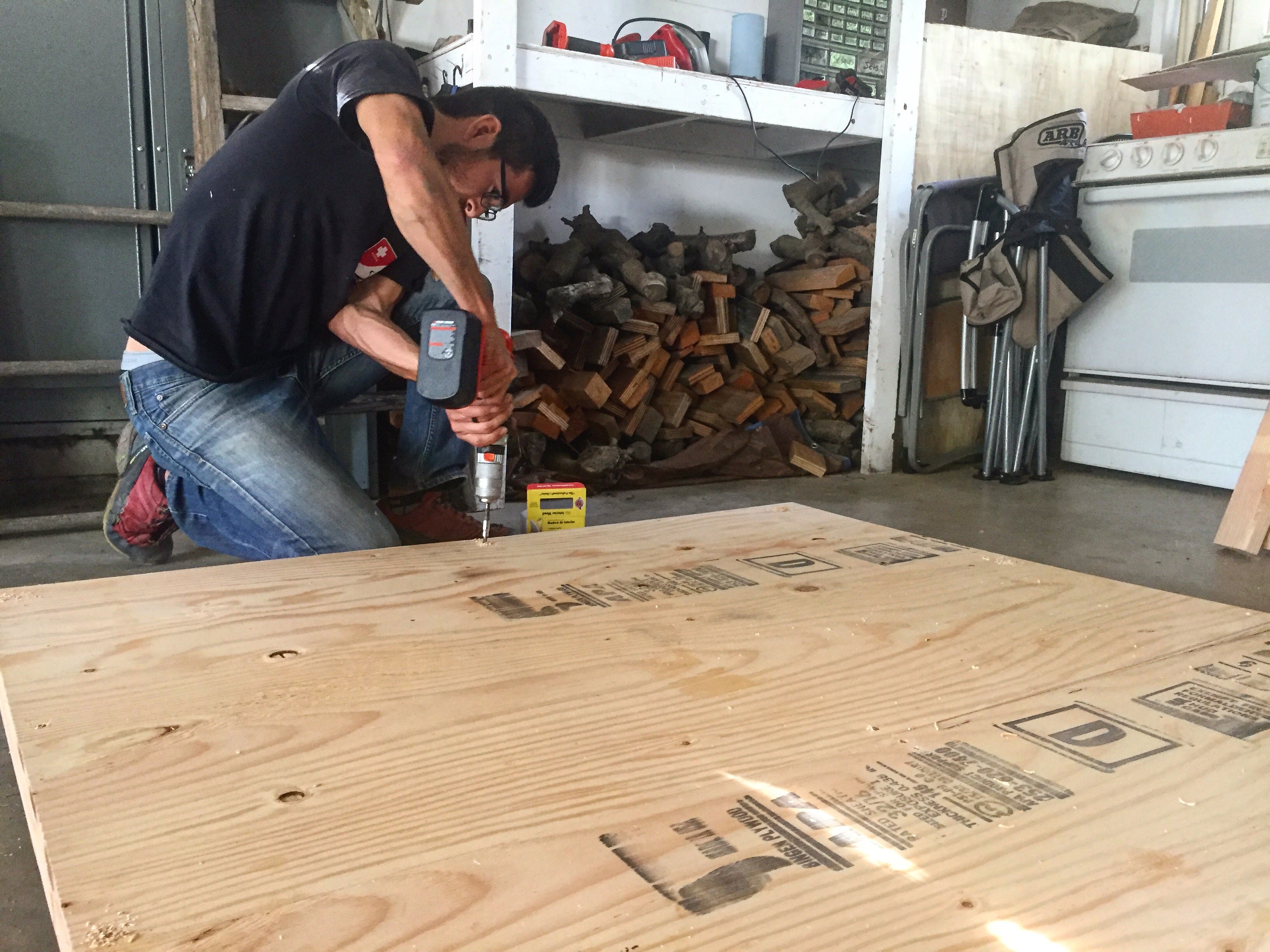 We've moved multiple times, and each U-Haul load is lighter than the last, but it's still frustrating to try and sort through our hallway closet. Why keep an air conditioner we haven't used in three years? These are the questions that keep me up at night now.
Solve All Your Problems by Living in a Van
Just kidding. Like anything else in life, making one move will not tip the scales.
However, I believe living in a van will change a few things: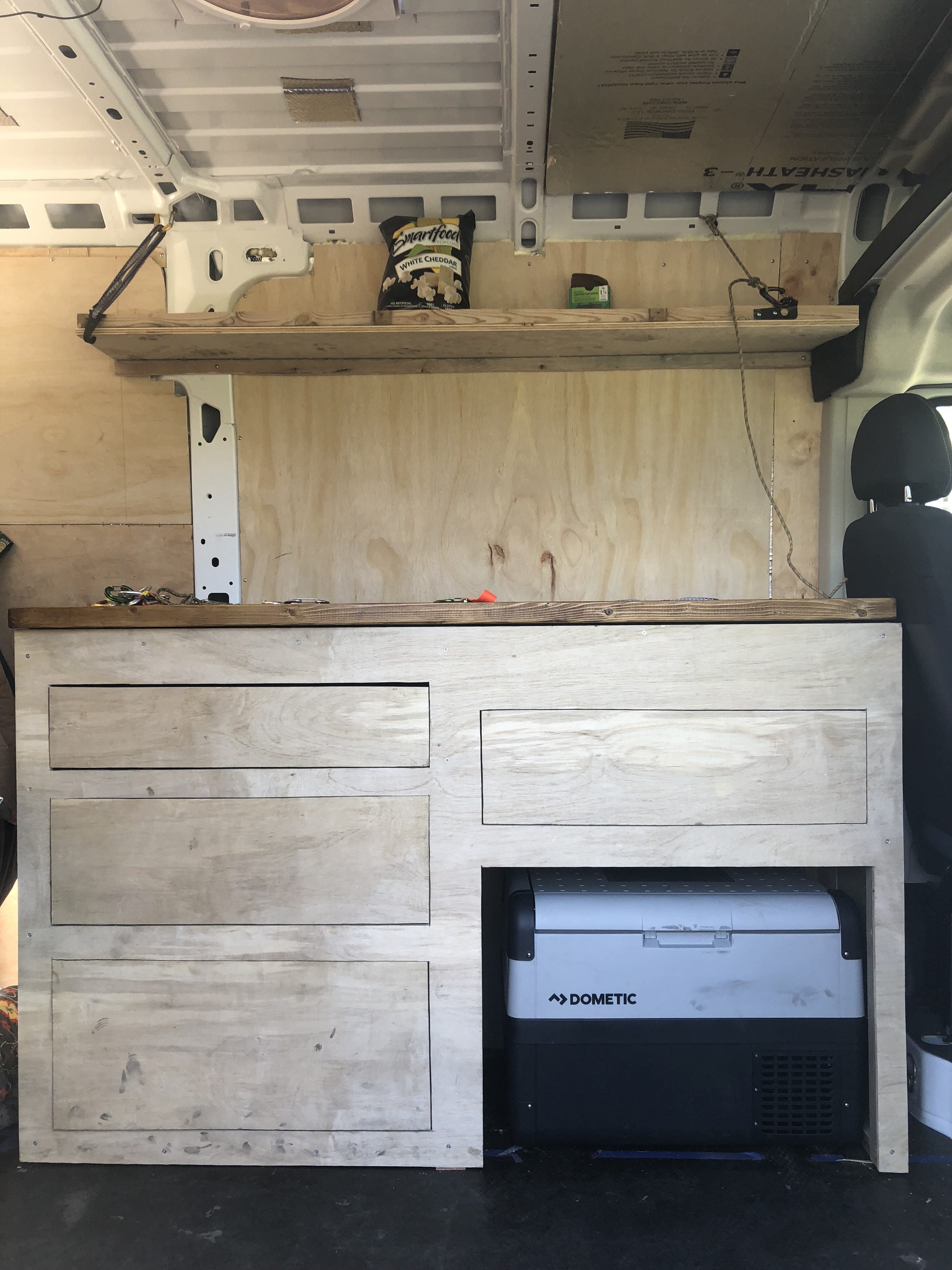 Accumulate less. I will no longer be able to walk into Target and walk out with $100 worth of stuff because I will literally have no place to put it.
More nature. It's easy now to go home after work, sit on the couch and turn on Netflix. But, something tells me that sitting in a tiny van in the middle of summer will lose it's charm quickly. So, more time reading books on blankets in parks, or killing time at the gym until it cools off at home.
Save money. With so much of our income going directly to rent (and rent related bills like electricity, water, and parking), we'll save tens of thousands of dollars each year by living in a van. Even having limited fridge space will greatly impact our grocery bill.
Intentional with time. Right now it's too dang easy to watch Netflix for hours on end. Sure, I could cancel my subscription, and wander around my house like "What am I supposed to do now?" With a van, we won't have the distraction of a TV or internet. So all those books I've been meaning to read? Now's the time.
Fewer resources. Okay, while this isn't technically a problem I deal with regularly, it's a global problem. Our sink will be controlled by a foot pump, meaning we can't just turn on the tap and leave it running. We'll also have a composting toilet in our van. Did you know each time you flush a toilet you use anywhere from 3.5 to 7 gallons of water?
CAMP ALL THE TIME. That's right. 365 days per year. Granted, many of those days will be spent in neighborhoods or Wal-Mart parking lots (did I mention we're living in a van in a city?), but with no "home chores," our weekends will be free for Forest Service roads, established campgrounds, and anywhere else we can find to explore. I don't know about you, but I absolutely love camping. Having the opportunity to easily head out for a mid week camping trip with no packing, no planning, and no fuss? I'll take it.
I could go on and on about all the reasons I am ecstatic to move into our van. While I'm not naive, and fully recognize there will be downfalls to #vanlife, I am confident the downfalls are less important than the time outside we'll share, the tens of thousands of dollars we'll save, and the freedom we'll have to take trips at a moments notice.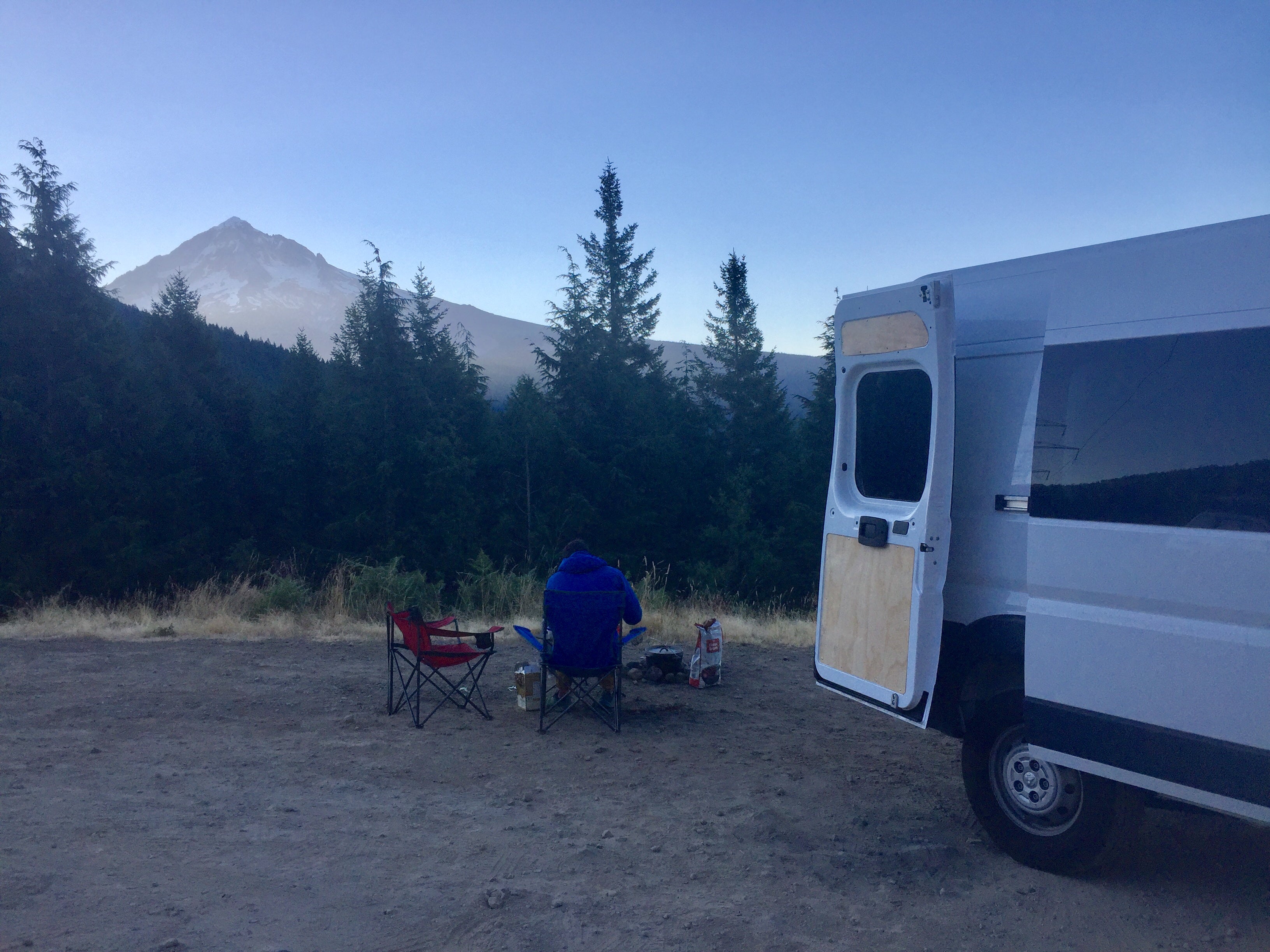 Stay tuned, and follow along as we transition to full-time vanlife on our Instagram: @freedom.in.motion
---
Our recommendations are based on providing value to campers across the country. Some articles may contain affiliate links. By purchasing through our articles, you help support this camping magazine.
Popular Articles: