Kristin Hanes did not originally choose to live in a car to "explore" or "escape". Hanes of The Wayward Home began this alternative lifestyle as a way to save money while working her day job in San Francisco, California, a city known for its steep rent. After a stint in a Prius, she and her partner moved to a sailboat and eventually a van too.
While this began as a way to stay put in San Francisco, Kristin and her partner soon found that they were inspired by the nomadic lifestyle. They now switch off between living in their boat and cruising the pacific coast and living in their van and camping out across the U.S. I asked Kristin some questions on how she started her nomadic lifestyle and her favorite parts about vanlife and sailing.
It all began with a Prius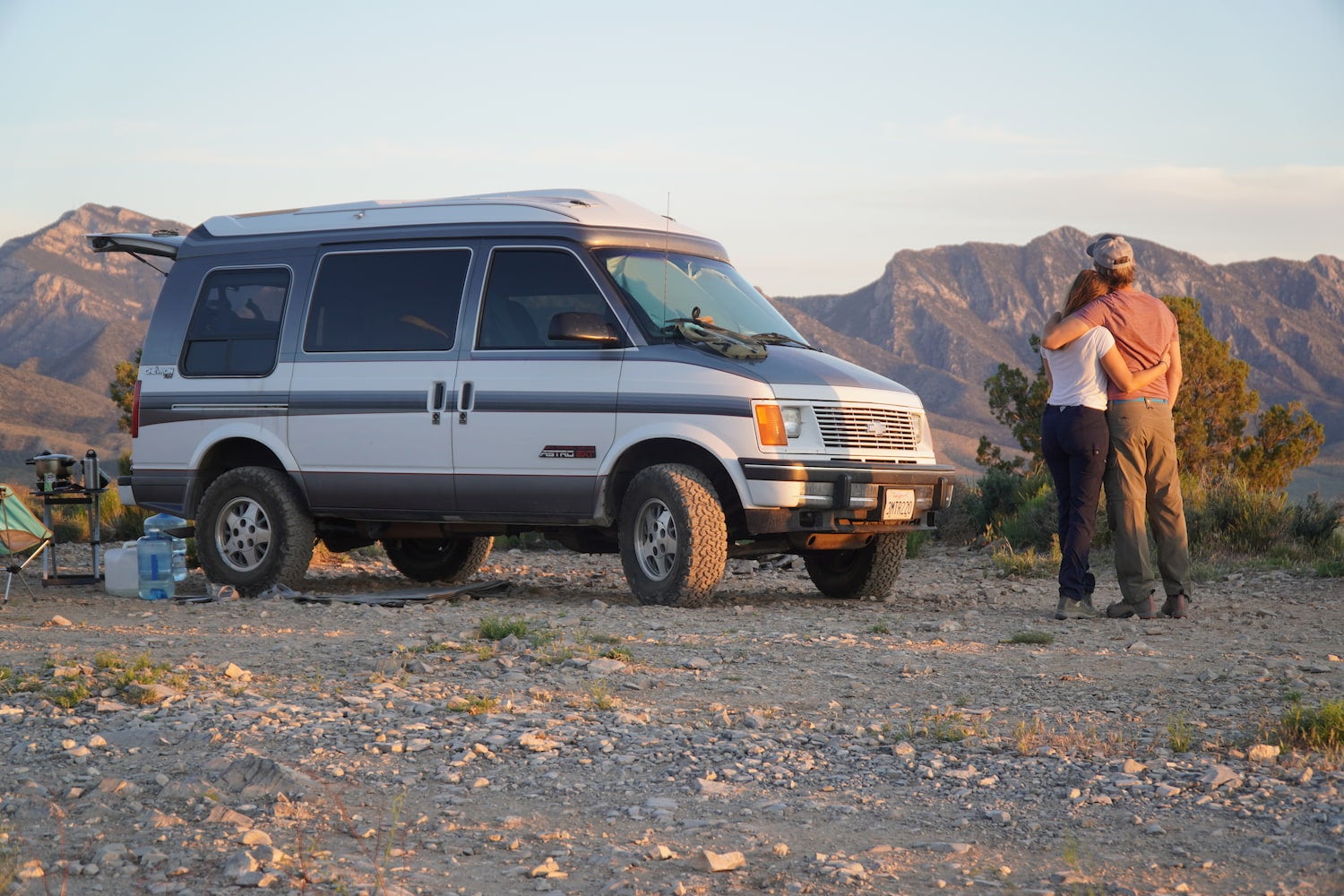 I started living in a Prius in 2015 as a way to pay off debt and get my finances under control. I was living in Mill Valley, a bedroom community just north of San Francisco where my rent for a tiny studio apartment was about $1,700 per month. My boyfriend suggested I could save $20,000 per year by living with him in his Prius. At first I thought he was crazy, but I eventually ended up joining him for four months of car living while keeping my full-time job in San Francisco. He saved up enough money to buy his sailboat and I finally got out of debt!
We'd fold down the back two seats of the Prius to make a full-size bed with a futon mattress. As for parking, we usually stealth camped in marina parking lots, storage unit parking lots, in my work parking lot, and even on city streets. The Prius is extra-stealth, so nobody even suspected two people were living in it!
In the evenings, we'd hang out in a shipping container storage unit and play music on the guitar and drums. For showers, internet, and workout classes, we joined a really nice gym with multiple locations in San Francisco and Mill Valley. We really learned how to live tiny with each other and all the joys that come with living a more minimalistic life.
You now spend half your year sailing and half your year living in a van. Are there a lot of similarities between these two tiny homes?

There are definitely a lot of similarities and a few very large differences.
As for similarities, they are both escape pods that get us off-grid and out into nature. In the van, we love boondocking in remote locations by ourselves. The same goes for the boat. Our favorite thing is finding uncrowded anchorages where we can simply be and enjoy the sights and sounds of nature.
Safety
The huge difference between the van and the sailboat is that one is way more risky than the other. When we're out on the boat, sometimes we're offshore with no fast and easy way to get help. If one of us falls overboard at night in bad weather, that person is pretty much a goner. There's risk of storms, the 50-year-old engine dying, parts breaking and running aground. However, on the flip side, the sailboat's top speed is like 8 miles per hour so we're not at risk of head-on collisions like we are in the van!
Size
The sailboat also feels way bigger than the van. We have multiple rooms, a bathroom, a working kitchen, and real beds. Space in life is so relative. When you come from a house, a boat seems small. When you come from a minivan, the boat seems huge. It's fun to experience both types of tiny living.
Preference
I'm not sure if I always have a preference between the boat and the van. It depends on my mood and what hardships we are going through at the time. When we're offshore in heavy winds and swell, all I want is to get off the boat and be on hard ground in the van. When it's 95 degrees in the Mojave Desert in my van, I'm dreaming about water. But usually, I'm happy in either the boat or the van.
Your website focuses on sailboats, vans, RVs, and tiny homes. Do you have any interest in owning a tiny home in the future?
I would love a tiny home in the future! Probably one on a nice plot of land with an outdoor kitchen and bathtub. It would be nice having room to have friends/family over, but they'd have to come in their own "home", whether that's a van, RV, or a tent!
What is your dream setup?
My dream set-up is a built-out Sprinter van (which we are doing very soon!), my sailboat, and a tiny cabin in the mountains.
What is your favorite campsite or camping spot? (can be an entire area if you don't want us to blow up your spot)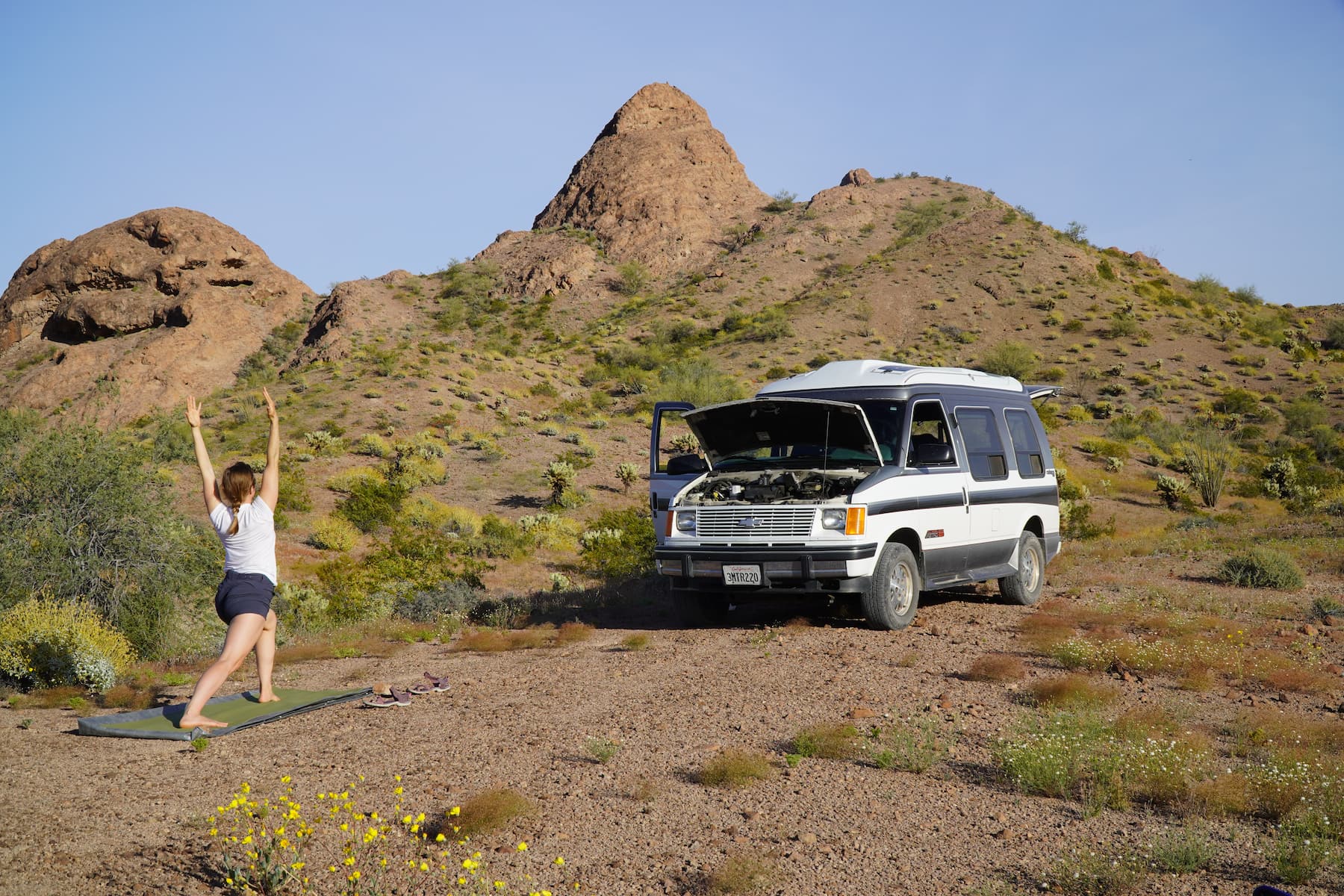 This is so hard because I love all types of nature. I just LOVE the deserts of California and Arizona. The Sonoran Desert and Mojave Desert are really special places. I also love the Sierra Nevada and Mt. Hood in Oregon.
Of all the places you have been in the U.S., which has surprised you the most?
I don't think it's a particular place that's surprised me. What's surprised me is how poorly people treat boondocking spots! We've gone camping in the middle of nowhere to stumble upon beer bottles and cans, garbage, and empty shotgun shells. It makes me so mad when people don't have respect for nature!
Please make sure to read up on Leave No Trace principles before going out boondocking.
What is your favorite piece of camping gear?
My 12-volt camping fridge. We have the fridge hooked up to solar in our campervan, and it's something I'm thankful for every single day. I am so glad we don't have to deal with getting ice all the time, and can come back to cold drinks after a hike. It makes us self-sufficient and able to boondock for up to 5 days at a time.
What is one piece of advice you would give those looking to get on the road for an extended road trip?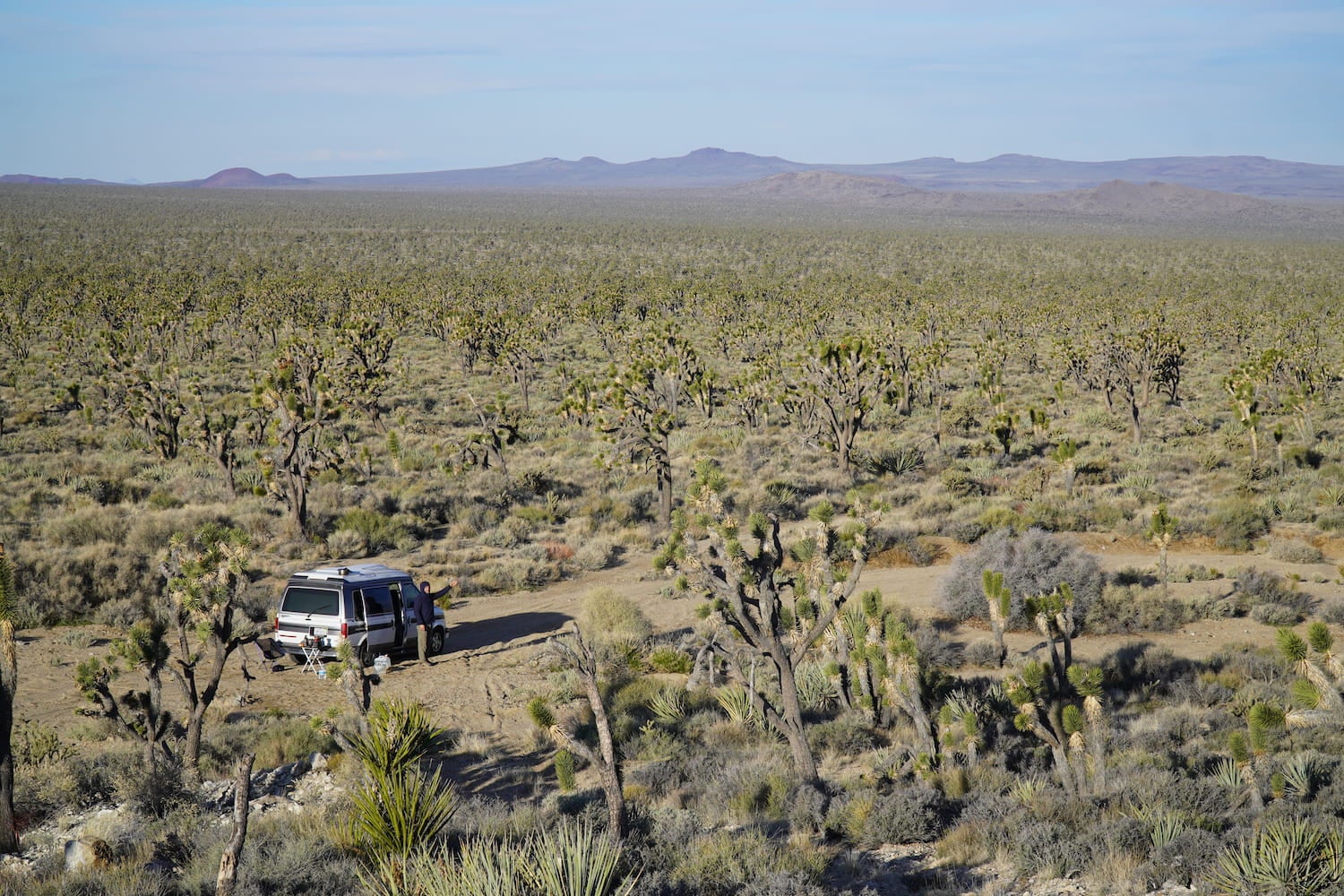 Have flexibility and an open mind. If you plan out your entire trip, you won't have the spontaneity to explore that alluring dirt road or stay somewhere longer than you originally thought. It's nice to have a flexible mindset so you can explore wherever the open road leads you.
---
In the meantime, you can get inspired for your own escape pod at TheWaywardHome.com, and make sure to follow Kristin @thewaywardhome on social for more inspiration!
You can support Kristin and try The Dyrt PRO by using her discount code wayward90 to try The Dyrt PRO free for 90 days.
Popular Articles: