These kid friendly recipes are brought to your by our friends at Gregory Packs. They're a trusted name in backpacks, and you can find great backpacks for kids from their Wander Line. They're made just for the younger ones, with all the features the adults enjoy. So now kids can carry their own ingredients for s'mores and more.
---
After a couple of camping trips with the kids, you might all be sick of hot dogs. Meat on a stick is fun and easy, but it's not nearly as fun as making some of these next level kid friendly recipes. To take the stress out of camp cooking, and keep everyone's taste buds happy, we've scoured the web for simple camping recipes that are fun for the kiddos to help out with. And of course, they're tasty enough to please even the pickiest of eaters, and parents, too.
Kids Love Camping More with These Kid-Friendly Recipes
Leave the hotdog buns and ketchup at home – you won't need them for where we're going.
1. Campfire S'more Nachos
S'more Nachos allow you to enjoy the sweet nostalgia of s'mores, even if your little ones can't be trusted with a sharp stick or molten 'mallows. You can also make S'mores Nachos on a propane barbecue if the Forest Service has issued a burn ban in your region.
This kid friendly recipe uses the same three ingredients as a traditional s'more, simply combined in a different form. The best part — they're just as gooey as the original, but the cleanup is much easier. Get the Recipe
---
2. Tacos in a Bag
What kid doesn't love their own personal bag of chips? Tacos in a Bag is sure to win over the kiddos. To make, open your single serve bag of Doritos or Fritos, spoon in your taco toppings, and enjoy your taco-nacho concoction. Give your kids the freedom to top with their favorite fixin's and give yourself a break from making something different for every hungry mouth. Plus, save on paper plates and clean up. Your only trash will be the chip bags! (Be sure to dispose of them properly and do not burn your chip bags.) Get the Recipe
---
3. Banana Boats
https://www.instagram.com/p/Bczm9DEhxwu/?utm_source=ig_embed
Banana Boats are fruit-based, so they're (almost) guilt-free. Leave the banana in the peel, slice open lengthwise, fill with chocolate chips, wrap in tin foil, and grill until you have chocolatey melty goodness. Top with nuts, shredded coconut, or whatever toppings your remembered to bring. Think of this as the campfire version of bananas foster!
If you want to mix it up, try adding white chocolate chips, butterscotch nibs, or marshmallows. Get the Recipe
---
4. Campfire Chili Cheese Fries
Did someone say cheese fries?! The best kid friendly recipes combine three of the world's greatest foods, and this is no different. We've got french fries, chili, and cheese. Need I say more? You'll only need a roll of aluminum foil to make this crowd favorite while it "bakes" your fries over fire coals. Not only is this fun to eat, but it's ridiculously easy to make.
Get a little crazy with additional toppings like bacon bits, sour cream, or green onion. Get the Recipe
---
5. Campfire Macaroni & Cheese
If there's one thing little kids can eat tirelessly, it's macaroni and cheese. Can you blame them? This campfire mac and cheese recipe requires 4 ingredients: pasta, cheese, milk, and alfredo sauce (the secret ingredient). Cook the macaroni first, then combine all ingredients in mini pie tins and set over the campfire coals to melt the cheese. Your kiddos will love having their own personal macaroni bowl!
Grill hot dogs while the tins cook to add extra protein to this dish. Or keep it simple and just enjoy the cheesy goodness. Get The Recipe
---
6. Campfire Tarts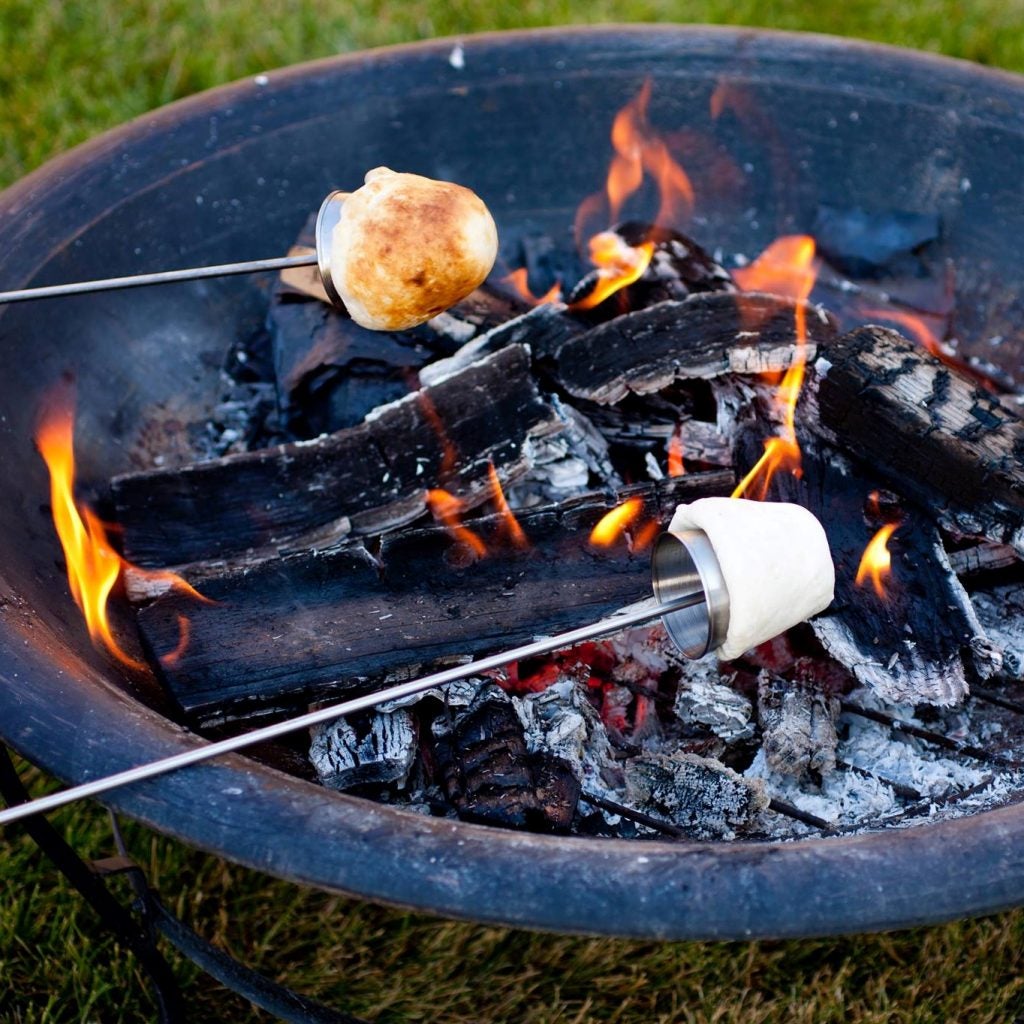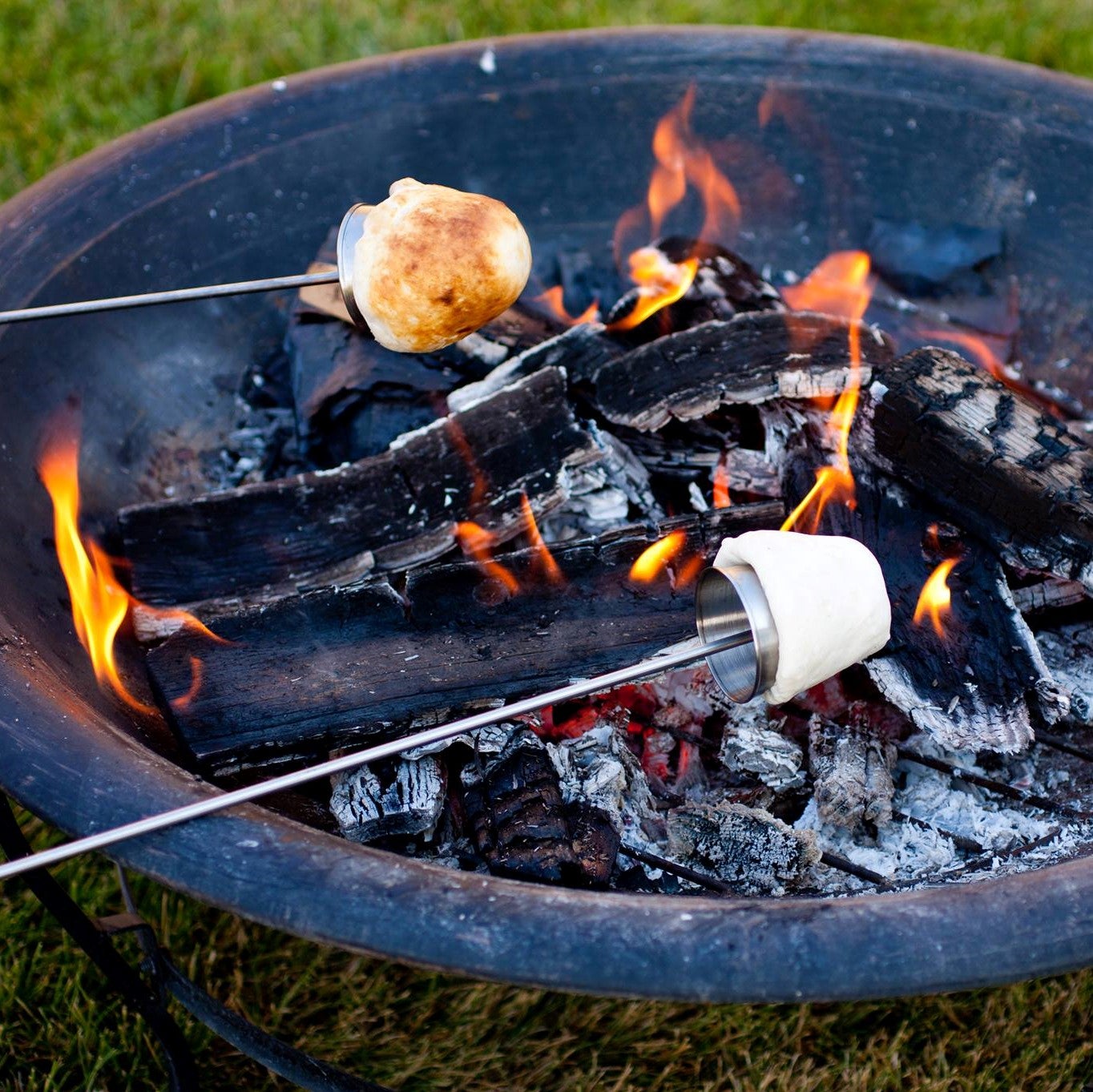 Campfire tarts take camp desert to the next level. While this recipe technically requires the Tarts on Fire stick, with enough creativity, you can rig your own system to do the job. Kids will love roasting their bucket-like biscuit over the campfire, and filling it with berries and whipped cream. Or just whipped cream.
If you're looking to splurge, the Tarts on Fire stick goes for $15, and it will be the talk of the campground. Get The Recipe
---
7. French Bread Pizza
Made with a few rolls of french bread, cream cheese, marinara, and whatever else you decide to add, these French Bread Pizzas can be made at home, or assembled at the campsite. If you make them ahead of time, consider throwing them in the freezer until you're ready to pack up for the weekend.
The kids will love customizing their individual French Bread Pizza sandwiches, and the leftovers are great to fuel a short hike. Get The Recipe
---
Related Reading:
---
8. Cinnamon Rolls on a Stick
Anytime you take a favorite like cinnamon rolls, and make it in a new way, you're guaranteed a winner with the kiddos. They'll ooh and ahh and giggle as they unroll the gooey cinnamon dough and wrap it around a skewer or stick found at camp. Roast the cinnamon roll stick over the fire for about 10 minutes, then drizzle as much (or as little) frosting as you like.
Make Cinnamon Rolls on a Stick over coals. Over direct flame, the rolls are likely to burn. Always be careful with kid friendly recipes involving the campfire! Get The Recipe
---
You can win free gear from Gregory and 19 other outdoor brands by reviewing campgrounds on The Dyrt. Share past camping experiences, photos, and videos to earn points towards monthly prizes in The 2018 Great Camping Giveaway!
Popular Articles: