So you just bought a camper van and you're wondering what comes next. Well first, welcome to van life—you're going to have a blast. But of course, it's not all easy living. There are tons of new things you'll have to figure out before settling into a new life on the road. Staying safe, happy and healthy while living in a camper van is a top priority.
There is so much to learn if you just bought a camper van, but we are here to help. We asked seasoned camper van owners about their experiences and put together 9 pieces of advice for your new life of adventure.
Just Bought a Camper Van? Read This Before You Hit The Road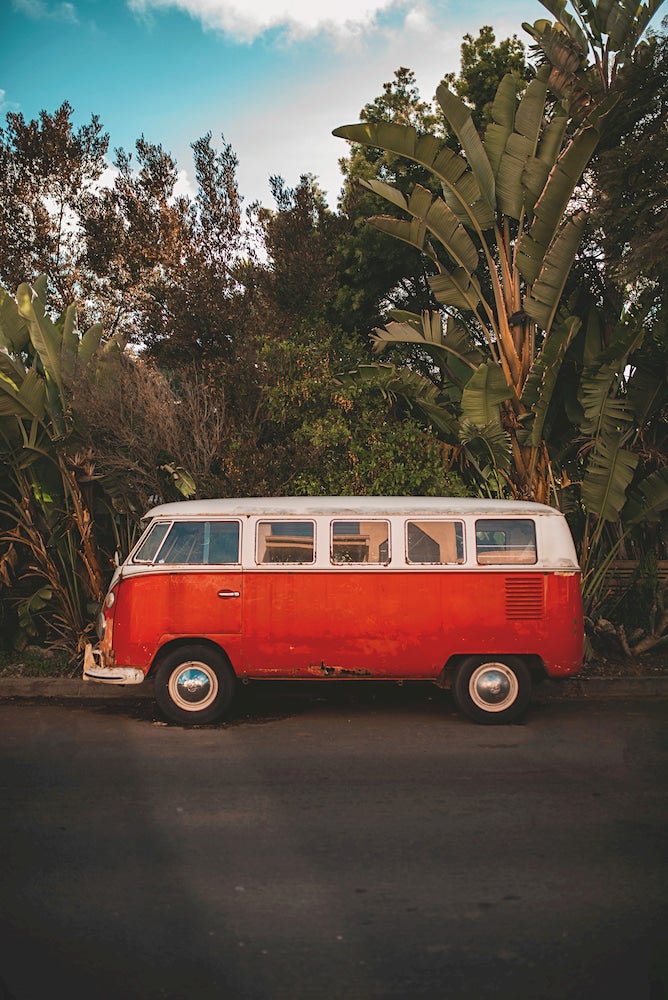 Below are 9 basic tips for getting your camper van life started.
1. Purchase The Must-Have Items For Your Van
When you're living in close quarters, comfort and feeling at home is important. If you just bought a camper van, there are few must-have items you'll want in your van.
To start, make sure to have a bed (or fold out couch), fan, fridge, stovetop, sink, and deep-cycle battery to ensure power. You'll want to figure out your toilet situation as well — decide if you'll use a portable toilet or other option. Always carry around extra water in case of an emergency, as well.
2. Use The Dyrt PRO For Finding Your Next Campground

The Dyrt PRO is a must-have app for traveling on the road. If you're a full-time camper or just a weekend warrior, you need to plan where you're going. When you don't have service, The Dyrt PRO allows you to download maps, photos and campground info. For $35.99/year you'll save time and stay safe and while exploring all of the places that make America beautiful.
3. Figure Out Your Kitchen Set-up
Everyone will do their kitchen a bit differently. But installing your sink, hooking up your fridge and setting up your stovetop are some basic to-dos you'll want to think about.
It can be intimidating, but it's all about breaking it down into steps and deciding which options are best for you. For example, you'll want to decide if you'll install a permanent stove and sink, or use a portable one. Here is a how-to guide to installing a stove and sink. If you're okay with unpacking and repacking your stove, there are tons of portable stove options, it's just up to you to decide what is best for you.
4. Stay Organized
Staying organized on the road is essential. You want to spend your days hiking, surfing or climbing, not reorganizing the entire interior of your van trying to make space for everything. Get clear storage bins so you can see what's inside and you can store things like winter clothes or summer clothes depending on the season. You can also use behind-the-door organizers for shoes and other items to keep them out of site.
Tubs are great for larger items, but can be frustrating for smaller items you use frequently. Use small drawers for keys, chapstick and other miscellaneous items you use a lot, but don't want to see around the van.
"I thought I could use a big tub for extra storage…it was impossible to access it easily… so I ended up changing it out with plastic file drawers."
5. How to Renovate or Build-Out Your Van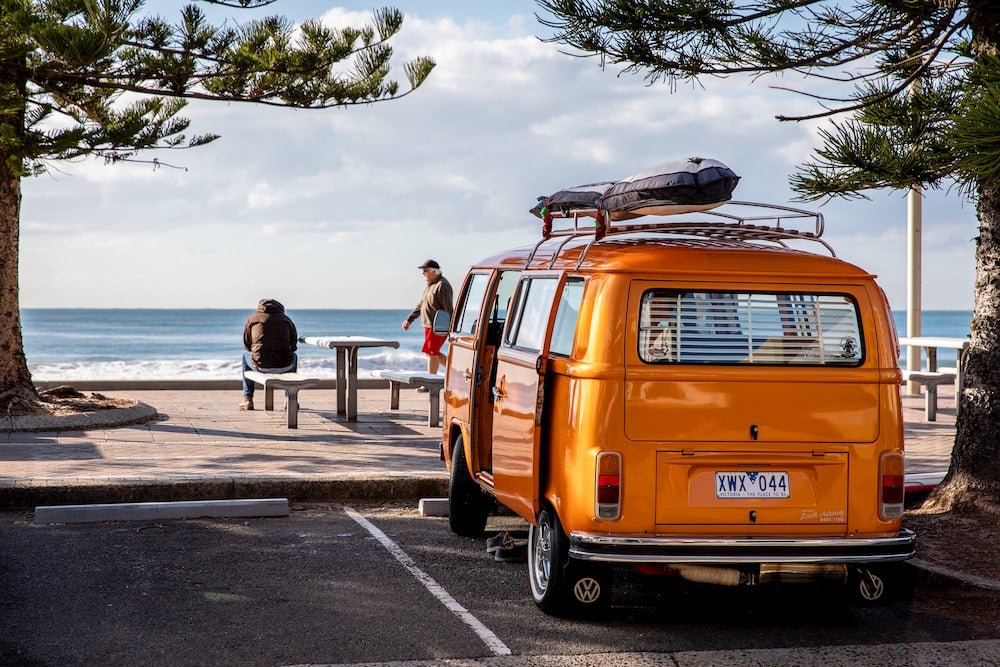 If you're building-out or renovating your van yourself, there are plenty of resources out there to help you. Some priorities you may want to focus on are building the walls and floors if you are starting from scratch, insulating the walls, adding an electrical system and outlets, and installing or buying a heater.
Gnomad Home is a fantastic blog with guides for building-out or renovating your van.
6. Prep For Life on the Road
Leaving home for a while or all together can be intimidating. But there are a few things to keep in mind when prepping for life on the road. When you're packing up your van, just bring the basics. It's easy to overpack, but when you do, you'll quickly get frustrated with reorganizing just to make space to enjoy a cup of coffee.
Also be prepared with the right clothing for your adventures. If you are planning on hiking or backpacking, make sure you have the right clothing and gear for a variety of weather patterns. Buying technical clothing that fits correctly and is the right material while traveling can be frustrating, especially if you're traveling in foreign countries. So try to plan ahead and have the gear essentials for whatever adventures you're planning.
7. Stay Healthy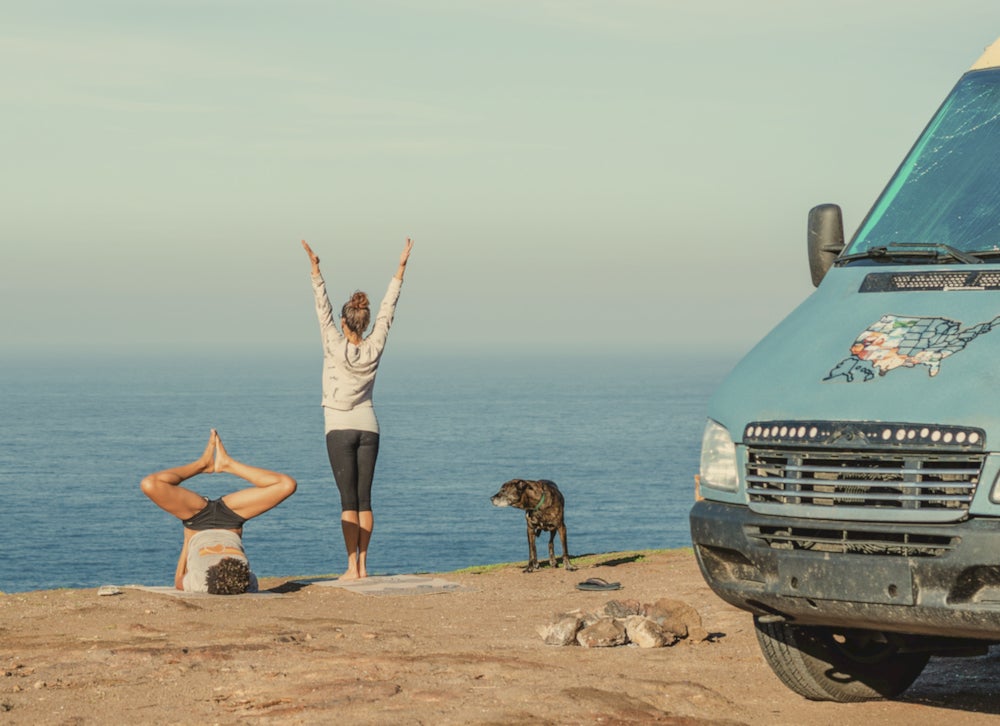 "Health" means anything from brushing your teeth to making sure you and your partner maintain healthy communication while sharing 80 square feet.
For physical health, make sure to workout frequently. Finding a gym for day use can be pricey, so while doing that once in awhile is okay, you can always exercise outside. Running, hiking, climbing and surfing are great recreational opportunities for working out. You can also do lunges, squats, sit ups and push ups outside your van anywhere you go.
For personal hygiene, invest in a solar shower, always carry a set up wet wipes, and keep up with your laundry.
Mental health struggles don't vanish when you set out for a life on the road. Life is will ways have its problems, even if you're adventuring more than ever. Whether you're experiencing anxiety or depression on the road or dealing with issues with your partner, there are plenty of online services that can help.
Calm and Headspace are great apps to practice mindfulness for mental health. For professional help, Talkspace is an online tool for unlimited messaging and video conferencing for addressing a variety of needs. Check out these other online therapy programs to decide which is best for you.
8. Create a Routine
You've just bought a camper van and now its time to create a routine for daily life. Routine creates freedom for the things you love to do.
Treat van life like you would a job and create a schedule for yourself. It's easy to lose days because living in a van can feel like vacation. Set your alarm to get up and do chores so you can enjoy the rest of your day when you're finished.
If you have a partner, split up tasks. Stay on top of doing your dishes and sweeping. Your camper van is home so treat it well. You'll also be spending a lot of time in your van, so you'll want it to be a desirable space.
Also set realistic goals for the day. Write down a list of goals each day, like where you're going that day, chores around the van or projects to be done.
9. Working on the Road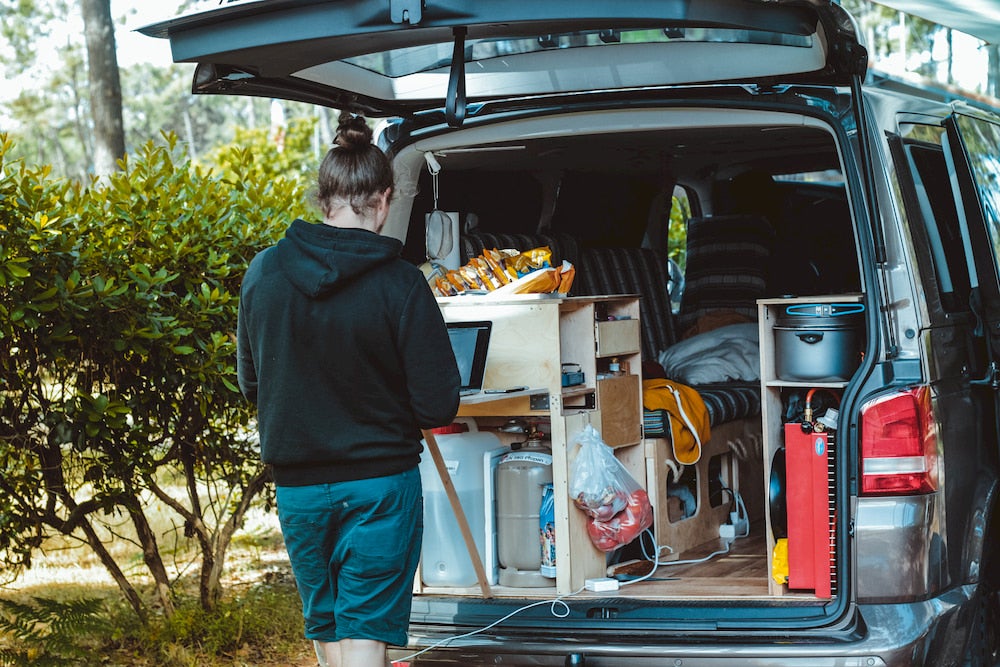 If you're working on the road, you'll have to stay organized so you're not missing deadlines. Ask for the wifi password before you buy anything to check the speed of the internet and make sure you have access to outlets.
It also might be worth investing in a Wifi antenna booster. This helps enhance close by wifi signals. You can also use this Wifi map app to find open wifi networks from your van. They are updated by other users, so it stays up to date.
Popular Articles: